How Does LendingTree Get Paid?
LendingTree is compensated by companies on this site and this compensation may impact how and where offers appear on this site (such as the order). LendingTree does not include all lenders, savings products, or loan options available in the marketplace.
Nearly 40% of Americans Will Skip Valentine's Day This Year to Save Money
Updated on: February 8th, 2021
Why use LendingTree?
We are committed to providing accurate content that helps you make informed money decisions. The content on this page has not been reviewed, approved or otherwise endorsed by any credit card issuer. We do maintain partnerships with some issuers, and our site may be compensated through those partnerships. Read our .
Almost four in 10 Americans said they plan to skip Valentine's Day in 2021 in order to save money, according to a new survey from LendingTree.
Those planning to skip the big day may want to tread lightly, however. The survey also found that about 1 in 7 people in a relationship would be upset if their partner suggested doing so.
Key findings
Nearly 40% of Americans plan to skip Valentine's Day to save money this year.
Men are more likely than women to say they're skipping to save money, but women are twice as likely to say they'd be upset if their partner suggested doing this.
38% of partnered consumers said they might take on credit card debt due to their Valentine's Day spending this year. Of that group, 30% will hide that debt from their partner.
Women are more likely to say they'll spend less on Valentine's Day this year than last.
Romance loses out to savings this Valentine's Day
Valentine's Day is big business in America, with men and women spending big bucks on everything from flowers and chocolates to jewelry and fancy dinners. Our survey found that a partner in a relationship will spend an average of $144 on their significant other this Valentine's Day. Men plan to spend more than women ($181 versus $94).
Millions of Americans have no intention of joining the party, however, choosing instead to put that money toward their savings.
For many, the pandemic and the economic chaos surrounding it has driven home the importance of building savings. We saw savings rates rise dramatically in 2020, thanks in part to reduced spending due to lockdowns and government stimulus. They've since fallen off a bit, though they remain high by historical standards. Still, our survey shows that savings is still a major priority for millions of Americans.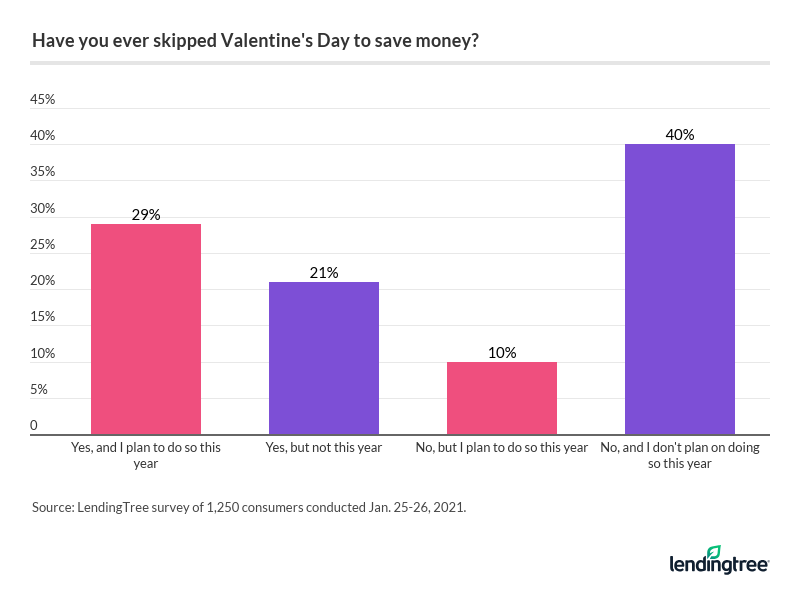 While 39% of Americans say they're skipping Valentine's Day to save in 2021, this is hardly a new phenomenon. Another 21% of Americans say they have chosen not to celebrate Valentine's Day in the past to save money, but they plan to participate in the festivities this year. Just 40% of Americans said they've never passed on celebrating that day for frugal reasons.
The younger you are, the more likely you are to skip out on Valentine's Day, with 44% of Gen Zers and 43% of millennials planning to do so, compared with just 36% of baby boomers.
Among the least likely to skip Valentine's Day: high-income Americans. Forty-four percent of those earning $75,000 a year or more said they had never skipped the holiday to save and didn't plan to start in 2021.
The Valentine's Day gender gap
Men are much more likely than women to say they plan to skip Valentine's Day in order to save money, with 44% saying so versus 35% of women. But that's not the only difference we found between the sexes.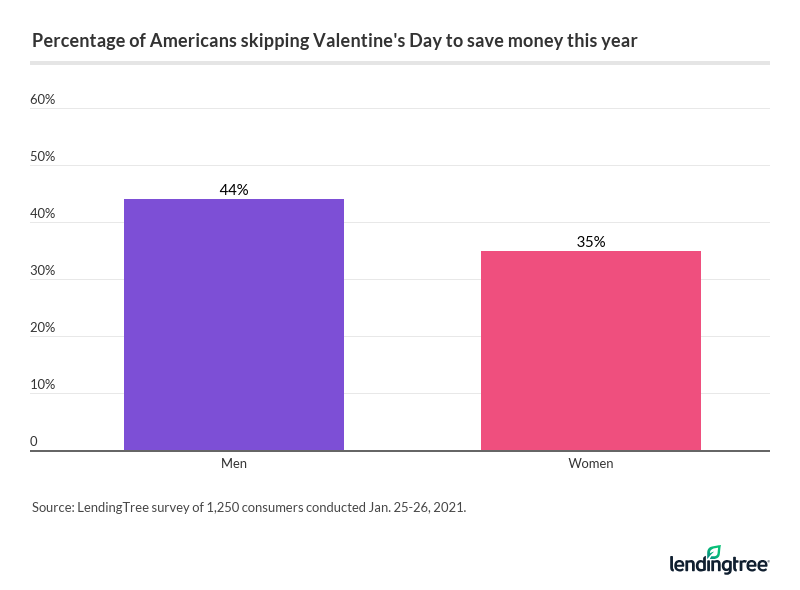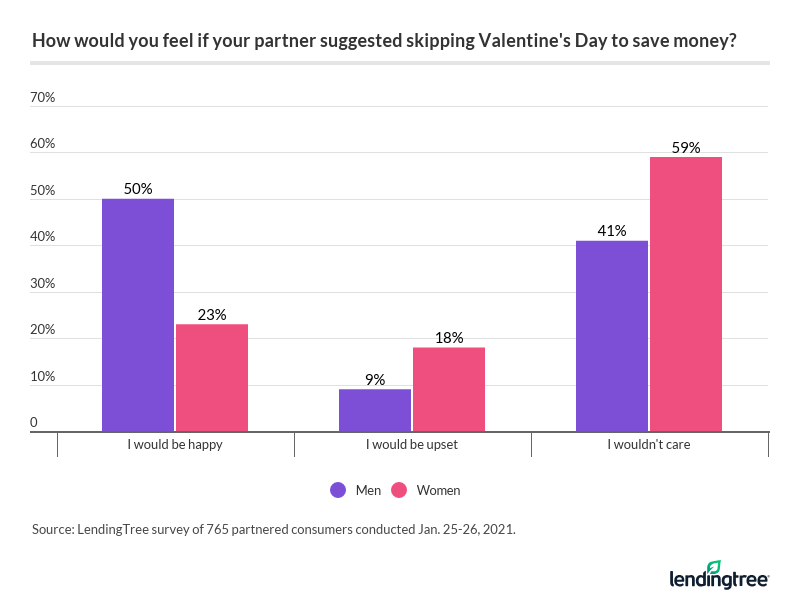 Women are twice as likely to say they'd be upset if their partner suggested skipping Valentine's Day to save money. Nearly 1 in 5 women (18%) said so, compared with 9% of men.
However, women are also far more likely (59% versus 41% of men) to say that they wouldn't care either way if their partner mentioned not celebrating Valentine's Day.
Women are also more likely than men to say they would spend less on Valentine's Day this year than last. Nearly one-third of women (32%) said so, compared with 27% of men.
There's also a gender gap in what we expect from our partners.
Overall, Americans expect to spend more on their partner than their partner spends on them ($144 to $121), but when you break it down by gender, things look quite different.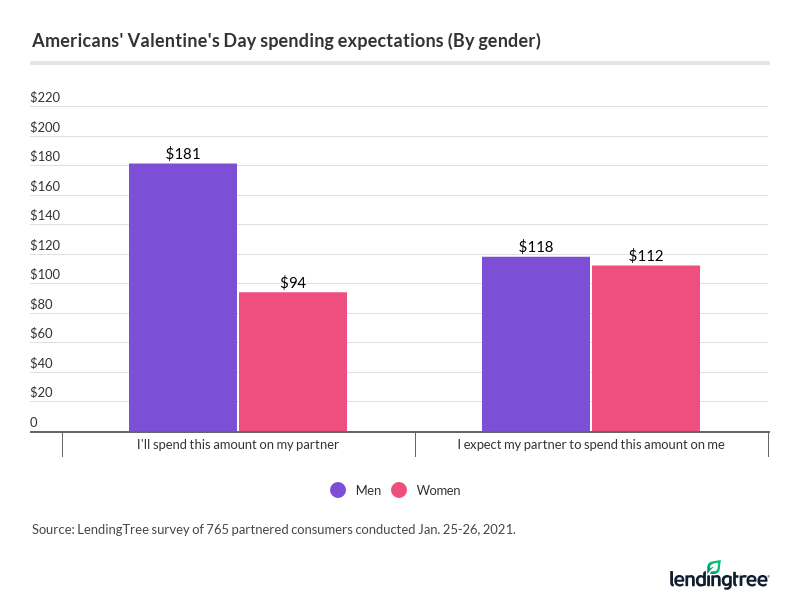 Men expect to spend $181, but expect their partner to spend $118. Women have similar expectations of their partners, believing their loved ones will spend $112 on them. However, they themselves expect to spend just $94 on their partners.
Many still likely to take on Valentine's Day debts
Even with many Americans choosing to sit out this Valentine's Day, there's still a large group of folks who will spend so much to celebrate, that it will land them in debt.
Nearly 1 in 4 consumers in a relationship (23%) said they will take on credit card debt due to Valentine's Day spending, while another 14% said they might. Add it up and it means that nearly four of every 10 people in a relationship might face post-Valentine's Day debt.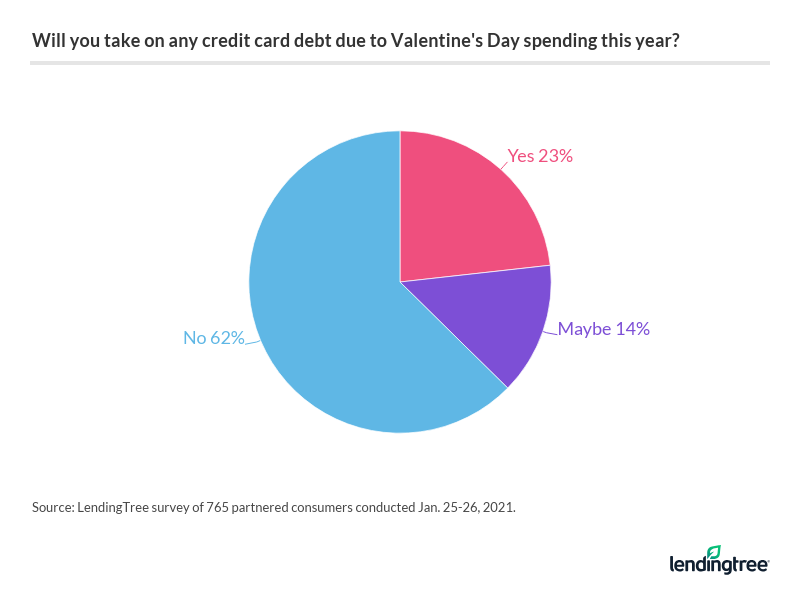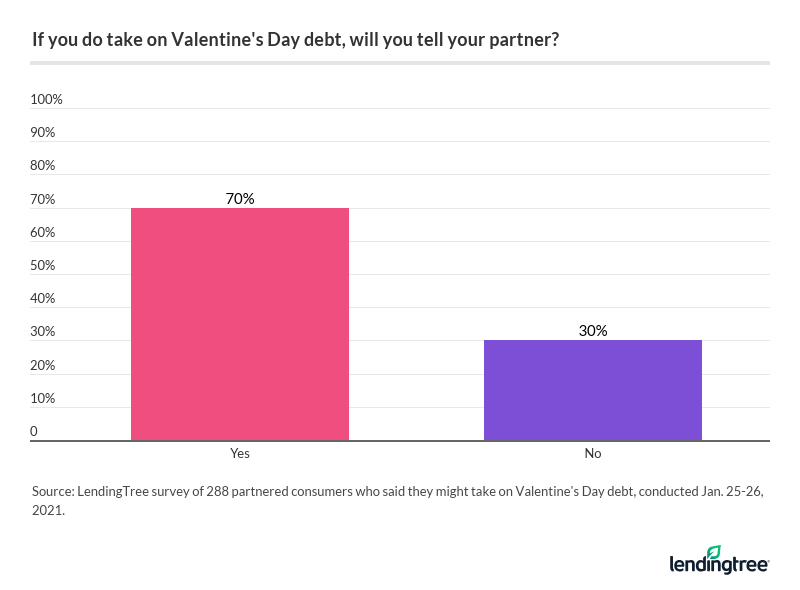 Men are twice as likely as women to say so. More than half of men (51%) said they might spend themselves into debt for Valentine's Day, including 35% who said they definitely will. Just 11% of women said they will definitely take on debt, while another 12% might.
Making things worse, 30% of those taking on debt said they wouldn't tell their partner that they did so. Women are more likely to do this than men (35% to 28%).
The bottom line
As the pandemic maintains its grip on the nation and continues to wreak economic havoc on millions of Americans, it is easy to understand why so many of us would choose to skip Valentine's Day in hopes of putting a little bit of extra cash in our rainy day fund.
There are plenty of ways to split the difference, though, trying to celebrate your relationship without wrecking your finances. Here are a few tips:
Reset expectations: When changing your Valentine's Day celebration plans, communication is key. Talk with your partner about why you're doing it. Reassure them that it isn't a reflection of what you think about them. That conversation might be awkward and uncomfortable, but it will be better for your relationship to talk about it in advance than to have your loved one be unpleasantly surprised.
Dial back rather than do away with: It's a noble thing to want to overspend on your partner, but just because you can't afford to go wild on Valentine's Day doesn't necessarily mean that you can't do anything at all. If you typically get your beloved two or three things on Valentine's Day, it is OK to get them just one. If you typically spend $100 on your partner on a big occasion, it is OK to spend $50 instead. At the risk of being sappy, oftentimes it really is the thought that counts.
Create, don't buy: It doesn't have to cost a lot to show your love. A special homemade dinner can be a wonderful present. A heartfelt poem or piece of art that you made yourself can be, too. Build something. Paint something. Write something. Give some thought to what your partner loves and have a little fun with it.
Give them a break: It may not be sexy but giving your partner a break from doing the yardwork or other household chores for a weekend can be a very welcoming gift. (Trust me on this one.) Whether you hire someone to do it or do it yourself, your partner will appreciate it.
Turn your savings into a dream: You don't have to save just for the sake of savings. Of course, building your emergency fund should be your top savings priority, but it doesn't have to be your only priority. Consider earmarking part of your Valentine's Day savings for a vacation fund or some future project that both of you can be excited about.
Maximize your savings: If you're going to skip Valentine's Day to put money away, you better get the biggest return possible on that money. Sure, savings rates are super-low these days, but you can get a little more in return if you shop around. You can compare savings rates at our sister site DepositAccounts.com to find the best deal.
Focus on the future: Eliminating debt may not be romantic, but it's truly the gift that keeps on giving. Get serious about knocking down your debt by getting a 0% APR balance transfer credit card or a low-rate personal loan. If you need more help, consider arranging a meeting with a credit counselor to review your options.
When you're talking about these plans with your partner, focus on how much being debt-free will change your lives. Talk about the things that it may free you up to do, and the opportunities it might open up. That can be incredibly motivating and exciting. After all, isn't working to protect someone's financial future a greater show of love than sending flowers and chocolates?
Methodology
LendingTree commissioned Qualtrics to conduct an online survey of 1,250 Americans, conducted Jan. 25-26, 2021. The survey was administered using a non-probability-based sample, and quotas were used to ensure the sample base represented the overall population. All responses were reviewed by researchers for quality control.
We defined generations as the following ages in 2021:
Generation Z: 18 to 24
Millennial: 25 to 40
Generation X: 41 to 55
Baby boomer: 56 to 75
While the survey also included consumers from the silent generation (defined as those 76 and older), the sample size was too small to include findings related to that group in the generational breakdowns.