How Does LendingTree Get Paid?
LendingTree is compensated by companies on this site and this compensation may impact how and where offers appear on this site (such as the order). LendingTree does not include all lenders, savings products, or loan options available in the marketplace.
| Advertising Disclosure
LendingTree is an advertising-supported comparison service. The site features products from our partners as well as institutions which are not advertising partners. While we make an effort to include the best deals available to the general public, we make no warranty that such information represents all available products.
How a Secured Credit Card Can Help You Build Credit
Updated on: October 14th, 2021
Editorial Note: The content of this article is based on the author's opinions and recommendations alone. It may not have been reviewed, approved or otherwise endorsed by the credit card issuer. This site may be compensated through a credit card issuer partnership.
When you have bad credit, or no credit history at all, it can be nearly impossible to get approved for a traditional credit card. But that doesn't mean you're out of options: Getting a secured credit card is a great way to start building a strong track record of good credit.
We take a look at what secured credit cards are, how they work and how you can use one to improve your score.
Click below to learn more:
What is a secured credit card?
For the most part, secured credit cards function like a traditional credit card. The difference is that credit limits on secured cards are generally lower, the fees are generally higher and — here's the important part — they are backed by a security deposit.
You have to apply for a secured card just like any other credit card. But once approved, you'll need to provide the issuer with a security deposit, which is usually a couple hundred dollars. In return, you'll receive a credit limit that's equal to the amount of your security deposit.
For example, if you submit a security deposit in the amount of $200, your credit limit will be $200, minus any fees the issuer may charge (such as an annual fee).
From there, the process is the same as any other card. You make purchases using the card and receive statements listing those purchases, then you're expected to make payments on the balance every month. This activity typically gets reported to the big three credit bureaus — Experian, Equifax or TransUnion — which helps you build your score.
Note that some secured cards only report to one or two of the credit bureaus, but it's in your best interest to find a secured card that reports to all three, as any future lender may use a different credit bureau when evaluating your creditworthiness.
Meanwhile, the bank holds your security deposit as collateral. If you miss payments, the bank can apply that deposit to your balance.
Be warned: Missing payments can result in high fees and credit score damage. Since those with poor or nonexistent credit are seen as higher risks than others, the service charges on secured cards can be higher than they would be with an unsecured card. Be sure to read your cardholder agreement thoroughly before signing up for a card so you know what you're agreeing to.
How to use your secured credit card to boost your credit
A secured credit card can help improve your score by giving you a chance to establish a better credit history, at comparatively little risk to the lender. If you develop good credit habits, you can make real improvements to your credit history in just a few months. Here are some tips on how to effectively grow your score.
Keep your balance below 30% of your credit limit
Credit utilization is the second most important factor of your FICO Score, below payment history. This measures how much of your credit line you're using each month, and the lower you keep your balance, the better. Experts recommend using no more than 30% of your credit limit for optimal results — so, if your credit limit on a secured card is $200, then don't charge more than $60 a month on the card ($200 x 30% = $60). The reason why a low utilization is important is because lenders don't look favorably on a high debt-to-credit-limit ratio — this may signal that you're in financial trouble.
Pay your balance in full and on time each month
Paying off your balance in full — and on time — each month is the key to building a stellar credit history. Not only will it keep you from incurring any fees and interest charges, it shows the credit bureaus that you can be trusted to pay back what you owe. If you can establish a proven track record of paying back what you borrowed each month, it won't be long before your credit score rises to a point where you may qualify for an unsecured card with a higher credit limit.
Use the card every month for a small recurring charge
One of the best ways to build credit with a secured card is to use it every month to pay a small recurring charge — a streaming service like Netflix or Spotify, for example — and set up autopay to pay it off every month when the statement is due. That way, you can ensure the balance is paid in full every month and that positive payment history is reported to the credit bureaus.
When to upgrade to an unsecured credit card
Discover it® Secured Credit Card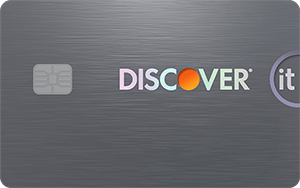 on Discover's secure site
2% cash back at Gas Stations and Restaurants on up to $1,000
No credit score required to apply.*
No Annual Fee, earn cash back, and build your credit with responsible use.
Using your secured credit card helps build a credit history with the three major credit bureaus. Generally, prepaid and debit cards can't do that.
Establish your credit line with your tax return by providing a refundable security deposit of at least $200. That means a $200 deposit for a $200 credit line. Or a $500 deposit for a $500 credit line. Bank information must be provided when submitting your deposit, and the security deposit equals your credit limit.
Automatic reviews starting at 7 months to see if we can transition you to an unsecured line of credit and return your deposit.*
Earn 2% cash back at Gas Stations and Restaurants on up to $1,000 in combined purchases each quarter. Plus, earn unlimited 1% cash back on all other purchases – automatically.
Get an alert if we find your Social Security number on any of thousands of Dark Web sites.* Activate for free.
Click "APPLY NOW" to see rewards, FICO® Credit Score terms, Cashback Match™ details & other information.
Some secured cards, such as the Discover it® Secured Credit Card, offer the opportunity to upgrade to an unsecured card after a certain time period.
With the Discover it® Secured Credit Card, after you've had the card for 7 months, Discover will begin conducting monthly account reviews to see if you're eligible to graduate to an unsecured card and get your deposit refunded.
If this happens, your card will transition to a Discover it® chrome. Note that Discover will evaluate your behavior across any other credit cards or loans you may have as well to determine your creditworthiness.
If you have a secured card that doesn't automatically upgrade you after a certain period of time — after six to 12 months of using your secured card and diligently paying it off — it's time to start checking your score progress. If your credit score has climbed above 670, you have a good chance of being approved for an unsecured card.
You can check your credit score for free by signing up at LendingTree. Your bank may also offer a free credit score service: Discover also offers free credit scores to anyone, as does Capital One and Chase.
Before applying for a new, unsecured card, keep the secured card open until you know you're approved for the new card as closing a card will knock off a few of those hard-earned credit score points for a year. Once you have that new card in hand, you're free to close the secured card and get your deposit back — minus any outstanding balance or fees.
Still, after you make the switch, it's important to keep practicing good credit habits to make sure your score keeps rising. That means not maxing out the new card and making at least the minimum payment by the statement due date.
If a secured credit card isn't for you, another alternative is to consider applying for a personal loan. If you're able to make the monthly payments, a personal loan is another good tool for building a positive credit history while climbing your way out of debt.
Learn more about your credit score!