How Does LendingTree Get Paid?
LendingTree is compensated by companies on this site and this compensation may impact how and where offers appear on this site (such as the order). LendingTree does not include all lenders, savings products, or loan options available in the marketplace.
Secured vs. Unsecured Credit Cards: What's the Difference?
Updated on: October 13th, 2021
Editorial Note: The content of this article is based on the author's opinions and recommendations alone. It may not have been reviewed, approved or otherwise endorsed by the credit card issuer. This site may be compensated through a credit card issuer partnership.
If you're trying to build or rebuild your credit history and score, you may have come across secured credit cards in your search for a credit card you can qualify for. But you may be wondering how they differ from unsecured credit cards, and if they're the right choice for you.
In short, both secured and unsecured cards are quite similar in that they can typically be used anywhere credit cards are accepted — except that secured credit cards require you to submit a security deposit that serves as your credit line, rather than the card issuer allowing you to borrow against the bank's funds.
We'll help you understand what a secured credit card is, how it works, how it differs from an unsecured card and how you can use it to build credit.
Click below to learn more:
What is a secured credit card?
While a secured card can be used the same way as an unsecured card, it requires a minimum security deposit from the applicant. The amount you're required to deposit is typically $200, but it can be as low as $49 and upwards of $2,500. Your security deposit serves as your line of credit, so if you deposit $200, your credit limit will generally be $200, depending on the issuer.
If you want a higher credit limit, most secured card issuers will allow you to deposit more money. Some issuers even provide credit limit increases without requiring an additional deposit after you exhibit good payment history for several consecutive months.
If you pay your bill in full and close your account, or if you're upgraded to an unsecured card, your deposit will then be refunded to you (minus any fees). Most secured cards from major credit card issuers — such as Discover, Citi and Capital One — offer the opportunity to upgrade from your secured card to an unsecured card, though after a certain time period of responsibly borrowing and repaying on the secured card.
However, not all secured card issuers allow you to do that, so once your credit score improves and you want to transition from a secured to an unsecured card, you may have to formally apply for your card of choice.
Secured credit card vs. unsecured credit card
While both secured and unsecured cards can be used everywhere card payments are accepted, secured cards are particularly designed to assist people whose credit scores likely wouldn't allow them to qualify for regular, unsecured cards.
Secured cards are marketed to those looking to build or rebuild their credit histories and scores and have lower qualification requirements, making them easier to be approved for.
The reason why secured cards are easier to be approved for is because a security deposit is required, which acts as collateral should you default on your account.
With unsecured cards, lenders assume more risk, as the credit lines on these cards are funded by the bank, rather than funds provided by the borrower.
That's why unsecured cards require applicants to have stronger credit histories and higher credit scores that reflect responsible borrowing and repayment behavior over a longer period of time.
Know that while there are some unsecured cards for those looking to rebuild credit, these cards often come with high fees.
How a secured credit card works
Before you apply for a secured card, here are a few things to watch out for:
Make sure the card reports account and payment activity to all three credit bureaus (Experian, Equifax and TransUnion) instead of just one or two. The reason why you want reporting to all three bureaus is because once your credit improves and you want to apply for a future loan or an unsecured card, you want to ensure that your positive history with the secured card is accessible to lenders who refer to one or all the credit bureaus to review your creditworthiness.
Watch out for fees. Some secured cards charge an annual fee and other fees, which are initially deducted from your security deposit. For example, if you are approved for a secured card requiring a $200 initial security deposit, but the card charges a $69 annual fee, then your available credit on that card is reduced to $131. Other fees to watch out for include setup fees and additional card fees.
High APRs. Generally speaking, cards marketed to those with low credit scores tend to come with higher-than-average interest rates. This doesn't have to be a huge deterrent if you only charge what you can pay off when the statement is due, so you can then avoid interest charges entirely. However, if you tend to revolve a balance on the card, expect to pay more as interest charges are assessed on the remaining balance.
After settling on a secured card that works for you, be prepared to submit the required security deposit with your application by providing your bank information, along with your name, address, and other required information.
Once approved, you can use your secured card just like you'd use a regular credit card. After you make your minimum security deposit and receive the card, you'll be able to access your credit limit and start using your card. You can use it for everyday purchases, online transactions and bills — pretty much anything that accepts credit cards.
A secured card incurs interest on balances that remain after your bill's due date, so be sure you make timely payments that cover your entire balance. This will help you build a good credit history, and may even allow you to receive a higher credit limit over time — of course, this depends on whether you have a card that offers credit limit increases with consecutive on-time payments.
There are secured cards that have annual fees up to $49, though the cards with fees tend to be from lesser-known banks. We recommend sticking to secured cards from major banks that have no annual fees.
How to build credit with a secured card
A secured card can be a great asset on your journey to build or rebuild your credit profile. The actions you take with your secured card are typically reported to the credit bureaus, so make sure you practice the following responsible credit behaviors that can help boost your credit score:
Pay on time and in full. Payment history accounts for 35% of your credit score and is the most important factor. That's why it's important to always make payments on time each billing cycle.
Tip: Set up autopay or payment reminders so you don't miss a payment.
Use the card every month, but only charge a small amount. The second most important factor making up 30% of your credit score is your credit utilization, which measures how much of your credit limit you're using each month. Experts recommend using less than 30% of your credit limit each month for optimal results. So, if your secured card has a $200 limit, don't charge more than $60 a month to the card, and then pay off the entire balance by the statement due date.
Tip: Add a small recurring charge, like Netflix or Spotify, to your account.
Recommended secured cards
There are numerous secured cards available, but here are three popular secured cards that charge a low or no annual fee:
Discover it® Secured Credit Card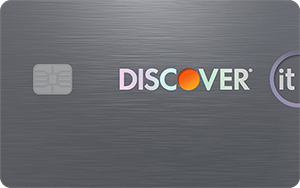 on Discover's secure site
2% cash back at Gas Stations and Restaurants on up to $1,000
No credit score required to apply.
No Annual Fee, earn cash back, and build your credit with responsible use.
Establish your credit line by providing a refundable security deposit of at least $200. That means a $200 deposit for a $200 credit line. Or a $500 deposit for a $500 credit line. Bank information must be provided when submitting your deposit, and the security deposit equals your credit limit.
Automatic reviews starting at 7 months to see if we can transition you to an unsecured line of credit and return your deposit.
Earn 2% cash back at Gas Stations and Restaurants on up to $1,000 in combined purchases each quarter. Plus, earn unlimited 1% cash back on all other purchases – automatically.
Discover helps remove your personal information from select people-search websites. Activate by mobile app for free.
Get an alert if we find your Social Security number on any of thousands of Dark Web sites.* Activate for free.
Click "Apply Now" to see terms and conditions.
No annual or hidden fees. See if you're approved in seconds
Building your credit? Using the Capital One Platinum Secured card responsibly could help
Put down a refundable security deposit starting at $49 to get a $200 initial credit line
You could earn back your security deposit as a statement credit when you use your card responsibly, like making payments on time
Be automatically considered for a higher credit line in as little as 6 months with no additional deposit needed
Enjoy peace of mind with $0 Fraud Liability so that you won't be responsible for unauthorized charges
Monitor your credit score with CreditWise from Capital One. It's free for everyone
Get access to your account 24 hours a day, 7 days a week with online banking to access your account from your desktop or smartphone, with Capital One's mobile app
No credit check to apply and find out instantly if you are approved.
OpenSky gives everyone an opportunity to improve their credit with an 85% average approval rate for the past 5 years
Get considered for a credit line increase after 6 months, with no additional deposit required
You could be eligible for the OpenSky Gold Unsecured Card after as few as 6 months
Reports to all 3 major credit bureaus monthly, unlike a prepaid or debit card
View your FICO® Score through your OpenSky account, an easy way to stay on top of your credit
Nearly half of OpenSky cardholders who make on-time payments improve their FICO score 30+ points in the first 3 months
Your refundable* deposit, as low as $200, becomes your OpenSky Visa credit limit
Easy application, apply in less than 5 minutes right from your mobile device
Offer flexible payment due dates which allow you to choose any available due date that fits your payment schedule
*View the cardholder agreement