How Does LendingTree Get Paid?
LendingTree is compensated by companies on this site and this compensation may impact how and where offers appear on this site (such as the order). LendingTree does not include all lenders, savings products, or loan options available in the marketplace.
MLM Consultants Pressure Friends and Family to Overspend, And It's Straining Relationships
Updated on: December 16th, 2019
Editorial Note: The content of this article is based on the author's opinions and recommendations alone. It may not have been reviewed, commissioned or otherwise endorsed by any of our network partners.
Multi-level marketing companies, such as Mary Kay, Herbalife and Arbonne, thrive in today's increasingly connected world. While consultants used to host parties and even go door-to-door selling their products, they don't even have to leave the comfort of their own homes. All they have to do is post their products on social media to capture the attention of hundreds or thousands of people at once.
But a recent LendingTree survey found that MLM consultants for these companies are pressuring friends and family to buy products they might not even want. We surveyed more than 1,000 Americans to hear their thoughts about MLM companies. Here's what we found.
Key findings
2 in 5 Americans felt pressured to buy products from MLM consultants within the last 12 months. Of those who felt obliged, about a third said they felt pressured to make a purchase from a family member, and 24% from a friend.
51% said they've spent "too much" on MLM products from friends and family members who sell them.
Nearly half of all Americans report being inundated by social media friends selling MLM products on their news feeds.
More than 1 in 3 consumers regret purchasing products from an MLM consultant.
More than 1 in 4 Americans say MLMs have ruined at least one friendship. For 1 in 5, MLMs have caused strained relationships with a family member.
Millennials feel the most pressure to purchase from friends or family, and are most likely to experience strained relationships as a result.
Family and friends feel pressure from MLM consultants the most
Survey respondents indicated a trend that they're most pressured to buy products by the people who are closest to them: friends and family. Nearly 1 in 3 people feel pressured by a family member who's an MLM consultant, with 1 in 4 experiencing pressure from their consultant friends.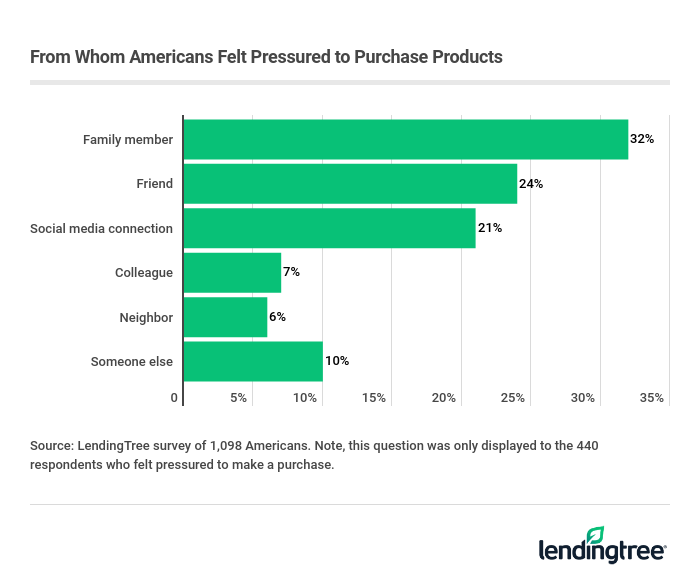 Unsurprisingly, 21% of respondents said that they felt pressure to buy products from a social media connection. MLM consultants use social media outlets like Facebook and Instagram to find new sales leads.
Millennials are pressured more than Gen X and baby boomers
The generation accused of spending too much money on mimosa brunches and avocado toast might also be guilty of overspending on products pitched by MLM consultants. More than half — 59% — admitted to spending too much on MLM products bought from friends or family.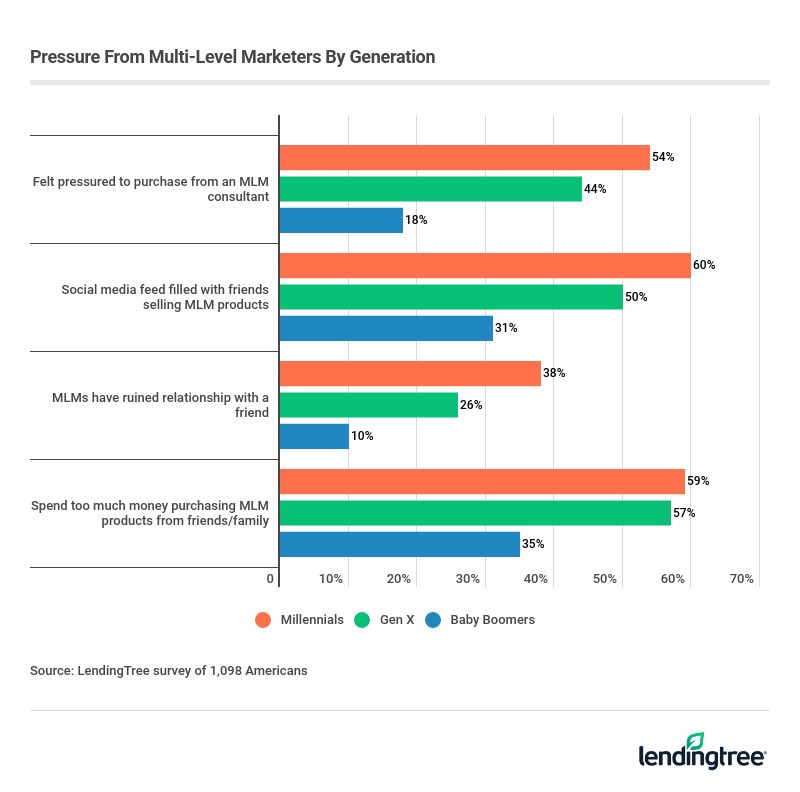 That could be because millennials report experiencing pressure to purchase MLM products at a higher rate than Gen Xers and baby boomers. Plus, 60% of millennials surveyed said that their social media feeds are filled with ads from MLM consultants, compared with 50% of Gen Xers and 31% of boomers.
Sadly, 38% of millennials said that MLMs have ruined a relationship with a friend.
Consumers also feel pressured to attend sales parties and join teams
Multi-level marketing isn't just about making direct sales. The more people a consultant has under them selling the products, known as the "downline," the more money they can make. So in addition to pressuring you to buy something, a consultant may pressure you to become a consultant, as well.
Nearly half of respondents have felt pressured to attend a sales "party" hosted by an MLM consultant. Forty percent of Americans were asked to become an MLM distributor last year — and 16% accepted the offer.
34% regret buying products from an MLM consultant
Buyer's remorse isn't an uncommon phenomenon, but it's worth noting that more than 1 in 3 consumers regret purchasing products from a multi-level marketing consultant.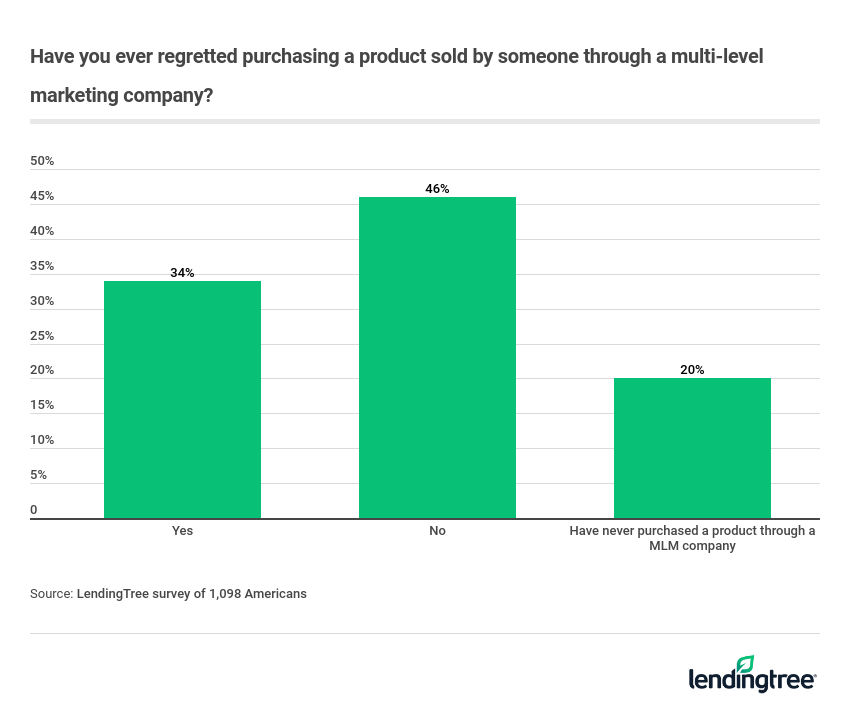 Still, more shoppers reported that they didn't regret their MLM purchases, at 46%. About 1 in 5 said that they've never bought a product from an MLM consultant.
Despite regret, shoppers may still buy holiday gifts from MLM companies
Even though a third of shoppers regretted buying a product from an MLM consultant, nearly two-thirds are still considering giving MLM products as gifts this holiday season.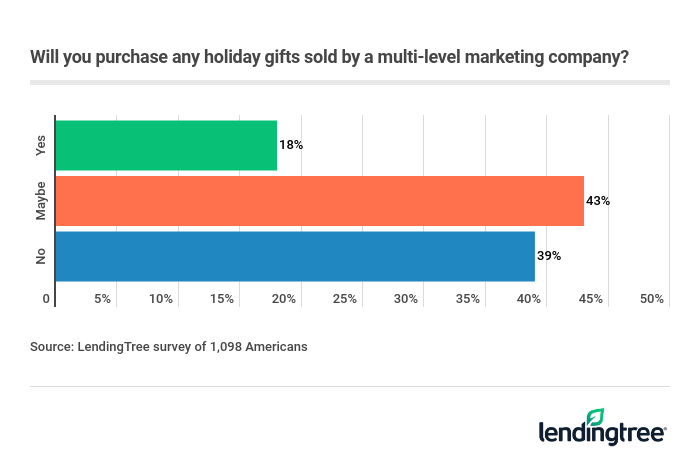 Sixty-one percent are considering purchasing holiday gifts from an MLM consultant, with Mary Kay (29%), Pampered Chef (26%) and Scentsy (20%) as the top contenders. Respondents also expressed interest in buying holiday gifts from Herbalife, LuLaRoe, LipSense, Younique and Rodan + Fields.
How to politely turn down an MLM consultant
The reality is that what you do with your money is strictly your business. You shouldn't have to explain yourself for not wanting to buy a certain product or for not wanting to become a distributor on a friend's team. But when family and close friends are involved, it doesn't hurt to approach the situation with tact and respect.
Avoid misunderstandings and hurt feelings by turning down your loved one with a short "no thanks." If a consultant is persistent, then take a more direct approach by asking them not to ask again.
This should be obvious, but it merits a mention: Don't be condescending or rude to your loved ones, even if you disagree with the business model of a product they're selling.
Methodology
LendingTree commissioned Qualtrics to conduct an online survey of 1,098 Americans, with the sample base proportioned to represent the overall population. The survey was fielded November 8-12, 2019.