How Does LendingTree Get Paid?
LendingTree is compensated by companies on this site and this compensation may impact how and where offers appear on this site (such as the order). LendingTree does not include all lenders, savings products, or loan options available in the marketplace.
Millennials And Men Are Overspending for Instagram Fame
Published on: November 14th, 2019
Why use LendingTree?
We are committed to providing accurate content that helps you make informed money decisions. Our partners have not commissioned or endorsed this content. Read our .
Instagram may be free to download onto your phone. But new data shows that the photo-sharing app may lead to peripheral spending in the service of making the perfect post — even if users don't have the money to spend.
LendingTree conducted a survey of over 1,200 American Instagram users and found that more than 20% of them have gone into debt for Instagram, a figure that jumps to almost 30% amongst millennials.
Users are also buying followers and faking sponsored content, all in the hopes of racking up views, likes and followers.
Key findings
Nearly 3 in 10 millennials have gone into debt for Instagram, and 39% of them racked up more than $1,000. Across all age groups, 22% of Instagram users have spent more than they can afford over the social media app.
Men are 1.5 times more likely than women to have Instagram-induced debt, and 3 in 5 men admit to spending "more than they should" on things that will look good on their feed.
Nearly 3 in 4 men have bought something after seeing it on Instagram, and 21% owned up to purchasing followers.
64% of millennial Instagram users want to be considered a social media influencer, and they're willing to spend money to do so. Case in point: 31% made it look like a post was sponsored, when in reality they bought those featured products themselves.
62% of users spent money on things or experiences with the intent of showcasing the purchase on Instagram, whether it's an Insta-worthy museum or the latest tech gadget.
About 70% of Instagram users have purchased something after first seeing it on their feed, and 19% have done so many times.
42% have purchased something they normally wouldn't have because an influencer offered a discount code.
Men shop more often on Instagram than women
Men were more likely to spend money on items they've seen on their Instagram feeds, and also to purchase both things and experiences with the express intention of crafting a post.
In fact, 72% of men admitted to spending money on something they saw on their feed, whereas 66% of women did. Men were also more likely to go into debt over Instagram-related purchases.
Of course, women didn't escape the temptation entirely. One in two female respondents agreed that they "spend more than they should" on things they believe will play well on their feeds.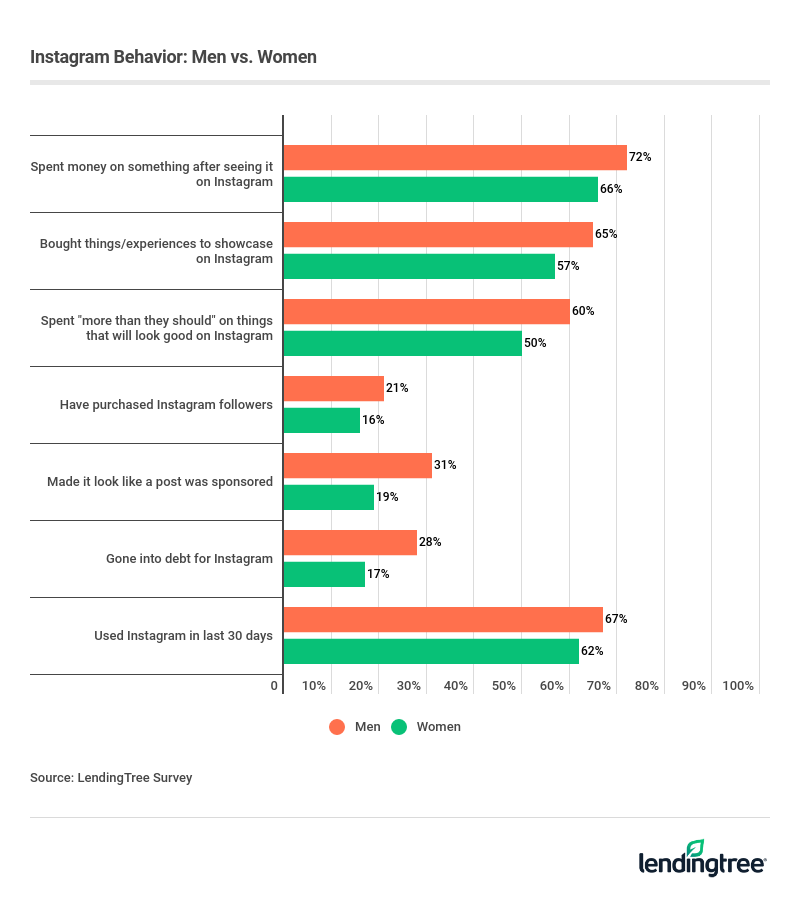 Men are more concerned with appearances
The data suggests men are more preoccupied with performance. Over a fifth (21%) had purchased Instagram followers, and about a third (31%) had composed a fake "sponsored" post. (The percentage of women who fessed up to these activities: 16% and 19%, respectively.) And while 63% of respondents said they were disappointed when a post doesn't get many likes, men feel especially let down after a poor post performance.
Regardless of gender identity, these behaviors can easily tip a balance out of budget — especially when users are hoping for real sponsorships that may never come.
Even if you're not preoccupied with curating your own feed into a money-making machine, scrolling through others' feeds can lead you astray. Existing influencers, combined with targeted ads, can turn your Instagram app into more of an online shopping portal than a social media platform. And when you're shopping each time you check your phone, it's not hard to see how some users are getting into debt over social media.
What Instagram users are buying to flaunt online
Instagram users are shelling out money over just about everything to flaunt online. Purchases range from clothing, home decor items and accessories to experiences like travel, dining and tickets to events.
The largest portion of Instagram-inspired purchases are those that go onto (or into) the body: clothing (74%), accessories (54%), and food (48%). And there's an argument to be made that these purchases are "needs," though there's a difference between buying a $300 jacket you saw on your feed and nabbing one at your local thrift shop.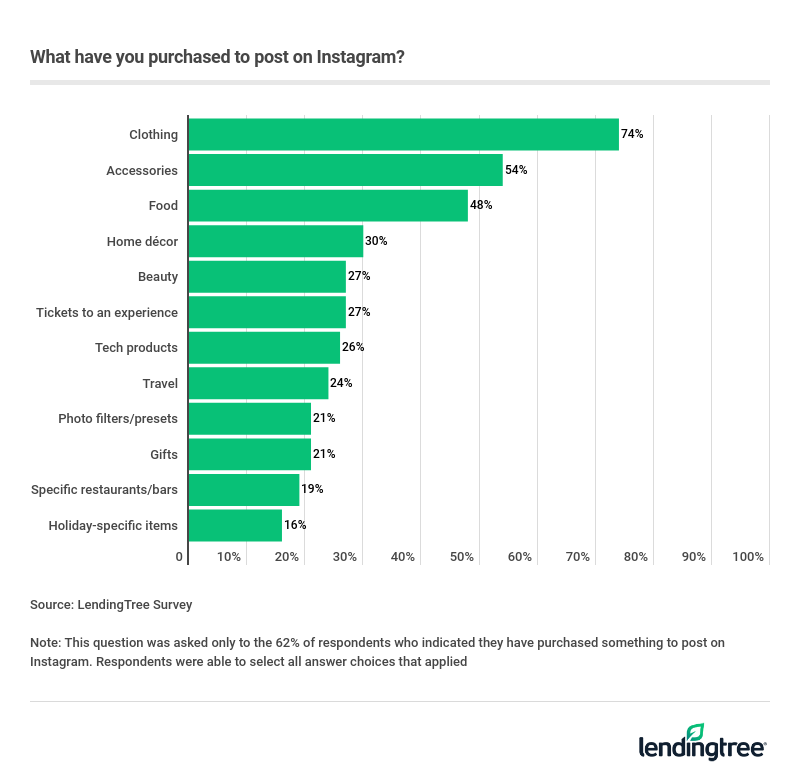 Almost a quarter of users admitted to decidedly superfluous spending, including pricey tech gadgets and getaways. Considering the average airfare for a domestic flight is about $360 per the Bureau of Transportation Statistics, that classic airplane wing post is a costly way to earn likes.
What's more, over a fifth of Instagram users (21%) spent money on special Instagram photo filters — an expenditure that doesn't come with any additional use or enjoyment (like food, clothing or vacations). Other major 'gram-related spending categories include home decor (30%) and beauty products (27%), both of which are critical to creating posts populated with pretty people in serene-looking surroundings.
Millennials spend most often on Instagram
Instagram was once considered primarily the realm of the young. But while Gen Z users are logging on more often, millennials are spending on a more frequent basis. That may be due to the fact that millennials are entering middle age and thus, are more established in their careers and have more disposable income to spare.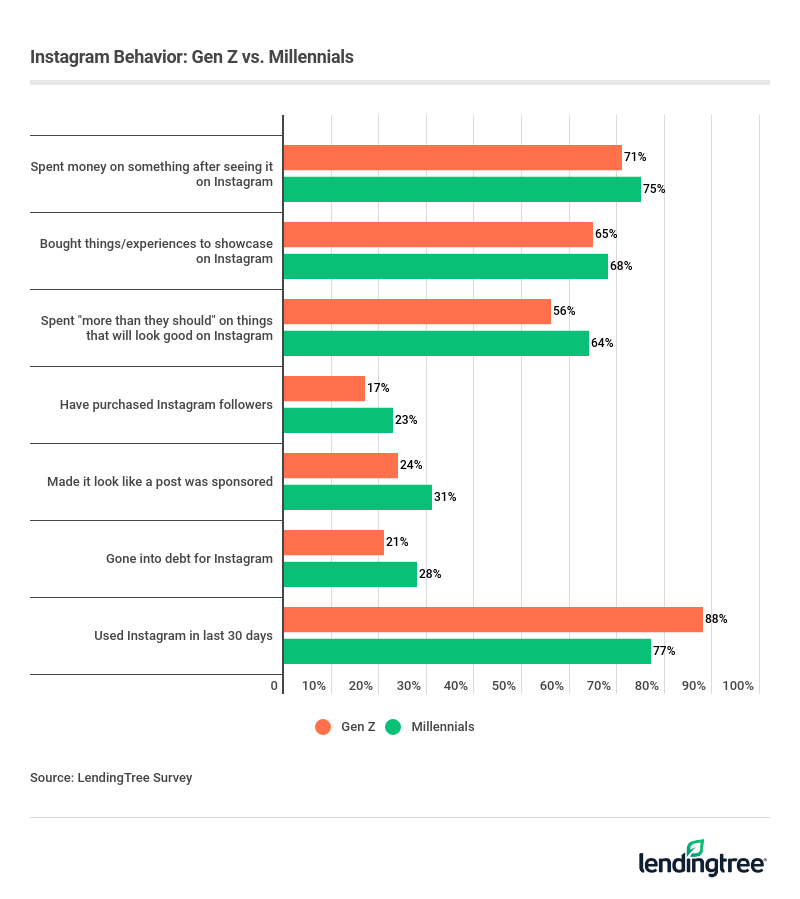 Overall, 63% of Gen Z and millennial respondents said they felt compelled to portray a certain lifestyle on Instagram, which could motivate excess spending. But millennials are more captivated by the idea of becoming influencers: 64% of them expressed a desire to become influencers, and 31% went far enough to fake their own "sponcon."
Just because millennials are in the lead, however, doesn't mean Gen Z isn't making Instagram-related expenditures. In fact, 21% of Gen Z users admitted to going into debt over Instagram, as opposed to 28% of millennials.
Curbing your online spending — and getting out of existing debt
If you hear the siren song of snapping your own perfect pics, there are ways to help guard yourself from temptation. Taking a few measured steps can help you curb your online spending. There are ways to get out of any existing debt you've stacked up by scrolling, too.
Unfollow influencers. Over 80% of survey respondents said they follower influencers, and a quarter follow more than 20. Out of sight, out of mind, right? Hit that unfollow button!
Set a strict budget for online spending. If you really want to make Instagram-related purchases (or are dead set on becoming an influencer yourself), set a strict budget for online spending each month, and don't go over it — no matter how tempting a post may make an item or experience look.
Get off Instagram. Yes, it may seem like a nuclear option. But the real world is often pretty great to look at, too, so you might consider taking a step back from the abyss that is endless scrolling.
Look into your repayment options (if you're already in debt). You're not alone: Social media debt is a real phenomenon, as evidenced by this data. Fortunately, options like credit card consolidation can make it easier to get out from under sky-high interest payments. Essentially, you'll take out a new loan with more favorable terms to pay off your credit card debt. That way, you can repay your debt for less money and over a set period of time. You can explore other debt repayment strategies here.
Methodology
LendingTree commissioned Qualtrics to conduct an online survey of 1,210 Americans ⁠— 784 of whom have used Instagram within the last 30 days. The survey was fielded Sept. 25-29, 2019, with the sample base proportioned to represent the general population.
For the purposes of our survey, generations are defined as:
Generation Z are ages 18-22
Millennials are ages 23-38
Generation X are ages 39-53
Baby boomers are ages 54-73