How Does LendingTree Get Paid?
LendingTree is compensated by companies on this site and this compensation may impact how and where offers appear on this site (such as the order). LendingTree does not include all lenders, savings products, or loan options available in the marketplace.
What Your Zodiac Sign Says About Your Finances
Published on: October 22nd, 2018
Why use LendingTree?
We are committed to providing accurate content that helps you make informed money decisions. Our partners have not commissioned or endorsed this content. Read our .
Personal finance can be a very confusing, dull topic for many, so we carefully and methodically positioned our tongues into our cheeks (because we debt analysts are notoriously confusing and dull), and decided to have a little fun.
Using anonymized credit report data from over a million LendingTree users, we calculated a demographic breakdown of the following personal finance statistics by Zodiac sign.
Average credit score
Average number of late payments on a credit report
Average credit utilization (the amount of available revolving credit, typically credit cards, currently being used)
Average credit card balance
Average debt, excluding credit cards and mortgage debt
This is for entertainment purposes only. (Don't let the Hawaiian shirts and Birkenstocks fool you; our legal department is even more confusing and dull than we are.)  The differences between the signs aren't particularly vast, and there is a lot more variety within each sign than between them, but anyone who recognizes themselves in any of the profiles can take the advice seriously.
Key findings:
Aries and Libras are the most adept at using credit and debt. They take out plenty of loans and use their cards, but they pay their bills and keep their scores high.
Leos and Virgos (who follow each other on the calendar) have the most concerning credit profiles, with high balances, lots of late payments and low credit scores.
Geminis keep low debts and high credit scores.
Cancers, Scorpios and Capricorns are generally middle of the road, but a little boost in skills and discipline could make a big difference.
Tauruses and Aquarians are debt averse but could still do a better job of managing their bills.
Sagittarians and Pisces run up their debts higher than other signs but are middle of the road in terms of managing their finances.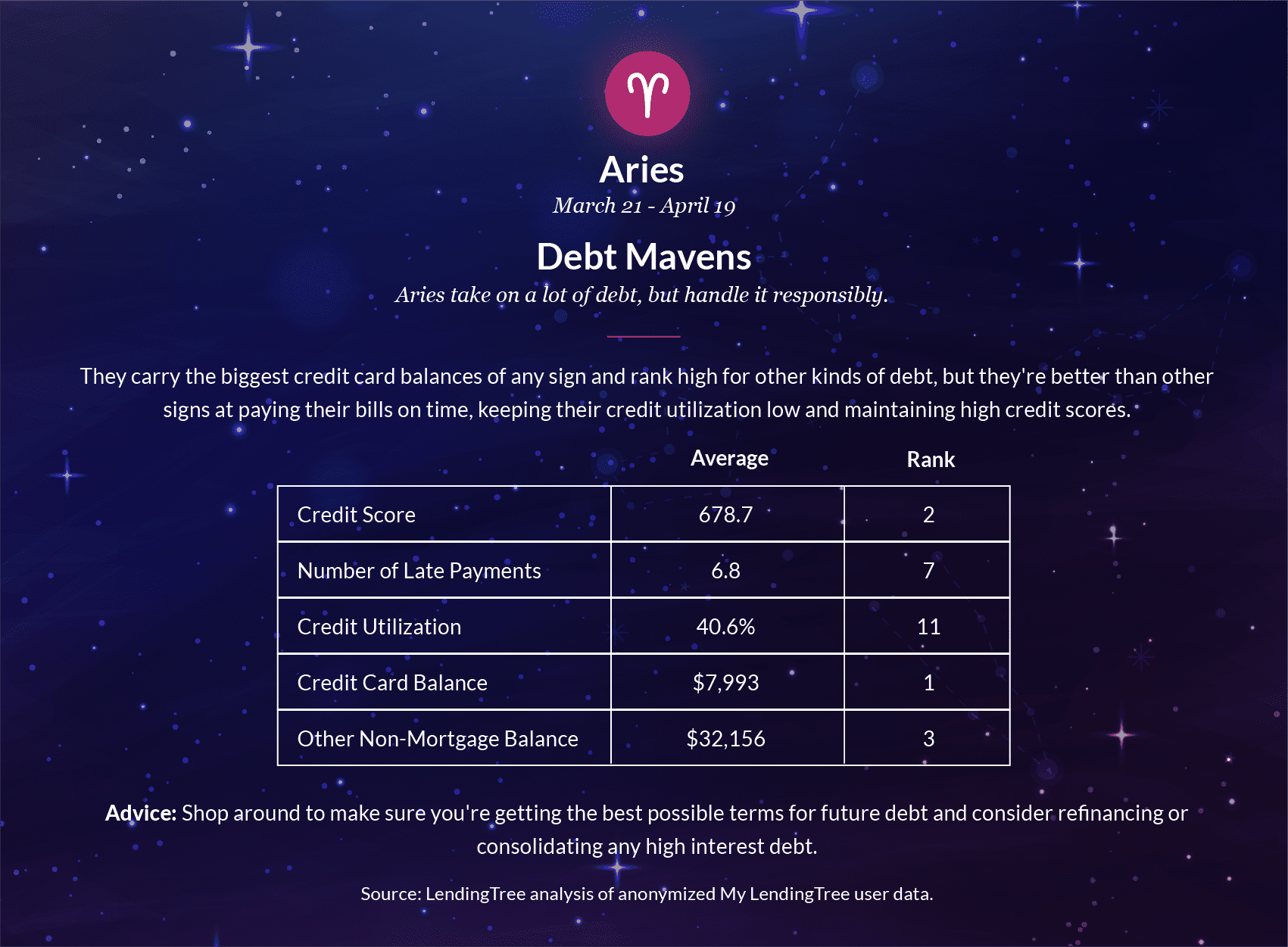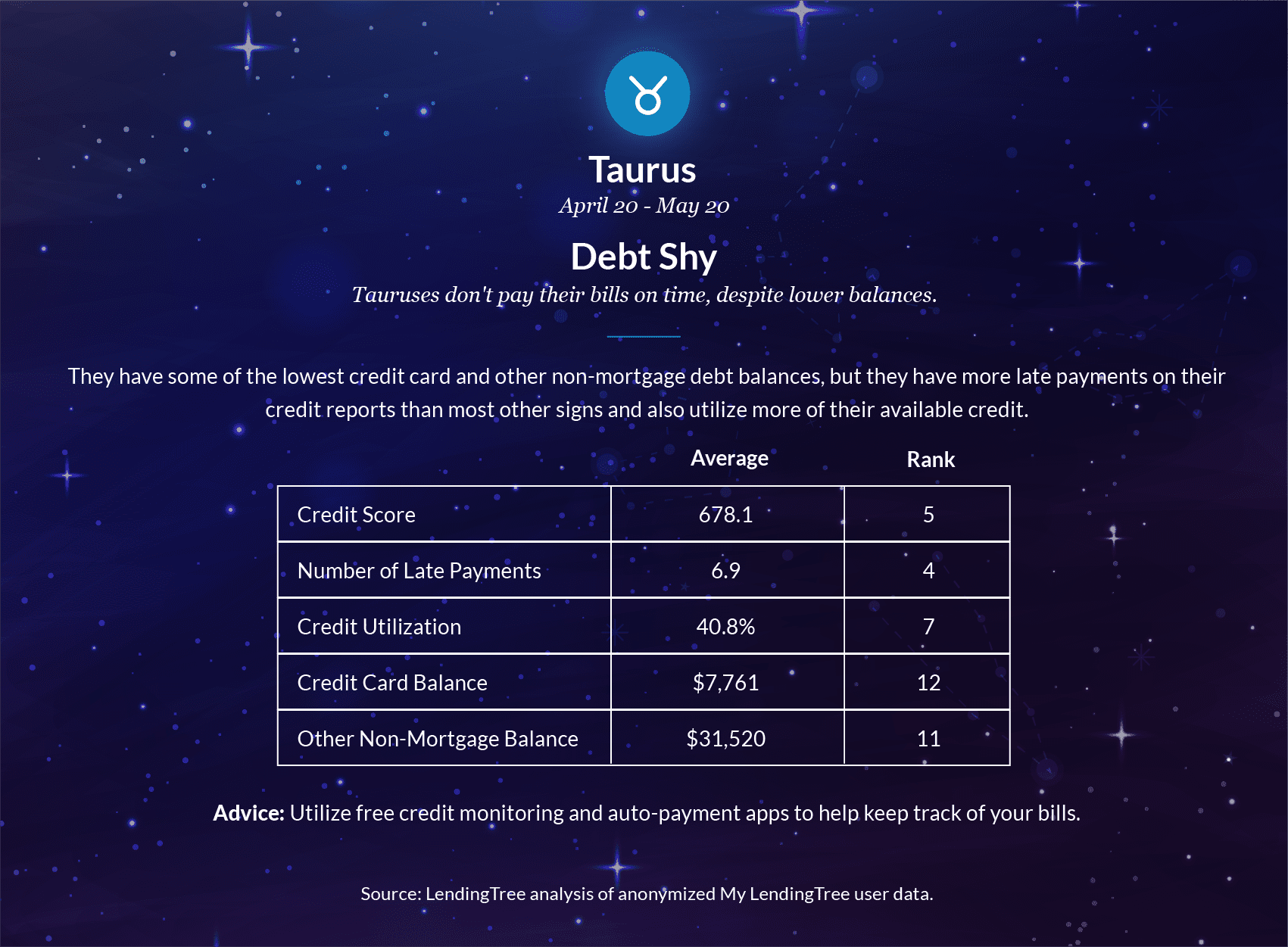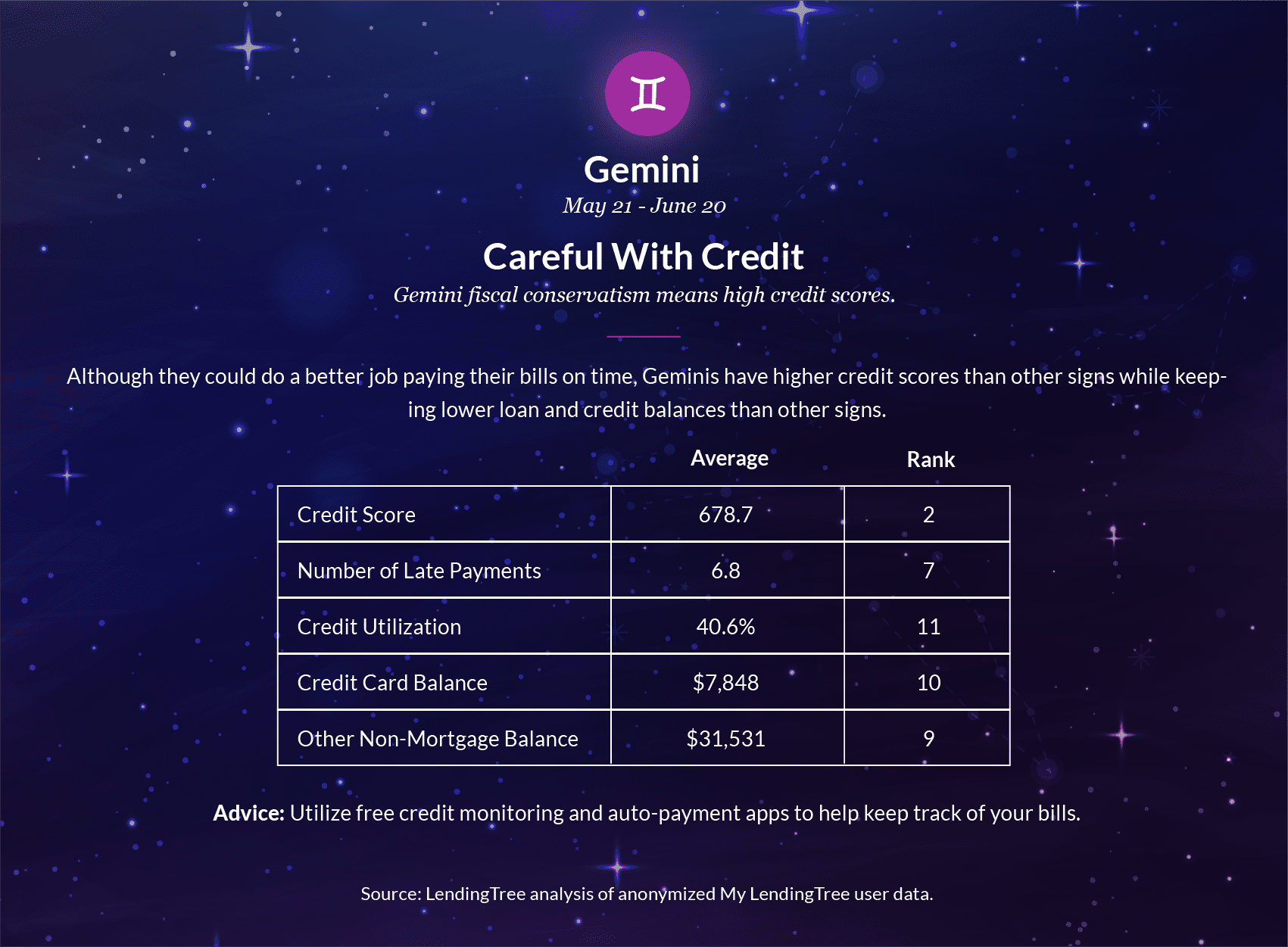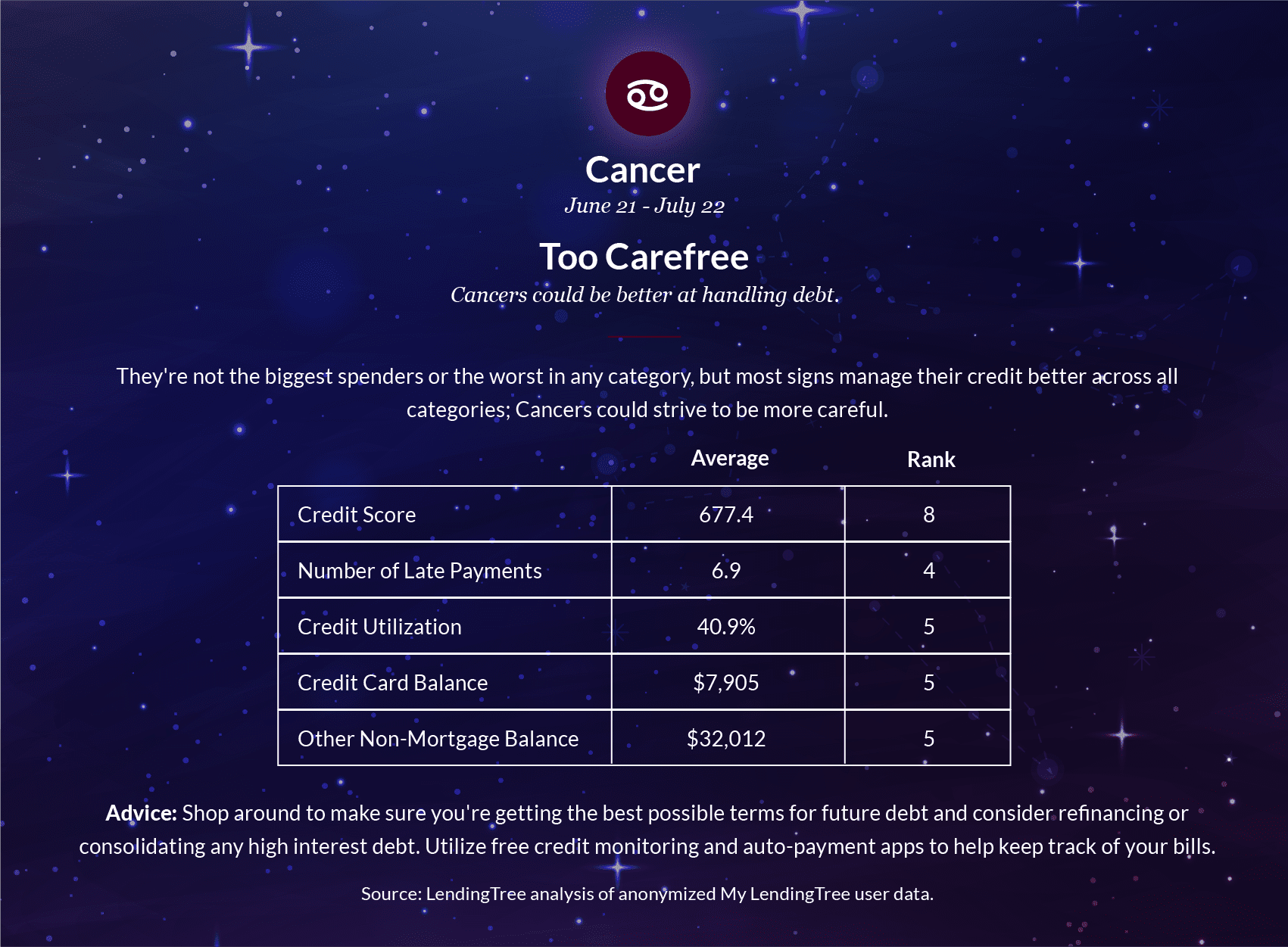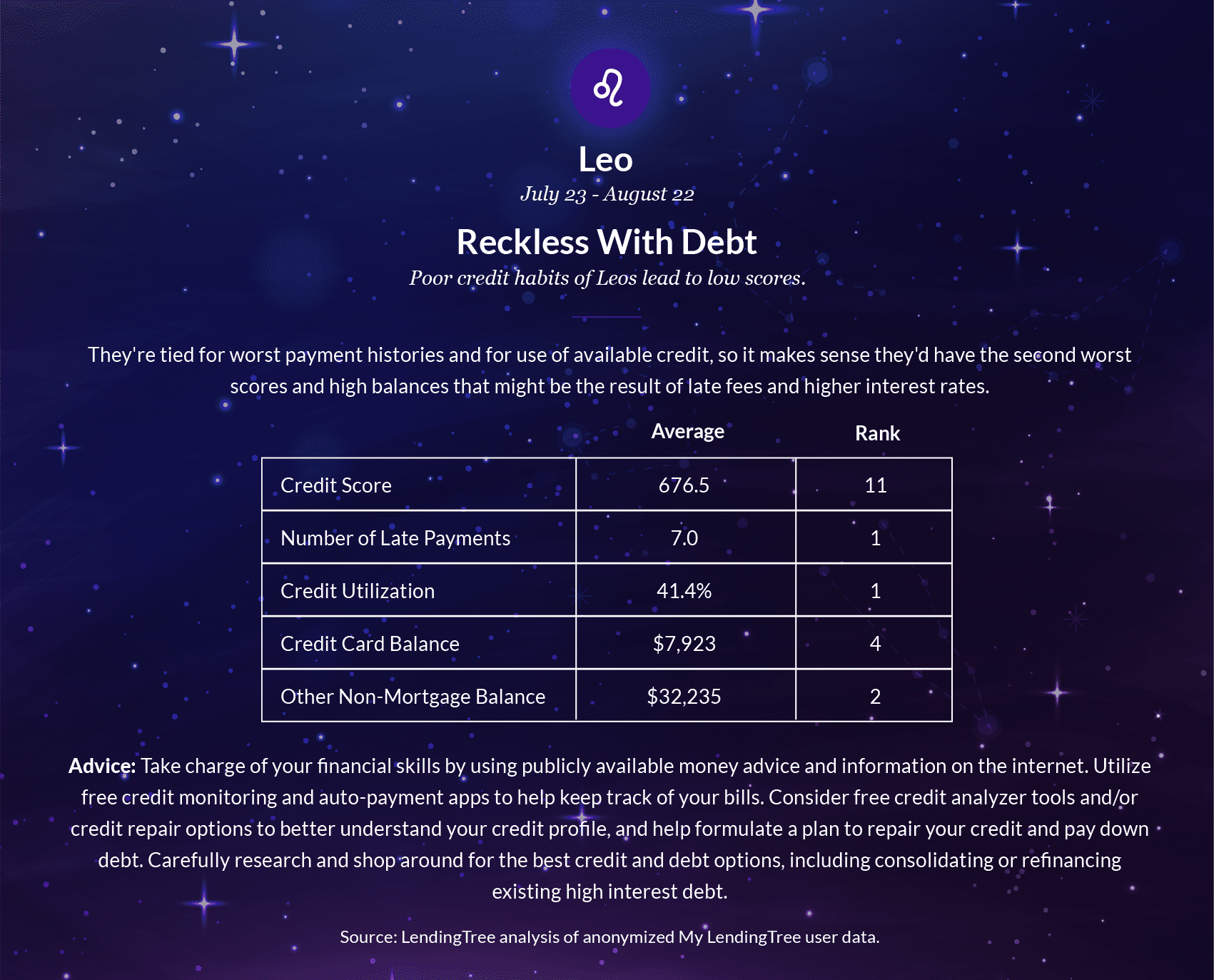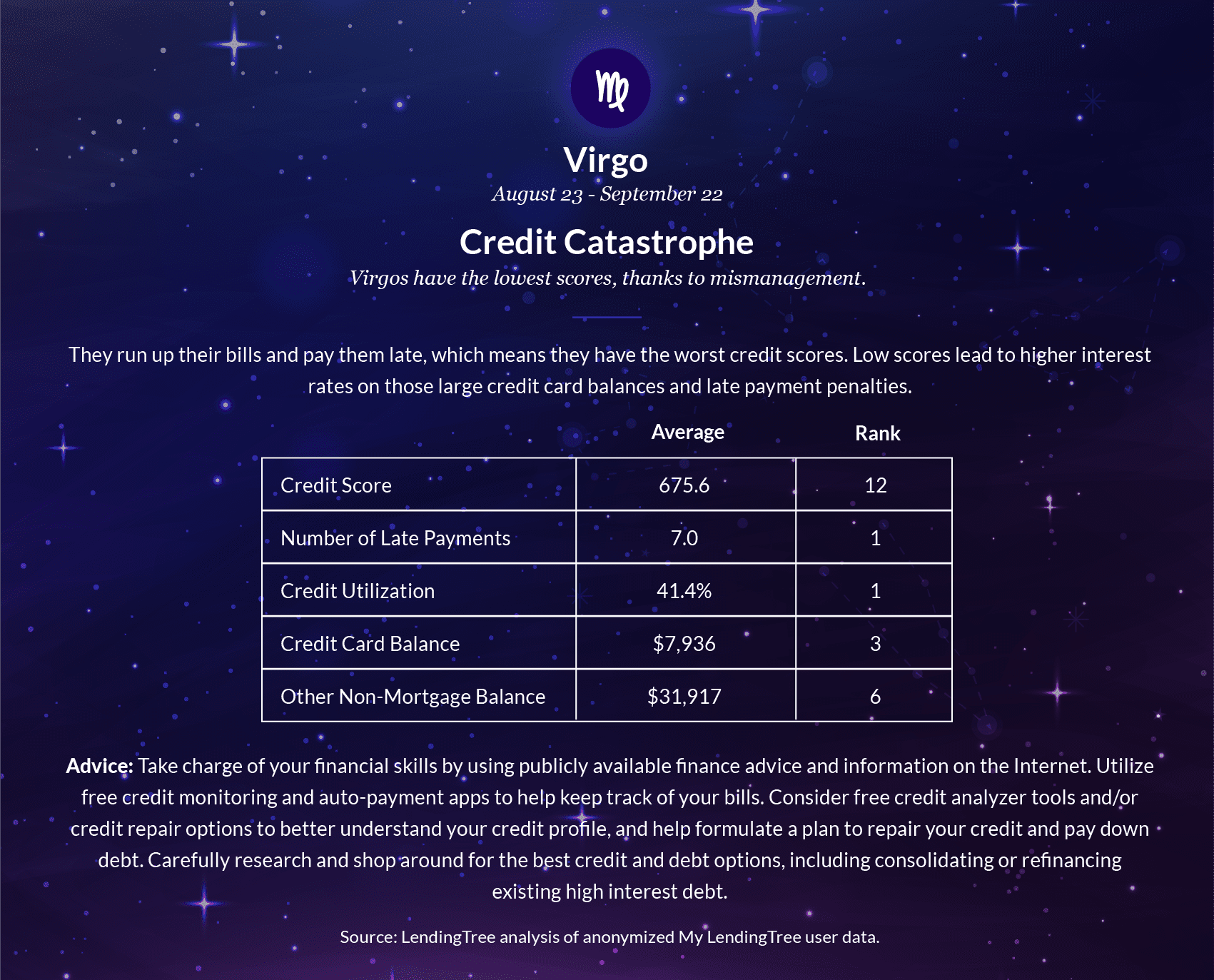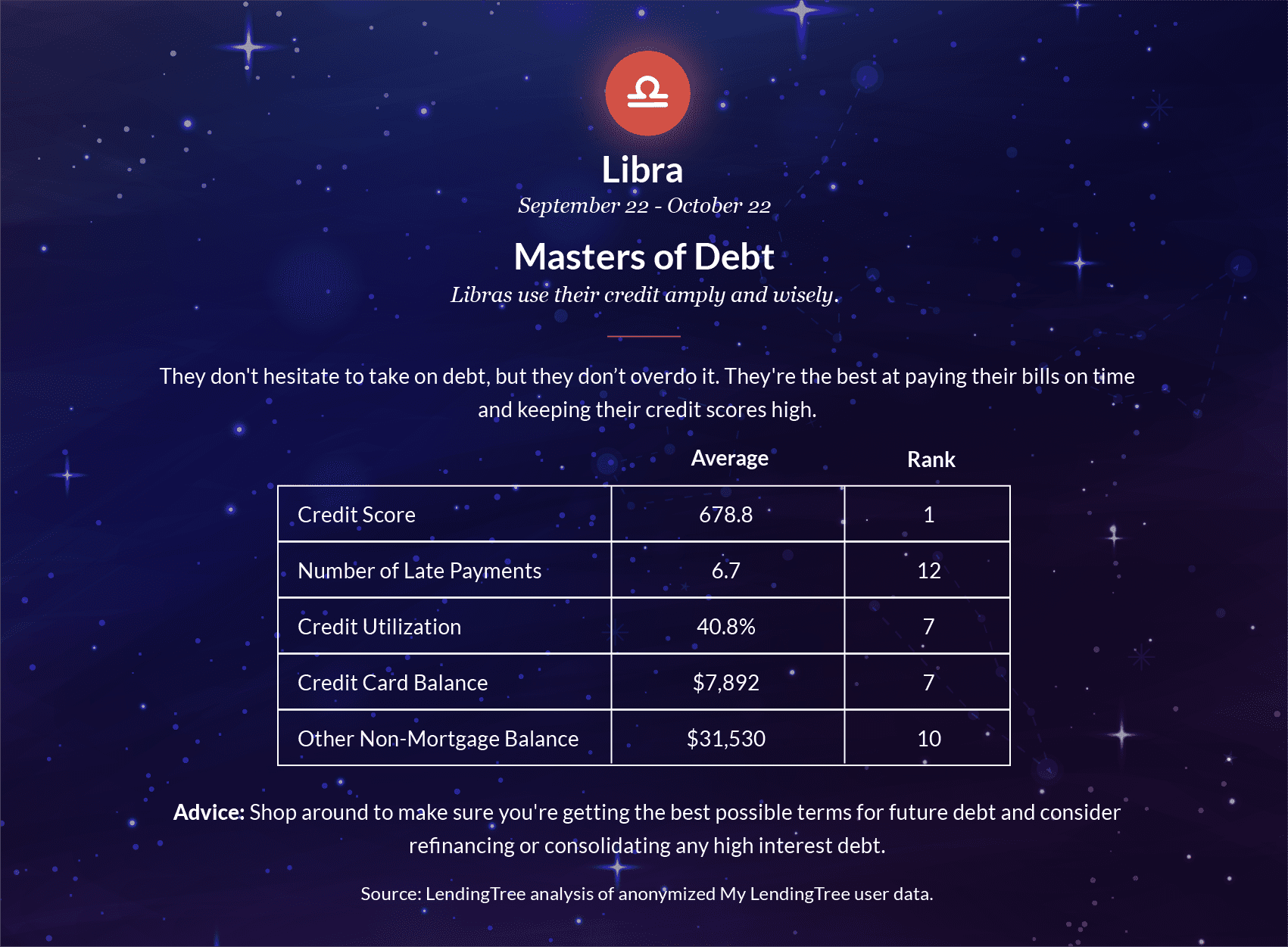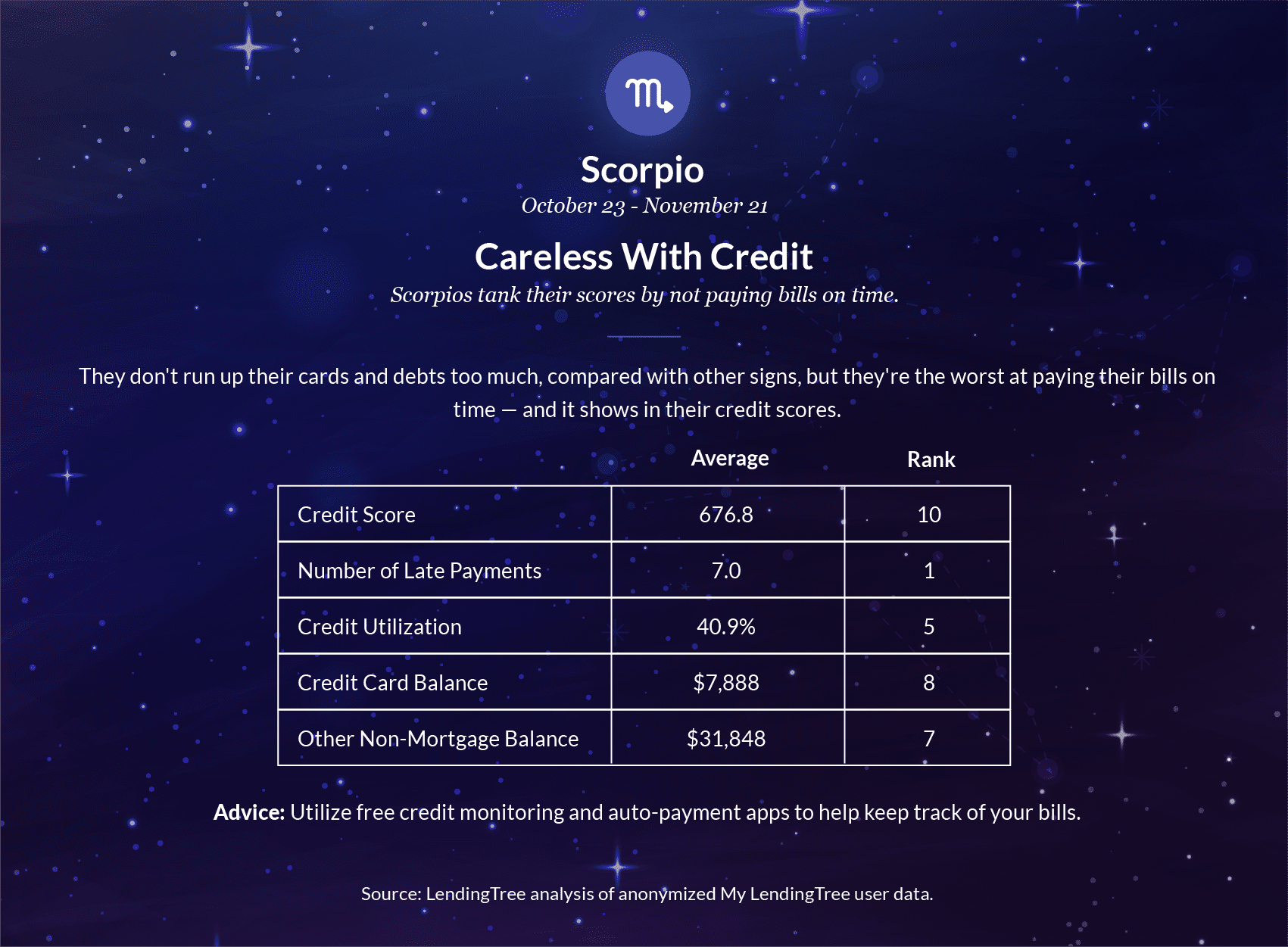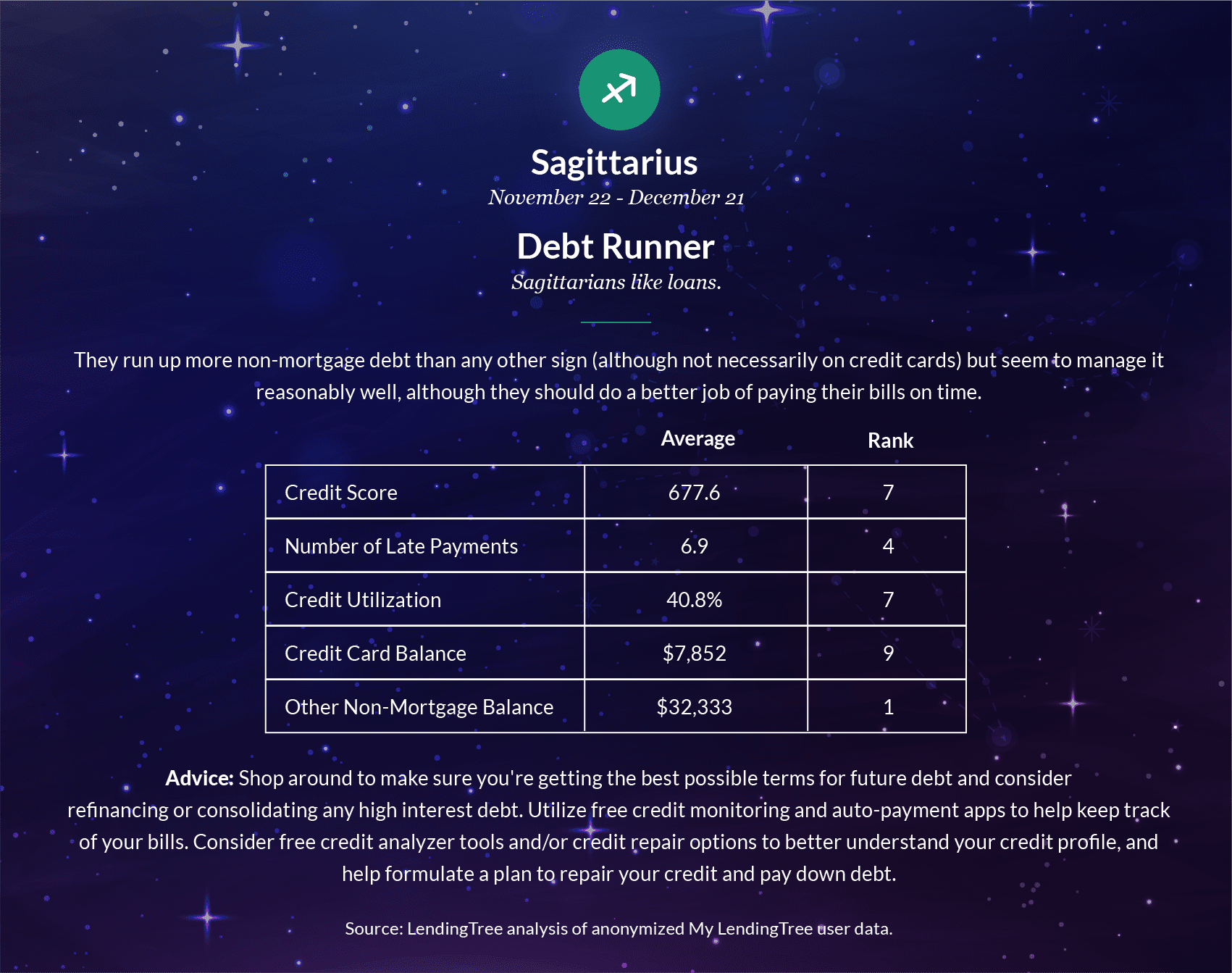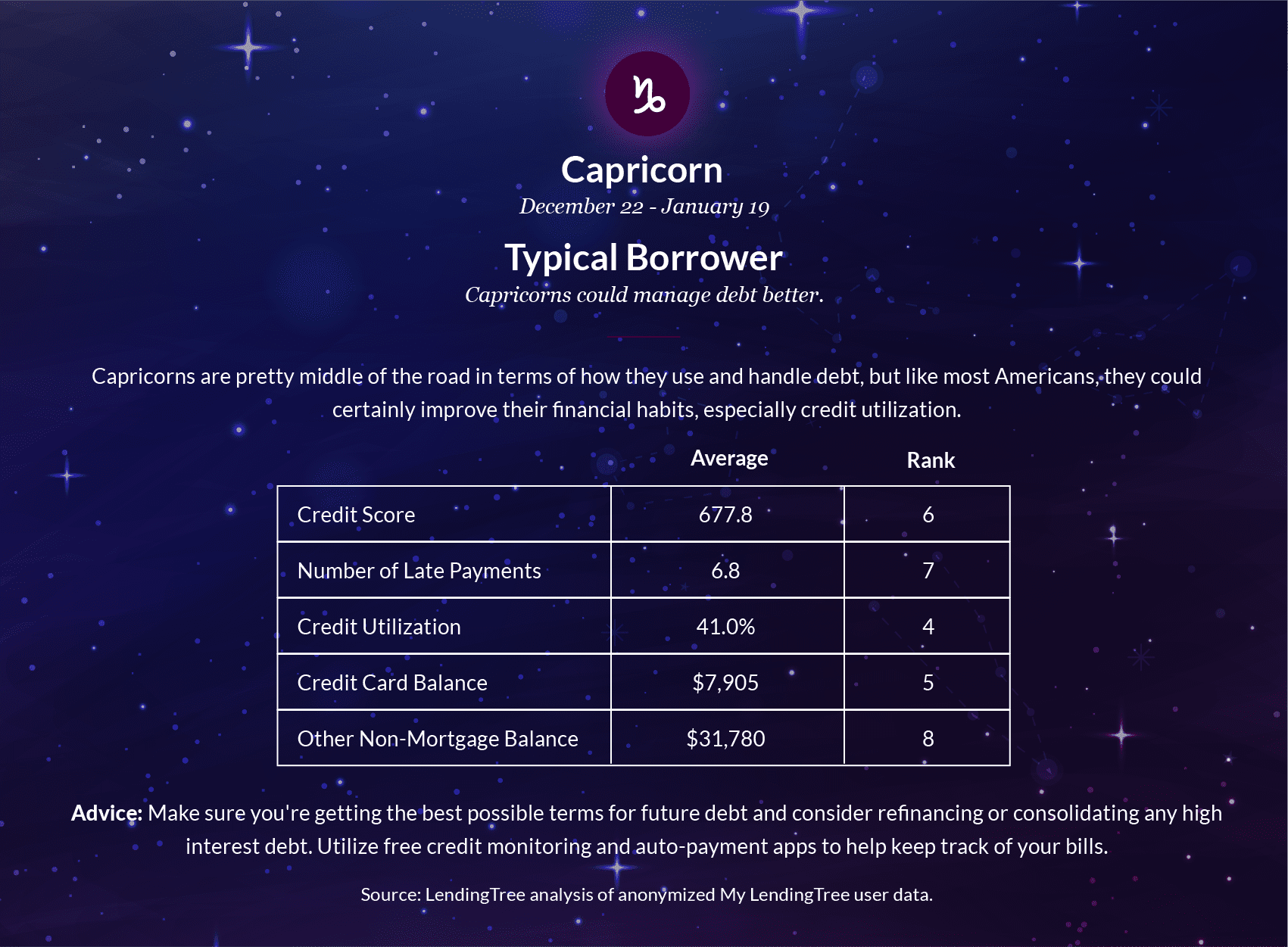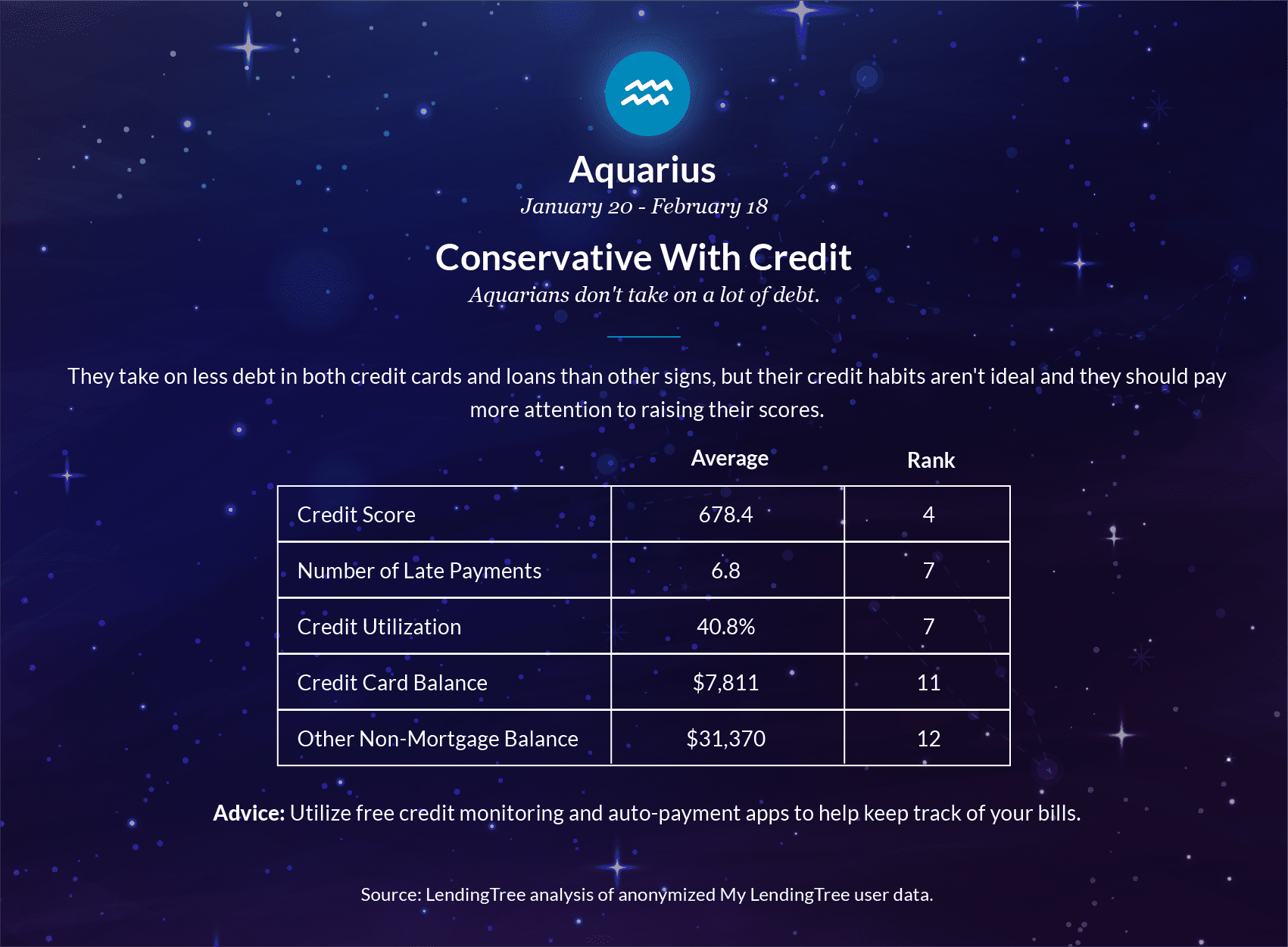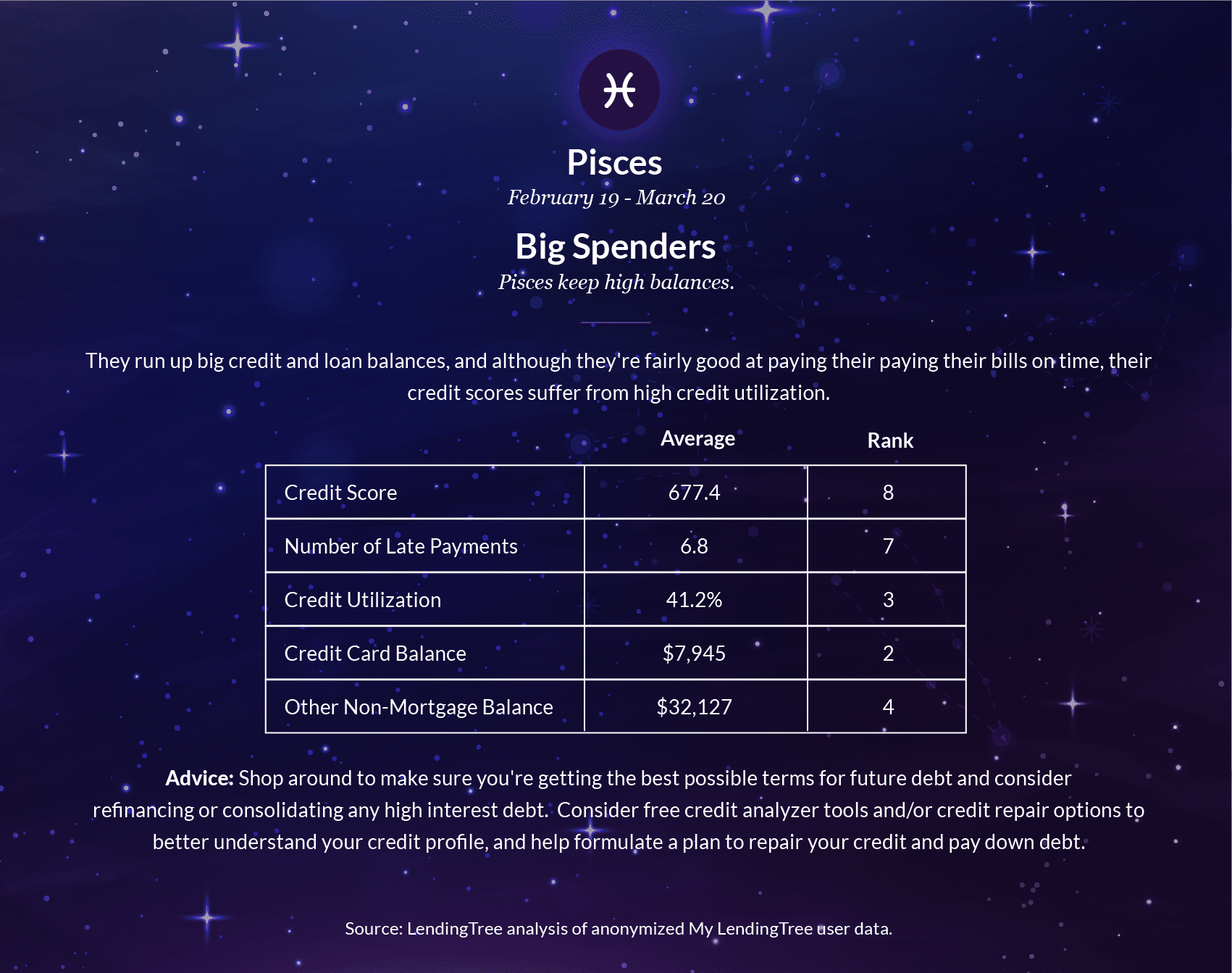 Resources for improving your credit and paying down debt
Feeling overwhelmed by debt and confounded by how to repair credit worthiness is an all too common experience and isn't limited to any particular sign.  Knowing it's important isn't the same as knowing what to do about it, but there is information and resources out there to help light the way.
Zodiac Average Debt Statistics
Signs
Credit Score
Number of Late Payments
Credit Utilization
Credit Card Balance
Other Non-Mortgage Balance
Aries
678.7
6.8
40.6%
$7,993
$32,156
Taurus
678.1
6.9
40.8%
$7,761
$31,520
Gemini
678.7
6.8
40.6%
$7,848
$31,531
Cancer
677.4
6.9
40.9%
$7,905
$32,012
Leo
676.5
7
41.4%
$7,923
$32,235
Virgo
675.6
7
41.4%
$7,936
$31,917
Libra
678.8
6.7
40.8%
$7,892
$31,530
Scorpio
676.8
7
40.9%
$7,888
$31,848
Sagittarius
677.6
6.9
40.8%
$7,852
$32,333
Capricorn
677.8
6.8
41.0%
$7,905
$31,780
Aquarius
678.4
6.8
40.8%
$7,811
$31,370
Pisces
677.4
6.8
41.2%
$7,945
$32,127
Source: LendingTree analysis of anonymized My LendingTree user data.
Methodology
Using an anonymized sample of over one million LendingTree accountholders from their September 2018 credit reports, researchers averaged credit scores, number of late payments, revolving credit utilization, credit card balances, and non-mortgage debt (excluding credit cards) aggregated by zodiac sign.
The signs are defined as Aries (people born between March 21 and April 19); Taurus (April 20 – May 20); Gemini (May 21 – June 20); Cancer (June 21 – July 22); Leo (July 23 – August 22); Virgo (August 23 – September 22); Libra (September 23 – October 22); Scorpio (October 23 – November 21); Sagittarius (November 22 – December 21); Capricorn (December 22 – January 19); Aquarius (January 20 – February 18); Pisces (February 19 – March 20).
LendingTree is a free credit monitoring service available to everyone, regardless of their debt histories, or whether they've used LendingTree platforms to pursue loans.  It currently has over nine million active users.