How Does LendingTree Get Paid?
LendingTree is compensated by companies on this site and this compensation may impact how and where offers appear on this site (such as the order). LendingTree does not include all lenders, savings products, or loan options available in the marketplace.
Nearly a Third of Home Sellers Admit to Hidden Camera Use During Showings
Updated on:
Content was accurate at the time of publication.
Homebuyers have been facing fierce competition and rising prices in many housing markets across the country, and that can make getting to the closing table more challenging than expected. What's more, some home sellers are taking extra precautions to get their homes off the market and onto the next owner — including investing in hidden cameras.
A new LendingTree survey reveals that 3 in 10 home sellers have secretly recorded potential buyers while they were touring the property. Below, LendingTree dives into sellers' reasoning and explores buyer sentiments around home-showing surveillance.
Key findings
3 in 10 home sellers admit to using hidden cameras during open house visits. The most-cited reason is understanding what homebuyers do and don't like about their home (49%).
Almost a third (32%) of homebuyers suspect that a seller was using a hidden camera for tours. Northeast homebuyers are most likely to suspect hidden camera use at 38%.
More than 4 in 10 (44%) respondents would back out of a deal to buy their dream home if they discovered the seller secretly recorded them. However, among those buyers who would still make a home purchase even after discovering they were recorded during their tour, men are more likely than women — 63% versus 49% — to move forward.
LendingTree's survey finds that 30% of home sellers have used hidden cameras while homebuyers were touring their property. By gender, men (36%) are more likely than women (23%) to use hidden cameras.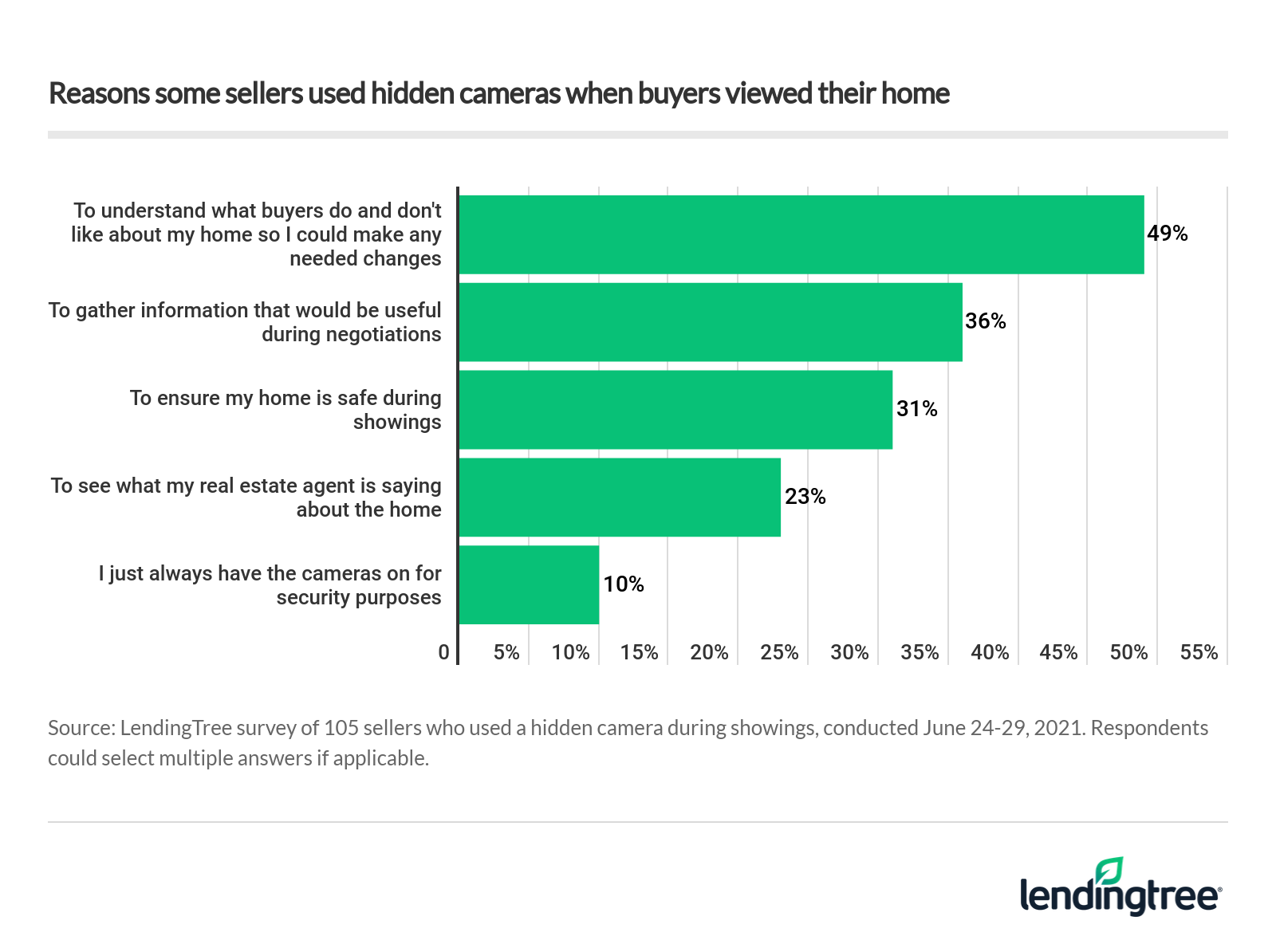 The most-cited reasons for sellers to use hidden cameras were to:
Understand what buyers do and don't like about their home (49%)
Gather information that could be useful during negotiations (36%)
Ensure their home is safe during showings (31%)
See what their real estate agent is saying about the home (23%)
More than half (53%) of consumers have some type of camera in their home, which may help explain why a good chunk of home sellers aren't against adding surveillance to their showings.
The top three camera types being put to use are:
Doorbell cameras (32%)
Security cameras (23%)
Video baby monitors (9%)
Some homebuyers have a sense that another set of eyes is on them during home tours, as they've either seen a camera or suspected one was somewhere on the property.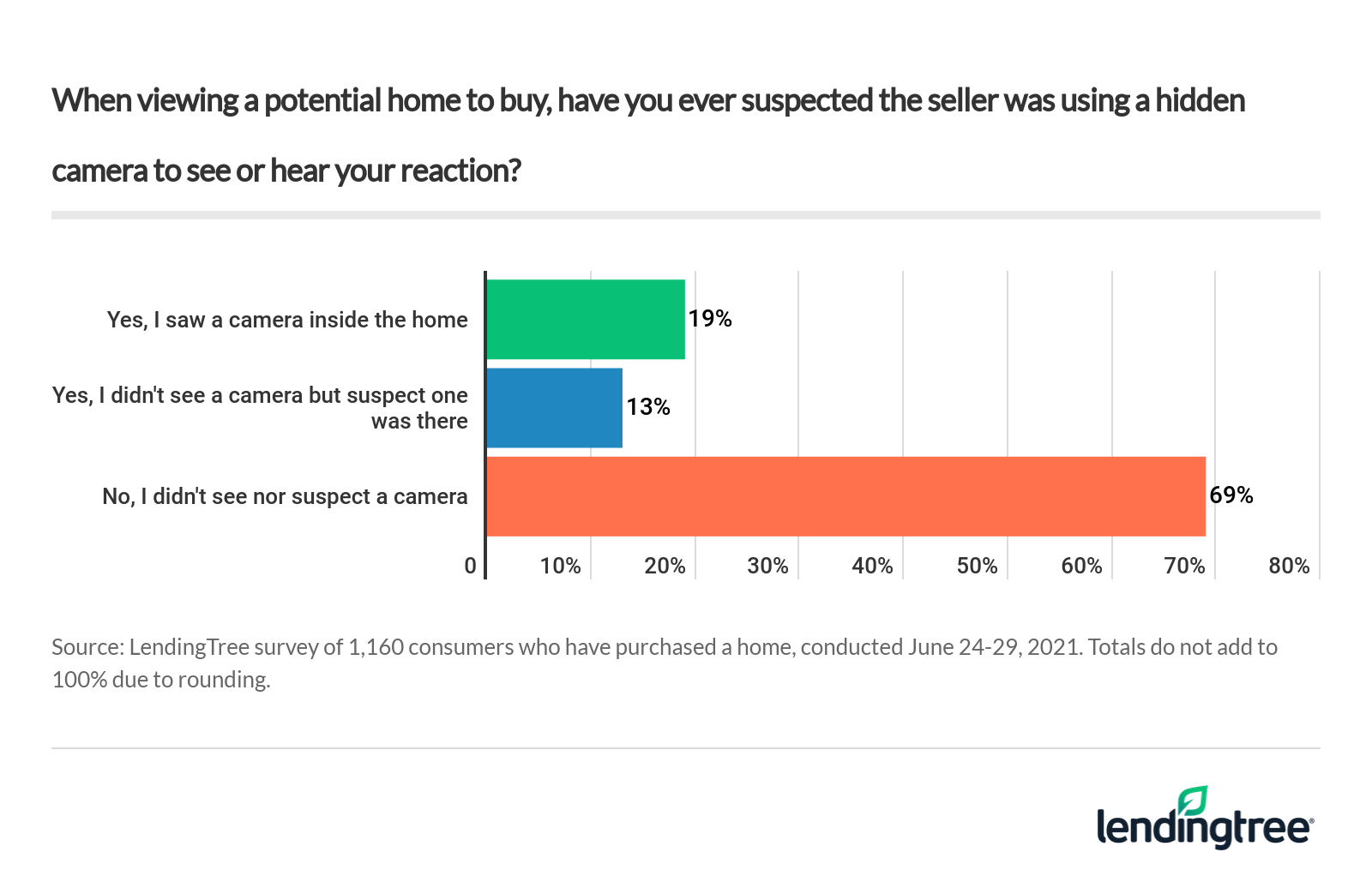 Buyers in the Northeast (38%) are most likely to report having hidden camera suspicions, while Midwestern buyers are least concerned (25%) with secret surveillance.
To top things off, more than a quarter (29%) of buyers who used a real estate agent for their home purchase say their agent has warned them about the possibility of hidden cameras being used during home tours.
While most consumers use cameras in their homes, some aren't fond of being watched while house hunting, according to the LendingTree findings.
More than 4 in 10 (44%) consumers say they would no longer buy their dream home after discovering the home seller secretly recorded their showing.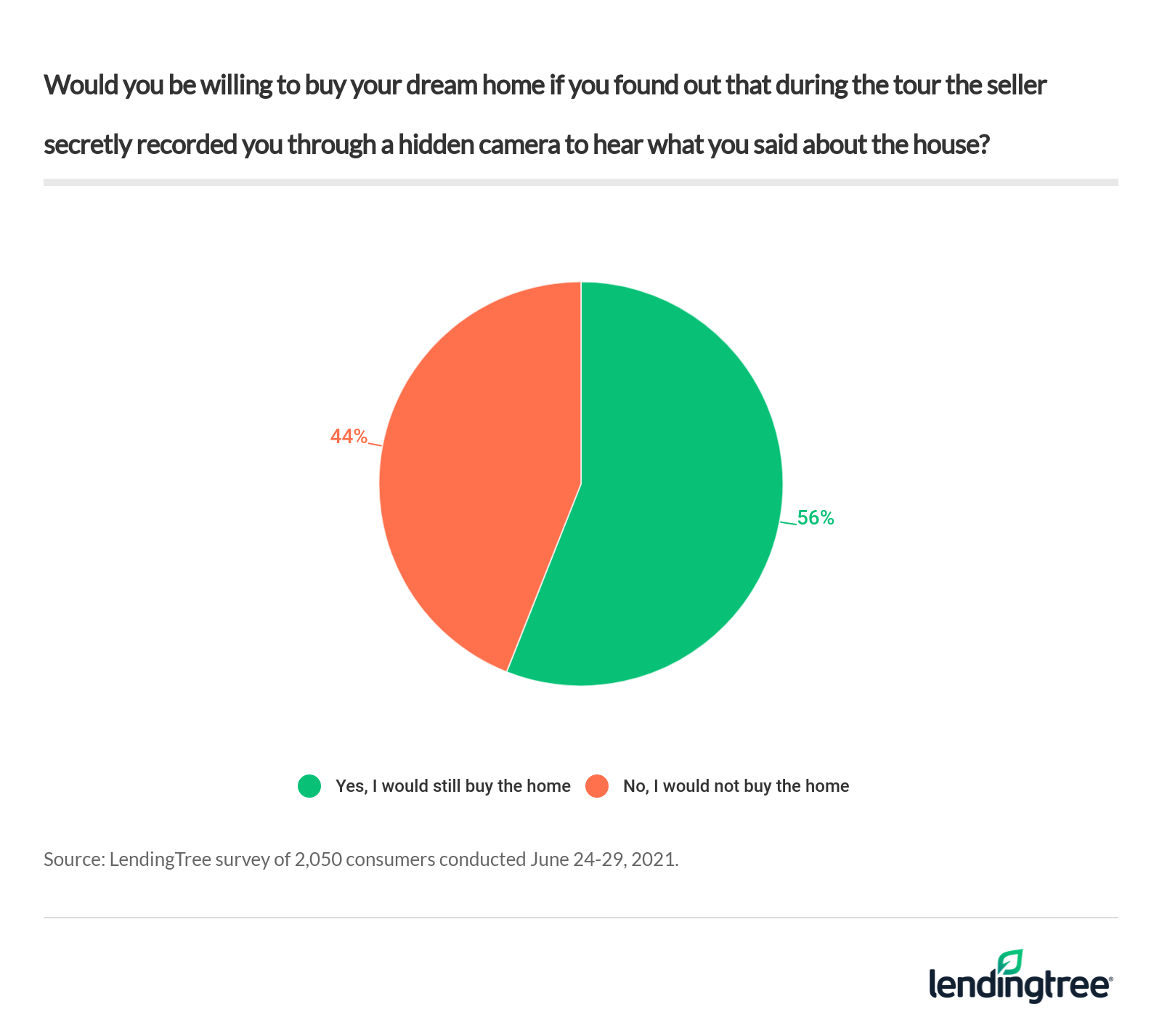 More than half (56%) of survey respondents don't think it's fair for home sellers to use hidden cameras during showings to gather intel because they believe it's an invasion of privacy since buyers aren't aware of the surveillance.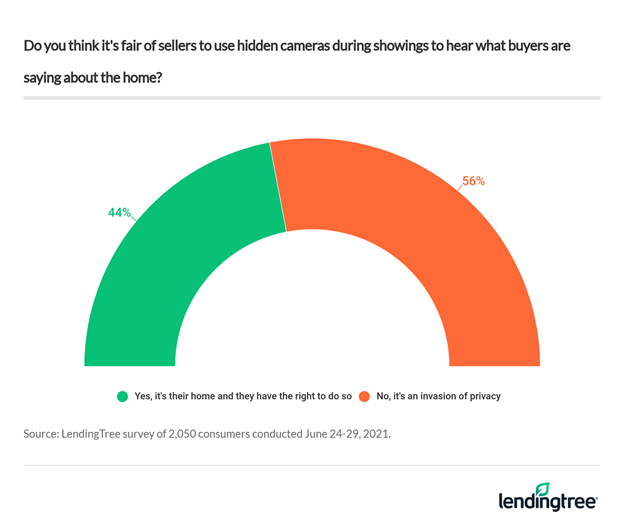 Still, about a third (32%) of consumers say they'd consider using hidden cameras during a future home-selling process. Gen Zers (ages 18 to 24) are most likely — at 41% — to consider hidden cameras, while only about 1 in 5 baby boomers (ages 56 to 75) agree.
Methodology
For this survey, LendingTree commissioned Qualtrics, an experience management firm, to field an online survey of 2,050 U.S. consumers (including 347 home sellers and 1,160 homebuyers). The survey was conducted June 24-29, 2021, and administered using a nonprobability-based sample. All responses were reviewed by researchers for quality control, and quotas were used to ensure the sample base represented the overall population.
LendingTree used the following age ranges to define generations in 2021:
Generation Z: 18 to 24
Millennial: 25 to 40
Generation X: 41 to 55
Baby boomer: 56 to 75
The survey also included consumers from the silent generation (ages 76 and older). However, the group's findings were excluded from the generational breakdowns due to a small sample size.