How Does LendingTree Get Paid?
LendingTree is compensated by companies on this site and this compensation may impact how and where offers appear on this site (such as the order). LendingTree does not include all lenders, savings products, or loan options available in the marketplace.
45% of Americans Overspend on Gifts as Pandemic Winds Down
Updated on: July 12th, 2021
Why use LendingTree?
We are committed to providing accurate content that helps you make informed money decisions. Our partners have not commissioned or endorsed this content. Read our .
After a year of social distancing, many Americans are eager to get together and celebrate birthdays, weddings and other milestones. And according to the results of our latest LendingTree survey, they're ready to spend lavishly — even if they might need to go into debt.
Almost half of respondents said they spend more than they can afford on gifts for others. Those with kids are especially under pressure, with a majority of parents saying they feel they need to throw an extravagant party for their children after the long isolation.
Key findings
Many consumers overspending on gifts
While gift giving may bring out the best in people, it can also bring out the overspending.
Our LendingTree survey found that 45% of consumers admit to spending more than they can afford on celebratory gifts, because they "want the recipient to think highly of me."
More broadly, 54% of respondents reported having felt pressure at some point to buy a birthday gift for someone.
The costs of gift giving can add up over time. About 39% of respondents said they typically spend between $100 and $499 on gifts for others' celebrations during the course of a year, while 18% said they typically spend between $500 and $999.
The amount people lay out on gifts tends to match their household income. For example, 47% of those who make less than $35,000 keep their annual gift spending under $100, while 19% of those who make $100,000 or more said they've spent more than $2,000 in gifts over the course of a year.
Some go into debt over celebratory presents
To keep up with celebrations of friend and family milestones, some respondents are going into debt. Overall, 29% said their spending on gifts for others has caused them to go into debt.
Debt-driven giving was especially high among Gen Z, millennials and Gen X (over 30% for each demographic), but fairly low among baby boomers (just 13%).
Surprisingly, it was also fairly high among people who make between $75,000 and $99,000 per year, with 40% reporting that spending on gifts has led them into debt.
As for which milestone people tend to spend the most on, the largest group said birthday gifts (49%), followed by wedding presents (28%), graduation gifts (11%), gifts celebrating the birth of a child (10%) and retirement presents (3%).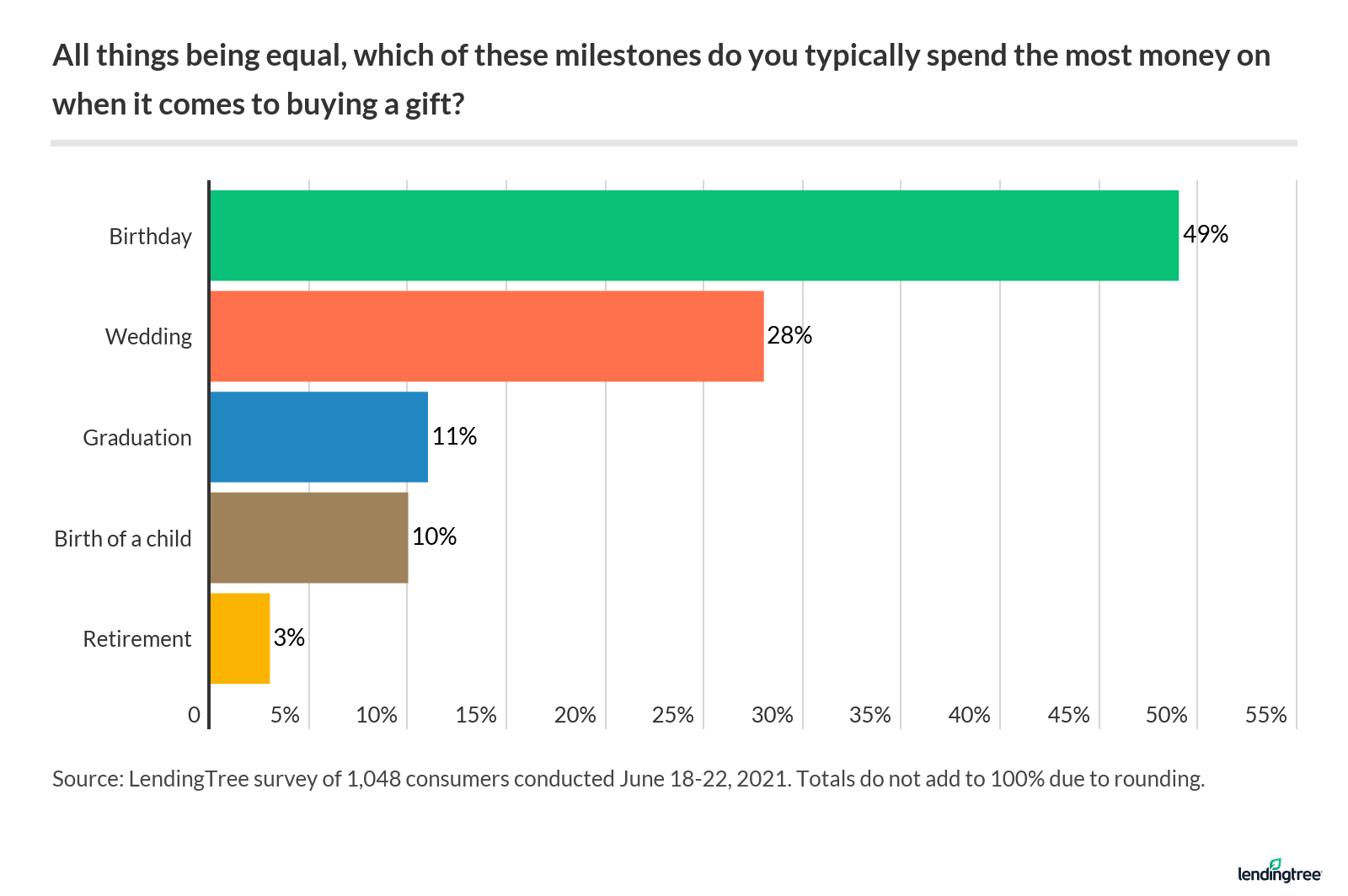 Parents feeling pressure to throw big birthday parties
Many kids have had to settle for virtual birthday parties this past year, and now their parents are eager to make up for it.
Of those with children under 18 years old, 57% said they felt pressured to make their child's post-pandemic birthday extra special, especially after seeing other parents throwing extravagant parties for their own kids.
More than one-third of parents (33%) said they've gone into debt to celebrate their child's birthday. Again, this number was highest among people making between $75,000 and $99,000 per year, with 44% saying they'd taken on debt for this.
Overspending on one's children is a common financial issue for many parents, whether it's for Halloween fun or after-school activities.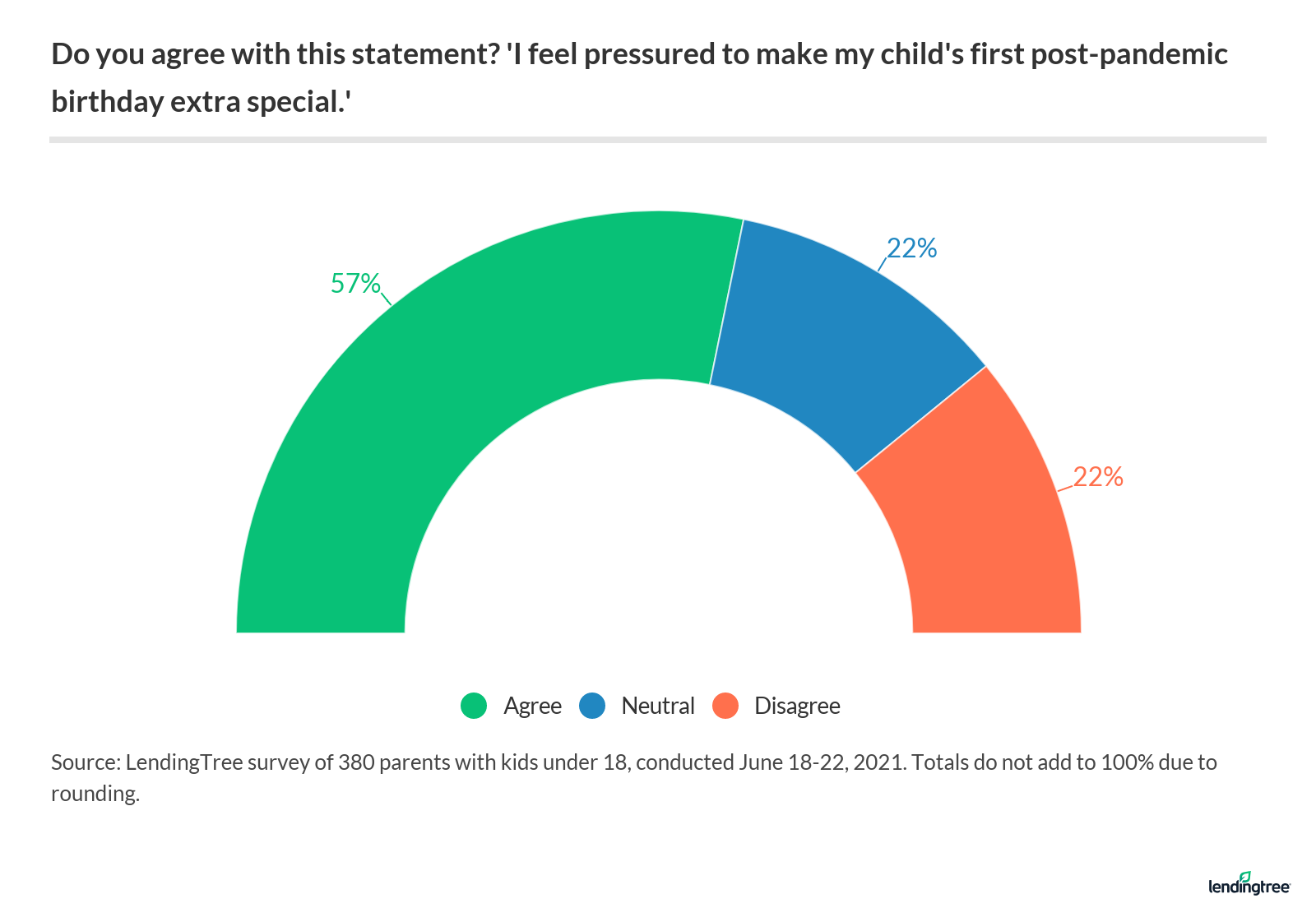 Consumers ready to splash out to make up for lost time
Along with celebrating their friends and family, many are also ready to plan something extra special for themselves this year. More than 1 in 5 respondents (21%) said they want to "spend big" on their first post-pandemic birthday, with something like a trip or big party.
This number was slightly higher among men than women (22% vs. 19%). However, a larger portion of women said they wanted to do something big for their next birthday but would keep costs to a minimum (31% vs. 26%).
More than a quarter of respondents (26%) think they'll celebrate their next birthday by going on a trip, and 40% said they'll mark the occasion by going out to dinner. About 17% said they'll throw a party.
Not everyone is tired of staying in, though — 24% of respondents said they would spend their next birthday enjoying some quiet time at home.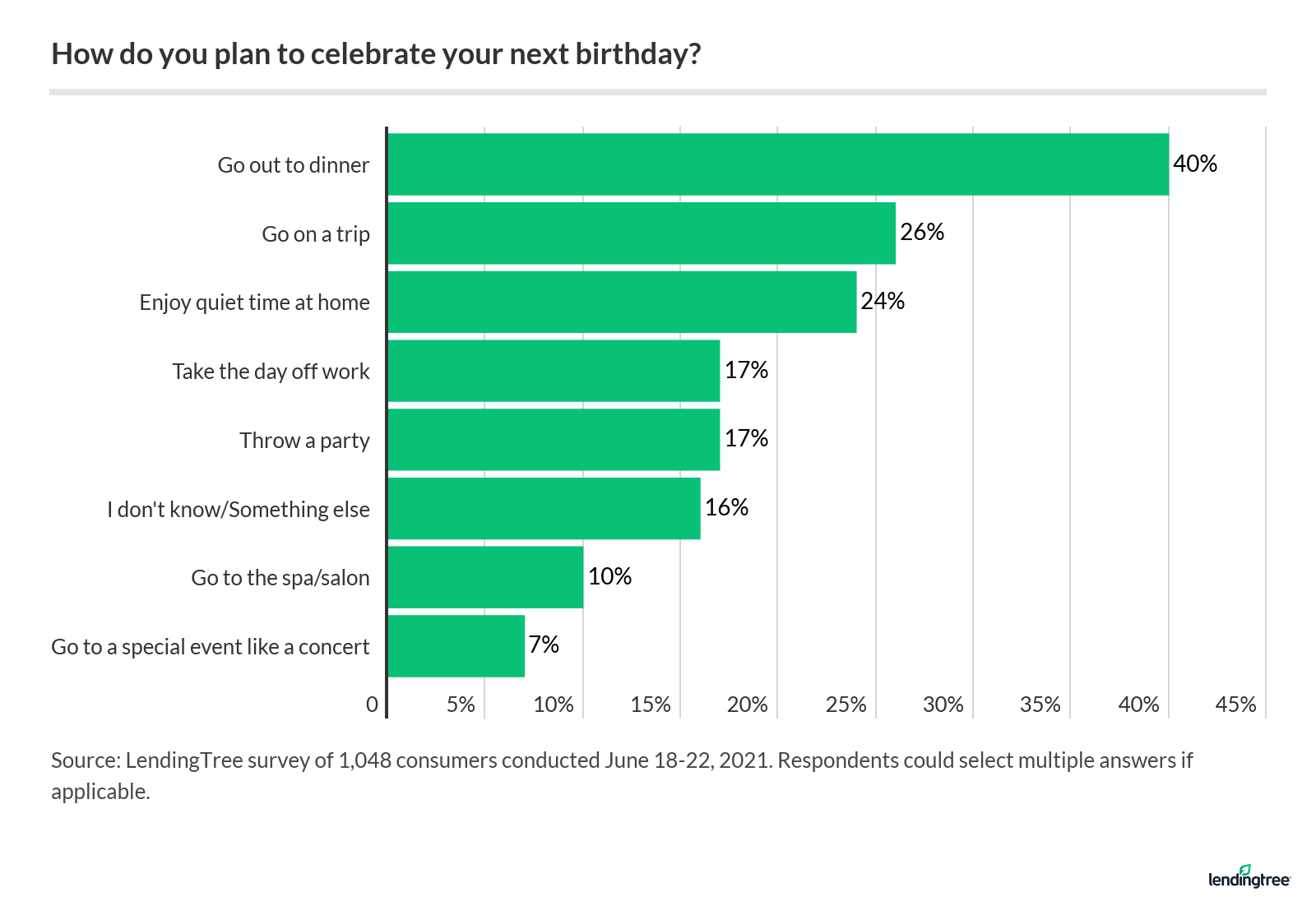 Balance gift-giving with your budget
As the world opens back up, you might well find yourself spending a lot more than last year on get-togethers and celebrations with friends and family. As you shop for gifts, be careful not to let external pressures lead you into blowing past your budget.
While you want to celebrate yourself and your loved ones, you also want to avoid burdensome debt. If you already owe more than you feel comfortable, check out our guide on how to use a budget to pay off debt.
Methodology
LendingTree commissioned Qualtrics to conduct an online survey of 1,048 U.S. consumers from June 18 to June 22, 2021. The survey was administered using a non-probability-based sample, and quotas were used to ensure the sample base represented the overall population. All responses were reviewed by researchers for quality control.
We defined generations as the following ages in 2021:
Generation Z: 18 to 24
Millennial: 25 to 40
Generation X: 41 to 55
Baby boomer: 56 to 75
While the survey also included consumers from the silent generation (defined as those 76 and older), the sample size was too small to include findings related to that group in the generational breakdowns.