What are flight school loans?
Flight school loans are usually private student loans and personal loans that are issued by banks and other types of lenders. Flight schools are often classified as trade schools, so you likely aren't eligible for federal tuition assistance.

Private loans may be harder to qualify for as they're unsecured. However, if you need flight school financing and have exhausted all options for scholarships and grants, then a private student loan, personal loan or a combination of both may be a viable option to pay for school.
The typical cost of flight school
Estimated annual cost for flight school
Tuition

$70,000

Room & board

$10,000 – $15,000

Bookes, supplies and other training materials

$500 – $1,000
Sources: Flight School Association of North America and Pilot Institute
If you're only looking to get a pilot's license to fly recreationally, that's a less expensive proposition, ranging from $4,400 to $10,000 depending on the level of certification.
Meanwhile, a student pilot license can be obtained without any flight school requirement at all. You'll have to get a medical exam from an Aviation Medical Examiner, however, which can cost between $75 and $200 and also fill out the Integrated Airman Certification and Rating Application.
How to apply for a flight school loan
1. Check your credit score
You should know your credit score before applying for a loan. My LendingTree allows you to see your credit score for free, and helps you keep tabs on your financial health and explore loan options.
Your credit score will affect both your eligibility for certain loans as well as the interest rates you'll be charged. The better your score, the better the interest rates you're liable to be offered. Knowing your credit score will also help you filter through lenders as you begin to shop.
It's common for students to have little to no credit history and to struggle to qualify for credit. If this applies to you, know that flight school loans for bad credit do exist. Some credit unions and banks offer loans designed for students in trade school programs, some specifically for flight school. These include:
• FMS Bank
• Sallie Mae
• Wells Fargo Bank
Having a cosigner with a strong credit profile, like a parent or trusted friend, can also help you qualify for a better loan.
2. Get prequalified
When you apply for prequalification, you'll typically submit to a soft credit check with a lender and provide basic information about your financial situation, such as your income, monthly housing cost and any savings.
Using this information, lenders will determine whether you're a good candidate for a loan and what types of terms they may offer you. Getting a preview of loan terms can you help choose between several different lenders.
How do I find lenders?
In addition to reaching out to local banks and credit unions, you can find lenders online. LendingTree is an online loan marketplace that allows you to see offers from multiple lenders, depending on your eligibility.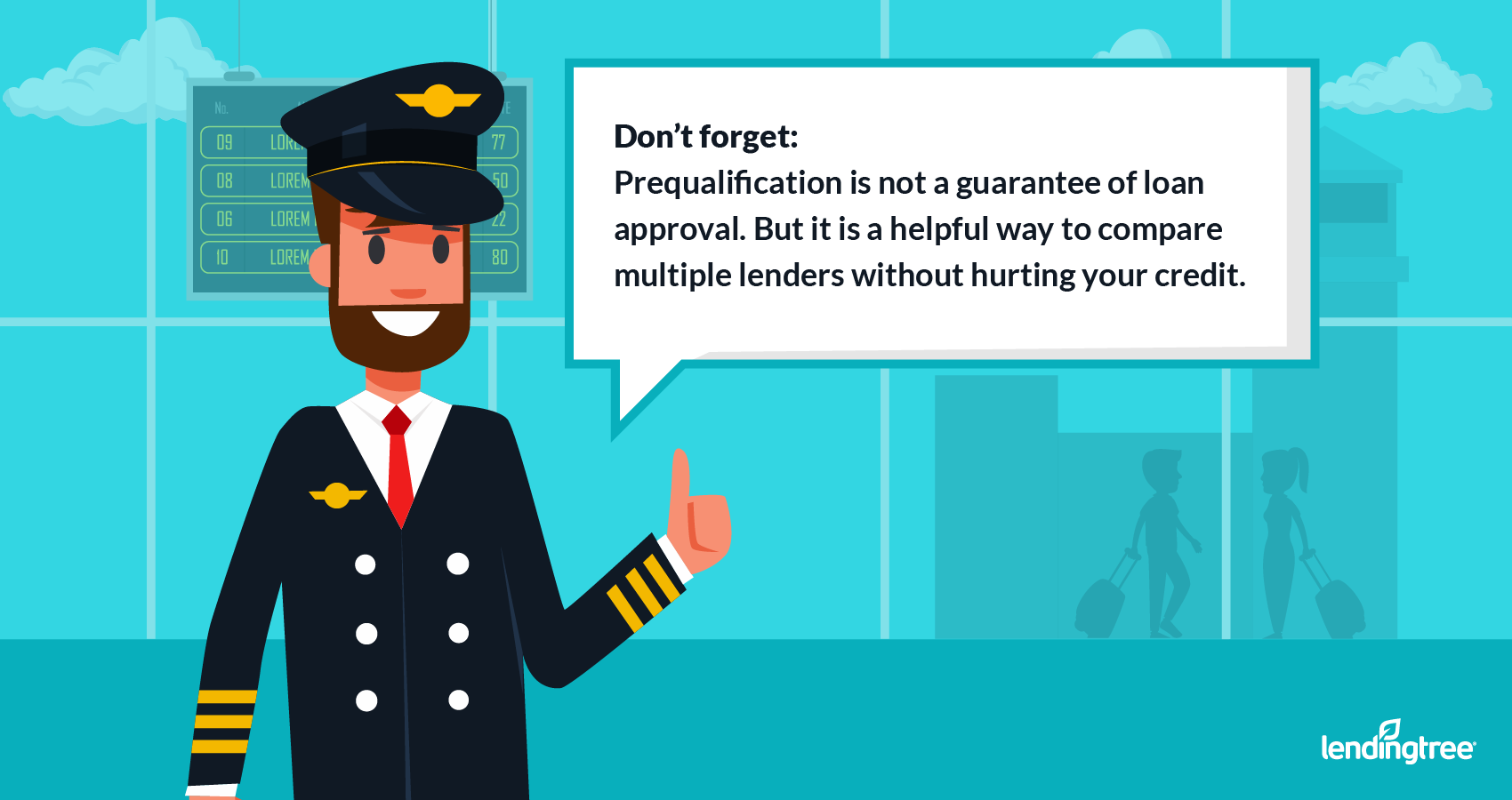 3. Compare lenders
Once you prequalify with a few lenders, you should compare loan terms such as:
APR:
The annual percentage rate takes interest charges and certain fees into account. A lower APR means a lower overall cost of borrowing.
Repayment terms:
A shorter repayment period means higher monthly payments but lower interest charges. A longer term can make payments more affordable but cost you far more in the long term.
Loan amounts:
Remember to only borrow what you need and can reasonably repay.
Fees:
Origination fees are common among personal loans and can reduce the amount you receive. Prepayment penalties, meanwhile, punish you for early repayment.
Borrower protections:
Not all lenders offer them but features like unemployment protection and forbearance for enrolled students can help keep your account in good standing when you're in a financial pinch.
Once you've honed in on a lender you'd like to borrow from, it's time to move forward in the application process.
4. Gather necessary documents
When you're ready to formally apply with a lender, make sure you have all necessary documents handy. This will expedite the loan process.
Required documents may include:
Proof of identity, such as your passport or driver's license
Recent bank statements
Tax forms like W-2s, 1099s and/or pay stubs
Debt information which may include credit cards and student loans
5. Apply and get funding
Once you've compared loan terms and have your paperwork ready, it's time to formally apply. Many lenders offer online applications, allowing you to apply and upload documentation within minutes. During the application process, you'll have to submit to a hard credit check, which will affect your credit score.
A loan application can be approved anywhere from a few hours to a week or more. The speed with which you get your decision and loan funds depend on the lender.
Once approved, you may be able to get your funds within a few hours or business days. Electronic deposit will be the fastest way to get funds.
Other types of flight school financing
Flight school grants
Flight school grants are an option to help with tuition costs. When you submit the FAFSA, you may qualify for a Pell Grant, which can be worth a maximum of $6,345 for the 2020-2021 award year.
Unlike a federal or private student loan or personal loan, the Pell Grant generally does not need to be repaid but eligibility is restricted to undergraduate students who meet the financial need criteria.
You can search for scholarships and grants on the Federal Aviation Administration site, among other websites.
Flight school scholarships
Flight training scholarships are another option to help pay for school. These are typically offered to students who meet a certain set of criteria, such as a qualifying GPA, demonstrated leadership skills and parent or guardian approval for applicants under 18.
A few scholarship opportunities include:
The National Air Transportation Association's Navigate Your Future Scholarship is for $2,500. It can be used for one year of full-time undergraduate study of an aviation-related program at an accredited college or university.
The University Aviation Association offers several private pilot license scholarships. For example, in 2020 the Piedmont Airlines Scholarship for Flight Training awards $3,000 to one student pursuing a commercial pilot rating.
The LeRoy W. Homer Jr. Foundation awards pilot training scholarships every year to one individual between the ages of 16 to 23 who is studying to obtain a private pilot license on their own.
Airline pilot training sponsorships
There are also programs that can reduce flight school costs through tuition reimbursement and airline pilot training sponsorship opportunities.
For example, students of the AeroGuard Flight Training Center who take a position with SkyWest Airlines upon graduating are eligible for one of their tuition reimbursement programs.
If you're looking for airlines that sponsor pilots training, American Airlines' Envoy Cadet School will place qualified candidates in a paid instructor position with a tuition assistance bonus paid when training is completed.
Federal financial aid
You may be eligible for federal loans if you enroll at an accredited flight school. As mentioned before, federal student loans for flight school have notable advantages over private loans:
They are typically less expensive than private loans
Most federal loans also don't require a credit check
You might be able to adjust your payment plan or even be allowed to temporarily postpone or lower your monthly payments
Based on your financial need, you might qualify for a subsidized loan where the government pays the interest while you're in school
Getting financial aid for flight school through a personal loan or private student loan can be preferable if you have good credit or a cosigner and may qualify for a lower interest rate. You should be confident in your ability to make payments in the long term, as you're liable to have fewer safety nets with a non-federal loan.