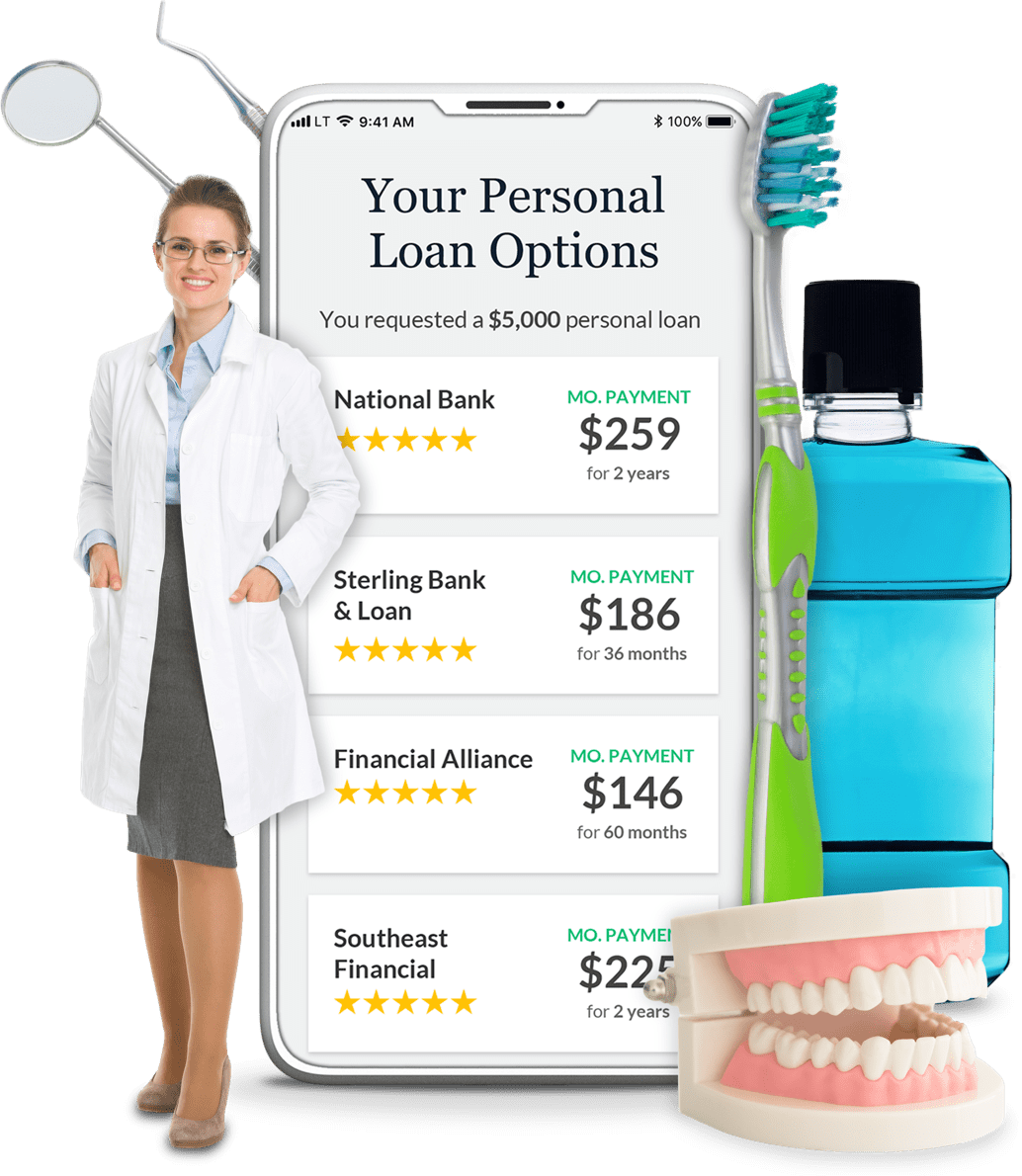 Dental Loans
Dental loans are exactly what they sound like — loans that are used specifically to finance dental procedures. Dental costs can run steep if your insurance won't cover some or all of the procedures. This is where dental financing can be a lifesaver.
See offers within minutes!
What are dental loans?
A dental loan is really just a personal loan that you can use to pay for dental work. It's an unsecured loan, meaning there's no collateral tied to the loan. Because the lender assumes more risk, you can expect interest rates to run higher when compared with a secured loan.
Typical dental loan terms
APR

3.99% to 35.99% or higher

Repayment Term

24 to 144 months

Loan Amount

$1,000 to $50,000

Origination Fee

0% to 8%
Once approved for a dental loan, you'll receive a lump sum. Some lenders can fund your loan the same day you're approved. You can use this money to cover dental costs, then make a fixed monthly payment until the loan is paid off.
Cost for common dental procedures
Procedure
estimated cost
Dental implant

• $2,400 to $3,000 for a single implant

Crown

• Metal crown: $600 to $2,500




• Porcelain-fused-to-metal crown: $500 to $1,500




• Insurance likely won't cover crowns needed just for cosmetic purposes

Chipped tooth repair

• $300 to $600 per tooth if using a process called dental bonding




• Some insurance plans may cover the cost if it's used to restore the structural integrity of the tooth

Dental cleaning

• $75 to $200 for a stand-alone dental cleaning




• $100 to $300, assuming you're also getting X-rays and a full dental evaluation

Cavity filling

• $50 to $300 for a standard silver filling




• $90 to $450 for a tooth-colored option

Tooth extraction

• $75 to $450 for a simple extraction, more if your teeth are impacted or you opt for sedation




• $150 to upward of $650 for surgical extraction
Source: CostHelper
How to apply for a dental loan
   1. Check your credit score
Your credit score is by far the factor that carries the most weight because it gives lenders an idea of how creditworthy you are. You can check your credit score for free using My LendingTree. The app also monitors your financial health, offers tips on how to improve your credit and more.
A higher credit score generally translates to a better interest rate on your loan. That's because your credit score helps lenders assess how well you've managed your finances up to this point. A lower score tells lenders that you may be a risky borrower, and generally speaking, a score that's under 640 will make it tricky for you to qualify for a low interest rate.
What if I have a low credit score?
Getting dental loans for bad credit isn't necessarily out of the question. Talk with lenders to see if other factors — like your income, employment and a bank account in good standing — could sway the decision in your favor.
You may also research secured loans. Lenders may be more willing to work with you if your loan is backed with an asset, such as your car. That's because if you fall behind on payments, they can seize your collateral to offset their losses. Of course, make sure you have a clear plan for repayment if you choose a secured loan to avoid financial fallout.
   2. Get prequalified
Once you know your credit score, the next step is to get prequalified. Prequalification allows one to see how likely you are to get approved with a lender, along with the terms and rates you may be approved for.
To get prequalified, you'll send some basic information to each lender, such as:
• Your annual income
• Monthly cost for housing
• Amount in savings

You may also submit to a soft credit check, which won't affect your credit score. Lenders will use all this information to determine how likely you would get approved for a personal loan. If you look like a good candidate, they'll provide you with a quote.
Just keep in mind that prequalifying does not guarantee that you'll ultimately get approved for the interest rate and terms you were quoted.
   3. Shop around and compare lenders
Gathering quotes from several lenders will help you nab competitive terms for your financial situation. Once you have quotes, compare each lender based on:
APR: This includes your interest rate and fees, and is an accurate measure of your cost of borrowing.
Loan amount: Be mindful to borrow only what you need and can reliably repay.
Repayment terms: A shorter term means higher monthly payments but lower overall interest charges.
Fees: An origination fee is a common personal loan fee, for example, and may be taken out of your loan funds before disbursement.
To assist your search, you can use LendingTree to explore personal loan offers, if you qualify. Keep in mind that approval isn't guaranteed.
   4. Gather necessary documents
Once you've decided on the best dental loan for you, it's time to prepare for the application process. It will go a lot smoother if you gather up the necessary documents ahead of time:
Proof of income (recent pay stubs should suffice)
Bank statements to prove that you have money in savings
Proof of debt, including a car loan or mortgage
   5. Apply and get funding
When you're ready to formally apply with a lender, you'll submit to a hard credit check, which will affect your credit. With your documentation and credit information, the lender will assess your eligibility for a loan.
You should have a decision rather quickly, with some lenders approving applications within hours. Time to funding varies by lender but can be as quick as the same day you're approved. You may shorten your timeline if you opt for electronic funds transfer so that the lender can deposit the money directly into your bank account.
Once your funds come through, your repayment period begins and you can start booking your dental procedures.
Saving money on dental expenses
When it comes to dental expenses, an ounce of prevention may be worth a pound of cure. In other words, the best way to save on dental expenses is taking good care of your teeth in the first place. "The best way to save on dental expenses happens every night before bed," said Hanks. By brushing and flossing regularly, you may be able to ward off some of the most egregious dental bills. If not, well, at least you tried. Of course, we all know that there are instances where expensive dental work cannot be avoided. If you need expensive dental care and plan to take out a dental loan, here are a few strategies you can use to lower costs:

   Consider in-house dental financing: Many dentists set their own interest rates and may be willing to negotiate in-house financing plans with patients. Ask if you can set up monthly payments directly to your dentist and avoid loans and finance charges altogether. In some cases, this may be a more affordable option than a personal loan.

   Ask for a cash discount: Your dental care costs may be negotiable. For example, you might be able to score a discount if you dip into savings to pay a portion of your procedure with cash.

   Get a second opinion: If you're considering costly dental work, be sure to weigh all your options so that you're only getting the procedures you truly need. A good dentist is one who has your best interests at heart.

   Use your FSA benefits: A flexible spending account is an employer-sponsored savings account that lets you use pretax dollars to pay for medical or dental expenses. They're typically funded with automatic payroll deductions. Just keep in mind that it's a use-it-or-lose it account, meaning that money in an FSA does not carry over from year to year. In 2020, you can contribute up to $2,750.

   Open an HSA: A health savings account is similar to an FSA with some key distinctions. You have to be enrolled in a high-deductible health plan to qualify, but any money you don't use at the end of the calendar year rolls over into the next year. For 2020, you can contribute up to $3,550 for individuals; $7,100 for families.
Featured Personal Loan Articles