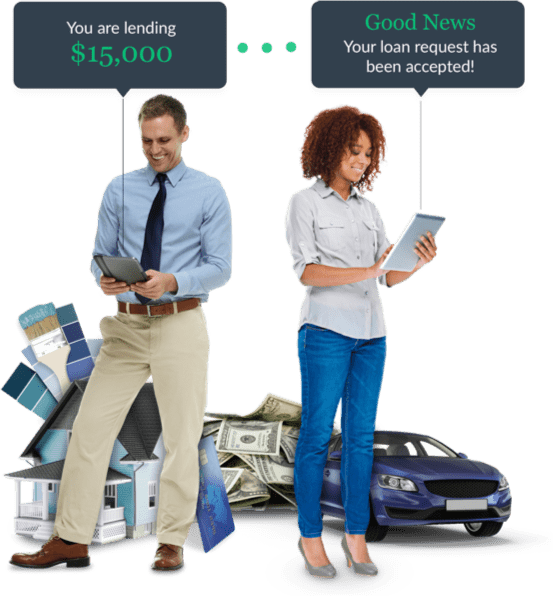 Peer-to-Peer Lending
Get up to 4 personal loan offers in minutes
What is a peer-to-peer loan?
A peer-to-peer loan is a unique form of credit. Instead of going to a bank for a traditional loan, you borrow from real people. But unlike the type of personal loan you're used to – one from a family member or friend – with a peer-to-peer loan, you borrow money from perfect strangers.
Peer-to-peer (P2P) lending typically takes place on an online platform – sort of a loan matchmaking service – that connects borrowers with investors who supply the funds. The online company coordinates the loan, transfers the money to the borrower, and repays the investors as you pay off your loan.
Why would others loan money to people they don't know? Investors participate as a way to earn money from your interest payments, diversify their portfolios, and even just to make a difference in the lives of people and small businesses.
When might you take out a peer-to-peer loan? Some common reasons for filling out an application include the following:
Paying off credit cards

Consolidating debt

Financing a vehicle

Paying for medical fees

Funding home improvements
Paying for adoption expenses

Covering special occasion costs

Taking care of moving expenses

Growing a business
How peer-to-peer lending works
Who's lending the money?
When you apply for a P2P loan, potential investors – regular people who are looking to grow their money with your interest payments – review your request, choose whether to finance the loan, and commit to funding all or just a part of it. (For this reason, there may be multiple people who are actually providing the capital you need.) Then, as you pay off your P2P loan, those investors receive regular payments until the loan term ends.
How much you can you borrow?
When you take out a personal peer-to-peer loan, you can generally request a loan between $1,000 and $40,000, although that varies by lender.
How payments work?
Like most loans, a P2P loan typically requires you to repay the principal with interest in fixed monthly installments. That monthly payment amount depends on the size of your loan, the loan's term, and your APR, which likely includes an origination fee. An origination fee is typically a small percentage of the amount you want to borrow.
Keep in mind when you apply that the origination fee is deducted from the total amount of the loan before you receive it. The origination fees for LendingClub, for instance, range from 1% to 6%. So, if you're approved for a $10,000 loan with a 5% origination fee (or $500), you'll receive $9500 as a deposit in your account. Keep that in mind when you borrow, so you make sure you actually receive enough money for your goal.
How to apply for P2P lending
While each peer-to-peer lending company is unique, the application process generally looks something like this:
Complete a preliminary application


Fill out some personal information online, and describe how you intend to use the loan. The form generally takes only a few minutes to fill out.

Receive a borrower rating based on your application and your credit score


You must complete the application form and submit qualifying documents, including proof of income. You need to provide your employer information and show pay stubs, W-2s, tax return forms, or even bank statements.

Review your loan options


If you qualify for a loan, you have the opportunity to look over the different terms of available peer-to-peer loans and select the one that best suits your needs.

Wait for investors to consider your application


At this stage, you receive notification that one or more investors are interested in funding your loan, or you find out that your loan hasn't been funded. Don't worry; investors make decisions quickly. In fact, the entire loan approval process typically takes about a week, unless the lender has to request additional documentation from you.

Complete a full application


If investors commit to funding your loan, provide the lending company with additional details regarding your finances, as well as specified documentation to verify your identity, income, and employment.

Receive loan approval


If all the information you supplied checks out, the loan you requested is most likely approved at this point.

Get your money


Within a few days, the amount you're borrowing – less the origination fee – is deposited in your bank account. The exact timing depends on your lending. Lending Club, for example, says the entire process typically takes seven days but "in some cases it can take a little longer" if they need to ask the borrower for additional information or documents.

Prepare to pay off your loan


Once your loan term begins, your lending company will automatically withdraw your monthly repayment amount from your bank account until the term of your loan ends.
What happens if your loan isn't approved or funded?
So you've decided to apply for a peer-to-peer loan. You fill out your application and . . . you're denied! Or no investors are interested in funding your loan. Here are a few reasons you might not be able to land your P2P loan right now:
Your credit score isn't so hot

With most P2P lenders, you're likely to have your loan application denied if your FICO score is below 640. If you just squeak by the cut-off, you may have a few options, but they'll probably come with a high interest rate.

You don't really have a credit history

Peerform, a prominent peer-to-peer lending company, tells you upfront that no credit usually means no P2P loan for you. Investors need to determine how likely you are to repay a loan. So, when you don't have a documented history of financial responsibility, investors won't want to take a chance on you.

You're already carrying a lot of debt

If the amount of debt you have is very high when compared with your income, investors get scared. They worry that you're already in over your head, so they steer clear of extending you any more credit.

You don't have an established employment record

Been at your job for only a few months? You'll probably get turned down for a P2P loan. But, if everything else looks good on your application, your chances for loan approval increase once you've been employed for a full year.

Your business is too new

Applying for a business loan? Hodges says Funding Circle does not work with businesses younger than two years old. "We are focused on serving established businesses that have assets and cash flow to secure loans and a legitimate plan for growth," he said.

You appear too risky to investors

Keep in mind that the decision to fund your loan is up to the individual investors. When someone defaults on a loan, the lender doesn't get back his money and walks away with nothing. So he or she will be looking to invest as safely as possible – not in someone who seems like a big financial risk.

Your business appears too risky

Funding Circle, for instance, looks at your credit score, your business cash flow, and even its customer reviews. Before writing a policy, their underwriters ensure that they understand how your business is generating revenue right now, how the loan you want will boost your revenue, and whether they can reasonably expect you to repay the loan. "We do not approve applicants from certain industries," added Hodges, "like speculative real estate or gambling businesses."
What to do if you are denied or your loan isn't funded?
What to do if you are denied or your loan isn't funded?

Many credit cards publish your current score directly on your monthly billing statement. (Ask your card company if you can't find it on your paper statement or online.) You can also get a copy of your score online.

Boost your credit worthiness

Rebuilding your credit takes time, but you can make great progress by committing to paying all your bills on time, keeping your debt low, and keeping old cards open.
Apply somewhere else. Each peer-to-peer lender is different when it comes to application approval criteria, loan options offered, and investors available. So if you luck out one site, check out one or more other P2P lending sites. Be sure to review our tips below for choosing a reputable lender.
Alternatives to a P2P loan
If you don't qualify for a peer-to-peer loan or you don't think that one is right for you, you still have plenty of options when it comes to getting some credit. A few popular choices include the following:
No matter what type of loan you choose, always make sure that understand all of your financial responsibilities before you sign on the dotted line.
A peer-to-peer loan is a special type of credit that comes with its own requirements, terms, and conditions. In today's lending climate, P2P lending may be an excellent way for you to supplement your personal life or your growing business.
Featured Personal Loan Articles