How Does LendingTree Get Paid?
LendingTree is compensated by companies on this site and this compensation may impact how and where offers appear on this site (such as the order). LendingTree does not include all lenders, savings products, or loan options available in the marketplace.
Here's How Much Veneers Cost and How to Pay for Them
Published on: July 2nd, 2021
Editorial Note: The content of this article is based on the author's opinions and recommendations alone. It may not have been reviewed, commissioned or otherwise endorsed by any of our network partners.
A smile is a beautiful thing. But if your teeth are chipped, stained, worn down or spaced out, you might be hiding yours from the world.
Veneers, essentially covers that go over existing teeth, are a possible solution to these issues. They are about as thin as contact lenses, and they can be used to address concerns like spacing, chips or even semi-crooked teeth if you want to avoid orthodontia.
Here's what you need to know about the different types of veneers, the cost of veneers and the options you have to pay for them.
Types of veneers
Dental veneers are made from two types of materials: porcelain or composite. Porcelain veneers are more durable than composite veneers, but they are much more expensive. Some porcelain veneers, such as those offered by the brand Lumineers, are especially thin and don't always require dentists to shave off tooth enamel in order to place them.
Your other option is to choose resin veneers, also known as composite veneers. How long veneers last vary depending on the type of veneers you opt for and how well they are taken care of. In general, composite veneers don't last nearly as long as porcelain veneers.
Composite veneers: Last between four and 10 years
Porcelain veneers: Last between 12 and 25 years
However, composite veneers are much more affordable than porcelain veneers.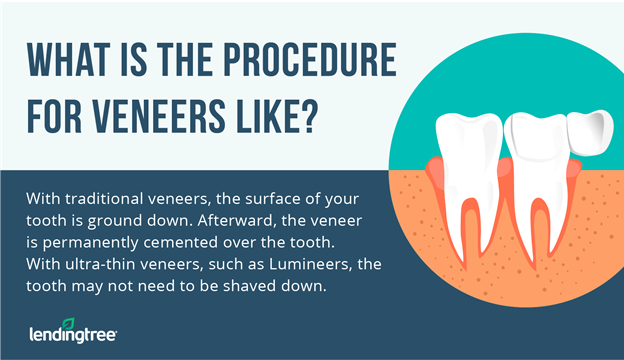 How much do veneers cost?
Veneers cost between $500 and $2,500 per tooth, according to Authority Dental, which provides dental information that has been reviewed by dentists or dental technicians. Factors that affect your costs include:
Whether you choose porcelain or composite material
Where you live
How many teeth you want veneers for
Here's a look at how the cost of veneers vary by type:
This cost range doesn't take into account exam, lab or X-ray fees. Keep in mind that your dental insurance likely won't cover your cost of veneers.
How much do veneers cost with insurance?
Typically, most dental insurance providers don't cover veneers, which are considered a cosmetic procedure, meaning they're not medically necessary. But there may be exceptions.
"Sometimes, if a patient chipped a tooth when they were younger and had it restored, dental insurance might cover a new veneer," said Susan J. Paunovic, a New York-based dentist.
But most dental insurance comes with an annual maximum, or the amount of dental care the plan will pay for in a year. The annual maximum among dental PPO plans typically ranges between $1,000 and $2,000, according to the Delta Dental Plans Association. So even with insurance, the cost of veneers may exceed that annual maximum.
Check with your insurance carrier about whether your veneers could be covered before moving forward. If they're not, ask your dentist's office if it offers discounts for patients who aren't covered.
How to cover the cost of veneers
Payment plans
Many dental offices also provide payment plan options through third-party lenders, such as CareCredit. If you are approved for a CareCredit card, you can use it to pay for out-of-pocket dental expenses, but only with the providers listed on its website.
For purchases of $200 or more, the typical APR of a CareCredit card is 26.99% — check their website for the current rate. However, if you pay off the total in full within the six-, 12-, 18- or 24-month promotional period you're given, you won't pay interest. If you fail to pay the amount off in full before this period ends, you'll be charged interest from the purchase date.
Dental loans
Another payment option is to take out dental loans. If you have excellent credit, a loan might offer a more competitive fixed interest rate and lower monthly payments. However, you will still be paying interest on top of the cost of the veneer, making them even more expensive.
Make sure that you read the fine print on the personal loan you're interested in before signing on the dotted line. Some lenders, such as LightStream, require that you share what the loan will be used for before you are approved. The funds won't be available if you do not use the loan for that particular reason that you applied for.
Some lenders also charge an origination fee of up to 6% of the loan balance. That means a loan of $5,000 will actually be reduced to $4,700 after a fee of $300 is subtracted before the deposit. Keep that in mind when comparing personal loan options.
Low-interest credit cards
You could pay for your veneers with a low-interest credit card. Typically offered to those with good-to-excellent credit, a low-interest credit card provides a revolving credit line compared with a personal loan you'll receive in a lump sum. As a result, as you pay off the cost of one veneer — depending on your credit limit — you can pay for another. But remember, unless you pay your bill in full each month, you will be paying interest in addition to the cost of the veneers.
Consider your alternatives to veneers before committing
Teeth whitening: If you're interested in veneers because the color of your teeth is a concern, professional tooth whitening is an alternative. Veneers require upkeep and can cost thousands of dollars upfront.
Crowns: Some circumstances may prevent you from being eligible for veneers, such as if your tooth has an existing crown, or a filling that is too large, said Paunovic. In those cases, a dentist would use a crown, not a veneer. Veneers also only go on front teeth, not back teeth.
Braces: Another alternative is to straighten your teeth with Invisalign, which are clear braces that can fix an overbite or underbite, correct gap teeth or generally straighten crooked teeth. Invisalign can treat side and back teeth, in addition to front teeth, but the cost of Invisalign can be just as much, if not more, than veneers.
Before making a final decision about investing in veneers, do your research, weigh your options and see if you have the extra room in your budget to pay for them.