How Does LendingTree Get Paid?
LendingTree is compensated by companies on this site and this compensation may impact how and where offers appear on this site (such as the order). LendingTree does not include all lenders, savings products, or loan options available in the marketplace.
Nearly Half of Pet Owners Have Been in Debt for Their Pet
Updated on: September 28th, 2020
Why use LendingTree?
We are committed to providing accurate content that helps you make informed money decisions. Our partners have not commissioned or endorsed this content. Read our .
Pets provide loyal, loving companionship ─ maybe that's why 69% of Americans own a pet. But between recurring costs like food and unexpected expenses like emergency vet visits, the cost of pet ownership can add up. For some pet owners, that means turning to credit cards or personal loans to finance pet expenses.
Nearly half (47%) of pet owners have gone into debt for their pet, up from 36% in 2019, according to a September 2020 LendingTree survey of 1,378 pet owners. See what else we learned about pet-related debt and spending in the analysis below.
Key findings

More pet owners are taking out pet-related debt in 2020
When you adopt a pet, you assume financial responsibility for them. While you can account for recurring pet expenses like food and vaccinations in your monthly budget, it's harder to predict pet expenses like emergency vet visits.
When a costly pet expense crops up, many pet owners turn to debt to cover the cost. Nearly half (47%) of pet owners said they went into debt for their pet in this year's survey, compared with about a third (36%) of pet owners in 2019. That's an increase of 31% in just one year.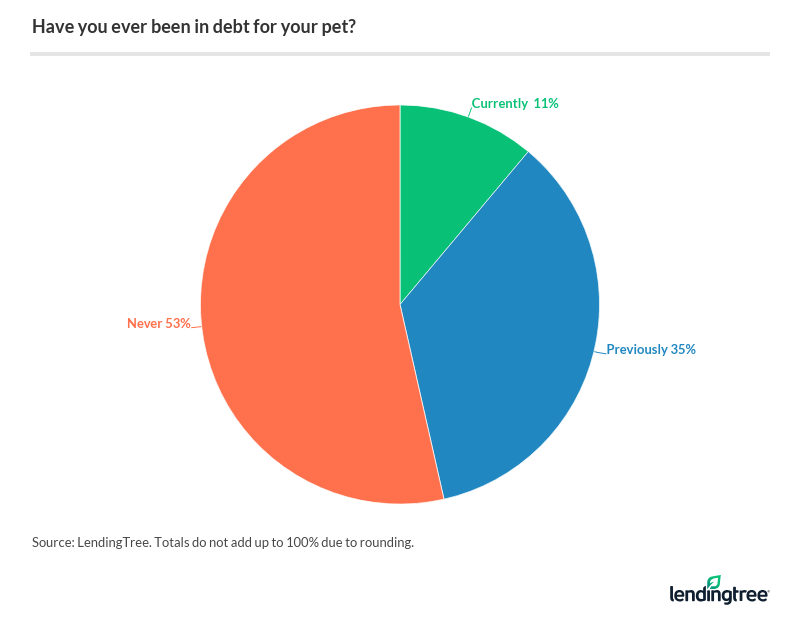 Our survey also found that:
Of those currently in debt over their pets, one in five (19%) owe at least $1,000.
About two-thirds (65%) of those who have been in debt for their pet regret paying for the expense that caused the debt.
Still, 80% of those who have had pet debt would still be willing to get another pet.
Baby boomers are far less likely than younger generations to go into debt for their pets — just under a quarter of pet owners of this generation have done so. In contrast, two-thirds of Gen Xers and about half of millennials who own pets have taken out pet-related debt.
% of pet owners who have been in debt for their pet, by generation
Baby boomers
23%
Gen X
66%
Millennials
48%
Gen Z
40%
Baby boomers are also the least likely to pay for a monthly subscription box, like Barkbox, for their pet. Just 1% of baby boomers utilize this service, compared with pet owners among younger generations: Gen Z (17%), millennials (13%) and Gen X (10%).
34% of pet owners are spending more on their pets during the pandemic
Many Americans are spending more time at home to avoid catching or spreading the coronavirus. For some, having a furry companion makes being isolated at home a little more tolerable. Our survey found that pet spending has stayed the same or increased during the pandemic for most pet owners.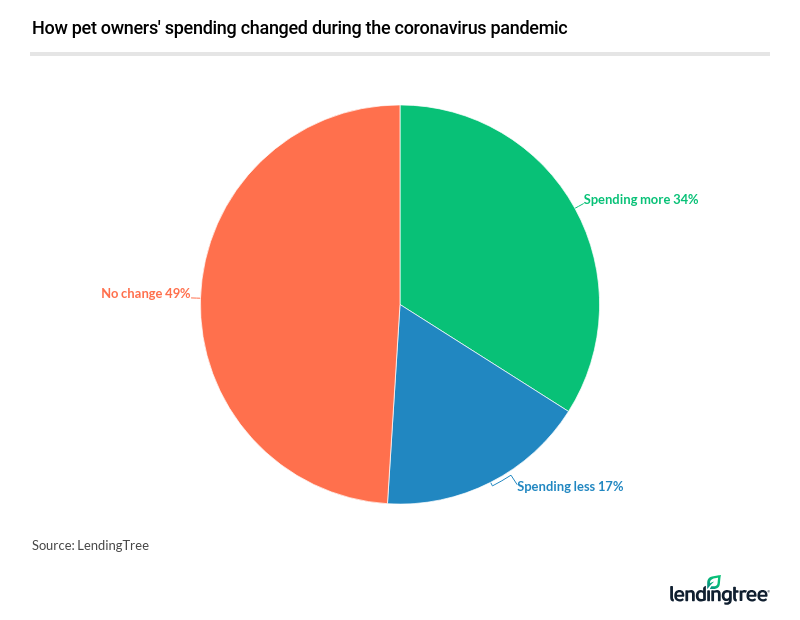 A third (34%) of pet owners are spending more on their companions now than they did before the coronavirus pandemic, while about half (49%) of pet owners are spending the same as they did before the pandemic began. Just 17% said they are spending less on their pets during this time, despite the fact that many Americans' financial situations have changed for the worse due to the pandemic.
The coronavirus pandemic also affected the way that pet parents take on debt for their pets. Pet owners who experienced income loss due to the COVID-19 outbreak reported more pet debt than those whose wages stayed the same.
Pet adoption and the coronavirus pandemic
We also asked more than 2,000 Americans (regardless of whether they currently own a pet) if they were considering getting a pet in the next six months. A little under half (46%) responded that they were, but that number increases to 69% among Americans who were laid off or furloughed due to the pandemic. Plus, 8% of all pet owners surveyed got their pet during the coronavirus pandemic, between March and September 2020.
People generally underestimate the cost of owning a pet
There are some obvious costs when it comes to owning a pet, like food, toys and supplies like kitty litter. But when you adopt a furry friend, it's easy to overlook recurring costs like grooming and medications, which can add up over time.
The majority of pet owners (62%) were at least somewhat shocked upon finding out how much owning a pet actually costs. Two in five (41%) pet owners spend $500 or more per pet every year, and about one in six (16%) spends $1,000 or more per pet annually.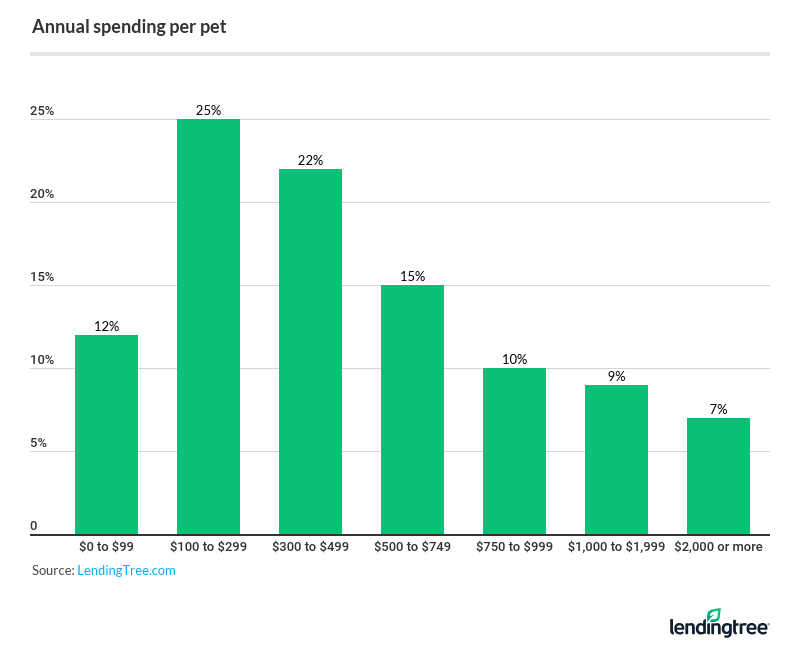 And if you've ever fretted over a vet bill, you're not alone: A little more than half (53%) of pet owners have been worried about pet-related expenses.
Credit cards are the preferred payment method in an emergency
The majority (59%) of pet owners have had an unexpected medical expense for their pet, and most said it's happened more than once. Of those who had an emergency vet expense, 47% charged the bill to a credit card.
When we asked all pet owners how they would pay for an emergency expense, they answered similarly: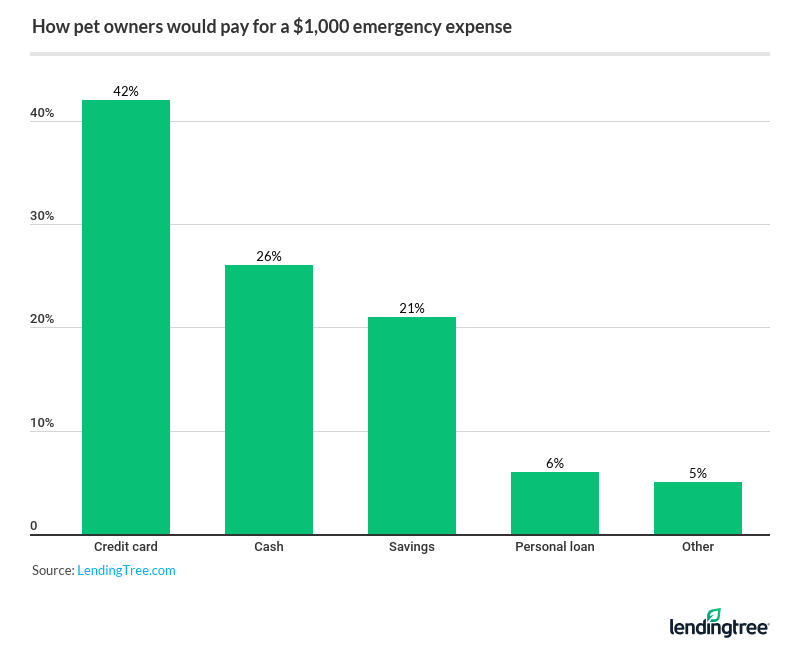 Two in five pet owners have pet insurance, which can help mitigate the cost of emergency vet visits. Of those without insurance, 27% have regretted not insuring their pet.
Cat owners experience the same financial strain as dog owners
It's generally thought that owning a cat is less expensive than owning a dog, but that may not necessarily be true. Our survey found that cat owners felt the same as dog owners when it comes to pet-related expenses across all financial aspects of pet ownership:
The cost of owning a dog vs. owning a cat
Dog owners
Cat owners
Spends less than $1,000 annually on the pet
82%
83%
Has had pet-related debt
51%
54%
Among those who currently have pet-related debt, it's $500 or more
54%
54%
Have had an unexpected medical expense for the pet
64%
65%
Pays for the pet's unexpected expenses with a credit card
48%
49%
Has pet insurance
45%
45%
Was at least "somewhat" shocked by how much owning a pet costs
65%
65%
Source: LendingTree
Methodology
LendingTree commissioned Qualtrics to conduct an online survey of 2,011 Americans, which included 1,378 pet owners. The survey was fielded Sept. 4-11, 2020.
Generations are defined as the following ages as of September 2020:
Gen Z are 18-23
Millennials are 24-39
Gen X are 40-54
Baby boomers are 55-74