How Does LendingTree Get Paid?
LendingTree is compensated by companies on this site and this compensation may impact how and where offers appear on this site (such as the order). LendingTree does not include all lenders, savings products, or loan options available in the marketplace.
[Survey] 46% of Americans Wish They'd Done This With Their Money in the Past Year
Updated on: July 30th, 2018
Why use LendingTree?
We are committed to providing accurate content that helps you make informed money decisions. Our partners have not commissioned or endorsed this content. Read our .
More than three out of four Americans have financial regrets, according to our new survey of over 1,000 adults.
From overspending on entertainment to not saving more for retirement, most people wish they'd handled their money differently in the past year.
Unfortunately, no one has a time machine to undo past financial mistakes. But there are ways to fix missteps and improve your finances for the future.
Here are the full results of our financial regrets survey, along with tips on what to do if you've made similar mistakes.
Key findings: Most adults regret spending too much and saving too little
It's safe to say almost all of us have made mistakes when it comes to money. After all, few of us learned financial literacy skills in school.
As it turns out, many U.S. adults share similar financial regrets. Here are just a few of the findings our survey uncovered:
46% regret not saving more money
50% wish they'd saved more for retirement
38% regret entertainment purchases, while 33% regret clothes purchases
51% think they need to cut back on restaurants
47% regret taking on credit card debt
24% claim not to have any financial regrets
Read on for a closer look at the full results.
Nearly half of respondents wish they had saved more
A large group of respondents in our survey — 46% — said their No. 1 financial regret of the past year was not saving more.
Women were especially likely to have this regret, with 55% saying they wished they saved more compared with 37% of men.
Without savings on which to fall back, you could be in trouble if there's an unexpected circumstance. Natasha Rachel Smith, a personal finance expert at TopCashback, recommends that everyone have an emergency fund.
"Ideally your emergency fund should have between three and six months' worth of income to cover any costly surprises like damages or medical expenses if you happen to lose your job," said Smith.
If you can, Smith advised saving even more so that an unplanned expense doesn't leave you with nothing.
"You should start by estimating your cost of critical expenses, such as housing, food, health care, utilities, transportation, debt, and personal expenses, to grasp a better idea of how much money should be in your emergency fund based on your lifestyle," said Smith.
Once you've got your goal in place, automate part of your paycheck to go into a savings account every month. Over time, you can build up your emergency fund for a greater sense of financial security.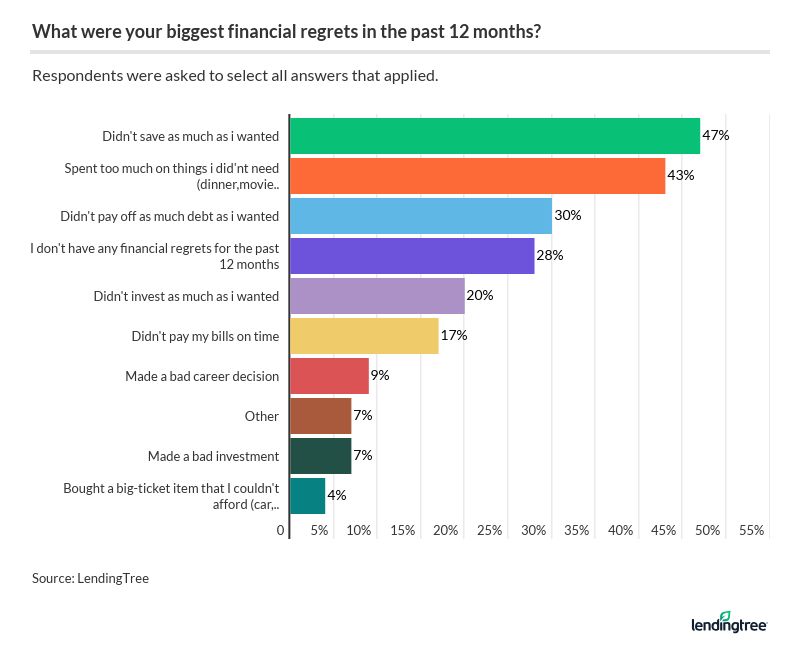 50% wish they'd set aside more for retirement
Saving for retirement is another priority, and you'll be better off the sooner you start. According to our findings, 50% of adults wish they'd saved more for retirement in the past year.
When asked what they'd do if they could regain the money they spent in the past year, 34% of adults said they'd put it into a 401(k) or individual retirement account (IRA).
These findings line up with a recent study from Northwestern Mutual, which found that 21% of Americans have nothing saved for retirement. It said 1 in 3 adults have less than $5,000 saved, and 33% of baby boomers have $25,000 or less.
Considering the latest rule of thumb states you need more than $1 million to retire comfortably, these findings suggest a crisis for many Americans. Whatever your age, think about what you can do to set aside more of your paycheck for retirement.
Some financial experts recommend saving 10% to 15% of your paycheck, though you might set aside more if you're starting late. You could invest in your employer-sponsored 401(k) or a Roth or traditional IRA. If your employer offers a 401(k) match, try your best to maximize that benefit.
"It is widely known that young adults, especially those in their 20s, don't make retirement savings a financial priority because they just can't imagine getting old," said Smith. "Open a retirement account as early as you can and faithfully contribute towards it. It is never too early to start saving for retirement."
According to our survey, it's possible that not everyone realizes that saving for retirement should take priority. We found that 24% of respondents wished they'd saved more for a vacation and 23% wished they'd saved for a house.
Although both are important goals, they might have to take a back seat if you haven't started saving for your golden years.
People overspend the most on entertainment, clothes, and cars
If people aren't saving as much money as they'd like, what are they doing instead? According to our survey, people overspend on entertainment, clothes, and cars.
Thirty-eight percent of respondents said they spent too much on entertainment in the past five years, 33% spent too much on clothes, and 13% overspent on a car.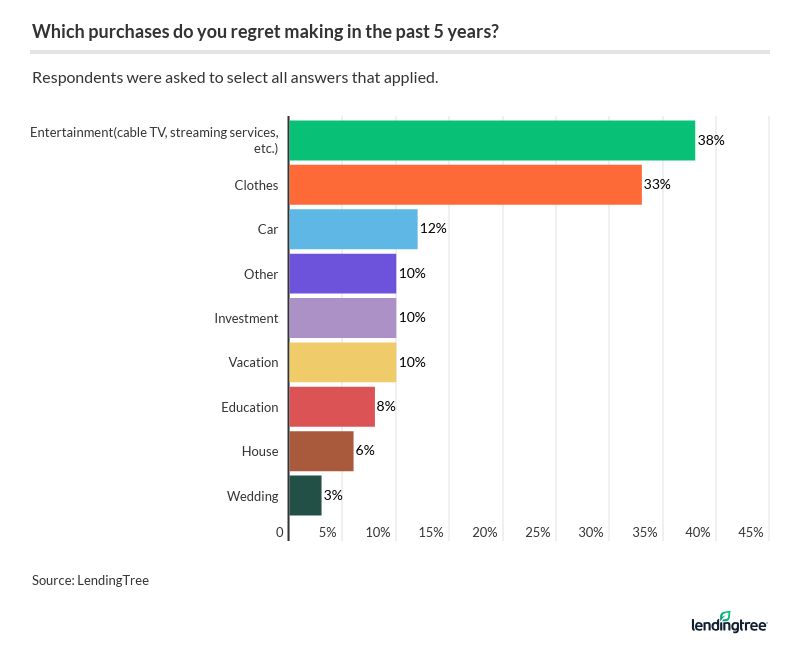 According to Smith, 20-somethings might find it especially difficult to limit their spending.
"Your 20s are typically considered the 'prime time' of your life, filled with temptations and distractions," she said. "Spending too much on nonessentials has so many ramifications for retirement savings and the ability to save up for large purchases, such as a down payment on a home."
To protect your wallet, Smith recommends following the "50/20/30 rule" of budgeting. "The rule states you should spend only up to 50% of your after-tax income on essentials, such as housing and food; 20% on financial priorities, such as debt repayments and savings; and 30% on lifestyle choices, such as vacations," she said.
By creating and sticking to a budget, you can prevent yourself from spending past your means.
More than half of adults think cutting back on restaurants will help
Saving money is tough if you feel like you have to cut back on other areas. According to our survey, many adults think they need to cut back on restaurants, clothes, and cellphones.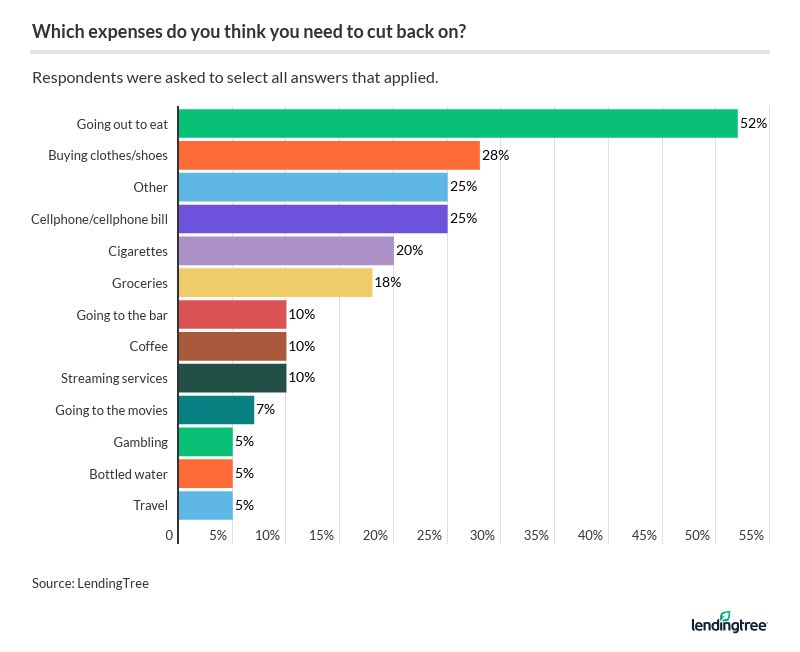 When we broke down the above categories by gender, we found one stark difference: 30% of women said they overspent on clothes and shoes, compared with only 13% of men.
This finding perhaps reveals the influence that social pressures have on our spending habits. Next time you're considering a pricey purchase, take a second to examine where your desire to buy originated.
47% of adults regret taking on credit card debt
Considering most adults regret spending their money on nonessentials, it's not surprising that nearly 1 in 2 adults regret taking on credit card debt.
Jonathan Holloway, director of digital strategy at NoExam, knows how difficult it can be to pay off credit card debt.
"My biggest financial regret was using credit cards while in college," he said. "Of course, my delivery driver job did not pay well enough to keep up with the credit card bills. Eventually the amounts got too high."
When he couldn't repay his debt, it was sent to collections.
"This marred my credit well after college, even after I had settled the debts and repaid all student loans," said Holloway. "I guess you could say the regret was actually not having the self-discipline to limit spending while in college."
As of May 2018, the average national APR on credit cards was 16.73%, a high rate that makes credit card debt difficult to pay off. Falling behind on payments can drag down your credit score, making it difficult to qualify for personal loans, mortgages, or other financial products.
If you're prone to overspending, limit your credit card use until you can curb that habit. By paying off your balance in full every month, you'll be able to avoid most interest charges.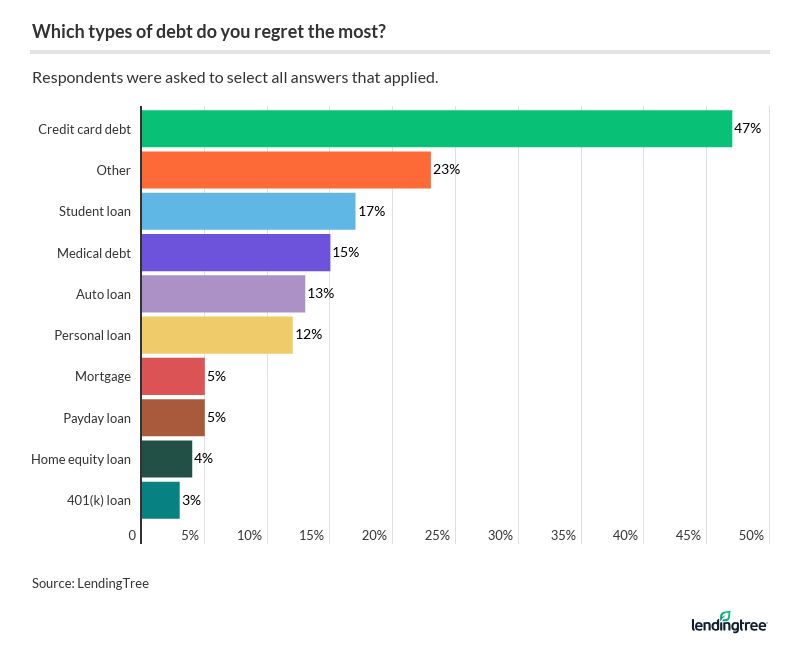 Only 16% of respondents regret their student loan debt
Considering the average student in the Class of 2017 graduated with $39,400 in debt, it might be surprising to learn only 16% of respondents said they regretted taking out student loans. That said, 54% of respondents felt what they spent on their college education was worth it.
Tuition rates are higher than ever, but a college degree remains valuable. According to the Bureau of Labor Statistics, a college degree correlates with higher income.
But before taking on a ton of debt, you might compare tuition costs and select an affordable school. You could also get a part-time job as a student to minimize the amount you borrow.
"My biggest financial regret is that I didn't work full time during grad school so that I didn't have to take out student loans," said J.R. Duren, a personal finance expert at HighYa. "At the time, I felt like it would be impossible for me to work 40 hours a week and do well, so I chose to forgo a heavy work schedule in favor of freeing up time to study."
Now that he's still paying off $100,000 in student loans 10 years later, Duren wishes he had chosen to work and study at the same time.
Before borrowing student loans, make sure you understand your options for repayment. If you already have debt, look into options for paying off your debt faster, such as student loan refinancing. If your bills are too burdensome, consider applying for an income-driven repayment plan.
1 in 4 Americans claim not to have financial regrets
Reports on financial health in the U.S. paint a concerning picture. Many people have little saved for retirement, and only 4 in 10 could cover a $1,000 emergency expense with savings, according to Bankrate.
Collectively, more than 44 million Americans owe $1.48 trillion in student loans. In the first quarter of 2018, according to the Federal Reserve Bank of New York, household debt reached $13.21 trillion.
According to our survey, however, 24% of adults don't have any financial regrets in the past year.
On the one hand, this finding suggests that a large group of Americans are savvy when it comes to personal finance. Another interpretation, though, is that people think their finances are in better shape than they are.
If you haven't checked your finances lately, take the time to look over your spending and saving. By taking a close look at your habits, you can make sure you're on track toward meeting your financial goals.
It's never too late to take control of your finances
If you regret your past financial choices, you're not alone. The majority of Americans regret spending too much, saving too little, or taking on debt.
Although money mistakes can haunt you, they don't have to control your life. If you have major debt, for instance, look for strategies to pay it off faster. If you haven't saved for retirement or built your emergency fund, come up with a plan to start today.
Besides following a budget, you might also search for ways to increase your income. Asking for a raise or switching jobs could lead to a higher salary. Or you could start a side hustle, such as renting out a room on Airbnb or driving for Uber, to boost your earnings.
Remember, no one was born an expert in personal finance. But you can become a money pro thanks to online resources or books on personal finance.
Instead of feeling bad about past mistakes, use them as an opportunity to learn. That way, you can make the right financial decisions for your future.
This survey was conducted via SurveyMonkey from May 4 to 12, 2018, on behalf of LendingTree. It asked 10 questions regarding financial regrets to a nationally representative sample of 1,030 adults living in the U.S., as well as collected data on age, gender, region, and household income.