How Does LendingTree Get Paid?
LendingTree is compensated by companies on this site and this compensation may impact how and where offers appear on this site (such as the order). LendingTree does not include all lenders, savings products, or loan options available in the marketplace.
Survey: Majority of Student Loan Borrowers Don't Know How Interest or Forgiveness Works
Updated on:
Content was accurate at the time of publication.
As of 2018, the national student debt crisis has reached epic proportions; an estimated 44 million borrowers owe a collective $1.48 trillion in student loans.
But our latest survey of borrowers found misconceptions about student loans abound. More than one-half of our survey respondents, for instance, didn't realize interest accrues on their federal unsubsidized loans while they're in school.
And nearly 1 out of 10 borrowers are under the false impression that you don't need to repay your loans if you can't find a job after college.
These misunderstandings could delay your journey toward a debt-free life or even cause you to go into student loan default. Here are the biggest student loan myths our survey uncovered, followed by some tips on how to educate yourself about your student loans.
52% of borrowers think interest doesn't accrue while they're in school
One of the biggest factors that make student loans so hard to pay off is interest. Unless you have federal subsidized loans, your loans will accrue interest from the date they're disbursed.
Unfortunately, 52% of student loan borrowers think you don't need to worry about accruing interest on unsubsidized loans while you're still in school.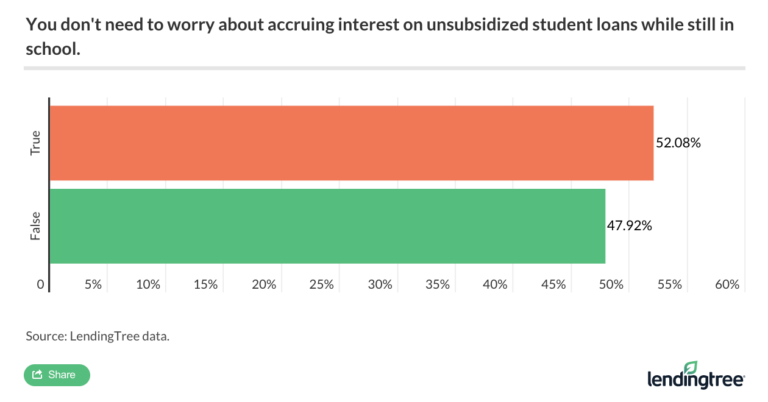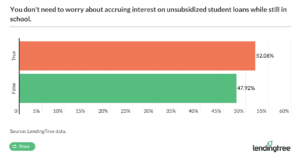 "People assume that their balance won't go up," said Leslie Tayne, attorney and founder of Tayne Law Group, which specializes in consumer and business debt. "They don't realize how fast interest adds up and that they could've been paying it while in school to offset it."
Let's say you borrow $9,500 in Direct Unsubsidized Loans at a 4.45% fixed interest rate for your first year of college.
If you don't realize interest accrues, you might think you'll owe that principal amount of $9,500 upon graduation. But over four years, your debt will have actually grown to $10,388 thanks to interest. If you take out additional loans throughout the years, you'll owe a whole lot more after you earn your degree.
It's important to understand how student loan interest works so you can prepare for repayment after college. As Tayne suggested, you might also start paying the interest while you're in school to prevent your debt from growing unchecked.
Borrowers are confused about student loan interest in general
This survey revealed two other major misconceptions about how student loan interest works:
47% of student loan borrowers think that if you put your federal loans into forbearance, they'll stop accruing interest for a set amount of time.
38% of student loan borrowers didn't know that the interest rate on federal student loans is fixed.
Student loan forbearance lets you pause payments on your federal student loans if you run into economic hardship. But it doesn't stop student loan interest from accruing.
Note that student loan deferment, unlike forbearance, usually stops interest from growing on subsidized federal loans. If you qualify, deferring your subsidized loans can offer better relief than forbearance.
Some private lenders also offer deferment or forbearance for private student loans. But even if you pause payments, your balance will continue to grow due to accruing interest.
Federal loan interest rates, meanwhile, are fixed for both undergraduate and graduate students. Direct Loans have a fixed rate of 4.45% for undergrads and 6.00% for grad students. Even if the rates change for future borrowers, the rate you got when you took out the loan will be locked in.
Private student loans, on the other hand, typically let you choose between fixed and variable rates. Fixed rates stay the same over the life of the loan. Variable rates can fluctuate over time.
Whether you're taking out student loans, preparing for repayment, or considering forbearance, it's crucial to understand how student loan interest works so you can make the best choices for your finances.
53% of borrowers think student loan payments are automatically based on their income
Federal student loans are put on the Standard Repayment Plan, which offers fixed payments over a 10-year term. But 53% of student loan borrowers think that payments on the Standard Repayment Plan are based on how much you make.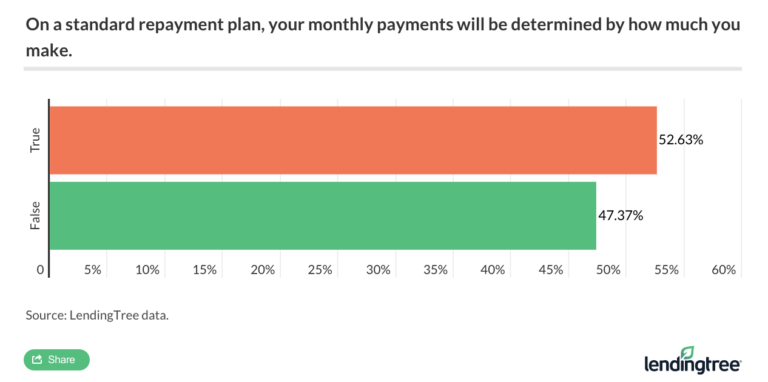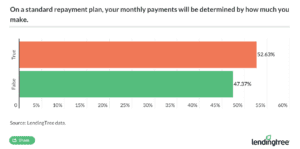 This student loan myth is a dangerous one for borrowers. Knowing how much you'll owe each month after graduation is an important way to plan ahead and stay current on your debt.
This myth could also be problematic for the 12% of borrowers who don't realize the government can garnish your wages if you go into student loan default.
"People often think that they don't have to pay student loans back," said Tayne. "Failing to understand what it means to become delinquent on your student loan can hurt you financially. From possible wage garnishment to a negatively impacted credit score, struggling to pay your student loans can have major consequences."
That being said, it's possible to put your federal student loans on an income-driven repayment (IDR) plan. But you'll have to apply separately for one. IDR plans include:
Income-Based Repayment
Income-Contingent Repayment
Pay As You Earn
Revised Pay As You Earn
These federal student loan repayment plans cap your monthly payments at a percentage of your income. Plus, they offer student loan forgiveness after 20 or 25 years of on-time repayment.
Borrowers can also look into the following student loan repayment plans if they need to adjust monthly dues:
Extended Repayment Plan: It lowers monthly payments by extending your term up to 25 years.
Graduated Repayment Plan: This plan offers smaller initial payments that increase over the course of 10 years.
Note that private student loans typically don't come with all these student loan repayment options. You can usually choose student loan repayment terms between five and 15 years, but you likely won't have access to IDR.
You'll also lose access to IDR plans if you turn your federal student loans into a private one through student loan refinancing. You might snag a lower interest rate, but you'll no longer have these repayment options to fall back on.
According to our survey, 40% of student loan borrowers didn't know that you lose access to federal student loan repayment options when you refinance your debt with a private lender.
However, refinancing does give you the option to lower your payments. By choosing a longer payoff term, you'll reduce your monthly dues. While this approach can help you gain control of your bills, it also means you'll spend more on the loan over the long run.
For instance, let's consider a loan of $30,000 with a 6.00% interest rate on a five-year, 10-year, and 15-year payment plan. As you can see, the longer plans give you smaller monthly payments but at greater long-term costs.
| Repayment Term | Monthly Payment | Total Interest | Total Cost of Borrowing |
| --- | --- | --- | --- |
| 5 years | $580 | $4,799 | $34,799 |
| 10 years | $333 | $9,967 | $39,967 |
| 15 years | 15 years | $15,568 | $45,568 |
If you're refinancing one or more student loans for new terms, use a student loan calculator to compare your options. That way, you can strike the right balance between making your monthly payments more affordable and curbing the long-term costs of borrowing.
More than 7 out of 10 borrowers are misinformed about student loan forgiveness
Our survey also revealed that a disturbing amount of student loan borrowers (71%) believe that private student loans can be eligible for Public Service Loan Forgiveness (PSLF).
"A big misconception is people believe there's a forgiveness program that they'll qualify for," said Tayne. She added that many people misunderstand the qualifications for student loan forgiveness. In truth, few borrowers ever qualify for it.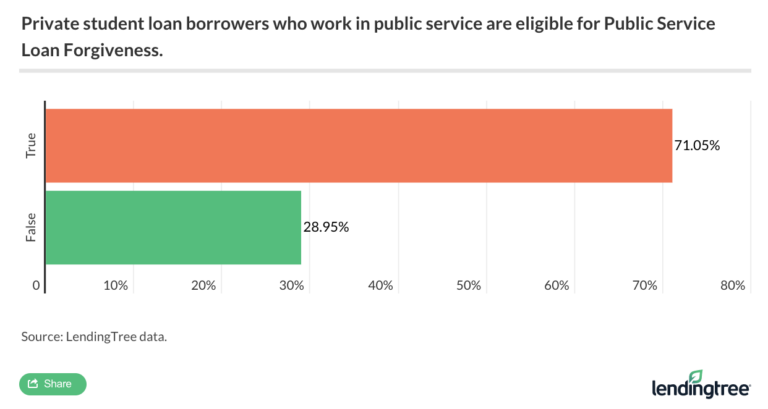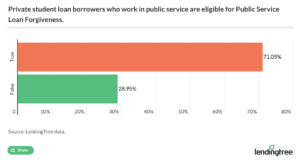 You can only earn forgiveness for federal student loans after working at an eligible nonprofit or other organization for 10 years. Borrowers that don't understand these conditions could commit to a career that ultimately doesn't help them pay off their private student loans fasters.
Since careers in public service don't always pay well, you're likely limiting your earning potential over time. Make sure you understand the terms of PSLF before making any big career moves for it.
And if you do have private student loans, consider other options for loan assistance. There are a number of student loan repayment assistance programs throughout the country that can help you pay off private student loans after a few years of qualifying work.
One-third of students aren't sure how credit scores and cosigners come into play
Not only are borrowers confused about repayment, but they're also unsure how the borrowing process works.
34% of student loan borrowers think your credit score is the deciding factor when it comes to getting an undergraduate federal student loan.
34% of student loan borrowers don't know that most students will need a cosigner to get a private student loan.
In reality, qualifying for a federal student loan has nothing to do with your credit score. To be eligible for need-based or non-need-based loans, all you have to do is submit the Free Application for Federal Student Aid. The only exceptions to this rule are Grad PLUS and Parent PLUS Loans. These federal loans aren't available to borrowers with an adverse credit history.
Private lenders, on the other hand, do consider your credit history before approving you for a loan. That's why it's no surprise that 94% of private student loans issued for the 2015-2016 school year had a cosigner, according to data firm MeasureOne.
However, both federal and private loans can drag down your credit if you miss payments or go into default.
Fortunately, most student loan borrowers (89%) understand that student loans can affect your credit score. The 11% of borrowers who don't understand the credit impact of student loans should learn how debt repayment will affect their ability to take out other loans in the future.
Majority of borrowers only 'somewhat confident' about how student loans work
One of the biggest regrets among student loan borrowers is that they didn't realize what they were getting into when they took out loans. It's all too easy to take out student loans without having a clear understanding of how you'll pay them back.
That uncertainty about your debt can follow you for years. This survey found that 9% of people with student loans are "not at all confident" in their knowledge of how student loans work. And 53% said they were only "somewhat confident."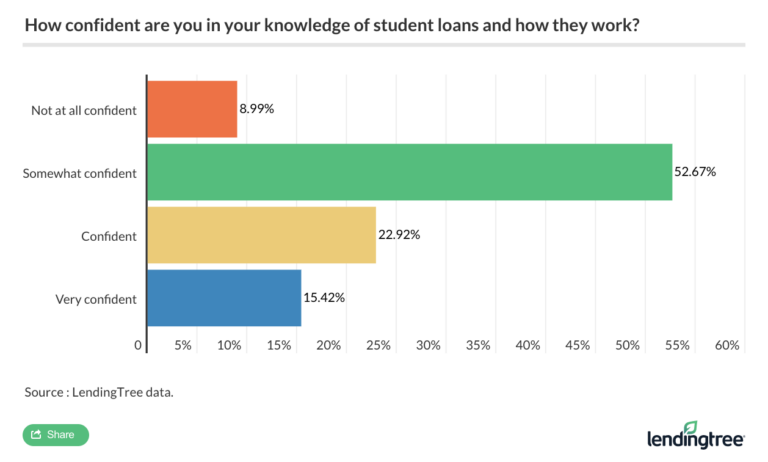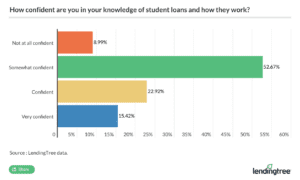 Whether you're a new borrower or already dealing with a high balance, it's crucial to educate yourself about student loans. Call your loan provider with any questions. Compare different student loan repayment plans to figure out which one is best for you.
You can also use student loan calculators to see exactly how interest adds up. If you've got a steady income and strong credit, you could also consider refinancing for lower rates or a shorter repayment term.
"The world of student loans can be murky and frustrating," said Tayne. "The less you understand, the more likely you are to struggle paying them off. By making sense of your student loans, you can better manage your payments and maybe even pay them off sooner!"
Whatever approach you take, make sure you've done your research. By arming yourself with knowledge, you can win the fight against student debt.
Survey Methodology: This survey was conducted via SurveyMonkey from Jan. 25-26, 2018, with a nationally representative sample of 1,019 adults living in the United States. "Do you have student loans?" was used as a screening question, with a target answer of "yes."