How Does LendingTree Get Paid?
LendingTree is compensated by companies on this site and this compensation may impact how and where offers appear on this site (such as the order). LendingTree does not include all lenders, savings products, or loan options available in the marketplace.
Student Loan Defaulters Suffering More Wage Garnishment: Study
Updated on: April 22nd, 2019
Why use LendingTree?
We are committed to providing accurate content that helps you make informed money decisions. Our partners have not commissioned or endorsed this content. Read our .
Many borrowers are having a hard time repaying their federal student loans — and the government and its collection agencies are having an even harder time recouping this outstanding debt.
In the third quarter of last year, for example, less than 2% of federal loans in collections were recovered — just $2.6 billion out of $166 billion.
Unfortunately for delinquent borrowers, however, the Department of Education (DoED) is increasingly leaning on one of its more feared methods of collection: Dreaded wage garnishment is on the rise.
From July 2015 to September 2018 — the period reviewed in this study — debt collectors nabbed $2.3 billion in wage garnishments, according to DoED data. And after a dip in mid-2017, garnishments rose to a record high for the three-year period studied, hitting $230 million in the third quarter of 2018.
Here's a summary of the current state of student loan-related wage garnishment.
Key findings
Collection agencies added $171 billion of defaulted student loans to their inventory over the last three years for which data was available.
During that timespan, the agencies reclaimed about $31 billion.
Approximately 8% of that amount was recovered through wage garnishments.
In the third quarter of last year, $230 million in owed funds were reclaimed through wage garnishment, an increase of almost $60 million from the same quarter of 2015 and the highest level in the three-year period.
Meanwhile, about 75% of the reclaimed funds ($23 billion) were recovered through loan rehabilitation, which allows borrowers to expunge defaults from their credit histories.
Approximately 14% was retrieved through loan consolidations, and 5% was recovered via voluntary payments.
After accounting for the recouped debt, collection agencies still held $166 billion in outstanding (uncollected) defaulted loans as of late 2018 — a $100 billion increase from three years earlier.
How much federal student loan debt is in collections?
Although the time it takes for private student loans to enter collections varies by individual lender, there's single rule when it comes to federal loans: Miss one payment and you're officially delinquent. Fail to make a payment for at least 270 consecutive days, and now you're in default.
Once in default, a federal loan balance accelerates (or becomes due in full). Without arranging to make good on the debt, it could then land with a collection agency.
The 18 private collection agencies contracted by the DoED took on $171 billion in defaulted student loans over the last three years for which data is available.
Three-Year Overview Q3 2015 - Q3 2018 ($ millions)
| | Total Amount |
| --- | --- |
| Defaulted Loan Inventory Given to Third-Party Collections | $170,911.6 |
| Recovered by Third-Party Collections | $30,847.7 |
| Recovered Through Rehabilitation | $22,846.0 |
| Recovered Through Consolidation | $4,350.5 |
| Recovered Through Wage Garnishment | $2,315.4 |
| Recovered Through Voluntary Payments | $1,335.8 |
How much loan debt facing collections is being recouped
Within five days of the first contact, collection agencies are required by the Fair Debt Collection Practices Act to provide borrowers with a validation notice that details:
The debt amount
The loan servicer
Information about disputing the debt
From 2015 to 2018, the government's collection agencies retrieved about $31 billion, but debt collectors aren't so successful in general. Although the dollar amount of recoveries has increased over the last three years, the percentage of outstanding debt that has been recovered quarterly dropped from about 3% to 2%.
Percentage of Student Loans in Collections Recovered in Q3 2018
| | Q3 2018 | 1-Year Change | 2-Year Change | 3-Year Change |
| --- | --- | --- | --- | --- |
| Percentage of Collections Recovered in Quarter | 1.6% | -44.4% | -34.3% | -44.5% |
| Percentage of Recovered Defaults Recovered Through Rehabilitation | 71.8% | -6.7% | -1.0% | -3.8% |
| Percentage of Recovered Defaults Recovered Through Consolidation | 14.0% | 11.8% | -8.7% | 24.7% |
| Percentage of Recovered Defaults Recovered Through Wage Garnishment | 8.7% | 36.9% | 12.6% | -4.3% |
| Percentage of Recovered Defaults Recovered Through Voluntary Payments | 5.4% | 32.7% | 25.7% | 8.3% |
91% of recouped money happens through cooperation with borrowers
When a student loan borrower's federal education debt enters default status (and is potentially placed with a collections agency), they have three ways to get their loans current again. They can:
Rehabilitate: Make nine on-time loan payments of an agreed-upon amount over 10 months. Note that these payments — which could be as low as $5, depending on the borrower's income — won't stop wage garnishment or other collections actions until the debt is fully rehabilitated.
Consolidate: Group your loans into one new loan and agree to repay the debt under an income-driven repayment plan, with monthly payments as low as $0. Alternatively, you could make three prompt, full payments and then consolidate. In the case of collections, you must first request to remove any existing wage garnishment before you can qualify for consolidation.
Repay: Although it's not possible for most borrowers in default, the easiest way to escape collections is to make a lump-sum payment.
Of the two more realistic routes to escaping default and collections, rehabilitation takes six to seven months' more time to complete than consolidation. Despite the long road to rehabilitation, however, it accounted for 74% of agencies' debt recoveries — or $23 billion worth — during the 2015-18 period.
The clear majority in favor of rehabilitation is likely due to the greater reward it carries: removing the record of a default from the borrower's credit report.
Consolidation, which doesn't offer the same credit improvement, accounted for 14% of debt recoveries. Another 5.4% came from borrowers making voluntary payments to catch up on their debt.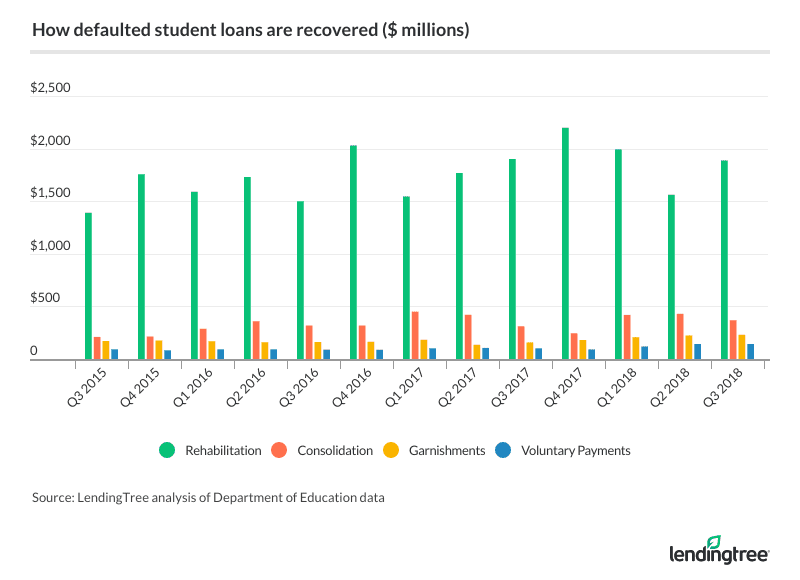 Involuntary wage garnishment is on the rise
When a distressed borrower doesn't rehabilitate, consolidate or otherwise catch up on their federal loan debt (or is slow to do so), it's the agency who acts first.
As empowered by the DoED, collection agencies could collect on your debt by withholding up to 15% of your income, as well as your tax refund, Social Security or other federally administered benefits.
According to our three-year analysis, 8% of loans in default — or $2.3 billion worth — were recouped through these involuntary wage garnishments.
Agencies appear to be recovering more and more debt via wage garnishment. Almost $230 million was retrieved through garnishment in the third quarter of 2018 — an increase of about $60 million from the third quarter of 2015, hitting the highest level for the three-year period.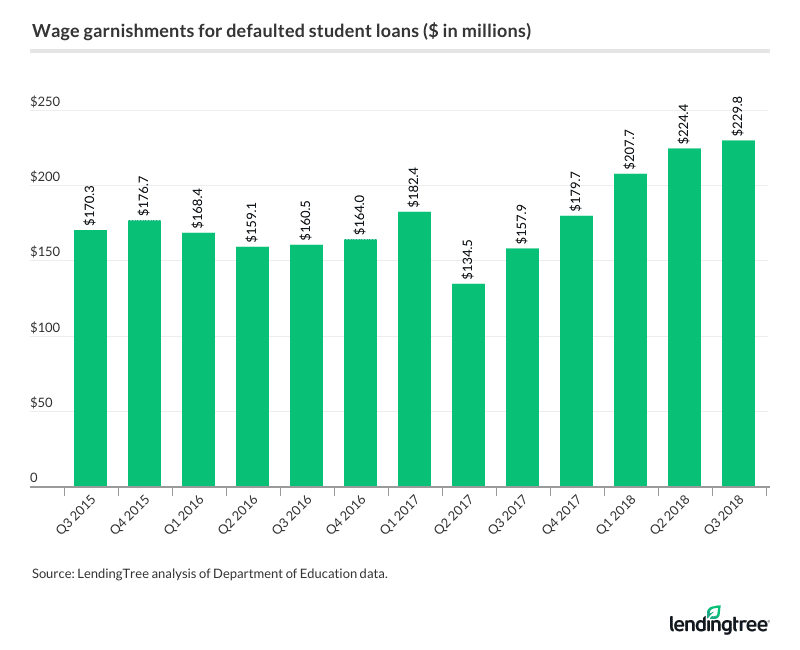 If your debt is in collections or could be soon …
Almost 12% of America's private and federal education debt is at least 90 days delinquent or in default, according to our student loan statistics. So if you find yourself on the precipice of a dire debt situation, at least know that you're not alone.
Here are some possible solutions for your debt troubles, based on the current status of your federal student loans:
Delinquent: After missing a single payment, you should be alarmed enough to at least contact your loan servicer. You might look to switch repayment plans or apply for deferment or forbearance to reduce or pause your monthly payments.
Default: Again, reach out to your servicer to resolve the default as soon as possible. More commonly, you'll need a bigger fix, so start to consider your fit for rehabilitation and consolidation.
Collections: If your servicer has passed your debt to a collection agency, you could agree to a voluntary repayment program to stave off involuntary collections. Keep in mind that wage garnishment would continue until you rehabilitate your debt — plus, consolidation isn't possible until you've exited collections.
For private student loans that are anywhere from past due to facing collections, consult your lender immediately. Their safety net might not be as wide as what's offered by the DoED. Still, something as simple as an economic hardship forbearance program could allow you to pause your payments and get back on track.
Applying these remedies can help you keep pace with your loan repayment. Then you can avoid becoming a statistic, as the DoED and its debt collectors ramp up their use of wage garnishment.
Plus, once you've had a chance to catch your breath, you can start to explore permanent solutions for your student debt. Review your eligibility for student loan forgiveness for your federal loans. Also, keep student loan refinancing under consideration for your federal and private debt, since it's generally the only way to reduce your interest rate, potentially saving you a bundle on your repayment.
Analysts reviewed quarterly data from the Department of Education related to defaulted federal student loan debts assigned to third-party private debt collectors. The data spans the third quarter of 2015 through the third quarter of 2018.