How Does LendingTree Get Paid?
LendingTree is compensated by companies on this site and this compensation may impact how and where offers appear on this site (such as the order). LendingTree does not include all lenders, savings products, or loan options available in the marketplace.
Decade in Debt: How the Auto Loan Landscape Changed for Americans in the 2010s
Updated on: February 19th, 2020
Editorial Note: The content of this article is based on the author's opinions and recommendations alone. It may not have been reviewed, commissioned or otherwise endorsed by any of our network partners.
After scrimping during the Great Recession, Americans entered the 2010s ready to buy increasingly expensive vehicles. By the end of the decade, we racked up nearly $1.2 trillion in auto loan debt, a 65.7% increase. The average new car payment cracked the $500 ceiling, and to help deal with it, Americans started taking out auto loans for longer periods and with higher rates even as wage growth stagnated.
Americans say yes to larger price tags, longer terms and rising interest rates because a car is a necessity for modern life in most of the U.S. But unlike other necessities — a home, an education — vehicles are a rapidly depreciating asset. Despite the increasing stress on Americans' monthly budgets, we're devoting nearly 10% of the national consumer debt to vehicles. Here's how we got there.
Auto loan payments and terms grew
Average car payments shot up for new and used vehicles between 2010 and 2019. New car buyers saw the biggest jump in average monthly payments, a 19% increase from $462 at the beginning of the decade to $550 by the end of it. Used payments increased 15% to nearly $400. The average amount financed for used cars increased 26%, close to the 28% increase new car buyers faced.
Demand grew for used cars as new car prices rose, exasperated by limited used car inventory at the beginning of the decade after the Cash-for Clunkers economic stimulus program took about 700,000 cars off the road in 2009. The program was designed to jumpstart the troubled auto industry rocked by the recession and subsequent $80 billion bailout.
Changes in new car financing, 2010 vs. 2019
Year
Average Amount Financed
Average Monthly Payment
Average Loan Term
Average Finance Rate
Total Amount Paid (excluding down payment)
2010
$25,396
$462
62 months
5.31%
$28,644
2019
$32,480
$550
69 months
5.96%
$37,950
Changes in used car financing, 2010 vs. 2019
Date
Average Amount Financed
Average Monthly Payment
Average Loan Term
Average Finance Rate
Total Amount Paid (excluding down payment)
2010
$16,239
$341
57 months
9.51%
$19,437
2019
$20,446
$393
65 months
9.57%
$25,545
Note: Numbers used are from Q1 2010 and Q3 2019 (the latest data available)
Source: Experian
To help counter increased monthly car payments, consumers increased the length of their auto loans. On average, new car loans grew by seven months to 69-month terms, or nearly six years. Used car terms grew by eight months but stopped at an average term of 65 months.
The upshot: Americans today are digging deeper into their wallets to make higher payments over longer periods; they're paying more, not just for their cars, but also for their car loans. The average interest rate for new cars increased by 0.65 percentage points; used increased by 0.06 percentage points.
Auto debt gained 3.7% of the national consumer debt
National auto debt grew from 5.7% to 9.4% of total American consumer debt during the last 10 years. It rivals student loan debt, at 10.7% — but unlike a car, you're not likely to trade in your college degree and get a new one every 10 years.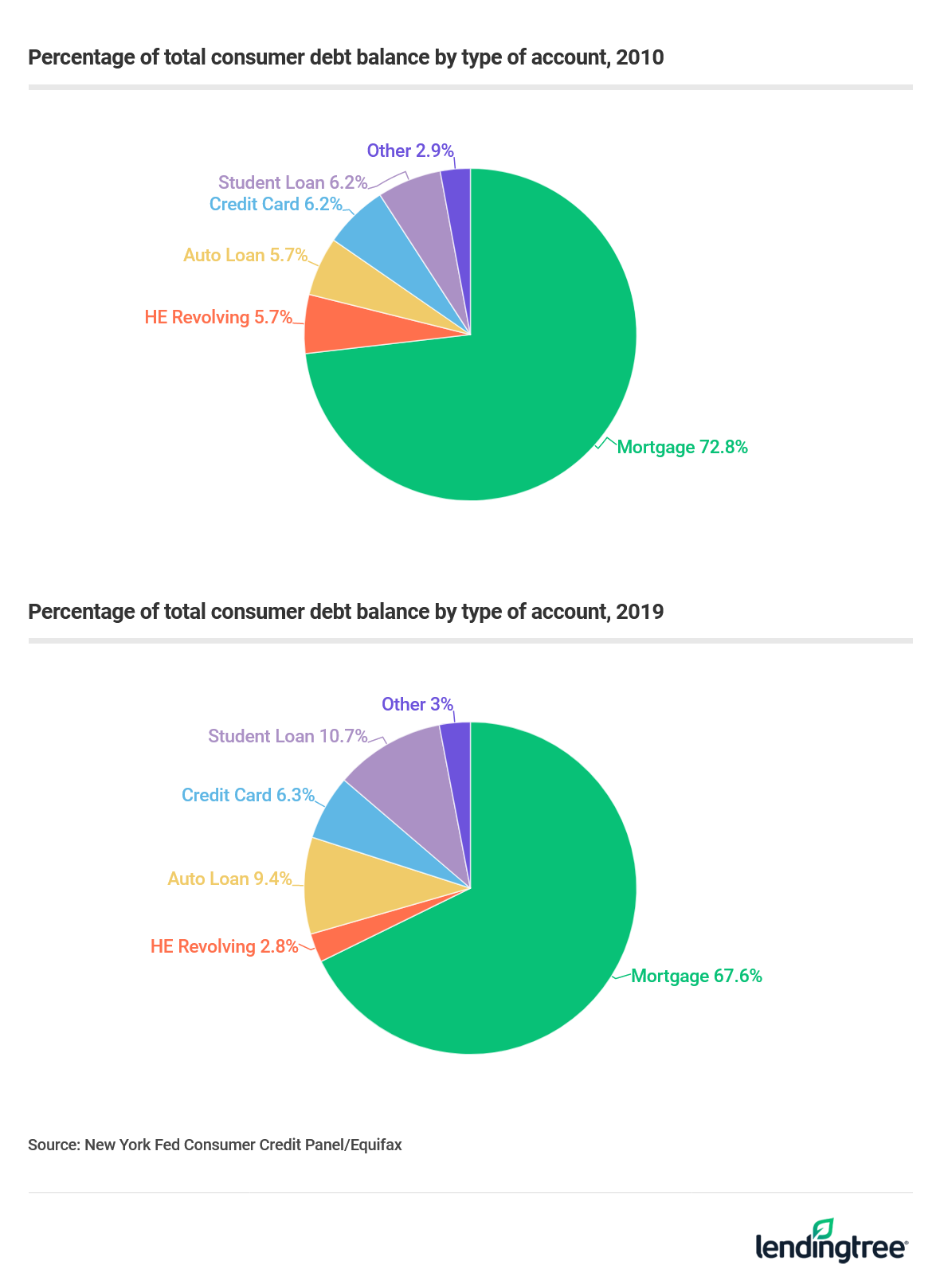 There are 34 million more car loans out there today than there were 10 years ago.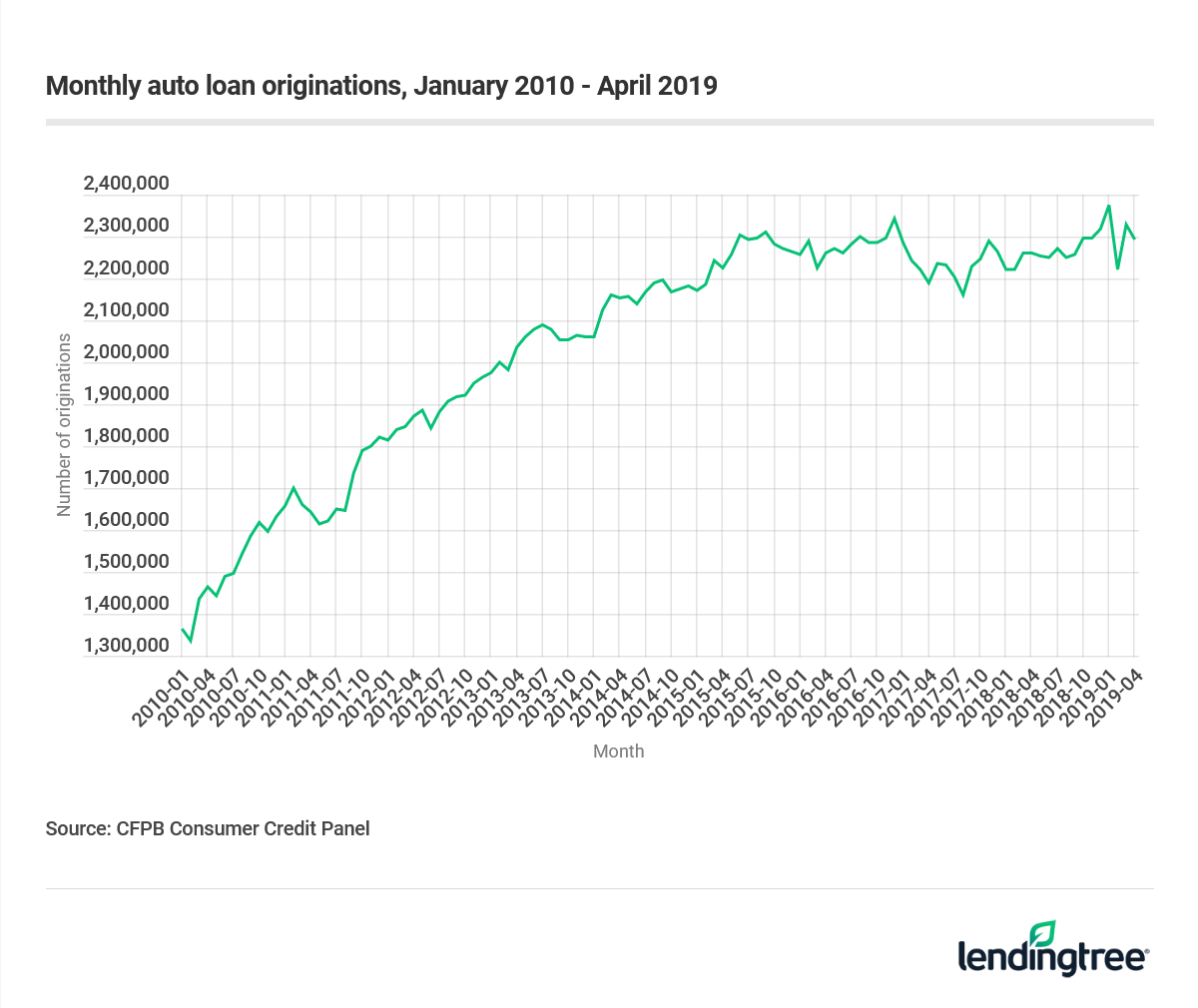 Auto loan originations nearly doubled in amount and volume
In January 2010, consumers originated 1.4 million auto loans worth $25.6 billion. These figures nearly doubled over the decade. In January 2019, people took out 2.4 million auto loans for a total of $50.9 billion.
Americans are driving more today than they did in 2010. U.S. drivers set a record in 2018, traversing 3.225 trillion miles, according to the U.S. Department of Transportation. Likewise, Americans' commute times have also been on the rise since 2010.
A LendingTree study found that for every additional minute spent commuting, the average driver adds $269 in auto debt. The more you're in your car, the more comfortable you may want it to be. The more you use it, the quicker you may have to replace it.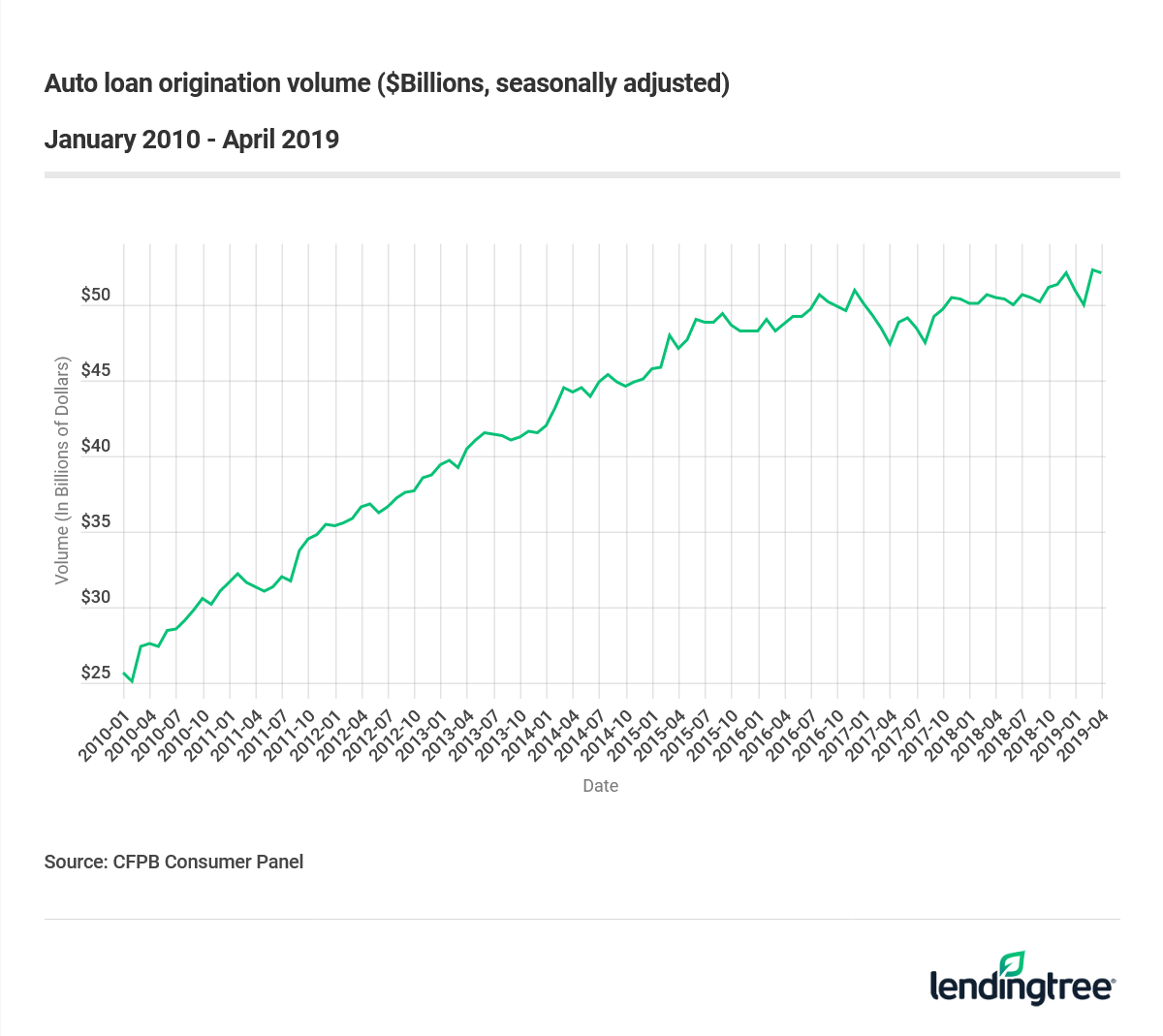 Origination outlier. While origination amounts were generally on the rise, there was one significant blip at the end of the decade when they dropped by $2 billion the first quarter of 2019. That was around the same time when several automakers, including American companies Ford and General Motors, decided to stop U.S. sedan sales and/or production. This eliminated several lower-priced options in what was an already expensive car market, leaving many Americans with sticker shock and sticking with their old rides.
Auto loan delinquency dropped in proportion to auto loans
The financial press has made a big deal of the rising rate of auto loan delinquencies. Indeed, delinquencies have hit record numbers, which we cover below. However, it's important to note that they're only at record levels because the auto loan market as a whole is at record levels. Overall, the decade saw auto debt delinquencies as a percentage of outstanding debt decline from 3.1% to 2.3%.
Near the end of the decade, more than 7 million Americans were 90 or more days delinquent on their auto loans, which is 1 million more than at the end of 2010 as borrowers emerged from the Great Recession. Yet 2019 had 34 million more auto loans than 2010.
In the Great Recession, many people who had been flirting with auto payment delinquency suffered repossession, effectively eliminating the most risky borrowers. Of course with the bad economy, a new batch of borrowers struggled to make their auto loan payments and delinquencies still went up during those years.
As the economy recovered in the 2010s, delinquencies dropped — but lenders were still shy and limited credit, so risky auto loan borrowers weren't able to obtain auto loans. This led to a very slow up-tick in delinquencies as a percentage of auto debt over the decade as the credit market opened back up.
Plus, the subprime auto market isn't considered to likely be a market-bursting bubble, like the housing crisis of the 2000s. Serious auto delinquencies are even trailing mortgage delinquencies, as most people find cars to be more essential. After all, you can sleep in your car, but you can't drive your house.