How Does LendingTree Get Paid?
LendingTree is compensated by companies on this site and this compensation may impact how and where offers appear on this site (such as the order). LendingTree does not include all lenders, savings products, or loan options available in the marketplace.
Short-Term Car Leases vs Long-Term Car Rentals
Published on: November 30th, 2021
Editorial Note: The content of this article is based on the author's opinions and recommendations alone. It may not have been reviewed, commissioned or otherwise endorsed by any of our network partners.
If you need some wheels for a short period of time and don't want to Uber everywhere, a long-term car rental or a short-term car lease could be the answer — both options offer less commitment than purchasing a vehicle.
Long-term renting offers shorter terms and more flexibility, while short-term leasing costs less than renting if you need a vehicle for nearly a year or more. Here's more on the differences, their pros and cons and how to choose.
What are long-term car rentals and short-term car leases?
You can rent a car for a long term, up to a maximum of eleven months. If you need a car for longer than that, you'll need to get a couple rentals in succession — or you could get a short-term lease, which lasts less than three years.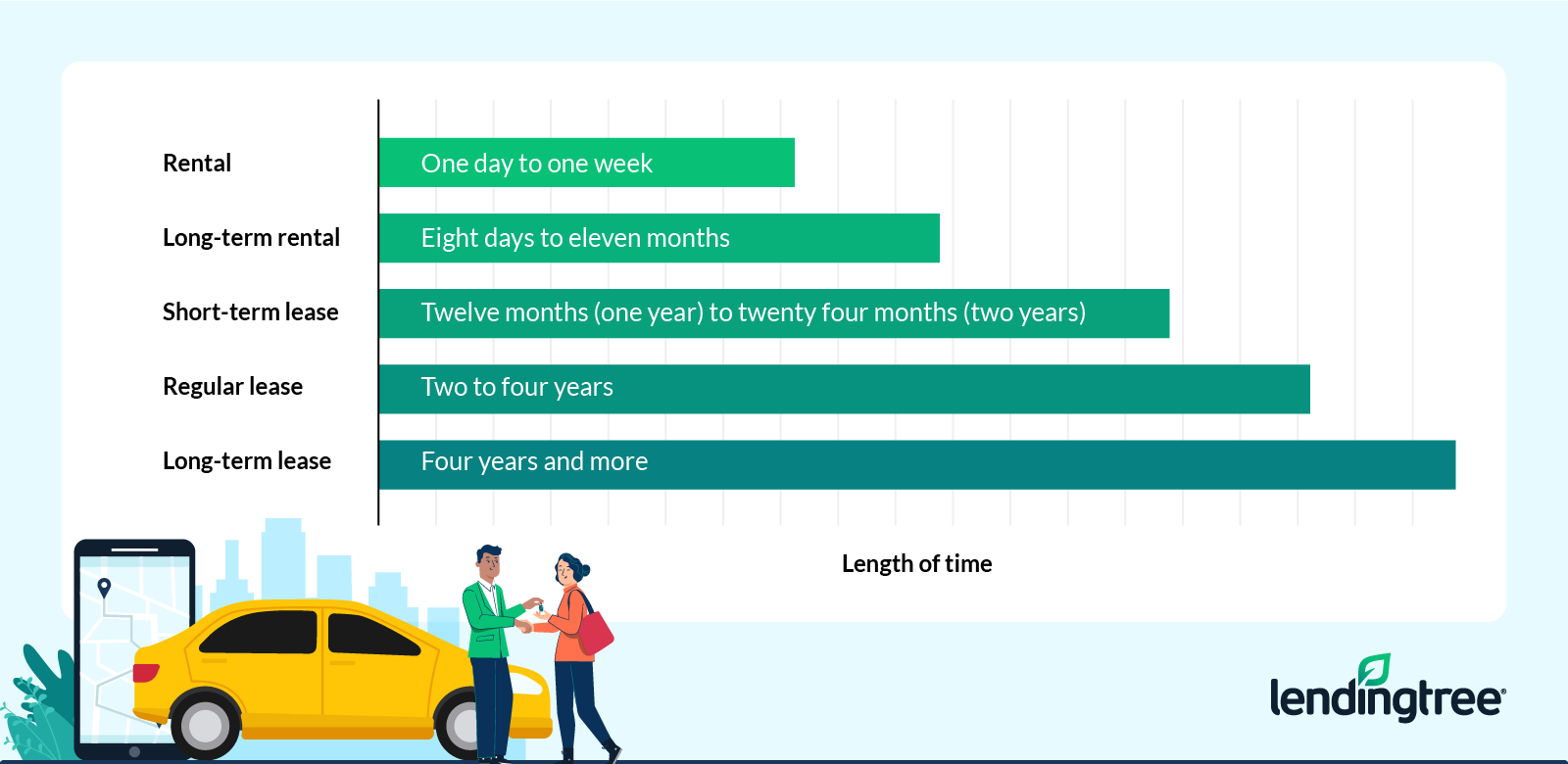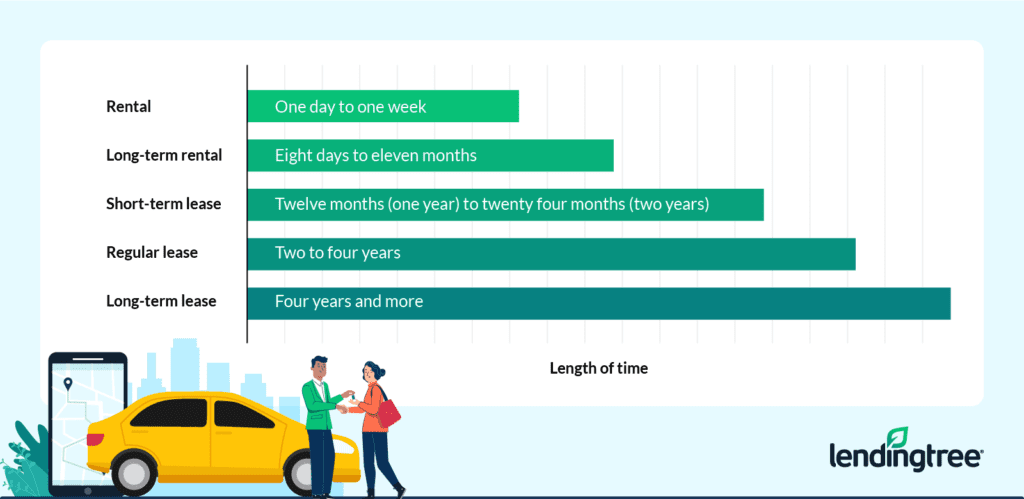 Short-term leasing typically has set terms of 12 months to 24 months. If you're looking for more flexibility, here are some options that could provide it:
Do a car lease takeover: Take over the remainder of a car lease from someone else. There are several companies — including swapalease.com, leasequit.com and leasetrader.com — that help connect people wanting in and out of car leases. You can adjust the filters on the websites to search by the number of months remaining in a lease.
End a short-term lease early: Get a new car lease from a dealership and get out of the lease early. One way you could is to post your lease on one of the above sites to find another person to assume it. You could also sell your lease for enough to cover the car's buyout, or turn it in to the dealership early and pay any fees.
How do they work?
Both long-term renting and short-term leasing allow you to use a car for a period of time in exchange for money. The longer you rent, the more a short-term lease becomes financially appealing.
Car model
Three-month rental
Jan. 1 – Mar. 31, 2022
Ten-month rental
Jan. 1 – Oct 25, 2022
Two-year lease
Oct. 25, 2021 – Oct. 25, 2024
Standard SUV
(2021 Ford Edge)
$11,320
$37,332
$14,709
Standard sedan
(2021 Volkswagen Jetta)
$6,161
$20,116
$12,569
Compact economy
(2021 Kia Soul)
$4,871
$15,810
$13,410
Luxury SUV
(2022 Infiniti QX60)
$11,765
$39,065
$25,903
Large luxury SUV
(2021 GMC Yukon Denali)
$12,249
$40,679
$41,917
Data from Budget.com and Edmunds.com based on a Charlotte, N.C., location and assumed 12,000 miles driven annually. All numbers include estimated taxes and fees. All vehicles are base models unless otherwise specified.
What are the pros and cons of long-term rentals and short-term leases?
The highlights: Both options should cost less than purchasing a vehicle. They both allow you to have a personal vehicle when you need it for a shorter term. However, the negatives are that both options are more expensive than buying and keeping a vehicle long-term — you could pay a lot of money and never build equity in the vehicle.
Here are some differences between the two:
Rental
Lease

Generally no credit check
No ownership fees
No mileage limit
Flexible terms

Credit check
Registration and title fees
Mileage limit (typically 10,000, 12,000 or 15,000 annually)
Set terms
Pros and cons of long-term rentals
A long-term rental is good when you need wheels for less than a year. This may be a good option for people who have to stay in a distant area for a few months for work.
Pros
Cons
No mileage limits

Flexible terms

Generally no credit qualifications

Standard and budget models may not be available to rent long term

Cost may exceed that of a lease
Pros and cons of short-term leases
A short-term lease is good when you need a ride for a year or more. This may be for people who have an annual employment contract in a new location or who may be studying abroad.
Pros
Cons
Potentially less expensive than a long-term rental

Less costly than buying a new vehicle every three years

Prime credit (a score of at least 661) is typically required

Mileage limits (typically 10,000, 12,000 or 15,000 annually)

Set terms
Where can you find one?
You can find a long-term rental at any of the popular car rental agencies. Be sure to check online for model availability and prices. Some companies may not have all models available for long-term rentals.
Here are some national car rental agencies:
Alamo Rent-A-Car
Avis
Budget
Enterprise
Hertz
National Car Rental
Thrifty
Sixt
A short-term lease can be found at any franchised car dealership. Call ahead to make sure that they offer the term you want.
Which is best: A long-term rental or a short-term lease?
If you need a car right this minute, or your situation is such that you can't make a moderate time commitment, you might want to just go to a car rental company and rent a car. Doing so could buy you time until you decide on a longer-term arrangement, which may be long-term renting.
If you can plan far enough ahead and you have time to go through the details of finding and getting a lease, that may be your best bet. It could be a cost-effective way to get on the road in a good car, without making a huge commitment.
Here are some steps to help you find an answer:
Figure out your price range. Look at your budget — or your employer's budget — and use an affordability calculator. If an employer is paying for it outright or offering compensation, see if there are any restrictions — for example, you may not be able to get a luxury exotic car.
Consider how you'll use the vehicle. All-wheel drive is a good option if you'll be driving in bad weather. Meanwhile, a large car might be best if you'll be transporting other people regularly.
Look up rental costs. Within your budgeted allowance, look up vehicles that would suit your needs. Check a few car rental companies and take notes or screenshots.
Use a lease calculator. See how much it would cost to lease the same vehicle(s); the car expertise site  Edmunds offers a great lease calculator. Search on the lease-takeover platforms as well, if that interests you.
Compare. Is one the clear financial winner? If not, check out the alternatives and ultimately choose what you find the most comfortable.
Alternatives
The trade off to the flexibility provided by both renting and leasing is that you could end up paying a hefty sum and never build equity. Here are two options that could allow you to build and/or take advantage of auto equity.
Ship or drive your current vehicle. Using your current vehicle may be the best solution. You could make a road trip out of the opportunity or ship your car to and from the temporary location.
Buy a vehicle. Go ahead and purchase a vehicle, then sell it when you need to. This option may be the most feasible in states that don't have a car sales tax.
Short-term car lease FAQ
Are there 3-month car leases?
Not really, though there are long-term car rentals.
What is the shortest term to lease a car?
Traditionally, the shortest term to lease a car is one year, or 12 months.
Can you lease a vehicle short term?
Yes, you can lease a vehicle for a term as short as one year.
Is a short term car lease worth it?
A short-term car lease could be worth it to you if a long-term car rental would cost more.