The Complete Small Business Tax Preparation Checklist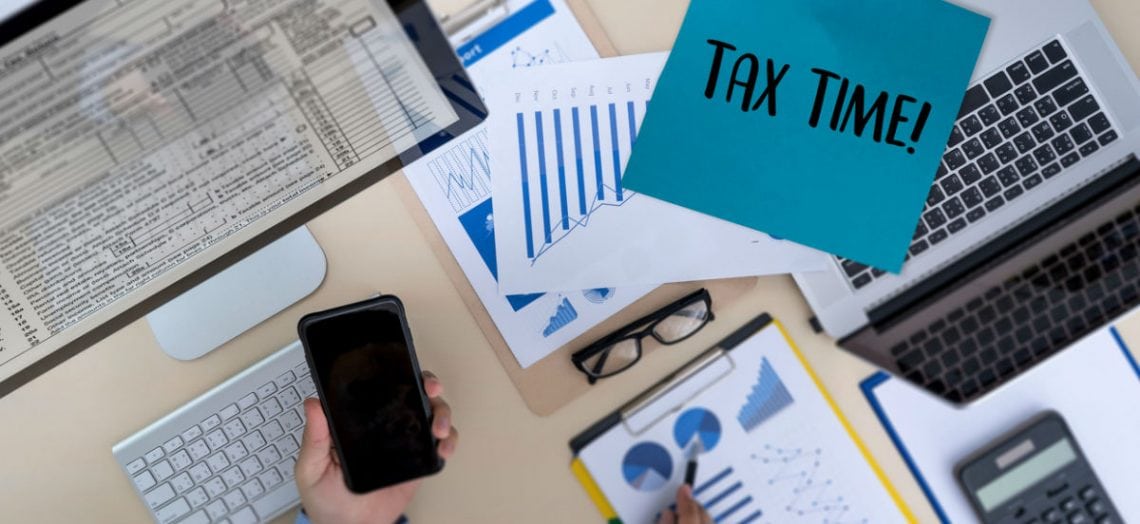 Are you a small business owner who dreads tax time? Tax preparation for a small business owner can be overwhelming. You're already busy enough running your business, and trying to wrangle all the necessary paperwork to correctly file your taxes can be a huge hassle.
This year, get a jump on tax season by using this straightforward checklist. It will make your tax filing as painless as possible.
1. Gather basic business information
Filing taxes requires that you have your business information readily available. When possible, gather as much of this as possible ahead of time to make the rest of the process seamless. A few pieces of information you will need are:
Your company's legal name and Employer Identification Number (EIN). If you're a single-member LLC or a sole-proprietor, you might also need your Social Security Number to file. If you're currently doing business under a different name by using a DBA (Doing Business As), you'll need that information as well.
A list of locations where you conduct business. Writing down the states in which your small business is registered, has employees, owns property or conducts sales can be helpful as you begin the filing process. Keep in mind, if you're a virtual business, you don't need a list of all the states where your virtual clients are located — this applies only to businesses that employ people and actively do business in other states.
A list of notable changes that happened in the past fiscal year. Did you move states? Make quarterly state taxes in two locations? Hire an employee? Change from a sole proprietorship to an LLC or S-corp? This information will be useful when you go to file.
2. Know what documents you need
Depending on the type of entity your small business is, you'll need the official business documents you used to file and register your company with your state and the IRS. Here's what you'll need, broken down by entity:
Are you a sole proprietor? You haven't filed any articles of incorporation yet – so you can skip this step.
Are you an LLC registered in your home state? Gather your operating agreement (if you have partners, investors, stockholders or co-owners), and your articles of organization (from your state when you filed for your LLC).
Are you an S-corporation? You'll need Form 2553 and an approval letter from the IRS.
Are you a C-corporation? You'll need your articles of organization from your home state and Form 8832 (if you're an LLC electing to be taxed as a C-corporation).
You'll also need:
Gross receipts from sales or services
Returns and allowances
1099-INT or bank statements showing your business checking/savings account interest
Receipts for cost of all goods you sold (materials, inventory purchases, inventory tracking), and business expenses, such as office supplies, technology advertising, etc.
1099-MISC and 1096 forms for commission you paid to subcontractors
Proof of paid business insurance
Receipts for any professional fees you paid to lawyers, accountants, consultants, etc.
Proof of your office space expense (if you're not taking the non-itemized home office deduction)
Proof of wages you paid to employees (Form W-2 and W-3, Form 940/941, employee benefit expenses)
Proof of other business-related expenses, such as health insurance
Vehicle information (if you use a vehicle for business transportation or deliveries)
Bank statements
Credit card statements
Loan statements
It can be helpful to use an accounting or bookkeeping software throughout the year to organize some of these documents, such as keeping a record of your gross income from sales or services. Some bookkeeping software programs even enable you to attach a digital image of a receipt to track expenses, which can make tax filing significantly easier and ensure you track every expense you're reporting to the IRS in case of an audit.
3. Calculate your taxable income
Next, you'll need to calculate your taxable income using this equation:
Total Income – Total Deductions (or Tax Credits) = Taxable Income
Of course, calculating your taxable income is rarely this straightforward. To figure out your total income, you'll need to pull your profit and loss statement (if you use a bookkeeping software). You'll also need any 1099 Forms that customers or financial institutions have sent you over the last fiscal year.
Make a note of income that's still pending — whether it's a sale, return or refund. Finally, if applicable, include proof of any additional income, which might come from business investments, capital gains on property sales or royalty payments.
To calculate your total deductions, track any expenses your business incurred over the course of the previous year, including any potential tax credit you receive, such as the home office credit. A certified public accountant can help you calculate tax credits for which your small business qualifies.
4. Understand what qualifies as a deductible expense
It's tempting to claim any business expenditure as a deductible expense, but you'd be making a mistake. For example, you might think you can deduct any number of miles you drive using your business vehicle. In reality, you must keep careful track of how many miles you specifically used the vehicle for business purposes. This can be a problem for small business owners who use a vehicle for personal and business transportation, or a portion of their office for work and personal use.
"They [small business owners] think that if they buy an automobile in the business's name, they can deduct 100 percent of the principal cost and the cost of ownership, and that's not true," said Anthony Baldassano, CPA/PFS and founder of Anthony & Associates Certified Public Accountants, LLC. "You have to take the actual expenses and multiply them by the percentage that the automobile is being used for the business."
Using the mileage example above, you can assume that if you drive 10,000 miles in a vehicle you use for both personal and business transportation, but only 1,000 of those miles were for your work, you can deduct only 10 percent of the cost of owning and operating the vehicle on your small business taxes.
"People also forget that you can only deduct the interest on your automobile payments, not the principal," Baldassano said.
The same general idea applies to the home office deduction. If you use your home office frequently and only for business purposes, you might be able to use Form 8829 to calculate what your allowable expenses are for business use of your home on Schedule C. If you have a home office, but rarely use it — or if it's a more integral part of the rest of your home — you might not qualify for the deduction.
"Many small business owners don't want to take the home office deduction because they're worried that it's a flag for getting audited. What they don't realize is the IRS came out with a safe harbor calculation a few years ago that makes calculating your deduction easy," Baldassano said. This highlights the need for small business owners to do a little bit of research or speak with a CPA before filing their taxes to ensure they calculate their deductions correctly.
Knowing the different expense categories for small businesses and the self-employed can help guide your expense tracking and give you a clear idea of your responsibilities as a business owner. It's important to categorize your expenses correctly to avoid any filing mistakes and to ensure you deduct everything you possibly can for your small business. The categories range from advertising to contributions to an employee's pension plan, and the more knowledgeable you are about what each category does and doesn't include, the more likely you are to maximize your deductions.
It's wise to discuss your expenses with a CPA who can help ensure that you've categorized all your receipts correctly and are maximizing your deductions. For example, meal expenses for you and your clients are only 50 percent deductible, but they might be 100 percent deductible if you're traveling or if you provide them for your employees as a convenience to your business.
5. Understand your tax responsibilities as a small business owner
Business owners have a different set of tax responsibilities from individual filers. The type of business you have determines what types of taxes you're responsible for. Generally speaking, there are five types of business taxes the IRS recognizes:
Income tax
Estimated taxes
Self-employment tax
Employment taxes
Excise tax
All businesses except partnerships file income taxes — business partnerships must file information returns. Typically, an employee in a traditional, full-time job would have their employer withhold income tax from each paycheck. As a small business owner, however, you don't follow that same procedure — you must pay your taxes on an ongoing basis over the course of the year based on your quarterly income. Failure to pay estimated, quarterly tax payments might result in a fine.
If you are self-employed, you're also required to pay the self-employment tax (Form 1040). Your self-employment taxes cover the amount you pay into Social Security to receive benefits during retirement, and reflect the amount you would pay if you were a full-time employee at a traditional place of employment.
If you are the business owner and also a paid employee, however, you have to pay both portions of the Social Security tax. If your organization employs not only you, but additional full-time staff, your business is also responsible for their Social Security and Medicare taxes and federal unemployment tax — and for withholding federal income taxes from their paychecks.
If you operate a business that could have an environmental impact, you might owe excise taxes. You file excise taxes quarterly at a federal level, using Form 720. Finally, your business is responsible for both state and local taxes, which will differ depending on your location. Most states offer an e-file and pay option on their Secretary of State websites, or you can choose to pay in person at a local Secretary of State office.
The bottom line
Small business taxes might seem overwhelming at first glance, but using a comprehensive bookkeeping program to stay organized throughout the year and talking with a CPA can help you reduce stress during filing season. It's also critical to file and pay your estimated quarterly taxes, if applicable, and to file your taxes on time after the end of each fiscal year. Failure to file on time, or to file correctly, could result in a sizeable tax penalty.