How Does LendingTree Get Paid?
LendingTree is compensated by companies on this site and this compensation may impact how and where offers appear on this site (such as the order). LendingTree does not include all lenders, savings products, or loan options available in the marketplace.
How to Start a Bakery in 7 Steps
Updated on:
Content was accurate at the time of publication.
Baking and selling sweet treats may seem like a charming business idea, but starting a bakery can be a messy endeavor without the right knowledge and skills.
While cooking for others to enjoy can be rewarding and an enthusiasm for baking is essential, love for your craft will only get you so far. We'll dive in to find out what you need to know when starting a bakery business.
Starting a bakery in 7 steps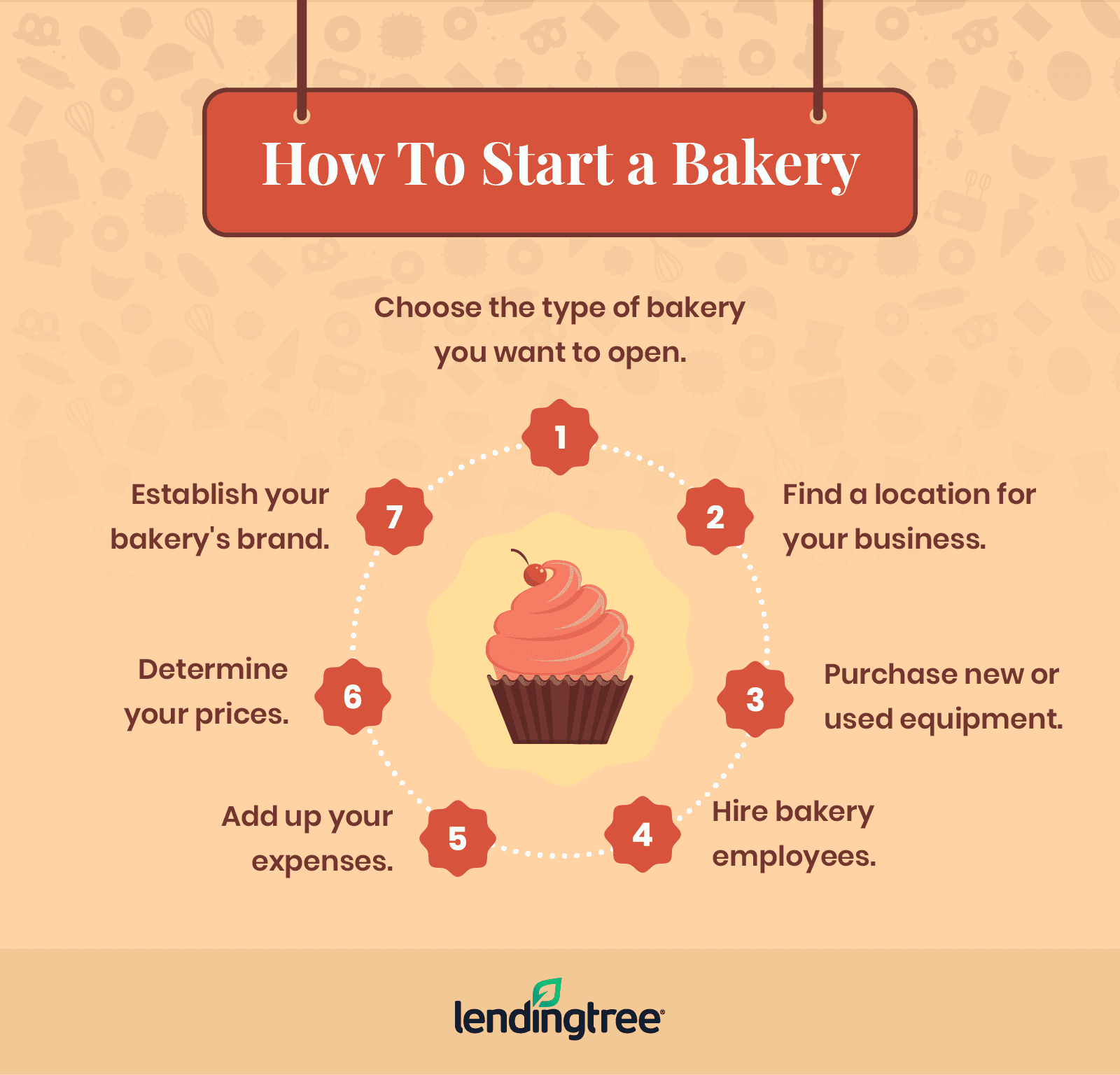 Here are a few steps you can follow to help you minimize mistakes when starting a bakery.
1. Choose your bakery type.
All retail bakeries sell baked goods directly to consumers, though some specialize in one kind of pastry or service. You could choose from the following types of retail bakeries:
Bakery café: A combination of bakery and café that sells baked goods and provides a dining space for customers.
Counter service: A bakery selling goods at a counter without a dining area.
Bakery food truck: Products are sold from a truck but are typically baked in an off-site kitchen.
Specialty bakery: Features one type of baked goods, such as wedding cakes, cupcakes or gluten-free pastries.
Home bakeries: Home-based businesses that often sell products online and ship goods to customers.
You may want to consider diversifying your product offering to attract a variety of customers, especially if you mainly sell something seasonal, like wedding cakes with most ceremonies in the summer.
The type of bakery you want to operate would determine other aspects of the business, such as the amount of space, equipment and ingredients you would need. We'll discuss those details next.
2. Find a location.
You could buy or lease a bakery location, depending on the financial resources you have available. Renting a space would likely be a more affordable option for new business owners but purchasing commercial real estate could be a better long-term investment.
Your city or state might provide resources for finding a business location. Some even provide incentives such as tax credit so check with your local Small Business Administration office or Small Business Development Center.
3. Purchase bakery equipment.
Equipment is the second biggest startup expense for bakery owners behind rent. No matter what baked goods you sell, you may anticipate buying a pastry case, commercial oven and refrigerator. Large tables, called work benches, mixers and dishwashers are also crucial in a bakery. Your costs would depend on what your bakery offers, as well as the size of the space.
Many bakery owners buy used equipment at the start, but it may be worthwhile to buy some things brand new. A used oven or refrigerator could have lingering scents that may affect your pastries. The pastry case should also be free from smells or damage, so pastries appear appetizing. If purchasing is prohibitive, equipment leasing would allow you to use the equipment you need for a set period of time, but you wouldn't own it at the end of that time.
4. Hire employees.
New bakery owners often think they can handle the entire business on their own, but hiring a manager, especially someone with industry experience, could be a huge help. A manager could take administrative tasks off your hands, like ordering inventory, and they could train any bakers you hire to make sure products remain consistent.
To save time and money training employees, you may want to hire experienced employees. Finding talented and capable decorators who can meet deadlines can be difficult, she said, but the right people can be priceless.
5. Calculate costs.
Rent and equipment are typically the biggest expenses for bakery owners, but other ongoing costs can add up. Payroll can be a major expense, depending on the hourly rate employees earn based on their skill level.
Economic factors often cause the price of ingredients to fluctuate and it can be challenging to forecast your bakery's inventory costs. Also, natural disasters or weather events in other parts of the country can affect the price of raw materials like wheat and vanilla extract. Buying basic ingredients in bulk also helps cut inventory costs.
6. Set your prices.
Prices of baked goods typically reflect the labor and ingredients required to make them. To price an item, estimate the amount of time it would take to complete the cake.  If the price can handle an increase, also factor in the cost of ingredients and the expense of keeping the bakery open, such as electricity and water costs, based on the time it would take to make the cake.
7. Build your bakery's brand.
Promoting your bakery is a crucial step to get customers in the door. Create social media accounts and a website for your bakery where you can post photos of baked goods.
Engaging social media followers with giveaways and contests would encourage people to interact with your brand and become familiar with your bakery. Make sure your social media output matches the actual experience of visiting your bakery. Customers also expect consistency, so your offerings should look and taste the same each time they come in.
Financing for bakeries
If your personal savings isn't enough to start a bakery, there are several business financing options that could give you a boost. Here are some funding options that may be suitable for new bakery owners.

SBA loans
The SBA partners with lending institutions to guarantee loans made to small business owners. You could obtain an SBA-backed loan up to $5 million to cover general business expenses. The SBA offers multiple programs, among them the 7(a) loan program and microloan program, both of which could be appealing to bakery owners.
The 7(a) loan is the SBA's primary offering. Qualified small business owners could receive up to $5 million with repayment terms between seven and 25 years. These loans can pay for startup costs or ongoing working capital needs. Microloans are smaller, maxing out at $50,000. The SBA sets limits on interest rates to prevent lenders from charging high amounts for loans. Competitive rates and terms make SBA loans an attractive funding option for many small business owners.
Alternative business loans
Online alternative business lenders can be a viable financing option for those who have trouble qualifying for traditional bank loans. Online lenders may approve borrowers with shorter times in business and lower credit scores. The turnaround time for an online loan is typically quick, and some lenders advertise approval in days or hours.
You could apply for term loans, equipment financing, invoice financing, cash advances and lines of credit from online lenders. However, there's a price to pay for fast time to funding and minimal requirements. Online lenders often assign high interest rates and short repayment terms to loans, typically offering smaller amounts than a bank would provide.
Crowdfunding
Crowdfunding allows business owners to raise capital from family, friends and the general public. Startup businesses sometimes have trouble qualifying for a business loan without substantial experience or collateral, and crowdfunding could be a possible alternative. Online platforms like GoFundMe, Kickstarter and Indiegogo let you set up a campaign explaining your business and funding needs. Most platforms collect a fee to use the service and may require you to provide donors with access to products or a stake in your company in exchange for money.
Time to funding may be slow, as it could take a while to raise money, and you may not raise as much as you expect. It could be challenging to compete with other crowdfunding platforms online, but the exposure you would gain from being on a platform like GoFundMe or Kickstarter could be valuable in building your customer base.
Open your bakery with a recipe for success
Although a formal background in culinary arts or business management would ease the process of starting a bakery, it's not a mandatory requirement. Local, small business development centers or community colleges could provide education and guidance when making decisions about your bakery.
To keep customers coming back, the food quality and in-store experience must be consistent. The key to maintaining consistency is effective bakery management. If you don't have extensive industry experience, consider hiring a manager who does and could lead your team, or at least teach you the ropes of running a bakery.