Personal Loans for Business
Published on: December 14th, 2018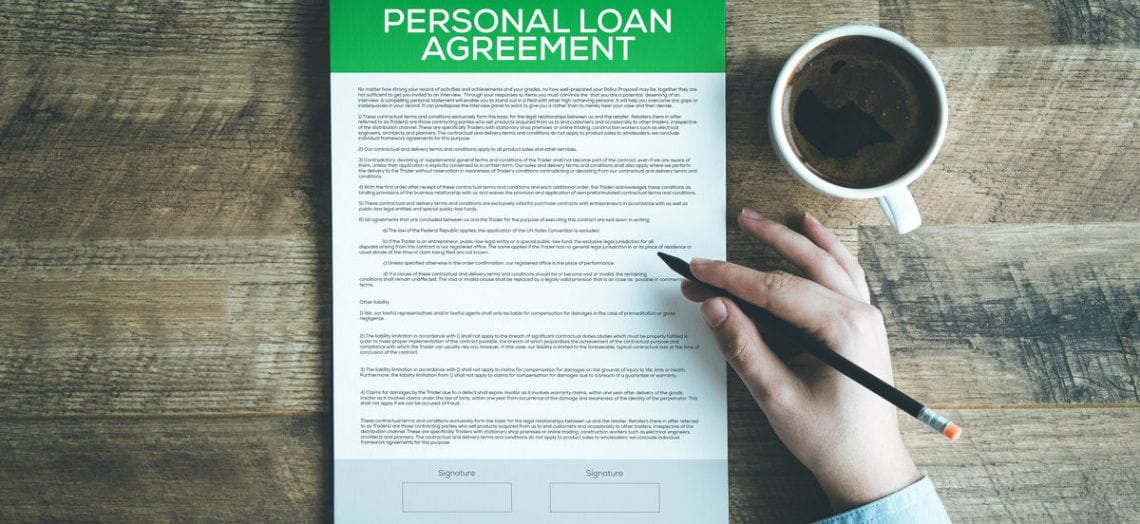 In addition to debt consolidation, home renovation, coping with financial emergencies and the like, personal loans can be quite useful as a source of financing for a business. Especially new, or relatively new, ventures that might find it hard to qualify for traditional business loans. Compared to small business loans, which entail a longer and much more demanding application process, the approval process for personal loans can be quicker and easier — often determined primarily by the business owner's personal creditworthiness.
Personal loans are usually unsecured, meaning no collateral is required. That can be a big win for the borrower under the right circumstances but also a big risk for the lender. Which could translate into lower lending limits, higher interest rates and other unfavorable terms.
Also, while the practice of basing qualification largely on personal credit history can make personal loans a more viable option than business loans for some new business owners, it doesn't come without risk. Namely, the risk of ultimate responsibility for the loan, noted Mitch Bienvenue, director of Illinois Small Business Development and International Trade at the College of Lake County (SBDC/ITC).
"Your name is on the loan rather than the business's name," said Bienvenue, who operated two businesses for nearly 20 years before joining the SBDC/ITC at the College of Lake County. "So, the liability is to you personally."
Understanding personal loans for business
Business loans from the Small Business Administration can be as large as $5 million. That's a lot of money compared to the less than $100,000 sought by 63% of startup applicants according to the 2016 Small Business Credit Survey of the Federal Reserve Bank of New York. It's also a useful illustration of why traditional business loans typically require a long, difficult approval process involving examinations of a company's credit history, business performance and business plan. And why those loans are secured by collateral and therefore a safer bet for lenders.
It's easy to see why so many new businesses, particularly those with less than two years of financials and tax records are unlikely to meet business loan requirements.
And why they often consider personal loans a more feasible option (along with lines of credit, credit cards and alternative means of funding such as owner equity and loans or investments from friends and family).
Half of all new businesses fail in five years, (seven out of 10 fail in 10 years, according to Bienvenue), meaning inherent risk to lenders considering funding for startups. Those statistics, combined with the fact that personal loans are often (though not always) unsecured, can make it challenging for many new business owners to qualify for loans, even with terms that are less than ideal.
Some lenders offer personal loans with a fixed interest rate as low as 6% repayable over two to five years. That's a best-case scenario, however, reserved for borrowers with stellar personal credit and stable income. Others find that interest can rise as high as 36%, with riskily variable monthly interest plus additional fees—and some do require collateral or a personal guarantee. Borrowers with less than perfect credit and very new businesses must be skillful shoppers while searching for an unsecured personal loan with a low, fixed interest rate that provides all the funds they need. Some personal loans have maximums that go as high as $150,000, but the majority offer considerably less.
Even so, personal loans remain a popular option because they typically don't require collateral, and because the comparatively easy approval process means funds can be accessed much more quickly, sometimes as soon as 48 hours.
Just keep in mind that qualifying for a personal loan for business is likely to be a challenge for anyone without a credit rating of 680 or above, a stable source of income and a business that is at least two years old.
Pros and cons of personal loans for business
The fact is that many new businesses find it difficult to secure funding. According to the 2016 Small Business Survey, 58% of companies two years old or less and 53% of companies three to five years old reported difficulty with credit availability compared to 39% of more mature firms. In addition, 69% of startup applicants that did secure loans obtained less money than they sought, resulting in a financing shortfall.
"Banks aren't always willing to extend a business loan to a startup because the business has little or no history and often no assets to put up against the loan," said Bienvenue, adding that personal loans for business do have the advantage of being comparatively easy to obtain. "Plus you get a chance to build up your credit and your cash flow history and that can be useful in the future."
But Bienvenue is quick to reiterate that personal loans can result in considerable harm to the borrower's financial future in the event of a default. Your credit score will take a major hit, making it harder to get funding in the future, and your debt could end up in the hands of a collection agency.
Borrowing money always involves risks as well as rewards and personal loans are no different — as illustrated by this list.
Pros:
They're easier. While borrowers must endure an arduous process while applying for a business loan, personal loans are granted or denied based on the business owner's personal credit history, for the most part, without going into the company's business history. For the same reason, when personal loans are approved they tend to be approved quickly, sometimes within 48 hours.
They're a better deal. Interest rates for personal loans tend to be lower than credit cards and lines of credit.
They don't require collateral. Most (though not all) personal loans are unsecured, meaning the business owner's creditworthiness is generally the primary consideration instead of collateral like a house or car.
Cons:
Personal credit risk. Personal loan borrowers don't risk their house or their car (typically), but they do run the risk of ruining their personal credit in case of default. They also may compromise their credit by raising their own debt-to-income-ratio, making it harder to qualify for auto loans, mortgages, etc.
Lower maximums, higher interest. Compared to business loans, lending limits are generally tighter and interest rates are generally less advantageous. That could mean a loan that's less expansive and more expensive than expected.
Missed opportunity for business credit. When business owners opt for a personal loan for funding, they deny their company the chance to build its own credit. That could limit credit options for the business as it grows.
How they stack up
How does a personal loan compare to other popular financing options?
Personal loan versus small business loan.
Small business loans may seem entirely out of the reach of new companies with limited or zero business history, but Bienvenue points out that isn't always the case. "There are some lenders out there who really try to focus on helping small business and even startups," he said. "There aren't many around, but they are there. And they consider it part of their mission."
Encouraged? Good. However, keep in mind that business loans, with their typically larger loan limits and lower interest rates require an extremely demanding examination of a company's business history. That may simply be a disqualifier for recently launched startups. And let us not forget the requirement of collateral. Personal loans, primarily determined by a borrower's personal credit, at least give brand new businesses a chance, even if the result is a loan that offers less and costs more than anticipated.
Read a more in-depth comparison of business loans vs. personal loans here.
Personal loan versus credit cards.
According to the 2016 Small Business Survey, business credit cards have become very popular among small business owners—particularly among those who didn't bother to apply for traditional loan financing. It notes, in fact, non-applicant small businesses use credit cards, far more than loans, lines of credit or other types of financing. Which comes as no surprise to Bienvenue.
"Small business owners who don't feel they have any other financing options take advantage of the one they do have," he said. "And that's not necessarily a bad idea, since they can improve their credit score if they use them responsibly."
Another advantage to credit cards, Bienvenue added, is that borrowers can use only what they need and repay only what they use instead of a lump sum loan. Interest rates tend to be high, however, providing personal loans with their best comparable advantage. As noted earlier, interest on personal loans is typically lower than credit cards or lines of credit. And if high-interest credit cards are not used responsibly and paid off quickly, borrowers can soon find themselves accruing considerable debt, compared to the monthly fixed-rate payment schedule of the savvy personal loan borrower.
Personal loan versus business line of credit.
In some ways, business lines of credit are very similar to credit cards. The borrower only uses what he needs, for example, and only pays interest on what he uses. Though lines of credit have the advantage on credit cards when it comes to paying business expenses with cash. The biggest practical difference for startup owners is that lines of credit are more difficult to qualify for than credit cards. Whether secured or unsecured, the approval process is more similar to a business loan than a personal loan, requiring a minimum of six months (often several years) in business and a stable annual revenue. Personal loans still have the advantage of a comparatively quick and easy approval process and they tend to come with lower interest rates than lines of credit and credit cards both. In addition, a fixed-rate personal loan may be easier for borrowers to understand than the interest calculations for lines of credit, which sometimes catch them by surprise.
Personal loan versus alternative funding.
Many owners of startups are so discouraged by the stringent requirements of traditional lenders like banks and credit unions (online lenders tend to be somewhat more welcoming, per the survey) that they don't try to apply for loans or lines of credit, believing they won't be approved. Risk aversion, in general, is another reason startup owners often stay away, according to the study. Though, as noted, more than half of those who don't apply for loans use business credit cards. Several types of alternative funding are available for that group, each with pluses and minuses to consider.
Personal investment.
The Small Business Survey notes that roughly one-third of startup firms less than two years old use personal funds to sustain their businesses. That means drawing from savings, for example, including retirement accounts. Essentially, they avoid the risk of debt with a risk of another sort.
"People do it all the time to avoid dealing with banks, but it's risky also," Bienvenue said. "You're using your own personal equity. If you go into your retirement fund and pour it into a business and the business fails, there goes your retirement."
Friends and family.
Thirty-eight percent of startups are at least partially funded by family and friends, to the tune of $23,000 on average.
On the plus side, relatives and friends who believe in the business owner are more likely to take a chance on a fledgling venture than traditional funders. And more likely to be forgiving of the ups and downs of a new business. On the minus side, however, is the risk of lost friends and damaged relationships. Generally speaking, best practice involves being wary of taking money in the form of investments (thereby turning friends and family into business partners) and accepting contributions as loans instead of gifts, with a clearly spelled out repayment schedule. In most cases, funding of this sort is only useful for getting a business off the ground, not sustaining it for a longer time. For that, traditional funding sources, especially comparatively easy to obtain personal loans, are usually the best bet. Yet starting with friends and family funding can make it easier to move up to that level, since the borrower's personal network has already bought into the business plan and given it the chance to grow and prove itself.
Venture capital.
VC gets the dramatic headlines and it has entered the public consciousness by way of TV's "Shark Tank." Most new business owners who believe in their concept would probably welcome the idea of an experienced professional investor paving the way to success with a generous infusion of capital. Especially if it seems unlikely they can obtain funding from traditional lenders—even more readily available personal loans. Unfortunately, however, venture capital turns out to be an option only for a tiny number of borrowers. A very tiny number. Roughly 600,000 new businesses are launched each year and venture capitalists invest in about 300 of them. They reject 98 to 99% of applicants for a variety of reasons that boil down to unacceptable risk.
In the long run, that might be a good thing for many new business owners, Bienvenue said. "When venture capitalists invest their money they're also going to want to participate in decision-making for the business," he said. "Sometimes, that can be a valuable resource for a new business: someone with a lot of experience to help run things. But you'll have to contend with that person regardless, sometimes as long as the business exists."
Crowdfunding.
A much more feasible means of raising money for a new business is crowdfunding, asking for small amounts of money from a large number of people via the internet. There are two basic types: rewards-based crowdfunding and equity-based crowdfunding. In the former, on platforms like Kickstarter and Indiegogo, donors receive various products or perks depending on the amount of the donation–and business owner have the chance to launch without consideration of shareholders or the burden of debt. In the latter, on platforms such as Republic and CircleUp, donors receive a variable shares in the company depending on the amount invested. Each has the additional benefit of increasing public awareness and support for new ventures. Yet it's also true that both are best for raising funds for launch. As with the friends and family option, the time will come for the company to turn to more traditional financing. And, as with friends and family funding, if the company hasn't built up sufficient business credit and history, personal loans may be the best option.
Is a personal loan right for your business?
If your business is too new to provide the history required for a traditional business loan, yet a somewhat sizeable sum of cash is required (especially if you need it quickly), a personal loan could be the way to go.
"I'd say it's best for startups, categorically," Bienvenue said. "It's harder to get a bank or any other lending institution to give a business loan to a startup because they usually don't have the credit history or collateral.
"So, startups have to turn where they can, usually to credit cards or a personal loan," he added.
Yet it's important to remember that the borrower's financial future is on the line, since most personal loans are made on the strength of the business owner's personal credit history. A clear plan for repaying the loan is a must, plus the certainty that the business is already — or soon will be — earning enough revenue to keep up with repayments.
Bienvenue also emphasizes the importance of borrowers feeling confident their new businesses will generate enough income, and generate it regularly enough, to repay the owner's very personal obligation.
"Owners of most well-established businesses would not use credit cards or personal loans for funding the way a new small business would," he said. "If you're in a business where you can't be sure you'll be able to make the money to pay off your debt on regular basis, that's a problem."
New business owners who were denied a traditional business loan should ask the lender that turned him down to explain why, Bienvenue said, and take the explanation to heart if the lender was concerned that the cash flow might be inconsistent. In that case, think twice — even if a personal loan is the only option. Because the risk to borrowers' financial futures is too great.
Shopping for a personal loan for your business
Shopping skills are particularly important when it comes to finding your best possible personal loan. Unless you're a perfect applicant, a low-interest, fixed rate, unsecured loan for the amount needed by your company is likely to be a challenge to find.
As mentioned before, one of the most attractive features of a personal loan is that they are typically unsecured–meaning no collateral is required. Unfortunately, if a borrower's credit is less than ideal (meaning less than 680) and the borrower's company is brand new, with little to offer in the way of proof of performance, interest rates can vary greatly and so can the maximum amount of the loan. Also, while simple fixed-rate repayment terms are another reason personal loans are popular, applicants with non-stellar credit scores could be offered risky, variable interest rates—and additional fees.
All of those unfavorable fluctuations can be eased somewhat by opting for a secured rather than an unsecured personal loan — thought the borrower takes on the additional risk of personal collateral such as a car or a house, Bienvenue said.
The most important thing to look for while shopping, according to Bienvenue, is a lender that prioritizes relationships with its clients.
"You want to look for a good rate and a term that works for you and collateral you can actually put up," he said. "But I think an equally important thing to look for is commitment to service. It's best to take a personal loan from an institution where you feel you're not just a number on a statement. You want a contact person who has sat down and counseled you about how to use the money you've borrowed and would also be willing to listen if a challenge or an issue arises.
"Banks have to be competitive, just like other businesses. And I've found, when I talk to lenders, that's what they try most to promote — the personal touch. The willingness to work with borrowers. It's good to know there'll be someone there to help you work through any problem you might be facing, who won't go straight to default."
Bottom line
It won't do to be blasé about taking on a personal loan for business, because the liability, if anything goes wrong, is exclusively on the borrower. However, for those with startups too new to qualify for a business loan or line of credit, who are confident their company will generate enough steady revenue to repay the loan, a personal loan could be the best bet. Especially if other options are limited. Or nonexistent.
"If you're starting a new small business, and you really believe in your idea, and you've created a strong business plan, and other people agree it's a viable business with the potential to make money, and the only way you can start it is by taking out a personal loan, then you should consider it," Bienvenue said. "But you have to consider it carefully and weigh the potential gain against the potential cost, because you're the one who'll be liable — you're putting your name on the line."