How Does LendingTree Get Paid?
LendingTree is compensated by companies on this site and this compensation may impact how and where offers appear on this site (such as the order). LendingTree does not include all lenders, savings products, or loan options available in the marketplace.
Personal Loan APR vs. Interest Rate: What's the Difference?
Published on: September 10th, 2020
Editorial Note: The content of this article is based on the author's opinions and recommendations alone. It may not have been previewed, commissioned or otherwise endorsed by any of our network partners.
When shopping for a personal loan, you'll likely want to seek the loan that costs the least amount of money to borrow. Two common factors in measuring loan cost are the interest rate and the annual percentage rate (APR).
Interest rate is a percentage of a loan paid to the lender, while APR is a broader measure of the cost of a loan, including interest and origination fee. In other words, interest rate is just one factor in measuring APR. The lower your APR, the lower the overall cost of a loan will be.
Learn more about interest rates and APRs below:
Interest rate vs. APR, explained
Interest rate and APR are typically not interchangeable. The difference between interest rate and APR is simple: your interest rate is just part of your APR.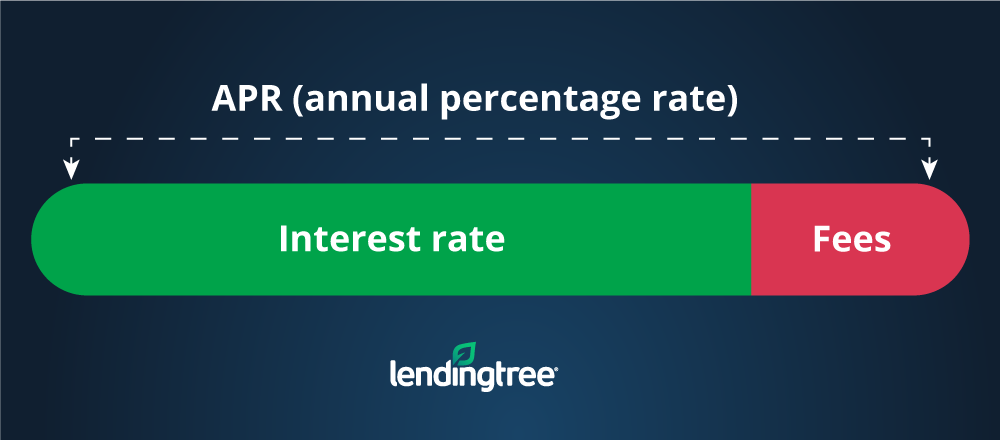 Interest rate definition
A personal loan interest rate is the amount that a lender charges you to borrow the loan. It's expressed as a percentage of the total loan amount. Since personal loans are typically unsecured, meaning they don't require collateral, the lender sets the interest rate based on your perceived ability to repay the loan.
To determine the interest rate, lenders look at your credit score and debt-to-income ratio, among other factors, like loan amount and loan length. Different lenders will have different interest rate ranges.
APR definition
APR is the total yearly cost of the loan, including interest plus fees. One common fee that factors into APR is the origination fee, which is a one-time cost that's charged when you receive your loan. It typically ranges from 1% to 8% of the total cost of the loan.
Some lenders do not charge an origination fee. For no-fee loans, your interest rate is the same as your APR.
How to find your APR
Your APR should be simple to find; in fact, the Truth in Lending Act states that lenders must be transparent about the terms and cost of a loan. Your loan agreement should disclose the:
APR
Loan amount
Loan length
Interest rate
Fees
Before you take out a personal loan, read your loan agreement carefully to make sure the terms are favorable and you're able to repay what you borrow.
The importance of APRs when borrowing money
Since your APR is the measure of the total cost of the loan, a lower APR equals a lower cost of borrowing.
For example, let's assume a good-credit borrower takes out a $15,000 personal loan that's repaid in fixed monthly payments over five years. The borrower can save money on monthly payments and the overall cost of the loan by choosing the option with the lower APR:
How APR affects borrowing costs on a 5-year, $15,000 loan
 
Loan #1
Loan #2
APR
9.5% APR
11.5% APR
Monthly payment
$315
$330
Total cost of the loan
$18,902
$19,793
Interest and fees paid
$3,902
$4,793
Costs are rounded to the nearest dollar.
Even with just a difference in APR of two percentage points between these two hypothetical loans, the lower-rate amounts to nearly $1,000 less in interest charges. When you compare loan offers and choose the loan with the lowest possible APR, you can save on the overall cost of borrowing.
What is a good APR for a loan?
Personal loan APRs vary widely depending on a number of factors, including credit score, desired loan amount and loan length. They tend to fall between 10% and 25%, although it varies greatly depending on your credit profile and the lender. In some cases, borrowers may see triple-digit rates, for example. The best personal loan candidates may get rates lower than 6%, while borrowers with poor credit history could potentially see APRs as high as 36% or more.
Whether an APR is "good" depends on your unique financial situation, as well as the loan purpose.
For example, if you want to refinance high-interest credit card debt, then a personal loan with a lower APR than what you're currently paying on your credit cards can save you money in the long run.
If you want to take out a personal loan for home improvement, you should ensure that the cost of the loan doesn't offset the value gained from renovations. Use this personal loan payment calculator to determine the total cost of a loan based on your rate.
In general, personal loans used for unnecessary purposes, like vacations or weddings, are typically not advised, since the cost of borrowing will just add to the cost of the original expense. However, borrowers who can secure low APRs may find that the convenience of a personal loan is worth the long-term cost.
How to calculate APR on a loan
To calculate a personal loan APR, you'll need to know your loan amount, finance charges, interest rate and loan length. The easiest way to calculate your APR (without simply referring to your loan agreement) is to plug these figures into a simple APR calculator, like this one from Experian.
You can also use Microsoft Excel to determine your APR. Simply plug the following formula into an Excel sheet:
APR formula in Microsoft Excel: The following formula will give you the monthly percentage rate of your loan. To get the annual percentage rate, simply multiply the number by 12.
=RATE(total number of payments, -monthly payment, loan value)