How Does LendingTree Get Paid?
LendingTree is compensated by companies on this site and this compensation may impact how and where offers appear on this site (such as the order). LendingTree does not include all lenders, savings products, or loan options available in the marketplace.
How to Start a Wedding Planning Business
Published on: July 9th, 2019
Editorial Note: The content of this article is based on the author's opinions and recommendations alone. It may not have been reviewed, commissioned or otherwise endorsed by any of our network partners.
If you have a knack for designing and organizing events, a wedding planning business could be a way to put those skills to use without making a large investment at the outset.
The happy couple may not have the time or the knowledge to carry out a flawless wedding. Depending on the type of services you want to offer, you could plan their big day from start to finish, or simply run the show on the day of the event.
You would need to be organized and diligent in making sure your clients' dreams come true. A "Type A" personality could give you a leg up as a wedding planner, said Michelle Norwood, owner of Michelle Norwood Weddings in New Orleans. "It's not something where you can fly by the seat of your pants," Norwood said. "You have to be able to deliver what you promise. If you can't, the clients are going to notice that very quickly."
Continue reading to learn what it takes to start a wedding planning business, as well as how to decide if the industry is the right fit for you.
Getting started in 5 steps
Whether you've organized weddings for friends or family or are new to the industry, here are some steps to take to get your business started.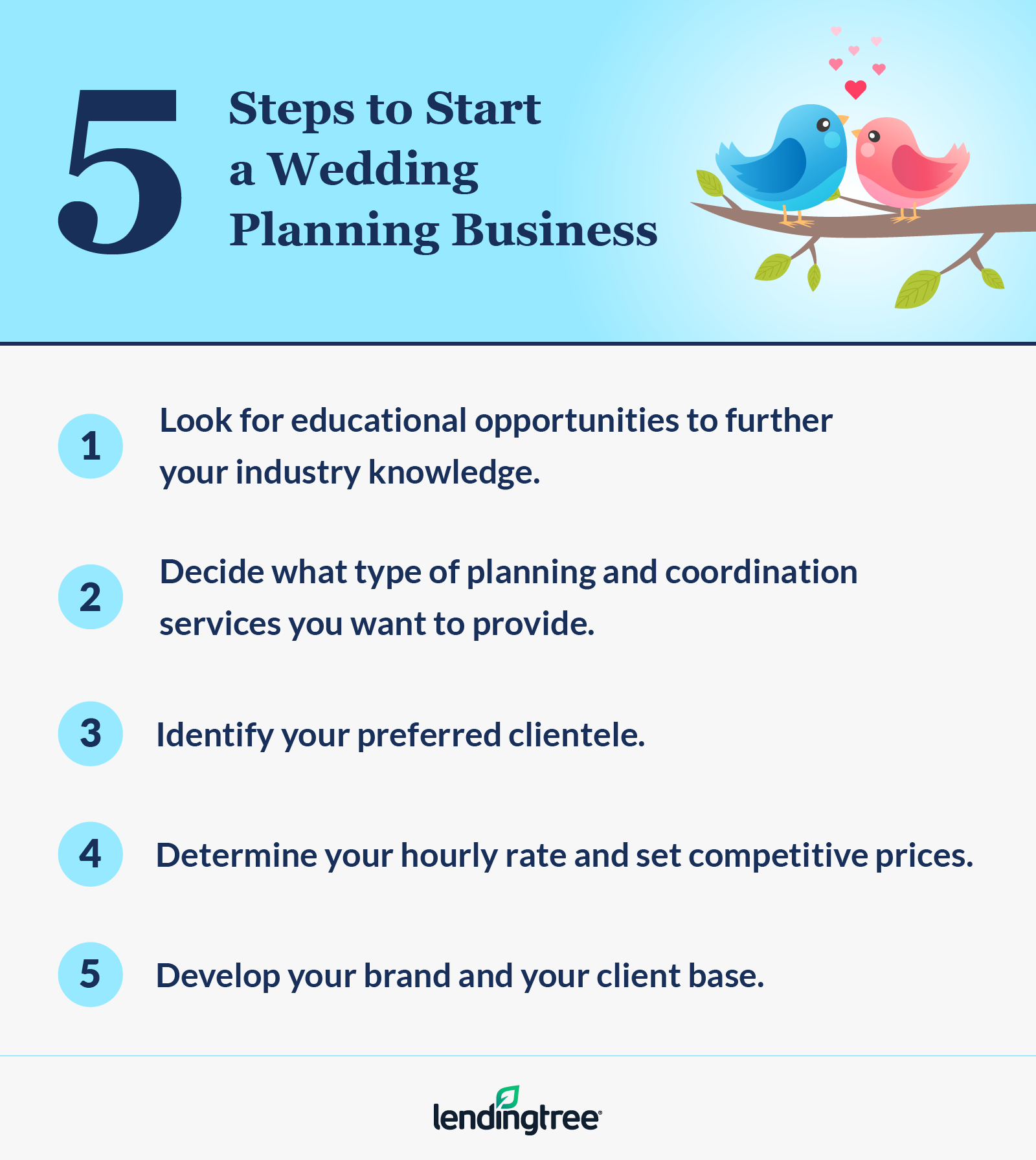 1. Find educational opportunities.
There are no formal requirements to plan a wedding, Norwood said, as many brides and grooms take on the task themselves. But if you want to provide high-quality service, consider taking courses or attending conferences to develop your knowledge and skills.
Before starting her business, Norwood worked in accounting and often organized her company's in-house corporate events. To tailor her event-planning experience to the wedding industry, she attended conferences and conventions, such as Engage!, a luxury wedding business summit.
"For anyone who's wanting to get started, you need to invest in yourself and education," Norwood said. "It is a lot of hard work. People who jump out there and don't get proper training and don't go to conferences, it just tarnishes the industry."
Organizations like the Association of Bridal Consultants offer certification courses for wedding planners, said Shelby Tuck-Horton, director of education for the association. Tuck-Horton is also the owner of Maryland-based Exquisite Expressions outside of Washington, D.C. and Events, and teaches wedding planning courses at a nearby community college.
Tuck-Horton is a certified master bridal consultant and event planner through the Association of Bridal Consultants, but "even a master wedding planner still needs to continue to grow and learn," she said.
2. Determine what services you want to offer.
Some clients want a wedding planner to handle all arrangements, while other couples choose to coordinate most of the wedding themselves but need a planner to take care of certain details, Norwood  said.
Tiers of commitment for wedding planners generally include:
Week-of or day-of coordination: Wedding planners are hired to finalize last-minute details the week preceding the wedding or to manage the actual event.
Month-of coordination: During the month leading up to the wedding, planners are responsible for putting finishing touches on whatever the couple has already accomplished on their own.
Full-service management: Wedding planners coordinate the event from beginning to end, which could include setting up the event space and hiring vendors.
Each tier of service is progressively more expensive and more lucrative. Norwood's company offers 60 days of wedding management including the day of, as well as a la carte services like rehearsal dinner or cocktail party coordination. Base-level wedding planning businesses usually only provide day-of coordination, which Norwood offered at first but later abandoned. "You expect it to flow seamlessly, but it doesn't," she said. "You spend those 10 hours filling in gaps and putting out fires."
The amount of time you can spend on each wedding would likely depend on your other obligations, like whether you have a full-time or part-time job in addition to your wedding planning business, Tuck-Horton said. Because you can set your own workload, many novice wedding planners remain employed full time elsewhere as they build their business, she said. You could also work at a wedding venue or for another planner to learn the ins and outs of the business.
3. Choose your ideal client.
Understanding how much time you're willing to devote to the business can help you determine the type of clients you'd like to work with, Tuck-Horton said. She advises students to consider whether they prefer clients who do some of the planning themselves, or clients who leave all decisions to the wedding planner.
"They soon realize not everybody in a white dress is their client," Tuck-Horton said.
You could offer certain services to appeal to specific clientele, Norwood said. For instance, her business specializes in destination weddings, including out-of-town couples planning a wedding in New Orleans where Norwood lives. Norwood adapts her advertising and marketing to target couples looking for destination services. "I care about being highly exposed to the right client," Norwood said.
4. Set your prices.
 Before taking on clients, you would need to set your hourly rate. First, determine how much you want to earn in one year either working full time or part time as a wedding planner, Tuck-Horton said. You could then determine your hourly rate based on how many weddings you could feasibly plan to meet your income goal, she said.
Check the prices of planners in your area who offer services similar to what you provide, Norwood said. This would allow you to be competitive in your local market.
5. Build your customer base.
Social media is crucial to a wedding planning business, Tuck-Horton said. Instagram and Pinterest are popular among brides, so you may want to establish a robust presence on both platforms, she said.
You could also advertise your business on wedding-specific websites, such as The Knot and WeddingWire. Attending and promoting your business at bridal shows and expos could be a worthwhile investment as well, Tuck-Horton said. We'll discuss specific costs in more detail, below.
All of your advertising and marketing should lead potential clients back to your business website, which should have fresh content and quality photographs illustrating what you provide as a wedding planner, Tuck-Horton said.
Branding is also a fundamental aspect of starting a wedding planning business, Norwood said. Your brand should be consistent and recognizable across all platforms, and it should reflect the personal touches that make your business stand out from the competition, she said.
"You are the thing that makes your business different," Norwood said. "It's all about what you bring to the table and finding clients that resonate with that."
Costs of starting a wedding planning business
You could start a bare-bones wedding planning business with as little as $4,000, Norwood said. Unlike other businesses, wedding planning doesn't require an office space, inventory or employees.
"You can really run this business with very little expenses and have a huge rate of return," Norwood said.
However, how much you spend to launch the business would depend on the level of sophistication and quality you have in mind. If you want to offer more than basic services, it will take about $10,000 to get the business up and running, Tuck-Horton said. About 15% of businesses begin with less than $5,000 of startup capital.
"Of course, you can do everything on a shoestring budget," Tuck-Horton said.
The following expenses could contribute to the startup costs for wedding planning businesses:
Website: Because a website would be an integral part of your business, expect to invest in hosting a quality site. Additionally, you could hire a professional to design the site.
Software: As a business owner, you may need accounting software like QuickBooks to handle your finances. You could also purchase client management software, such as HoneyBook, to automate booking or sending invoices. This software would likely require a monthly or yearly subscription, adding to your regular expenses.
Professional memberships and education: Organizations like the Association of Bridal Consultants charge membership fees, and certification would come with a price as well. A first-year membership for the Association of Bridal Consultants cost $220, while the Association of Certified Professional Wedding Consultants charges $300. The ACPWC also offers a four-day training course for $1,295.
Photo shoots: Hiring a photographer to take a professional headshot as well as photos of your events would boost the quality and appeal of your website. Photo shoots could start around $500, but it would be a worthwhile investment, as couples usually rely on photos when choosing a wedding planner.
Advertising: Marketing your business at bridal shows and on wedding websites like The Knot would put your business in front of potential clients, but that exposure would come at a cost. You could spend nearly $1,000 a year to advertise on those major platforms. However, you would most likely need to fill out a prospective vendor or advertising partner application to find out your actual price.
Business licenses: You may need a business license to operate a wedding planning business in your state or city. Depending on your state and local regulations, you may need to pay government entities to obtain a general operating license or a professional license.
Coworking space: If you need an area to take care of business tasks and your home office isn't cutting it, you could purchase a membership at a local coworking space. A coworking space could be an affordable alternative to renting or buying an office.
Although the costs of running of wedding planning business can add up, you would likely spend less than your clients would on the wedding. The average cost of a wedding in the U.S. exceeds $33,300, according to research from The Knot. And most couples plan to take on debt to cover wedding expenses.
Ways to finance a wedding planning business
Though it's possible to bootstrap a wedding planning business with your own financing, especially if you plan to start small, you may want to consider a business loan as well. In addition to your business entity, most lenders will ask about your credit score and documents such as your business plan.
It can be difficult for startups to find financing, which is why you may want to consider a business credit card or even a personal loan, at least when you are first starting out.
Is a wedding planning business right for you?
A wedding planning business has relatively low startup costs compared with other types of businesses, and it offers flexibility not found in many industries. Before jumping into wedding planning with both feet, you could remain fully employed elsewhere while building the business in your spare time.
However, the wedding planning industry has plateaued in the U.S. as the marriage rate continues to decline. Americans are staying single longer and are more likely to live with a partner without being married. The rising divorce rate could scare off couples, but remarriage is also on the rise, which could lead to increased business for wedding planners. And with 2.2 million marriages in 2017, the most recent year for which data is available, there is still a lot of business to go around.
Tuck-Horton has been a wedding planner for 25 years and has taught wedding planning courses for 15 years. There is steady enrollment and participation in her classes, despite national trends, she said.
"There's still a big interest. How long will that last? I don't know," she said. "If people are not getting married, there's not going to be a need for our service."
But until then, wedding planners with strong organizational skills and likeable, even-tempered personality can succeed in the industry, Norwood said.
"You have to have people skills," Norwood said. "They book you basically because they like you."
While brides are often stereotyped as being high maintenance, it's typically other members of wedding parties who are the source of added stress for wedding planners, Norwood said. Bridesmaids and groomsmen are typically responsible for certain aspects of the wedding, and it can be challenging making sure they complete the assigned tasks.
When Tuck-Horton first started her business, she often took on too many responsibilities without charging high-enough prices. But she found the project management aspect of wedding planning to be rewarding and worked to turn her business into a profitable, longstanding operation.
"I love the planning of weddings," she said. "I always seem to meet the challenges and get these people down the aisle."