How Does LendingTree Get Paid?
LendingTree is compensated by companies on this site and this compensation may impact how and where offers appear on this site (such as the order). LendingTree does not include all lenders, savings products, or loan options available in the marketplace.
25% of Americans Thought About Starting a Business During the Pandemic — And 64% of Them Have Taken Action
Updated on: June 21st, 2021
Why use LendingTree?
We are committed to providing accurate content that helps you make informed money decisions. Our partners have not commissioned or endorsed this content. Read our .
The coronavirus pandemic changed how many Americans work, with some shifting to remote and others losing their job. Small business owners in particular have had a turbulent year navigating new and constantly changing guidelines that shuttered certain businesses for a period or indefinitely.
Still, entrepreneurial dreams may keep many workers up at night, as 1 in 4 Americans say they thought about starting a business in the past year, despite the pandemic. LendingTree researchers surveyed 2,050 consumers to learn more about what's driving that inspiration and who's acting on it.
Key findings
The majority of Americans say they want to work for themselves. So it doesn't come as a surprise that 1 in 4 Americans say they thought about starting a business despite the ongoing crisis. That figure jumps to 37% among millennials.
A desire for more purpose and passion sparks entrepreneurship dreams. Of those who thought about starting a business during the pandemic, the top reason was wanting more purpose and passion (34%), followed by building wealth (27%) and not wanting a boss (26%).
Budding entrepreneurs are most interested in developing products for consumers. 15% of consumers considering starting a business would go this route, followed by tech/online-focused companies and restaurant/food service.
Most prospective business owners are willing to take on personal debt and pay cuts to start a business. In all, 81% of these prospective owners are comfortable going into debt for a business. Separately, 82% would take a pay cut for a year while they worked on their business.
Nearly everyone who thought about starting a business during the pandemic says they're facing at least one barrier to doing so. Lack of financing is the biggest barrier (cited by 40%), followed by general anxiety and fear it won't work out (33%).
Most Americans want to be the boss, and many are taking steps to get there
People want to work for themselves. In fact, this LendingTree survey found a whopping 70% of Americans would rather work for themselves than someone else. That figure jumps to 77% for millennials (ages 25 to 40) who may be tired of working for someone else.
While the pandemic may have pushed away some of those dreams, 25% of consumers still thought about starting a business within the past year. Millennials were the most likely to consider entrepreneurship, with 37% saying they thought about starting a business — making the generation five times more likely than baby boomers to do so.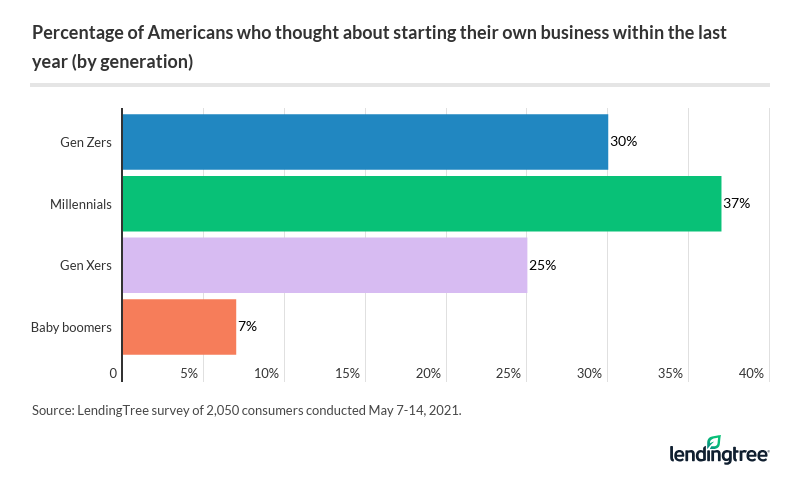 While the pandemic created a difficult environment for small businesses, it can be challenging to start a business regardless of what's going on in the world.
"It is important to understand that when it comes to taking a big risk like launching a business, there's almost never a perfect time," LendingTree chief credit analyst Matt Schulz says.
In reality, most entrepreneurs didn't change their business aspirations due to the pandemic. More than half (56%) of respondents say the crisis didn't change the likelihood of starting a business, compared with 21% who say it made them more likely and 23% who say it made them less likely to start a business.
It seems those with the entrepreneurial spirit likely understand that a successful business may depend less on when you start and more on actually getting started. The majority of those wishing to start a business took at least one step toward that goal this past year.
By registering a company, applying for a loan, pitching investors or some other act, 64% of prospective business owners have moved toward a possible grand opening in the last year, with 1 in 5 working part time on their burgeoning business.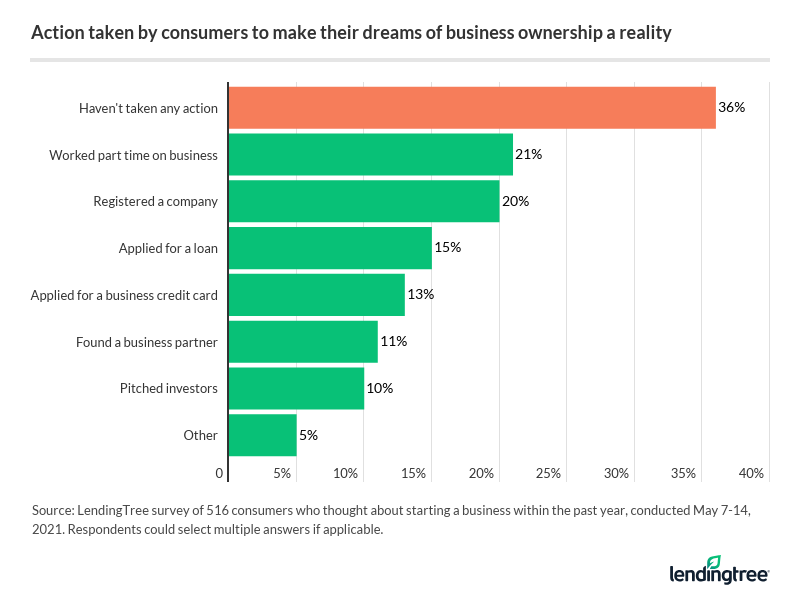 Millennial entrepreneurs showed their dedication, with 68% taking action toward starting their businesses.
Family and friends, purpose and passion inspire entrepreneurship
As the saying goes, necessity is the mother of invention, and plenty of inventors have changed the world by giving consumers something they need.
It would appear aspiring entrepreneurs may also be looking to answer that calling as the largest share — 15% — of those who have thought about starting a business cited consumer products as the type of business they want to start. Tech or online companies also unsurprisingly attract a lot of interest, with 13% of respondents considering starting their own firms.
Other popular interests include:
Restaurant/food service: 11%
Retail: 9%
Construction: 8%
Outside of business aspirations, personal connections also appear to play a role in inspiring business developments. Nearly half — 46% — of consumers have a close friend or family member who owns and operates a small business, and those who do are more than twice as likely — 37% versus 15%, respectively — to start their own business.
Despite the commonly held sentiment that people want to be their own boss, it's not the driving force behind most entrepreneurs. According to survey respondents, a desire for more purpose and passion may be the strongest driving factor.
While 26% say not wanting a boss pushed them to make the change, 34% say that longing for more purpose led them to consider starting their own job. Another 27% of folks hope that starting their own business will help them build wealth, which Schulz says is good.
"Millions of Americans are willing to take the risks involved in hopes of reaping bigger rewards than they could ever earn working for someone else," he says.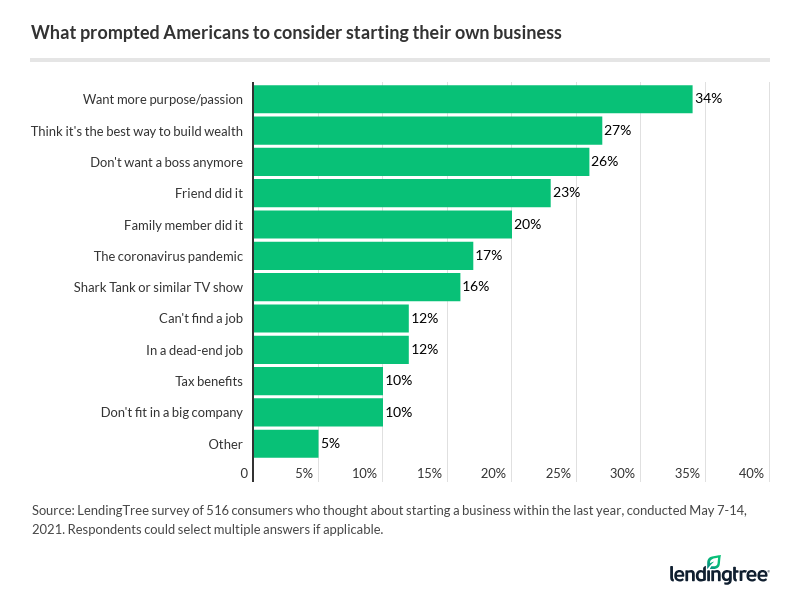 Aspiring entrepreneurs may be ready for the risks
Adding a business to your portfolio can be a lucrative investment. But as entrepreneurs may know, you often have to spend money to make money. Most of those interested in starting a business seem to understand this, and 81% are willing to go into debt to make their dreams come true.
Additionally, 82% of those would-be bosses are willing to take a pay cut for a year to help build their businesses.
Applying for a small business loan is the most common form of financing hopeful entrepreneurs would consider, with a third of would-be business owners eyeing U.S. Small Business Association (SBA) loans.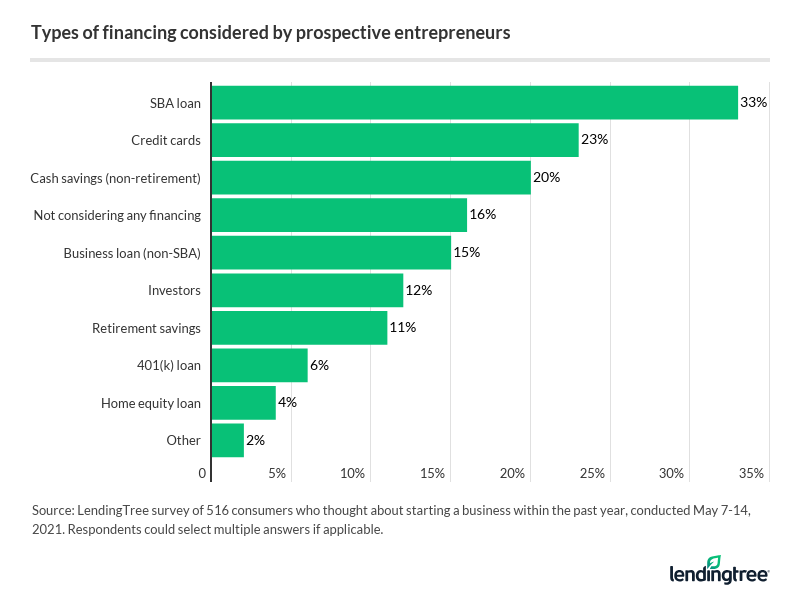 "It can be tough for a brand-new business to get financing, which is why many entrepreneurs look to small business credit cards to get started," Schulz says.
Taking the time to save up and build capital before you start the business may help you avoid financial turmoil, but taking on some debt to get your business off the ground can also be an advantageous strategy — if used correctly.
"That's important because so many people struggle simply to get started," he says. "You just have to be sure that you're being planful and not taking on too much debt too quickly."
On the contrary, there's not always a logistical barrier like financing stopping would-be business owners from taking the plunge.
Although lack of money was the biggest barrier at 40%, 1 in 3 (33%) say general anxiety and fear of failure discourage them. That fear is certainly justified when you consider that about 20% of businesses fail within the first year, according to the U.S. Bureau of Labor Statistics.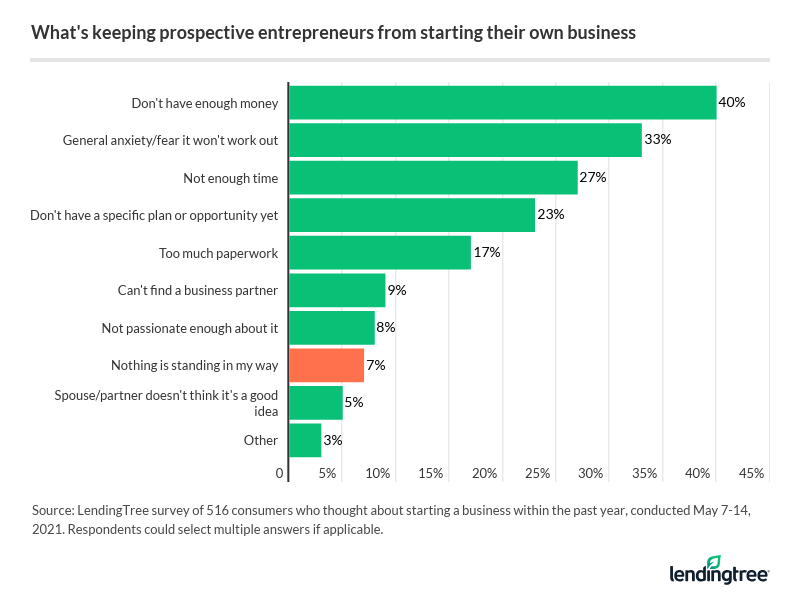 3 tips for aspiring business owners
Control the controllables
As Schulz notes earlier, there's never a perfect time to start a business. Whether you're dealing with an ongoing pandemic or a new catastrophe strikes, some things will always be out of your control. That's part of what makes starting a business such a leap of faith.
"Calling it a leap of faith doesn't mean that it doesn't require homework, number-crunching and even some soul-searching," Schulz says.
Know your risk tolerance
Along with building your business plan, you should keep in mind how much you are willing to invest — and therefore potentially lose — in your business.
Make sure you protect your personal assets and continue to prioritize financial health before you focus on growth.
Establish connections
Not only can family and friends help inspire you to start your own business, but they can also function as valuable mentors to help you navigate the process and maybe grow your business.
"Talking with others who have made the leap can be helpful, especially in setting expectations for what those early days can be like," Schulz says. "The more wide open your eyes can be entering the process, the better off you're likely to be."
Methodology
LendingTree commissioned Qualtrics to field an online survey of 2,050 U.S. consumers, conducted May 7-14, 2021. The survey was administered using a non-probability-based sample, and quotas were used to ensure the sample base represented the overall population. All responses were reviewed by researchers for quality control.
We defined generations as the following ages in 2021:
Generation Z: 18 to 24
Millennial: 25 to 40
Generation X: 41 to 55
Baby boomer: 56 to 75
While the survey also included consumers from the silent generation (defined as those 76 and older), the sample size was too small to include findings related to that group in the generational breakdowns.