How Does LendingTree Get Paid?
LendingTree is compensated by companies on this site and this compensation may impact how and where offers appear on this site (such as the order). LendingTree does not include all lenders, savings products, or loan options available in the marketplace.
How to Finance a Taco Bell Franchise
Published on: July 19th, 2019
Editorial Note: The content of this article is based on the author's opinions and recommendations alone. It may not have been reviewed, commissioned or otherwise endorsed by any of our network partners.
There are 7,000+ Taco Bell restaurants, each bringing in an average annual revenue of $1.5 million, as of 2017. The Mexican-inspired eatery relies heavily on entrepreneurs like you — 93% are owned by franchisees. Taco Bell same-store sales were up 6% in 2018, a success story for small business owners and parent company Yum! Brands, which also owns KFC and Pizza Hut.
The potential payoffs from owning a Taco Bell are great, but so are the costs. You must have a net worth of $1.5 million, half of it in cash. We'll walk you through how to finance a Taco Bell franchise so you may be able to own one yourself.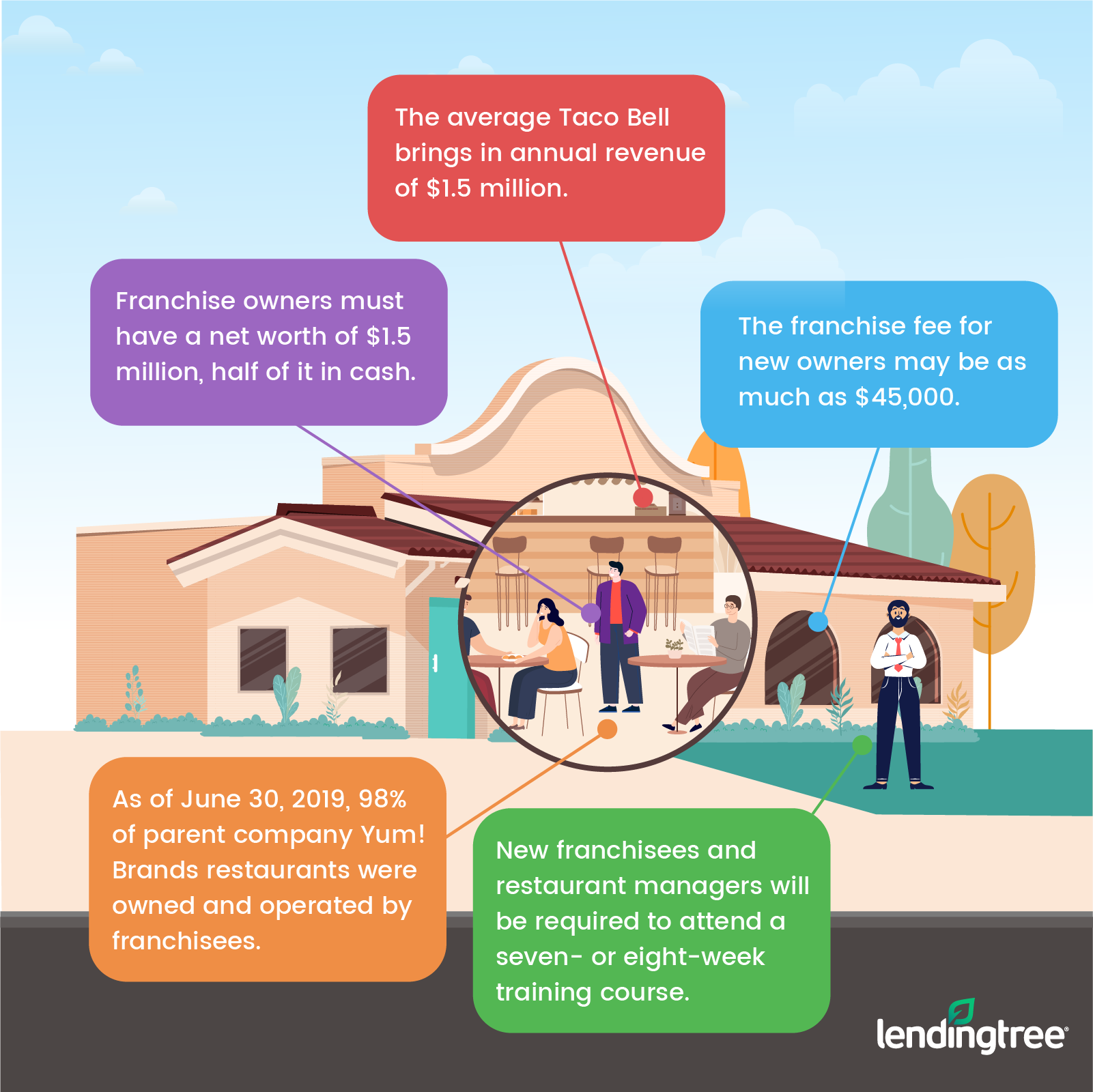 Costs of buying a Taco Bell franchise
You have two options for buying a Taco Bell franchise: you can buy an existing Taco Bell from another franchisee or the parent company itself, or you can build your own. All of these costs are spelled out in the Franchise Disclosure Document (FDD), a legal document required by the Federal Trade Commission. Make sure to read this document before you sign on the dotted line, as it contains all the information you need to know to make an informed decision. It can be difficult to obtain this document without applying through Taco Bell first, unfortunately.
Buying an existing location: $175,000 to $1.4 million
To buy an existing business, you can expect to pay about $175,000 to $1.4 million or more, not counting the price of the land it's sitting on, when the whole process is said and done. The exact cost of the business will usually be calculated by a multiple of sales; thus, a high-yielding business will cost more than a lower-yielding one.
This price includes some of the startup fees, such as the initial franchise fee, but there will also be other ongoing fees which we lay out below.
Opening a new location: $1.2 million to $2.6 million.
Your second option is to open a new Taco Bell location, and the exact cost will depend on how big it is and its style. Free-standing buildings will cost more than an in-line location in something like a strip mall, for example.
The total initial investment for a free-standing building (known as a "traditional unit" in Taco Bell lingo) is $1.2 to $2.6 million. If you want to buy an in-line unit or an end-cap unit (an in-line unit that has a drive-thru on the end), you can expect to pony up between $525,100 and $1.1 million.
Total startup costs to open a Taco bell franchise: $175,000 to $2.6 million
Curious about what goes into those big numbers? Here's what you can expect to pay:
Application and background check fee: $300-$600 per person
Initial franchise fee: $45,000 for traditional units or $25,000 for in-line or end-caps, nonrefundable
Construction services: $26,800
Real estate services, such as finding a site and negotiating a lease: $0-$25,000
Permits, licenses, and security deposits: $74,000
Real estate: $175,000 to $1,400,000 for traditional units, or $20,000 to $75,000 for in-line or end-caps
Building/site construction: $534,500 to $686,000 for traditional units, or $177,000 to $290,000 for in-line or end-caps
Equipment, signage, decor, and point-of-sale (POS) system: $271,500 to $290,000 for traditional units, or $150,000 to $290,000 for in-line or end-caps
Starting inventory: $7,000-$10,000
Grand opening expenses: $5,000
3-month reserve fund: $40,000-$60,000
Ongoing costs
Whether you buy an existing franchise location or open up a new one, you'll have to pay ongoing fees. These fees include:
Royalty fee: 5.5% of gross sales per month
Advertising fee: 4.25% of gross sales per month
Support & maintenance fee: $1,925 per year
IT service desk fee: $1,430 per year
Access fee: $1,500 per year
Midterm store upgrade: $118,242 (once per contract term length)
Insurance: You buy this on your own, or Taco Bell will buy it for you and charge you
Becoming a Taco Bell franchise
Getting the process started for buying or opening a new Taco Bell franchise is as simple as filling out a one-page form on its website. From there, the company will contact you to determine if you're a good fit. If you are, the next step is to pay a $10,000 deposit toward the nonrefundable franchise fee. After that, you'll get access to the MYTACOBELL website, which you can use to pay fees going forward.
Getting the building ready
If you're opening a new Taco Bell location, you'll work with the company to approve every aspect of the restaurant, from where it's located to what equipment and decor can be found inside. You can expect it to take about 18-24 months from when you submit a site plan to the company to when the doors open, if approved.
You can also get help in every aspect of the construction process from site selection and purchase to building the restaurant itself through the Yum Restaurants Services Group. You'll need to pay $25,000 for these services for your first restaurant, and if you open any more, you can skip this additional service if you want.
Getting your staff ready
Having a working building in place is one thing, but you'll also need the skills and the people to operate it. Taco Bell provides training resources for you to do this. Starting off, you'll need to attend a three-day immersive training program at the Taco Bell training center in Irvine, Calif. From there, you and at least one restaurant manager will need to complete a seven- to eight-week long course offered partially online and partially in a local restaurant, if available.
You'll also get a 2,400-page manual and online resources that detail everything you need to know about owning and running a Taco Bell franchise. Finally, Taco Bell will also provide you with a representative to help you coordinate your grand opening, and will be available for the first week thereafter. If you need help after that, Taco Bell may also provide you with access to a representative.
Is a Taco Bell franchise right for you?
One of the best ways to decide if a Taco Bell franchise is right for you is by talking to other franchisees. You could ask them:
Were they able to open an outlet in a reasonable amount of time?
How long did it take them to break even and eventually recoup their investment and make a profit?
Would they invest in another Taco Bell location?
What kinds of problems have they experienced?
Look at your finances and assess whether you have the required $1.5 million net worth required to buy a restaurant, it might not be a good idea if you'll be putting a large chunk of your money into one investment. While Taco Bell is a strong brand, there's also a chance your restaurant could fail, flushing your entire investment away with it, especially since none of these fees are refundable.
Finally, consider your other options. Taco Bell works differently from other franchises. For example, unlike with other franchises, Taco Bell generally doesn't grant territory exclusivity, so if someone wants to open another Taco Bell down the street from you, you don't have any recourse. You'll also need to commit to running your restaurants full time, and either you or a manager has to live within a one-hour drive of each location. Other franchise options may be cheaper as well — for example, Subway estimates that it'll cost between $150,050 and $328,700 to open a new restaurant, although you'll need to pay 8% of gross sales to royalties and 4.5% of gross sales to an advertising fund.
How to finance a Taco Bell franchise
Luckily, when it comes to financing a Taco Bell franchise, you have a few options:
SBA loans
Bank loans
Yum's Minority Lending Assistance Program
Taco Bell is on the approved list of franchises for the U.S. Small Business Administration's lending program. That means there are no special hoops to jump through since you'll be financing a franchise, but you will have to go through the normal process of applying for an SBA loan. These loans are granted by lenders and are backed by the federal agency, so it can offer better terms and even special perks, like smaller down payments or waiving collateral requirements.
You can also apply for a traditional business loan from a bank or a credit union or a loan from an alternative online lender. These types of loans may offer slightly higher rates, but may be easier to obtain than an SBA loan. In some cases, Taco Bell may be able to help provide you with a list of lenders who may be willing to work with you on financing your new venture.
Finally, if you're a minority, according to the SBA, you may also be able to use the Yum Minority Lending Program from the company itself. As long as you're able to put at least 20% down toward your new business (with at least 4% of the purchase price in cash to spare after that) and are an experienced restaurant manager, you may qualify for financing through this program. Loan terms are generally offered for 12-15 years, and you'll be required to personally guarantee any loans you take out. More information should be available in the FDD.
The bottom line
If you're looking for a strong franchise with a proven system, then Taco Bell may be the perfect option for you. That's especially true if you have plenty of money in your back pocket.
Remember, it's important to always consider any new business opportunity — franchise or not — very carefully. It's a good idea to work with a team of people including an attorney, an accountant and a financial advisor to help you make a sound decision. That way, your wallet and your stomach can both be happy at the end of the day.
The information in this article is accurate as of the date of publishing.