The Complete Guide to Buying a Franchise
Published on: May 31st, 2018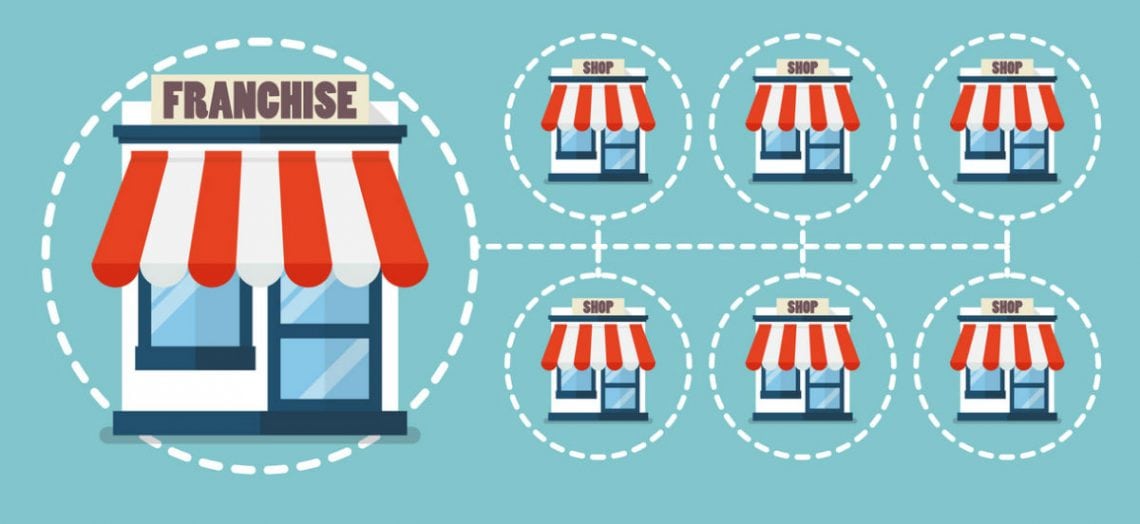 For people with the entrepreneurial bug, starting a business can feel like a calling. But those who have the drive to run their own venture sometimes need guidance, and that's where franchising comes in.
In this guide, we'll explain everything you need to know about opening a franchise, from choosing the right business to managing the start-up costs.
Understanding the franchise business model
Buying a franchise: Fees and fine print
Pros and cons of buying a franchise
How to buy a franchise
Financing your franchise
Determining if a franchise is right for you
Understanding the franchise business model
Buying a franchise allows you to open your own business without starting from scratch. For a fee, franchisees are licensed to operate a business under the name of the franchiser for a limited number of years as set in a contract. Franchisees receive instant brand recognition, proven operating systems and assistance finding a location to start their new business.
The standard franchising contract is between 10 and 15 years, Mahmood Khan, a professor at Virginia Tech's Pamplin College of Business, told LendingTree. While some franchisers offer the option to renew, others do not. Franchisers have the ability to terminate contracts at any time for a number of reasons, including failure to pay royalties or falling short of performance standards. If your contract is terminated, or is not renewed, you'll lose your whole investment in the business.
Buying a franchise: Upfront fees and fine print
Financial requirements. Your savings could be a make-or-break factor in buying a franchise. Most people who apply ultimately don't meet the financial requirements related to net worth and liquidity. For example, Gold's Gym requires a minimum personal net worth of $1 million with liquidity, or cash assets of $400,000. Your personal assets communicate your financial health to a franchiser, giving them an idea of how big of a risk you would be as a franchisee.
Upfront fees. The fee must be at least $500 and is due within the first six months of operation, although some fees could be in the tens of thousands.  Starting a Sonic Drive-In, for example, requires a franchise fee of $45,000 for a single unit, while the total franchise investment ranges from $865,000 to $3.64 million.
This upfront franchising fee is nonrefundable even if your contract is terminated. When reviewing the franchising contract, Wes Shannon, CFP and owner of SJK Financial Planning in Fort Worth, Texas, told LendingTree franchisees should be sure of what they're getting out of the deal. Sometimes the initial fee includes the cost of equipment, tools or the building, but it may only cover the rights to the business name.
"I tend to be a little leery if it's a high upfront fee and there's not property or equipment that goes with it," Shannon said.
The down payment. When buying a franchising, most companies will require a down payment —in cash, which typically cannot be financed. McDonald's, for example, requires 40% of the total cost of a new restaurant or 25% of the total cost of an existing restaurant. Since the cost of a restaurant fluctuates, the minimum down payment varies for each franchisee. But generally, McDonald's requires about $500,000 of non-borrowed personal resources.
Royalties. Royalty fees are an aspect of franchising that new franchisees may not understand, Khan said. Franchisees owe the franchiser a percentage of their weekly or monthly gross income, which typically start around 4% but can get as high the double digits, depending on the company. At Dunkin' Donuts, for example, the ongoing royalty fee is 5.9%. The franchiser does not consider the franchise's profit and will continue to take a cut even if the location is losing money. "This is where [franchisees] get dissatisfied," Khan said.
Equipment expenses. Franchisees cover the cost of their own equipment, employee training and necessary supplies such as uniforms or kitchen ingredients, Khan said. They also contribute to a company-wide advertising fund, which may not benefit individual owners if they are out of range of ad circulations.
Autonomy. Although you've purchased your own business, franchisers retain control over how you operate. Franchisers have the right to approve all site selections and set design and appearance standards. Franchisers also regulate procedures and could restrict the goods and services that you sell.
Pros and cons of buying a franchise
Pros:
Support. Franchisers provide managerial, technical and promotional assistance that an independent business owner wouldn't have access to when first starting out, Khan said. A franchiser assists in site selection and construction, and helps get everything in place for the grand opening. After the opening date, the franchiser continues to provide support in training new employees, purchasing products in bulk and advertising the business.
Market research. Franchisees also benefit from market research the company does on a large scale. This research could be related to market trends, direct competitors or consumer preferences and demographics. Based on their findings, franchisers provide franchise owners with materials to help them make use of the research, such as products or marketing materials. Franchisees in the food industry also benefit from new menu items developed in a company lab.
Less uncertainty. The resources from the franchiser eliminate some of the uncertainties of opening your own business. Rather than building from the ground up, you're starting with a business model that has already proven successful for other franchise locations. This solid business foundation also helps franchisees easily secure loans. "This is something that can be undertaken with minimum risk," Khan said.
Cons:
Unmet expectations. Being a franchise owner could result in unfulfilled expectations, Khan said. There is a misconception among franchisees that buying a turn-key operation means immediate success. A franchisee could find that they don't make as much money as they expected they would. All businesses, including franchises, take time to find their footing and become profitable. Some franchise owners also believe that a large number of franchise locations indicates a successful company, when the reality is that many locations could be failing.
Operating costs and royalty fees. Fees owed to the franchiser could turn out to be higher than anticipated. Because royalties are based on a percentage of the franchisee's gross sales, they rise along with sales. Franchisees are also responsible for purchasing any new equipment that franchisers require, such as machines to make new products or new technology systems.
Lack of autonomy. Once franchisees get the hang of things, they may feel like they rely too much on the franchiser, Khan said. They may resent the lack of freedom to impose their own rules or strategies. For example, a franchiser could require all stores to close on Sundays, which may frustrate an owner who sees most of their business on the weekends. If the owner wanted to keep the doors open an extra day, they would not be allowed to. Franchisees usually cannot sell additional products, such as a local newspaper, or extend the business, like setting up a stand or booth at a sporting event. With so much control from the franchiser, things could start to feel monotonous, Khan said.
How to buy a franchise
Get ready to put a lot of cash on the line. Although financing is available for franchise owners, franchisers still want a down payment of non-borrowed money. And the start-up costs are just the beginning. Going forward, you'll be responsible for paying regular royalty fees to the franchiser, as well as covering the costs of your own equipment and materials.
Make contact. Available franchise opportunities are listed on online portals such as Franchise Gator and the International Franchise Association. After selecting a company, you would typically submit forms online regarding franchise opportunities, as most companies digitally accept franchising inquiries, Rick Bisio, a franchise coach and author of "The Educated Franchisee," told LendingTree.
At Dunkin' Donuts, for example, the first step for those interested is submitting an online application.
After online forms are sent, someone from the company's franchise development department would reach out for an initial phone call. If all goes well, you could have several more calls with the franchising department before getting invited to an in-person meeting.
Put your best foot forward. During this meeting, which Bisio said is often called "discovery day," the potential franchisee meets with the franchiser team and visits the franchise location. If the store hasn't been built yet, the group will check out possible sites for construction.
The purpose of discovery day is for you to get to know the franchiser, and understand how the company operates. If you don't get a good vibe from your visit, you could walk away from the deal. The company could also decide you're not a good fit.
"At any point, either side can determine they don't want to move forward," Bisio said.
If the company seems to be a good fit, it would be time to sign a contract and pay the upfront franchising fee. It could take a few months to more than a year to officially open your franchise.
Maintain realistic expectations. The likelihood of being approved as a franchise owner is actually quite small, Bisio said, especially for large national brands. "Any large national brand that's out there, they receive thousands of inquiries a day," Bisio said. Applicants also tend to be denied because they live in an area where the company has already sold a franchise.
Get ready for the long haul. It can take months if not more than a year to get to opening day. At Sonic, for instance, it takes an average of 12 to 18 months to open a store.
Financing your franchise investment
As noted previously, most companies will require a down payment of non-borrowed funds, meaning you have to have liquid assets up front. Once you cover your down payment, you may be able to finance the rest of the purchase price. At McDonald's, for example, franchisees can finance the remainder of the purchase price (the fast-food chain does not offer financing), but their loan term can be no more than seven years.
Borrowing money for an investment such as a business is always a risk, Shannon said, and he advised new franchisees to tap into their personal assets whenever possible. "It's always better to use your own capital in any business venture," he said. "That's the best way to go."
For those turning to borrowed funds to purchase a franchise, there are a few options.
Bank loans. A benefit of franchising is the ease of obtaining bank loans to finance the purchase as the risk is lower than that of starting a new business, Khan said. Banks will require financial statements, tax returns and proof of profitability. This is where the overall success of the company comes into play, as it indicates that you'll be able to make payments as a franchisee of a profitable business. Franchise owners also have an easier time accessing business lines of credit because they are associated with an established company.
SBA loans. These loans are most commonly used to finance franchises, Bisio said. They're provided through SBA-backed banks, and the SBA guarantees the loan if you default. The 7(a) loan, the SBA's primary loan for small business owners, allows you to borrow up to $5 million, with interest rates ranging from 5.75% to 8.25%. Loan terms range from five to 25 years, and there's no prepayment penalty. However, the application process could be lengthy, and 10% to 30% in collateral is usually required.
A loan from the franchiser. Some companies offer in-house financing to new franchisees. If an existing franchisee wants to open an additional location, the franchiser may also loan the business owner money to start a new franchise. The UPS Store, for example, provides help through Guidant Financial with start-up costs and equipment. The company offers qualified franchisees a five-year equipment loan covering up to $50,000 of the initial cost of fixtures. Franchisees who want to open another location could qualify for an eight-year loan covering 100% of the cost to purchase an existing store, up to $150,000, or 100% of the cost to build a new store, up to $150,000.
The advantage of borrowing from your franchiser is they understand the business and the risk involved, and they may give you more money than the standard bank, Shannon said. However, getting into debt with the franchiser gives them more power.
"It's dangerous in that all your eggs are in one basket," he said. "Not only do they control your franchise agreement, but they basically control you through the loan."
Before diving in …
Make a plan. Becoming a franchise owner isn't a decision to be taken lightly, Shannon said. He tells clients looking to buy a franchise to write a detailed business plan and map out their expectations. "Victory loves preparation," Shannon said. "The people I've seen who have not done well usually did not put enough thought and planning into it."
Set aside savings. Potential franchisees should make sure they are financially prepared to put a lot of money into the business. Although franchisees can take out small business loans to cover expenses, Shannon recommended they don't open a franchise until they've built up their own savings.
"If you don't have the capital and feel you have to go borrow, maybe it's not a bad idea to delay the decision," he said.
Come with your own ideas. Franchisers tend to look for business owners who want to be heavily involved in the business rather than someone simply looking to invest, Khan said. Some franchise owners see themselves as a hands-off owner, he said, but franchisers want to give opportunities to people interested in actively growing the business.
The bottom line: Is a franchise is right for you?
Certain personality types are best suited for franchising. Some entrepreneurs have an urge to follow their passion and do things their own way. Others are focused on achieving results in the most efficient way possible. Entrepreneurs who want to run their own establishment but are willing to follow direction work best in franchise systems, Bisio said.
"You don't have to be passionate about the industry," he added. "You have to be passionate about being a business owner."
Once you've decided to buy a franchise, the next step would be finding a business that helps you achieve your goals, Bisio said. You should choose an industry and business type that best fits your skill set, as well as the return on investment and lifestyle that you're looking for. The quality of the franchiser is also important to consider, and you should avoid a company with a high number of franchise closures.
"If you match all of that right, you will dramatically increase your chance at success and your chance at happiness," Bisio said.
One of the most important things a potential franchise owner should analyze is the strength of the concept, Khan said. The business model should be simple and easy to replicate, in case the franchisee wants to open multiple locations. A detailed training program and operations manual also indicate an effective franchise organization.
The franchising model works best for businesses that benefit from having the personal touch of a local owner, Bisio said. Franchising succeeds in large marketplaces where the competition is primarily mom-and-pop businesses.
"The local touch is going to be better than having just a manager," Bisio said.