How Does LendingTree Get Paid?
LendingTree is compensated by companies on this site and this compensation may impact how and where offers appear on this site (such as the order). LendingTree does not include all lenders, savings products, or loan options available in the marketplace.
|
Advertising Disclosure
LendingTree is an advertising-supported comparison service. The site features products from our partners as well as institutions which are not advertising partners. While we make an effort to include the best deals available to the general public, we make no warranty that such information represents all available products. We are compensated by companies on this site and this compensation may impact how and where offers appear on this site (such as the order).
How to Read Your Credit Card Statement
Updated on: August 16th, 2023
Why use LendingTree?
We are committed to providing accurate content that helps you make informed money decisions. The content on this page has not been reviewed, approved or otherwise endorsed by any credit card issuer. We do maintain partnerships with some issuers, and our site may be compensated through those partnerships. Read our .
Terms apply to American Express benefits and offers. Visit americanexpress.com to learn more.
When you receive your credit card bill, it makes sense to review it right away. The statement is filled with important information beyond what you've spent that month and how much you owe.
And while that information can be overwhelming, this guide will help you understand what's in your bill, how to pay your bill and what happens if you miss a payment. We'll also equip you with phone numbers, links and payment mailing addresses for the largest credit issuers in the nation to make it easier to avoid late payments.
What makes up my credit card bill?
New credit card users may wonder what a credit card statement is and what information is included in it. Your credit card bill contains important information beyond what you owe and details of the current month's purchases.
The statement also spells out several items, including:
Any fees or interest that you've been charged
What your minimum payment is
When it's due
Important notices from the bank
Here's how to read a credit card statement to understand the information that's most important to you:
Your previous balance is the unpaid amount that carried over from the previous credit card bill. Unless you're using a 0% APR promotion, the unpaid amount from last month will be charged interest, which will be added to the amount that you owe.
The purchases that you make each month in-person, online and over the phone increase your balance. Any returns and credits will offset your purchases or unpaid balance.
Credit card issuers sometimes allow cardholders to transfer balances from other credit cards. Balance transfers are charged interest and may have a different APR than your purchases. Some banks offer APR promotions as low as 0% to encourage cardholders to transfer balances.
These promotions should be repaid within the promotional period. Any remaining balance will be charged the standard balance transfer interest rate. When you transfer a balance, the bank usually charges a fee based on the amount you transfer over.
When you withdraw money from an ATM or make certain purchases (lotto tickets, for example), these transactions are considered a cash advance. Cash advances don't have a grace period, so interest on those transactions begins accumulating immediately. These interest rates tend to be the highest charged by the bank, so you should avoid cash advances unless absolutely necessary.
When you carry a balance over from one credit card bill to the next, the bank charges interest on your amount owed. The interest charged on your unpaid balance is based on your credit card's annual percentage rate (APR).
To avoid interest on your purchases, you'll need to pay off your statement balance on or before the payment due date. An exception: 0% promotional offers for balance transfers and purchases can carry over each month until the promotion expires without incurring any interest charges.
On top of the payments you have to make that result from purchases and transactions, you may find various fees listed on your credit card statement. These may include:
Annual fee: Some credit cards charge users an annual fee to help cover the benefits provided to cardholders. Certain credit cards waive the annual fee for the first year, while others charge no annual fee at all.
Balance transfer fees: Banks typically charge 3% to 5% of the total amount transferred with a minimum fee of $5 to $10.
Cash advance fees: These fees are charged when withdrawing money from an ATM or when conducting certain transactions (such as buying lottery tickets or money orders). Common fees for a cash advance are 5% (minimum $10).
Foreign transaction fees: When you make an international purchase while traveling abroad, many credit cards charge a foreign transaction fee. In addition, these fees may be charged when buying from a website outside the U.S. Typically, these range from 2.7% to 3%; however, some credit cards waive them entirely.
Penalty fees: Banks may charge penalty fees when you miss your due date or go over your limit, or if your payment is returned by your bank. Your credit card's guide details the type of fees you may incur and the amount charged for each one.
Notably, the 2009 CARD Act protects users from being charged excessive fees. For instance, late payment fees may not exceed $35 or your total balance (whichever is lower).
This is the date by which you'll need to make at least the minimum payment due, in order to avoid a late fee. In addition, you need to pay any non-promotional balance off in full by this date to avoid paying interest on the unpaid balance.
Since a credit card bill acts as a regular communication method between the bank and a cardholder, important notices are often included with the statement. These notices may include changes in terms, special promotions and offers from partners.
Review and pay your credit card bill
Savvy credit card users make a habit of reading a credit card statement as soon as they receive it. During this review, look for unauthorized purchases, missing credits, errors and unexpected fees. Banks allow you to dispute unauthorized charges, but only if you act shortly after discovering them.
After reviewing your bill, you should pay your bill as soon as possible to avoid late fees and minimize or avoid interest charges. If you're unable to pay your outstanding balance in full, you should at least make the minimum payment due.
Minimum credit card payment
We generally advise readers to pay more than the minimum payment. The best option is to pay the balance in full each month to avoid interest charges.
All credit card users must make the minimum payment due each month. Required minimum payments are calculated differently depending upon which credit card you have and which bank issued the card.
The most common minimum payment uses the following calculation:
Minimum Payment = Interest + 1% of Total Balance Due
If you pay just the minimum amount due each month, it could take years to pay off your debt. We calculated the effect of paying only the minimum payment on a $1,000 purchase with a 15% interest rate. The graph below shows the end-of-month balance over a period of six months.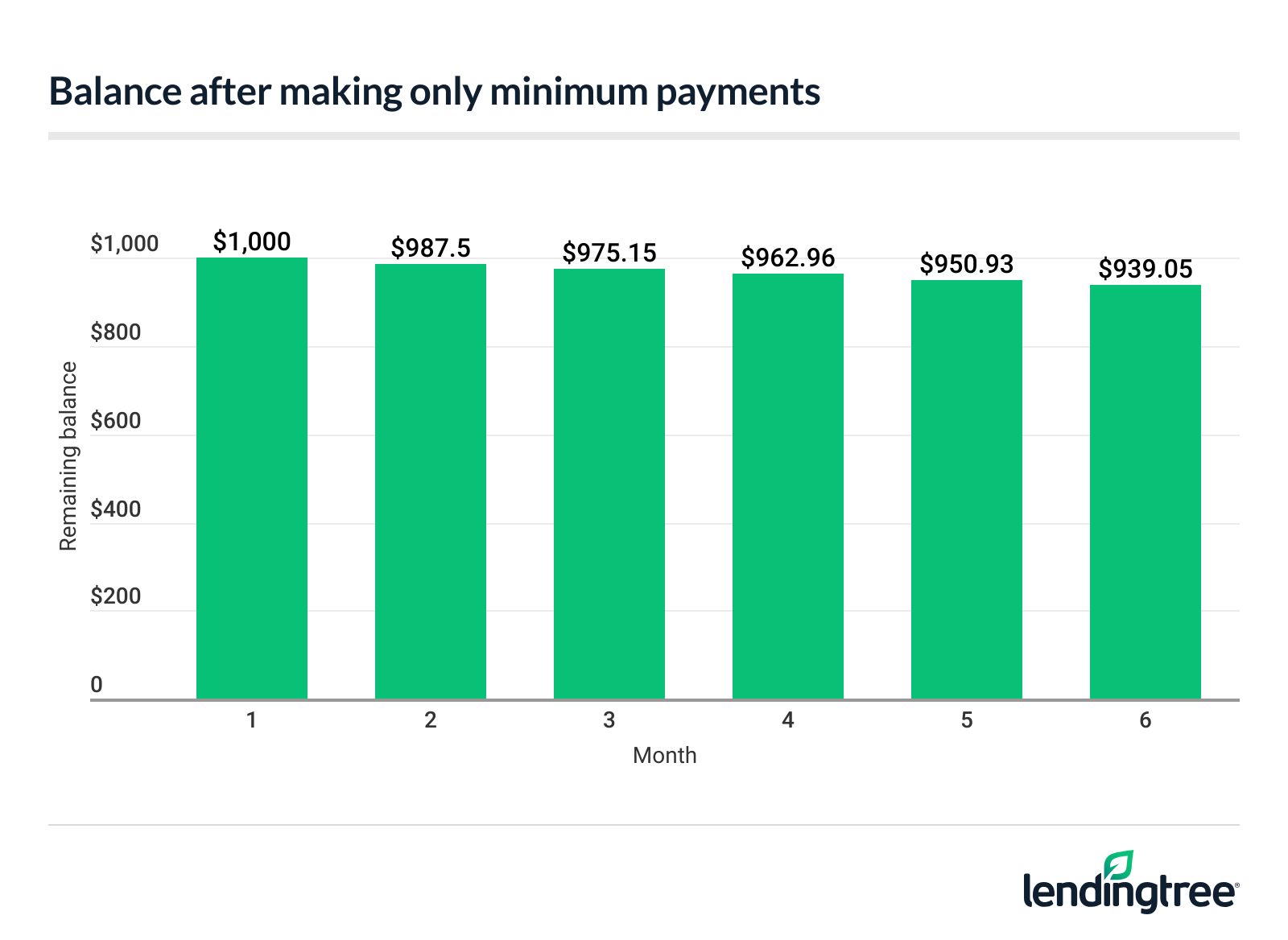 By our calculations, it would take close to five years to pay off that $1,000 charge when you pay just the minimum amount due. By the time you finish paying off the $1,000 purchase, you would have paid over $380 in finance charges.
Take note of how slowly the balance is paid down when you make just the minimum payment of $25.
If you're having difficulty paying off your credit card bill, consider refinancing with a debt consolidation loan or a balance transfer credit card. This will allow you to reduce your interest rate and have more of your monthly payment go towards reducing your balance each month.
What happens if I pay my bill late?
Missing your payment due date can result in late fees, higher interest rates and a negative mark on your credit report. Late payments reported to the credit bureaus can reduce your credit score and cause other accounts to increase their interest rates as well.
The financial impact of a late payment depends on how long it takes you to make the minimum required payment.
Less than 30 days overdue
You'll receive a late fee of no more than $35. Most credit issuers will only charge a late payment fee, though some may even report the late payment to the credit bureaus. Your credit issuer may raise your APR on new purchases as well, but they must provide a 45-day notice before doing so.
31-60 days overdue
Cardholders who fail to pay their bill for 31 to 60 days after the due date are categorized as "60 days overdue" on a credit report. Being this late will result in your bank reporting the missed payment to the credit bureaus, which will have an adverse impact on your credit rating.
60+ days overdue
The longer you remain delinquent in payment, the worse the impact on your credit score will be. Note that even if you're 150 days past due, your bank cannot raise your APR on an existing balance or increase your new purchase APR past 29.99%. However, the bank may prevent you from making additional purchases until your account is current.
What happens if I pay less than the minimum?
If you're unable to pay the minimum amount due, you may try to pay what you can afford. Although this is a noble effort, paying less than the minimum amount due counts as a missed payment.
However, your effort may provide a potential benefit. When you cannot make your minimum required payment, contact your bank before the due date about alternative payment arrangements. If you're able to create a new payment plan, the bank may agree not to report the missed payment to the credit bureaus.
How are payments applied?
When you pay the minimum amount due on your credit card bill, the payment is applied in order of increasing APR. This means that the payment is applied to the lower APR categories first.
For example, if your total balance consists of purchases with a 15% APR, as well as a cash advance with 24% APR, the minimum payment will first go towards paying off the regular purchases before being applied to the cash advance.
All payments in excess of the minimum amount due are applied to the balance with the highest APR balances first.
If your balance is part of a deferred interest offer, during the last two months of the offer the bank is required to allocate all payments toward the promotional offer. With a deferred interest offer, interest continues to accrue, but is waived if you pay the balance in full before the promotional period expires. You may also request that the bank apply payments in excess of the minimum payment to your deferred interest balance before other balances.
Banks are permitted, but not required, to apply payments in any order you request. However, most banks follow the process described above.
Grace period: How to avoid paying interest
New credit card purchases receive a grace period that allows you to pay off the balance in full without incurring interest. The grace period varies by credit card and bank, but is typically 21 to 25 days from the date your credit card bill is created. That means that as long as you pay your statement balance in full by the due date, you won't be charged any interest.
However, this grace period does not apply to cash advances. As such, if you decide to take out a cash advance, you'll begin incurring interest immediately. Because of this, we strongly recommend against taking out a cash advance unless it is an emergency situation.
Helpful resources
Below are the phone numbers and websites for each of the major credit card issuers in the United States. You can use this information to contact your financial institution with questions about your credit card bill or to make a payment.
Most major credit card issuers allow you to mail in a check or money order to pay your credit card bill. Below is a list of some of the most popular issuers and their standard payment processing locations:
American Express: P.O. Box 650448, Dallas, TX 75265-0448
Bank of America: P.O. Box 15019, Wilmington, DE 19850-5019
Barclays Services:

P.O. Box 60517, City of Industry, CA 91716-0517
P.O. Box 13337, Philadelphia, PA 19101-3337

Capital One: Attn: Payment Processing, P.O. Box 71083, Charlotte, NC 28272-1083
Chase cardmember services: P.O. Box 6294, Carol Stream, IL 60197-6294
Citibank: The bank has multiple addresses to receive payment and suggests that you use the address on your most recent credit card bill
Discover financial services:

P.O. Box 70176, Philadelphia, PA 19176-0176
P.O. Box 71242, Charlotte, NC 28272-1242
P.O. Box 6103 Carol Stream, IL 60197-6103
P.O. Box 29013, Phoenix, AZ 85038-9013

U.S. Bank P.O. Box 790408, St. Louis, MO 63179-0408
Wells Fargo card services P.O. Box 51193, Los Angeles, CA 90051-5493