How Does LendingTree Get Paid?
LendingTree is compensated by companies on this site and this compensation may impact how and where offers appear on this site (such as the order). LendingTree does not include all lenders, savings products, or loan options available in the marketplace.
| Advertising Disclosure
LendingTree is an advertising-supported comparison service. The site features products from our partners as well as institutions which are not advertising partners. While we make an effort to include the best deals available to the general public, we make no warranty that such information represents all available products.
2022 Credit Card Debt Statistics
Updated on: September 16th, 2022
Editorial Note: The content of this article is based on the author's opinions and recommendations alone. It may not have been reviewed, approved or otherwise endorsed by the credit card issuer. This site may be compensated through a credit card issuer partnership.
Americans have an absolute mountain of credit card debt in 2022 — $887 billion, to be exact.
This credit card debt statistics page tracks Americans' credit card use each month. We update this page regularly, looking at how much debt people have, how often they carry a balance month to month, how often they pay their credit card bills late and more.
In this post
How much credit card debt do Americans have?
Since the second quarter of 2021, credit card balances have risen by $100 billion. That's a 13% increase, the largest year-over-year jump in more than 20 years.
With the increase, Americans' credit card debt stands $40 billion below the record set in the fourth quarter of 2019, when balances stood at $927 billion. Thanks to rising interest rates, stubborn inflation and myriad other economic factors, it's likely a matter of time before credit card balances surpass the 2019 record.
Though balances aren't quite at record levels yet, they're still light years above the $480 billion seen more than 20 years ago in the first quarter of 1999.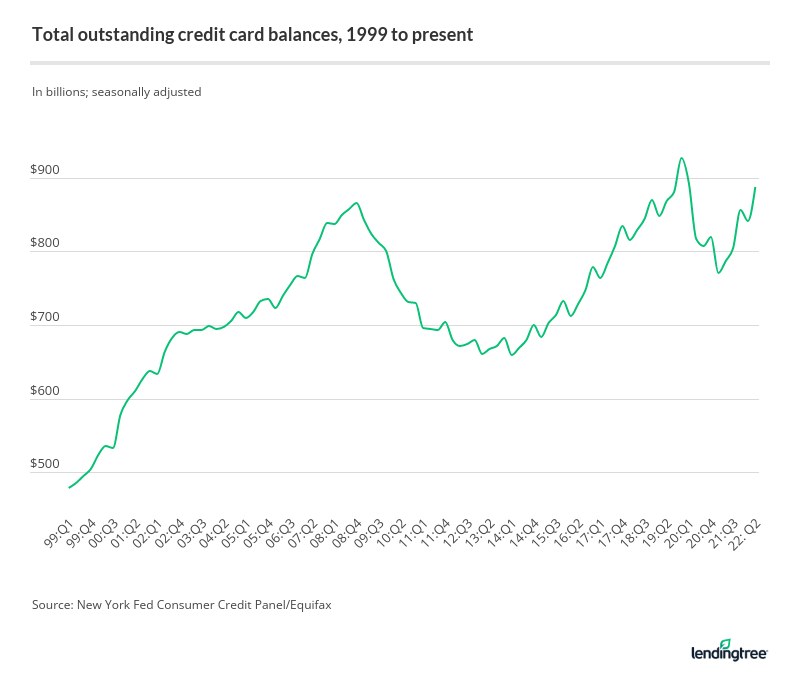 Card debt showed hockey-stick growth until the financial collapse in 2008, when balances fell from $866 billion in the fourth quarter of 2008 to $660 billion in the first quarter of 2013. But, as you can see in the chart below, the hockey stick returned.
Then, when the pandemic took hold in 2020, credit card balances plunged again — from $927 billion in the fourth quarter of 2019 to $770 billion in the first quarter of 2021. But — again — the hockey stick returned, thanks to a massive spike in the fourth quarter of 2021.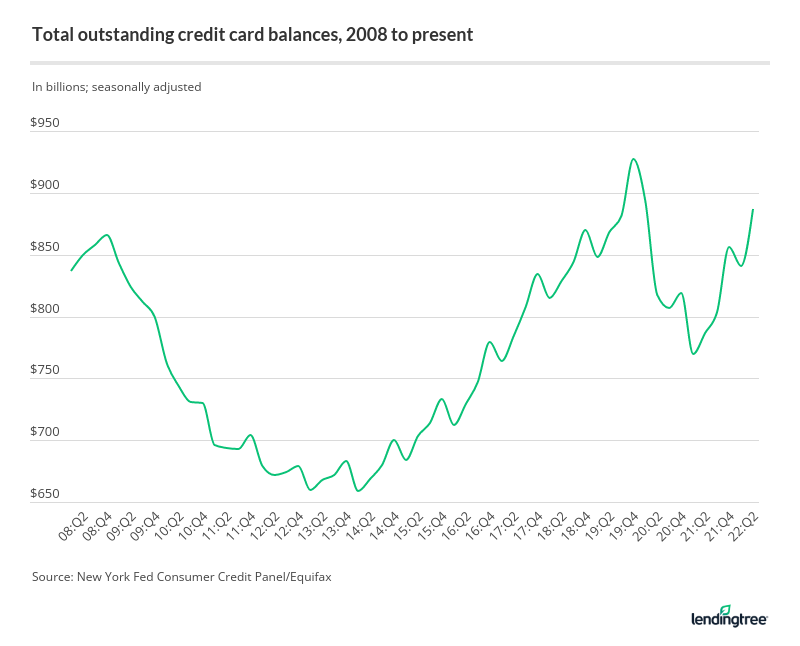 Which states' residents have the most credit card debt?
Credit cardholders in New Jersey have the highest average credit card debt of any state, according to LendingTree data, while those in Kentucky have the least.
LendingTree analysts reviewed anonymized January and February 2021 credit report data from more than 1 million LendingTree users to calculate these averages and create a list of states with the most debt.
Overall, the national average card debt among cardholders with unpaid balances was $6,569. That includes debt from both bank cards and retail credit cards.
The four states with the most debt were all on the East Coast, while the three lowest were found in the South. There was a major difference in balances between the states at the top and bottom of our rankings, with New Jersey cardholders owing $7,872 and Kentucky's owing $5,441. That means the average New Jersey balance is 45% higher than the average balance in Kentucky.
LendingTree has deep dives into average credit card debt in
California
,
Texas
,
Florida
and
Washington, D.C.
The reports include a statewide look at credit card balances, as well as breakdowns of card debt, utilization rates and other key data points in the 10 biggest metros in those states.
What percentage of credit card accounts carry a balance?
Americans carried a balance on 54% of all active credit card accounts in the first quarter of 2022, according to the most recent available data from the American Bankers Association.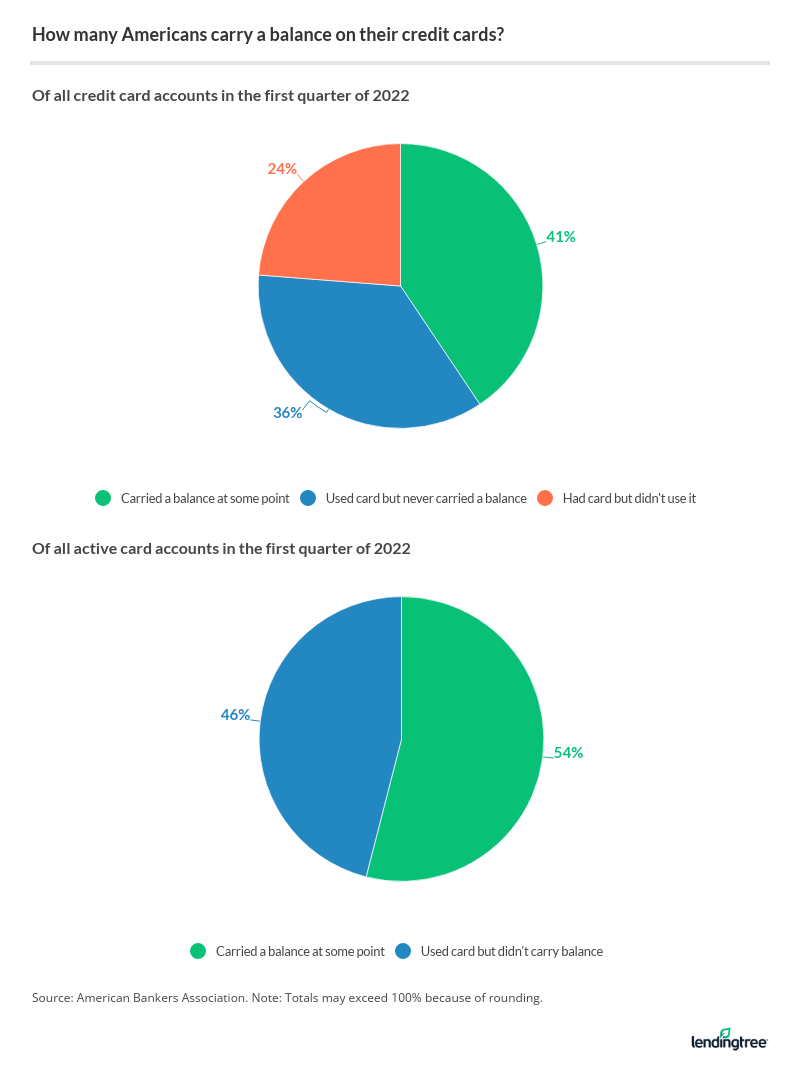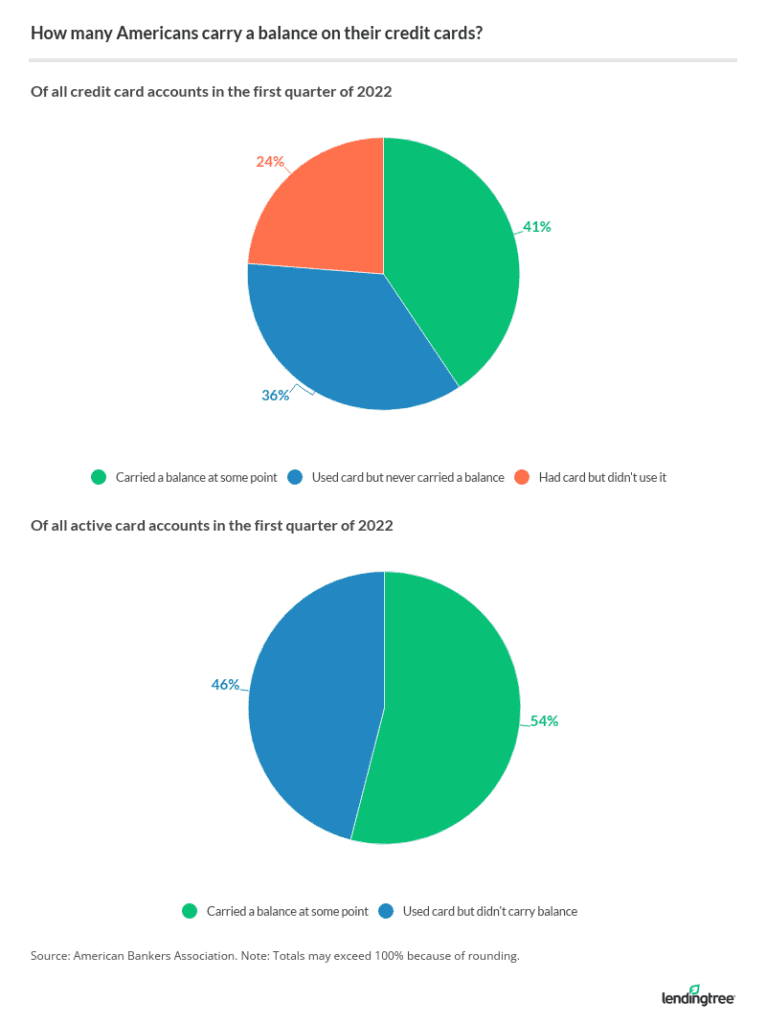 Job No. 1 for anyone with a credit card is to pay off that balance in full at the end of each month. But we all know that life happens, and that means that it's not always possible to pay off your credit cards each month.
Unfortunately, most people with an active credit card account don't always pay their bills in full. More than half (54%) of all active accounts carried a balance in the first quarter of 2022. This is the third straight quarter in which that percentage has increased. However, that percentage had fallen significantly during the pandemic, dropping from a high of 60% in the first quarter of 2019 to as low as 51% in the second quarter of 2021.
If you look at all credit card accounts, the American Bankers Association data shows that 41% of accounts were active and carried a balance at some point in the first quarter of 2022, 36% of accounts were active but didn't carry a balance and 24% of accounts were dormant for the quarter.
What's the average interest rate on people's credit cards? What about those who carry a balance? What about new credit card offers?
For all credit cards, the average APR in the second quarter of 2022 was 15.13%.
For cards accruing interest, the average in the second quarter of 2022 was 16.65%.
For new credit card offers, the average today is 21.59% — the highest rate we've seen since we began tracking rates monthly in 2019.
Average APRs for current credit card accounts and new card offers
Average APR for new credit card offers
21.59%
Average APR for all current card accounts
15.13%
Average APR for all accounts that accrue interest
16.65%
Sources: LendingTree data, Federal Reserve
The Federal Reserve's G.19 consumer credit report showed that the average APR for all current credit card accounts jumped in the second quarter of 2022, up from 14.56% in the first quarter. Meanwhile, APRs for cards accruing interest rose to 16.65%, up from 16.17% in the first quarter.
If you're planning to get a new credit card, your interest rate will likely be higher than those listed above. The latest LendingTree data on credit card APRs shows that the average APR with a new credit card offer is 21.59%, with the average card offering an APR range of 18.04% to 25.14%, with your rate varying based on your creditworthiness. Those rates have risen significantly in recent months, thanks to the Federal Reserve's announcement of interest rate hikes in March, May, June and July. The Fed will likely do the same in September and perhaps more in 2022. When this happens, cardholders should expect to see their cards' APRs rise in the next billing cycle or two as a result.
And as the chart below shows, the rate you're offered can also vary widely based on the type of card for which you apply.
Average interest rates on new credit card offers in the U.S. in September 2022
| Category | Minimum APR | Maximum APR | Average | Previous month |
| --- | --- | --- | --- | --- |
| Average APR for all new card offers | 18.04% | 25.14% | 21.59% | 21.40% |
| 0% balance transfer cards | 15.94% | 25.10% | 20.52% | 20.23% |
| No-annual-fee cards | 17.52% | 25.02% | 21.27% | 21.06% |
| Rewards cards | 17.78% | 25.05% | 21.42% | 21.25% |
| Cash back cards | 17.97% | 24.81% | 21.39% | 21.17% |
| Travel rewards cards | 17.87% | 25.58% | 21.73% | 21.62% |
| Airline credit cards | 18.28% | 26.52% | 22.40% | 22.31% |
| Hotel credit cards | 17.26% | 26.55% | 21.91% | 21.91% |
| Low-interest credit cards | 13.10% | 22.14% | 17.62% | 17.19% |
| Grocery rewards cards | 17.84% | 25.51% | 21.68% | 21.53% |
| Gas rewards cards | 18.09% | 25.38% | 21.74% | 21.51% |
| Dining rewards cards | 17.86% | 25.60% | 21.73% | 21.57% |
| Student credit cards | 18.31% | 23.74% | 21.03% | 20.47% |
| Secured credit cards | 23.41% | 23.41% | 23.41% | 23.43% |
Source: LendingTree review of publicly available terms and conditions for about 200 U.S. credit cards
Of course, your best move is to make those interest rates a moot point by paying your card debt in full, but that's often easier said than done.
How many Americans are currently delinquent with their credit card payments?
Just 1.81% of credit card accounts are currently at least 30 days delinquent.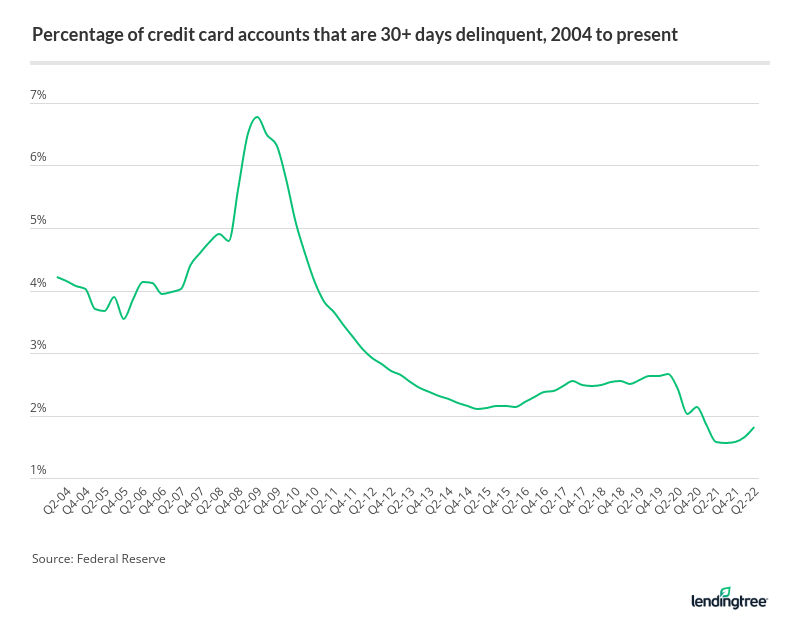 According to the most recent delinquency data from the Fed, the 30-day delinquency rate (or the number of folks who are currently at least 30 days late with their credit card payment) rose from 1.66% to 1.81% in the second quarter of 2022.
That's the third straight quarter of increases. However, delinquency rates are still near historic lows, staying below 2% for the sixth consecutive quarter. Before this streak, rates had never dropped below 2% since tracking began in 1991.
It's a huge difference from what we saw during the Great Recession, when delinquencies peaked at nearly 7% in 2009.