How Does LendingTree Get Paid?
LendingTree is compensated by companies on this site and this compensation may impact how and where offers appear on this site (such as the order). LendingTree does not include all lenders, savings products, or loan options available in the marketplace.
1 in 3 Say Back-to-School Shopping More Stressful, Expensive Than Holiday Shopping
Updated on: August 7th, 2019
Why use LendingTree?
We are committed to providing accurate content that helps you make informed money decisions. The content on this page has not been reviewed, approved or otherwise endorsed by any credit card issuer. We do maintain partnerships with some issuers, and our site may be compensated through those partnerships. Read our .
For millions of parents, back-to-school shopping is dreaded even more than holiday shopping.
According to a new report from LendingTree, about one-third of those who will do it say back-to-school shopping is both more stressful and more expensive.
With the new school year fast approaching, we asked Americans what they thought of the yearly ritual of back-to-school shopping — and it's clear that for many people, it is one of their least favorite times of the year. It's expensive, it's stressful and it can even damage your relationship with your kid.
Key findings
36% think back-to-school shopping is more stressful than holiday shopping, and 32% said it's more expensive than holiday shopping.
23% said back-to-school shopping has at least somewhat damaged their relationship with their child.
26% of shoppers expect to go into debt because of back-to-school shopping. Of those, 44% said it will take 3 to 5 months to pay off back-to-school debt, and 24% said it will take 6 months to a year to do so.
Overall, half of back-to-school shoppers will likely spend more this year than last year, while just 9% think they'll spend less. On average, shoppers expect to spend $428 on back-to-school shopping this year.
43% are stressed about how they'll pay for back-to-school shopping.
44% will pay for back-to-school shopping with a credit card, while 52% will use gift cards, 36% will use cash back from credit cards, 18% will use credit card points and miles, and 13% will use credit card sign-up bonuses to help with back-to-school shopping.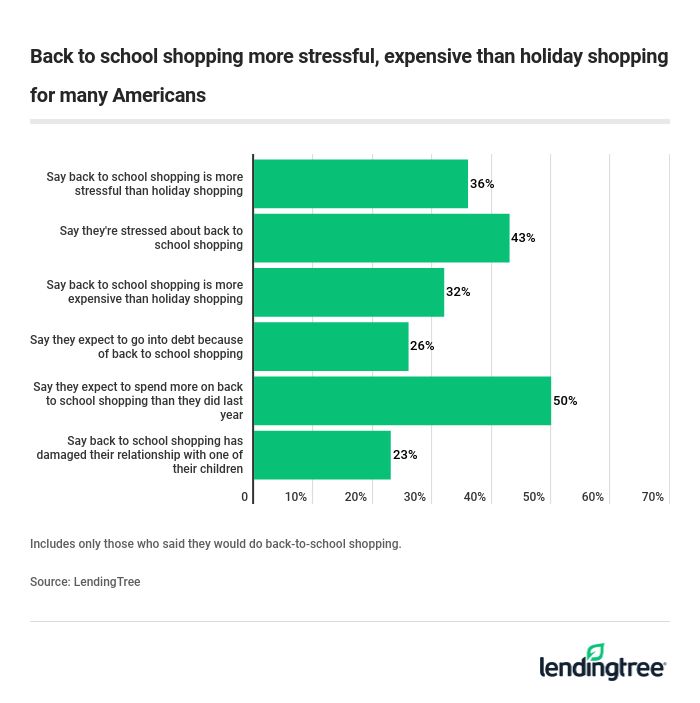 A costly end to summer vacation
Any parent with school-age kids can tell you that back-to-school shopping can be a major challenge. The National Retail Federation projects that spending for kids in kindergarten through 12th grade will top $26 billion, while spending on college-age kids will top $50 billion. Those are tremendous sums of money, and that sort of spending means that back-to-school shopping is going to stretch many Americans' budgets.
Just less than half of shoppers (47%) say they save up for back-to-school shopping, while slightly less (44%) will lean on credit cards to pay for most of their back-to-school needs. However, many are leaning on other financial tools — everything from gift cards and credit card rewards to personal loans and even retirement savings withdrawals — to pay for these expenses. While many of those options can help extend your back-to-school budget, tapping into retirement savings shouldn't be one of them. If your back-to-school spending is such that you will have to use retirement funds, it's time to step back and seriously consider dialing back your spending.
Hurting your relationships and your psyche along with your finances
Back-to-school shopping stress isn't just about money. That's certainly a big part of it — 43% of shoppers are stressed about how they'll pay for back-to-school shopping — but there's more to it than that.
Stress can also be about everything from time management to fashion choices, and our survey showed that stress can do real damage, even to our relationships with those with whom we're closest. Nearly 1 in 4 parents said back-to-school shopping has caused some level of damage to their relationship with their kid. That's troubling, but any parent who has dealt with a screaming kid roaming the aisles at Target or Walmart knows full well that it can happen. The best thing you can do to deal with it is to be prepared.
Bottom line: Make a battle plan to combat back-to-school shopping stress
Let's face it: You're never going to eliminate all stress from back-to-school shopping. It can be a perfect storm of financial issues, deadlines, family relationship tension, peer pressure, childhood immaturity, teenage hormones and more. Often, all you can do is steel yourself to manage it. Here are some practical suggestions that can help:
Communicate
So many fights happen between parents and kids because expectations haven't been made clear. That's why it's so important to talk with your kids before back-to-school shopping begins. It's far better to have that conversation calmly at the kitchen table than to have it in the middle of a screaming fit in the school supplies aisle at Target.
Sit down with your kids and set boundaries. Talk to them about budgets and priorities. Ask how much they even want to be part of selecting their school supplies. For example, if they only want to help select clothes, that can free you up to do the rest of the shopping without the kids in tow.
When you're talking about priorities, let them know that if they decide to get an expensive pair of shoes, it might mean that they'll have to settle for a plain backpack or lunchbox because there's a limited amount of money the family can spend on supplies. They may not be happy about it, but planting the seed early can minimize blowups in the store.
Use credit card rewards and sign-up bonuses
Our survey found that about a third of back-to-school shoppers said they used cash back from credit cards to help them. That's a savvy move that can help extend your budget, and the earlier you can begin planning for it, the better.
If you've saved cash for back-to-school shopping, you can still take advantage of credit card rewards. Get a new cashback card with a sign-up bonus, use the card for your back-to-school shopping and then use your cash savings to pay the bill in full when it comes due. That spending can go a long way to meeting the minimum spend you have to hit to get the sign-up bonus, and that bonus — often $100 or $150 after spending anywhere from $500 to $1,000 — can really make a difference.
Buy, don't browse
People get in trouble when they go shopping without a plan. That's when a $50 trip becomes a $250 trip, budgets get wrecked and stress climbs. Know exactly what you want to buy before you hit the stores.
Shop around
Back-to-school shopping is crazy-expensive enough — don't settle for buying the first thing you see. Take a few minutes to go online and compare prices at a few of your favorite stores and then decide which one is the best deal. Look for coupons that might make things even cheaper. And don't forget about garage sales and consignment shops, too. With so much to buy for school, every little bit of savings can help.
Breathe
Mom and Dad, you've made it through crazier things, and you'll get through this, too. Take a deep breath, be strong, and it'll be over soon enough.
Methodology
LendingTree commissioned Qualtrics to conduct an online survey of 1,019 Americans — 495 of whom plan to go back-to-school shopping this year. The survey was fielded July 11-12, 2019, and the sample base was proportioned to represent the general population.