How Does LendingTree Get Paid?
LendingTree is compensated by companies on this site and this compensation may impact how and where offers appear on this site (such as the order). LendingTree does not include all lenders, savings products, or loan options available in the marketplace.
San Antonio Tops List of Cities With Highest Credit Card Utilization Rate
Updated on: March 14th, 2019
Why use LendingTree?
We are committed to providing accurate content that helps you make informed money decisions. The content on this page has not been reviewed, approved or otherwise endorsed by any credit card issuer. We do maintain partnerships with some issuers, and our site may be compensated through those partnerships. Read our .
No big city residents use a bigger portion of their credit cards' available credit than those in San Antonio, according to a new report from LendingTree, though several big southern cities aren't far behind.
The comparison of your balance to your available credit is called your credit utilization rate, which means if you owe $3,000 and have $10,000 in available credit, your utilization is 30 percent.
It's simple math, but it's also the second-most important factor in credit scoring formulas behind your payment history – how often you pay your bills on time – so it's a big deal. LendingTree used September 2018 user data from My LendingTree to examine credit card utilization rates among cardholders with a balance in the nation's 50 largest metropolitan areas.
We found that Alamo City cardholders had the highest rate, cardholders in the San Francisco Bay area had the lowest, and a real north-south divide exists when it comes to credit card utilization.
Key findings
Highest rates: San Antonio had the highest credit card utilization rate at 35.1%, while Virginia Beach, Va.; Birmingham, Ala.; Memphis, Tenn.; and Houston rounded out the top five.
Lowest rates: San Jose, Calif., had the lowest credit card utilization rate at 23.8%. Its Bay Area neighbor, San Francisco/Oakland, was second at 26%, followed by Minneapolis/St. Paul, Minn.; Raleigh, N.C.; and Denver.
The average utilization rate among the 50 biggest cities was 30.2%. Most experts recommend that consumers keep their rate no higher than 30%.
Just 14 of the 50 biggest cities had utilization rates below 30%, when you include rounding.
The eight cities with the highest credit card utilization rates are all in the southern U.S., while five of the six cities with the lowest utilization rates are in the northern part of the country.
For many of these cities, it's all about income. With a few exceptions, most of the cities with the highest utilization rates were among those with the lowest household incomes, while higher income cities tended to have lower rates.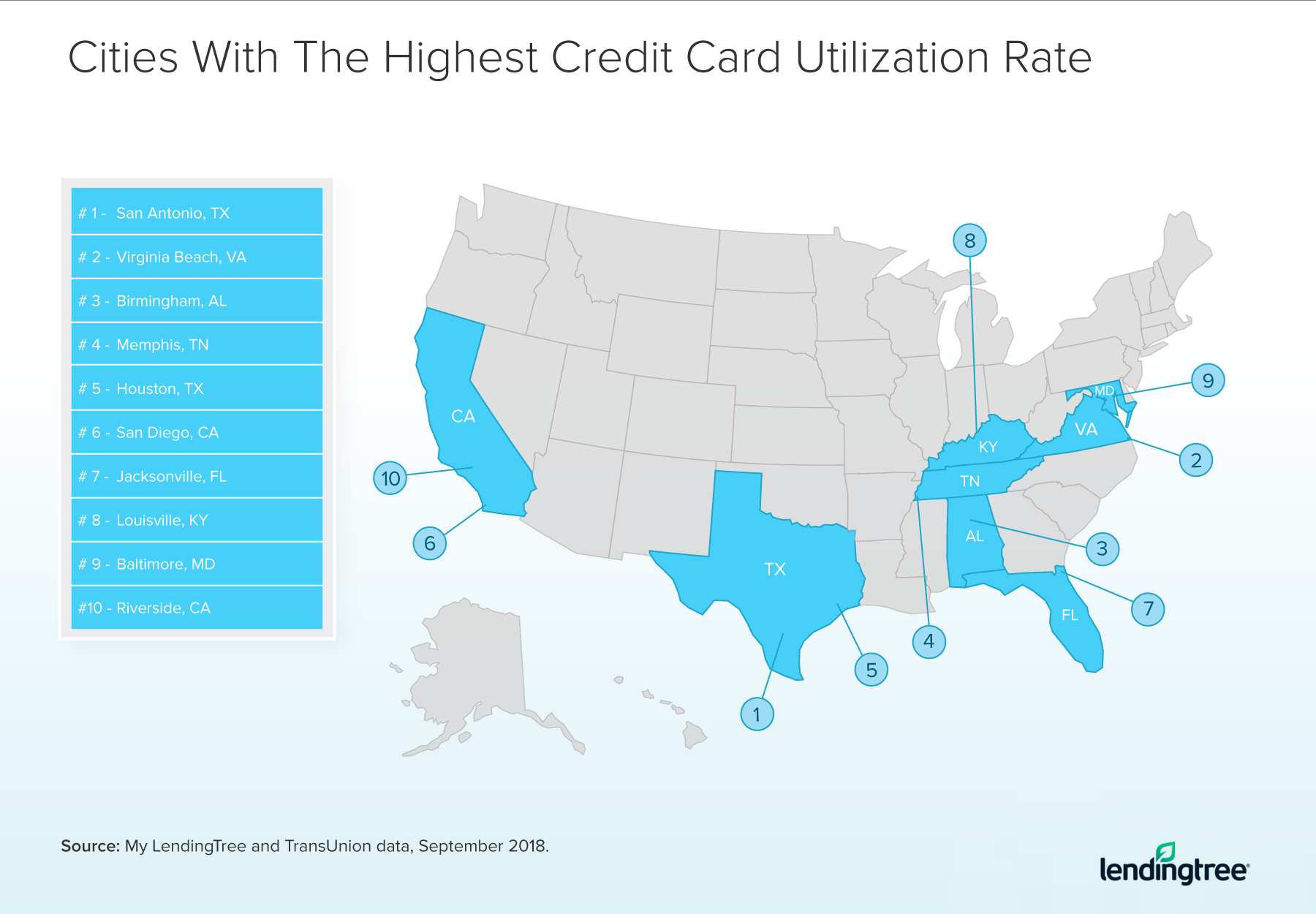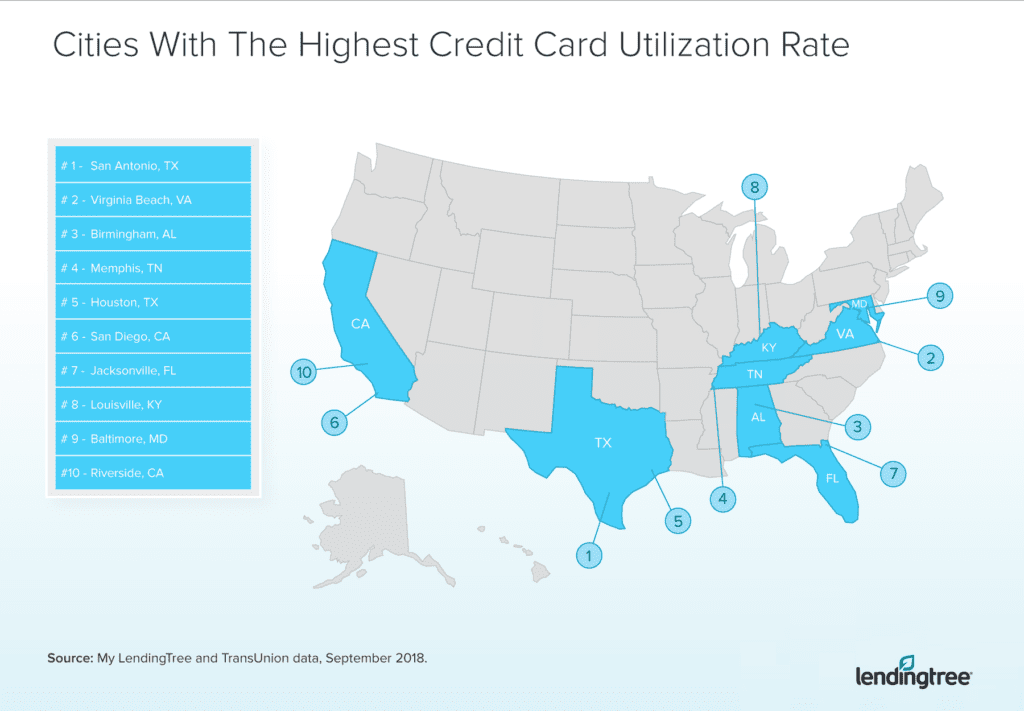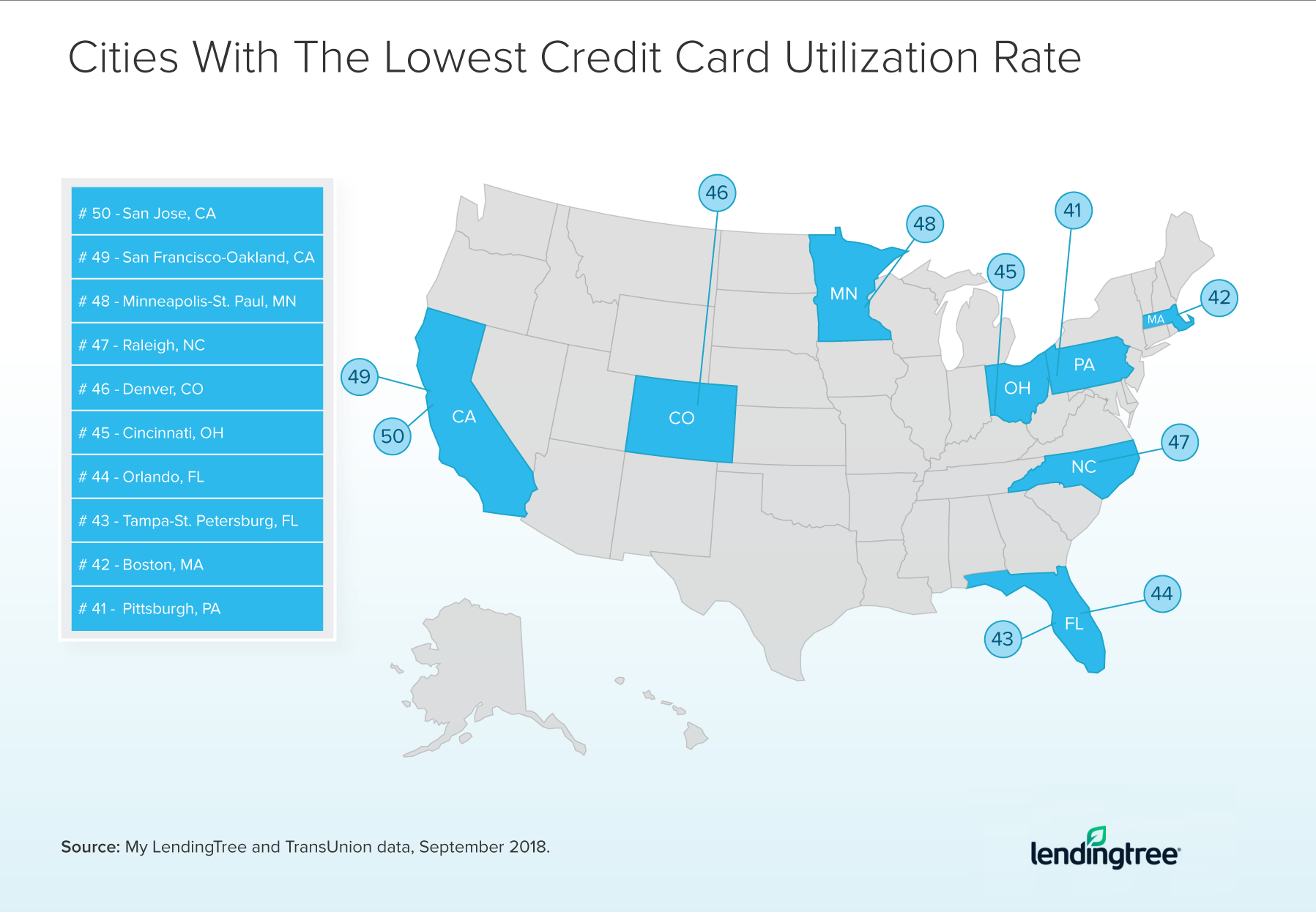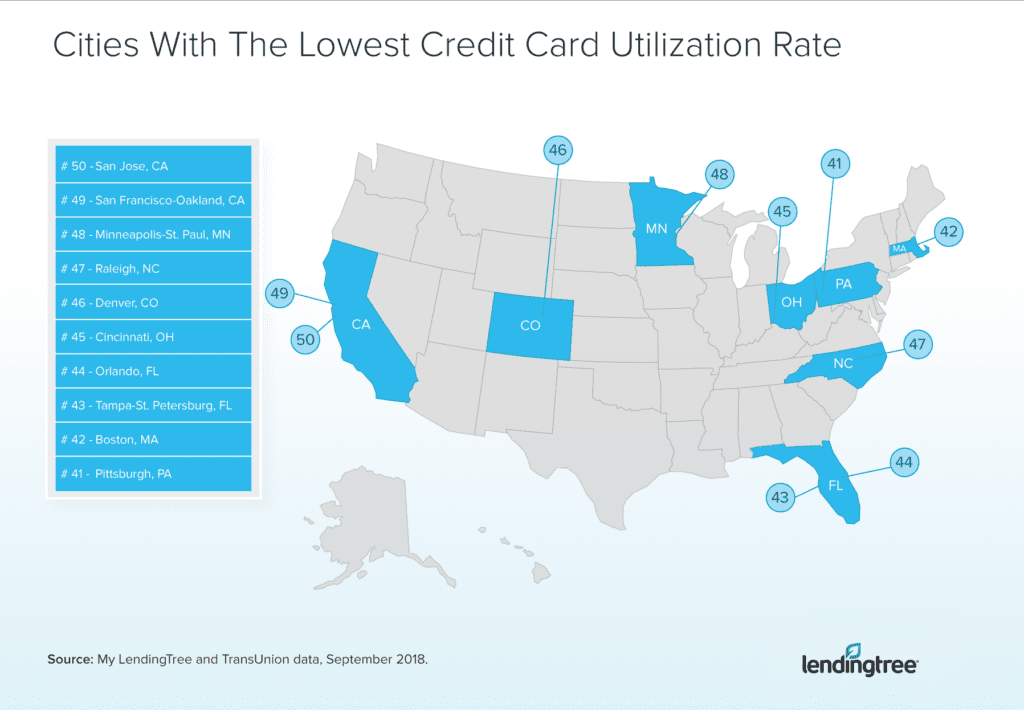 The bottom line: Don't let high utilization rates wreck your credit.
If your credit utilization rate is too high, your credit scores will suffer. It's as simple as that. The good news, however, is that you have much more power to change that rate than you realize. Unlike a late payment, which can stain your credit for years and you can't really do much to fix, there are steps you can take to get your utilization rate back in shape.
Knock down your balances: Obviously, the best way to improve your utilization is pay down your credit card debt. The faster you can do it, the better. However, we all know that's just not always possible. Life is expensive, and most of us are a job loss, medical emergency or another unexpected expense away from financial hardship. Still, if you can afford to put a little bit extra toward that bill every month, do it. Sell something of value. Trim expenses at home. Do what you can to make it happen. You'll be glad you did.
Ask your card issuer for a higher credit limit: If you can't afford to change the balance side of the equation, try to change the credit-limit side by calling your credit card issuer and asking for an increase in your credit limit. Using our earlier example, if you have $3,000 in debt and $10,000 in available credit, your utilization is 30%. However, if you increase that limit just to $12,000, your utilization shrinks to 25%. The bigger the credit limit increase, the bigger the effect on your utilization. And you'd be shocked how often people are successful with this request: A 2018 LendingTree survey showed that 64 percent of cardholders who asked for a higher limit received one, and the average increase was more than $2,000. Just remember not to go on a shopping spree with that newly available credit. If you do, you're just shooting yourself in the foot.
Add a new card to your wallet: Yes, it might seem strange to get another credit card to improve your credit, but handled wisely, a new card can be a very effective way to improve your utilization. Just like when you get a higher limit on an existing card, it's all about the math. If you can keep your balances the same while adding more available credit, your overall utilization rate across several cards will improve your credit score. Or an even better option would be to take advantage of a 0% balance transfer offer. That way, you're not just adding available credit, you're significantly reducing the amount of interest you'll face in paying off that balance. However, the plan falls apart if you just view the new credit as an excuse to spend. Also, be sure to keep your other cards open. The idea is to grow your overall available credit, not just replace it.
Remember, my friends in San Antonio, Virginia Beach and other high-utilization-rate cities: You have more power over your credit scores than you think, but you must be willing to wield it. However you decide to combat your high utilization rate, please take some sort of action. Even small things, added up over time, can have a real impact. That's a big deal because crummy credit can cost you thousands of dollars over the years, and that's a cost no one should just take on without a fight.
Methodology
LendingTree used a statistically relevant sampling of anonymized My LendingTree user data, comparing information from September 2017 with data from September 2018. (My LendingTree user credit information is provided by TransUnion.) The data includes only active, revolving bank cards with a balance. LendingTree also relied on Census Bureau data to determine the 50 largest metropolitan areas in the U.S.