How Does LendingTree Get Paid?
LendingTree is compensated by companies on this site and this compensation may impact how and where offers appear on this site (such as the order). LendingTree does not include all lenders, savings products, or loan options available in the marketplace.
About 70 Million Cardholders Had Credit Limits Cut, Card Accounts Closed Involuntarily In Past 60 Days
Updated on:
Content was accurate at the time of publication.
Why use LendingTree?
We are committed to providing accurate content that helps you make informed money decisions. The content on this page has not been reviewed, approved or otherwise endorsed by any credit card issuer. We do maintain partnerships with some issuers, and our site may be compensated through those partnerships. Read our .
About 70 million people – more than one-third of credit cardholders – said they involuntarily had a credit limit reduced or a credit card account closed altogether in a 60-day period stretching from mid-May to mid-July, according to a new survey from LendingTree.
The report is a clear sign that credit card issuers are still closing cards and reducing credit limits on cardholders in huge numbers, months after an April 2020 LendingTree survey showed that nearly 50 million cardholders had a card closed or credit limit reduced in the first month in which the coronavirus pandemic took hold of the country.
Click below to learn more:
Key findings
About 70 million cardholders had a credit card's credit limit reduced or a card account closed altogether by their issuer in the past 60 days.
Nearly 1 in 3 cardholders (34%) said they had their credit limit reduced on at least one card in the past 60 days.
Most credit limits were reduced by $1,000 or less, but more than 1 in 5 limits (22%) were reduced by at least $5,000.
Nearly 9 in 10 cardholders (89%) who had their credit limits reduced said their card issuer notified them of the move, but almost 1 in 6 (15%) of those said no reason was given.
The survey also found that 1 in 4 cardholders (25%) said they had at least one credit card closed by their card issuer in the past 60 days.
The most common reasons given for the reductions or closures: Credit score decreases, inactivity and missed payments.
The most likely groups to be affected: Men, high-income Americans, parents with young kids and minorities.
Card closures and credit limit reductions keep climbing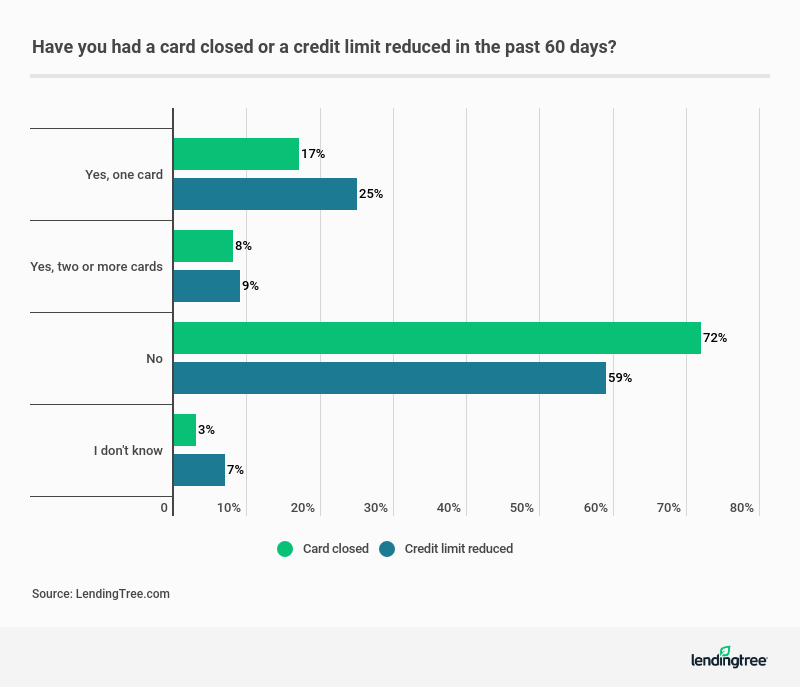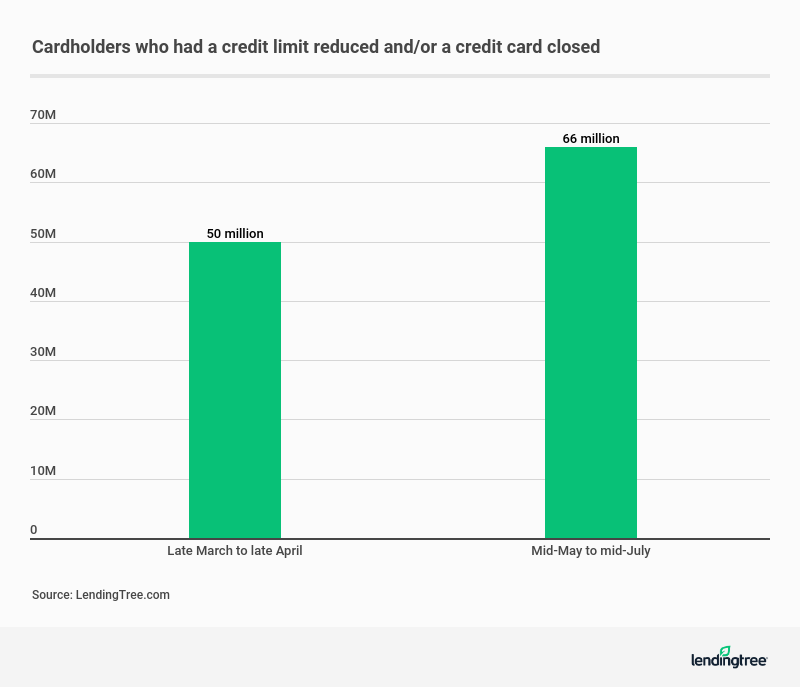 When LendingTree first asked cardholders back in April whether they'd had a credit card closed or credit limit slashed involuntarily during the COVID-19 crisis, we were so surprised with the results that we re-ran the survey to ensure the legitimacy of the numbers. However, after the second run, those numbers rang true. Nearly 50 million cardholders had one of these actions taken against them by a card issuer.
In this most recent survey, the numbers were even bigger. The good news is that even though a higher percentage of cardholders said they were affected in this survey than our April report, it appears that the pace of these actions slowed slightly.
During the 30-day period from late March to late April, about 50 million cardholders were affected. That's 1.7 million per day.
During the 60 day period from mid-May to mid-July, about 70 million cardholders were affected. That's 1.1 million per day.
Those are still staggeringly high numbers. They somewhat resemble the trend in recent weekly new jobless claim numbers, which have been decreasing as well, but remain at historically high levels.
This latest survey shows that while virtually all groups of people are having these actions taken against them, some are getting hit harder than others.
For example, millennials are the age group most likely to have a credit limit slashed or a card closed, and people with the highest incomes are the most likely to say one of these actions had happened to them.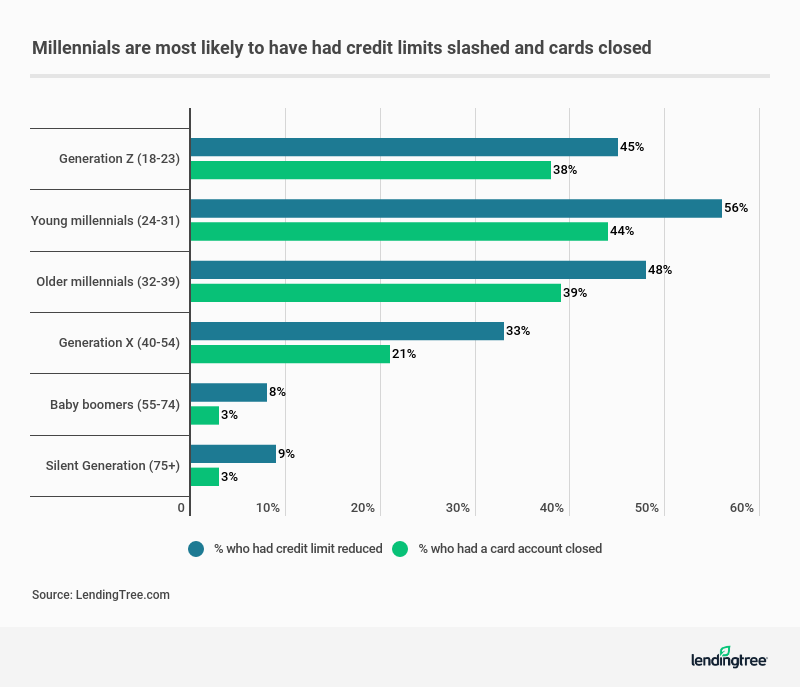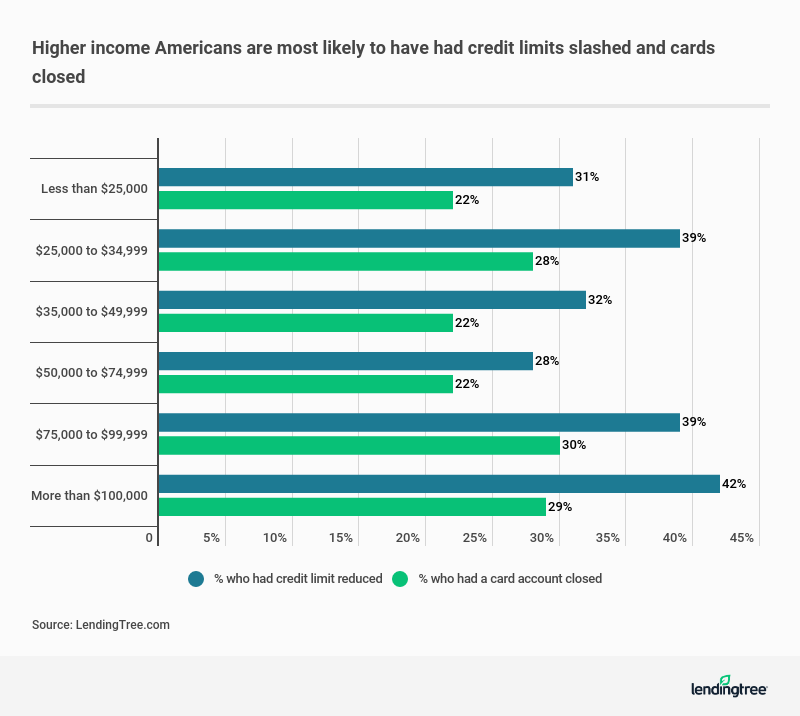 Why these two groups? Millennials don't have as long a credit history as Gen X or baby boomers and thus might be seen as riskier.
Meanwhile, people with higher incomes may be more likely to have higher credit limits. In this time of great economic uncertainty, unused available credit poses a risk to issuers, so they take steps to trim it back.
Most credit limit reductions weren't huge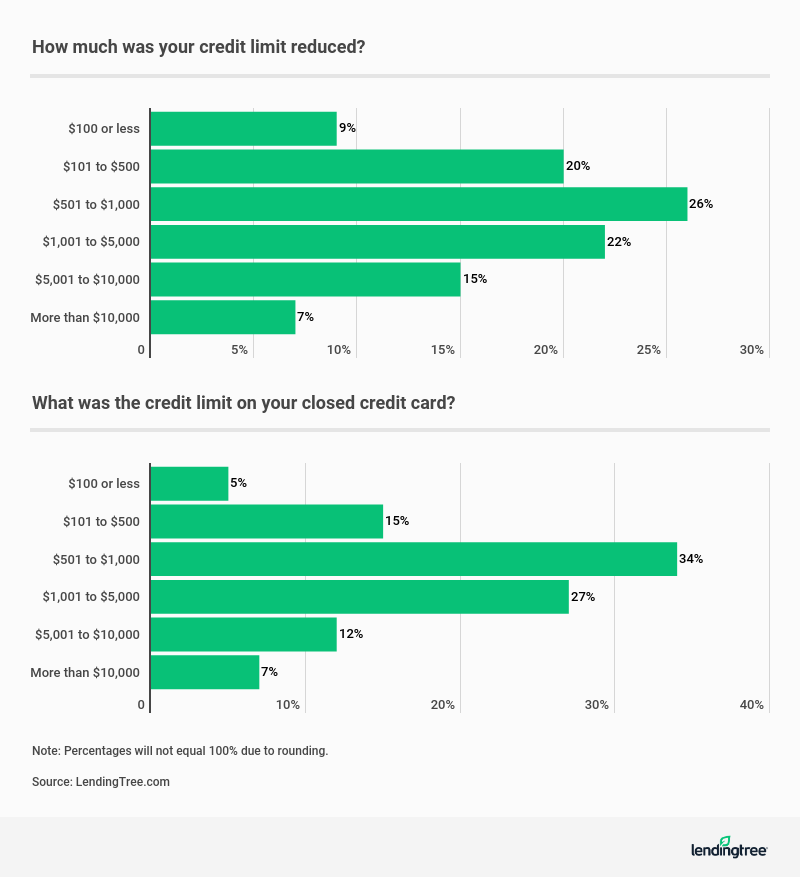 Whether a card was closed altogether or simply had its credit limit reduced, the most common amount of credit lost was between $501 and $1,000 – and more than half of all reductions and closures involved $1,000 or less.
However, given that high-income Americans were the most likely income bracket to be affected, it shouldn't come as a surprise that some were hit far harder.
More than 1 in 5 (22%) cardholders who had their limits reduced said the reductions were $5,000 or more. A similar percentage of closed card accounts had credit limits that were that high.
Because higher income Americans are more likely to have higher credit limits, these reductions might have been less impactful than they would've been for folks at lower income levels. Still, losing those thousands of extra dollars in available credit was still likely meaningful for many.
Most cardholders notified about credit limit reductions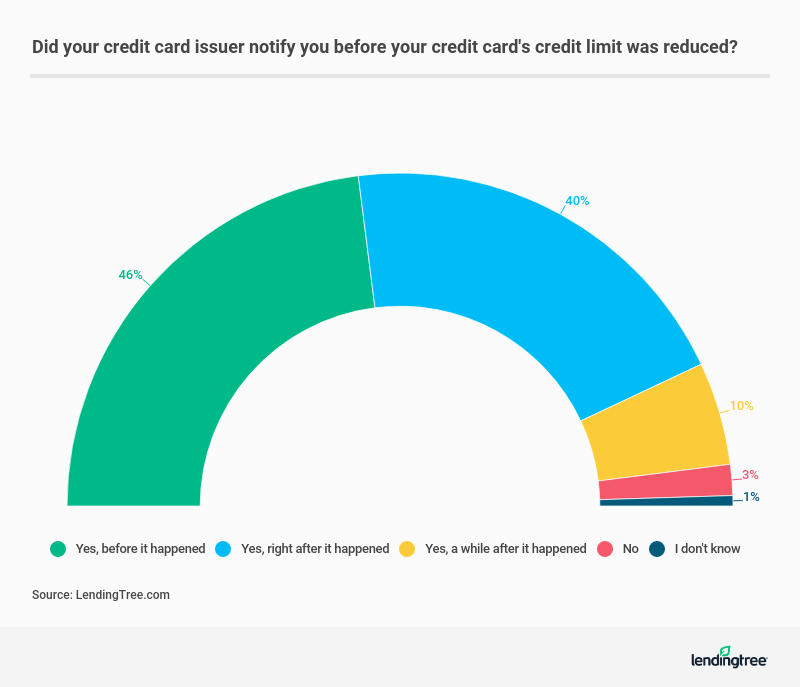 If your issuer decides to increase your credit card's annual fee or raise your interest rate, it is required by law, in most cases, to give you 45 days' advance notice before the move takes effect. (A rate move because of a Federal Reserve rate hike or cut is one major exception.)
That's true with most other key terms and conditions of your credit card, too.
The story is different when it comes to reducing your credit limit or closing your credit card account.
Issuers have a lot of freedom to make those changes, and often aren't required to inform you of these changes. If your credit limit is reduced due to a mistake on your part (such as being 60 days late with a payment), they must tell you they're doing it and why.
If your card issuer decides to reduce the credit limit on an inactive or dormant card or even close the account altogether, they typically don't have to let you know.
However, the survey found that 89% of those whose card limits were reduced said they had been notified.
Among those who had received a notification that their card was closed or their credit limit reduced, about half said they were told it was because of a credit score decrease or a late payment. About 1 in 4 said they were told the change happened because of inactivity.
Even if notified of the change, many cardholders weren't given a reason why it happened. For example, 15% of credit limit reduction notifications didn't include a reason.
The bottom line
We're several months into the pandemic and one of the few things we know for certain is that no one knows exactly when this is going to end. Because of that, it's likely that we will see banks continue to be cautious when lending. There are simply too many unknowns and too many risks for card issuers to handle things any other way.
That means that more cardholders should expect to have their credit card's limit slashed or to have dormant accounts closed involuntarily. It may not happen quite as often in the next 90 days as it has happened in the past 90 days, but it almost certainly will continue to some degree.
There's nothing you can do that will guarantee that your limit won't be reduced or your account closed. Ultimately, it is the card issuer's decision.
To improve your odds of a surprise credit limit cut or card account closure, consider using any dormant cards more. Don't spend yourself into trouble, of course. But if you can pay for your next grocery trip with a card you rarely use, that can keep that card active. Better yet, put a small, recurring subscription – such as Spotify or Netflix – on that little-used card to ensure that it is used each month. Then, set up automatic payments so you never pay late.
Also, if you do have your limits slashed or your account closed, you don't have to take it lying down. You can ask your issuer to reconsider.
If that's not successful, you can reach out to another card's issuer to see if it would be willing to increase your credit limit on that card to help offset what you lost on the other card. You're less likely to have your request granted today than you were prior to the pandemic – that's the case if you were considering applying for a new card, too – but it still might be worth asking.
Methodology
LendingTree commissioned Qualtrics to conduct an online survey of 1,003 credit cardholders, with the sample base proportioned to represent the overall population. The survey was fielded July 10-13, 2020.
Generations are defined as the following ages in 2020:
Gen Z are 18-23
Millennials are 24-39
Gen X are 40-54
Baby boomers are 55-74
Silent generation are 75 and older