How Does LendingTree Get Paid?
LendingTree is compensated by companies on this site and this compensation may impact how and where offers appear on this site (such as the order). LendingTree does not include all lenders, savings products, or loan options available in the marketplace.
65% of Americans Mistakenly Think Carrying A Credit Card Balance Helps Their Score
Published on: March 22nd, 2022
The content of this article is based on the author's opinions and recommendations alone. It may not have been reviewed, approved or otherwise endorsed by the credit card issuer. This site may be compensated through a credit card issuer partnership.
Americans are making credit card mistakes that are costing them money and impacting their credit scores, according to the latest LendingTree survey of 1,000+ Americans.
One big reveal was that almost two-thirds of consumers believe carrying a credit card balance helps improve their credit score. "This is the cockroach of credit-scoring myths — it just absolutely will not die," says Matt Schulz, chief credit analyst at LendingTree.
In addition, the survey revealed that more than half of Americans aren't checking their credit scores or maximizing their credit card rewards, and more than one-third don't know what their card interest rates are. Explore which consumers are most likely to fall victim to such credit misconceptions, and pick up some tips on how to avoid the most common credit card mistakes.
Click below to learn more:
Key findings
Nearly two-thirds (65%) of Americans believe this costly credit card myth: that carrying a small balance on their credit card each month will improve their credit score. The number is even higher ( 79%) among Gen Z. In reality, this likely means consumers are paying extra interest when they don't have to.
More than half of consumers (55%) haven't checked their credit score in over a month. In addition, 1 in 4 credit cardholders also don't review their card statements every month. Both of these behaviors put Americans at risk of missing discrepancies with their score or transactions.
More than a third (35%) of cardholders don't know their credit card's interest rate. While that's not an issue for those who pay their bill in full each month, it's worth looking into for the 49% of cardholders who generally carry a balance.
Women struggle more to pay their credit card bills in full and on time. Men are 27% more likely to pay their credit card balance in full each month (57% versus 45% of women), while women are more likely to have made a late payment (54% versus 44% of men).
Credit cards can provide many benefits — but many aren't taking advantage of them. Specifically, more than half (55%) of card-carrying consumers are missing out on credit card rewards by paying with cards that don't provide points or cash back, despite the majority (85%) of cardholders having at least one rewards card.
65% think carrying a balance helps their score, and that's not the only credit card mistake consumers are making
The myth that keeping a small balance on your cards is actually good for your credit score is pervasive — with just about two out of three Americans believing it. For the youngest consumers, Gen Z, the percentage is 79%. But it's simply not accurate, says Schulz.
"The myth hurts cardholders because it costs them money. If they're only carrying a small balance, it may not cost them a huge amount of money, but over time, it adds up," he says. It's especially concerning for the youngest generation who could end up carrying a balance for several decades.
Though Schulz isn't exactly sure where this myth comes from, he thinks perhaps it could be confusion with the idea that you need to keep a card active in order to keep it from being closed. "It is definitely true that a dormant or little-used card might be at risk of being closed by its issuer," says Schulz, and it happened even more so during the early days of the pandemic.
However, according to Schulz, you do not need to carry a balance on a card in order to keep it from being closed — you just have to use it periodically. Schulz suggests putting a small recurring bill on a card you don't use much, and paying it off in full each month.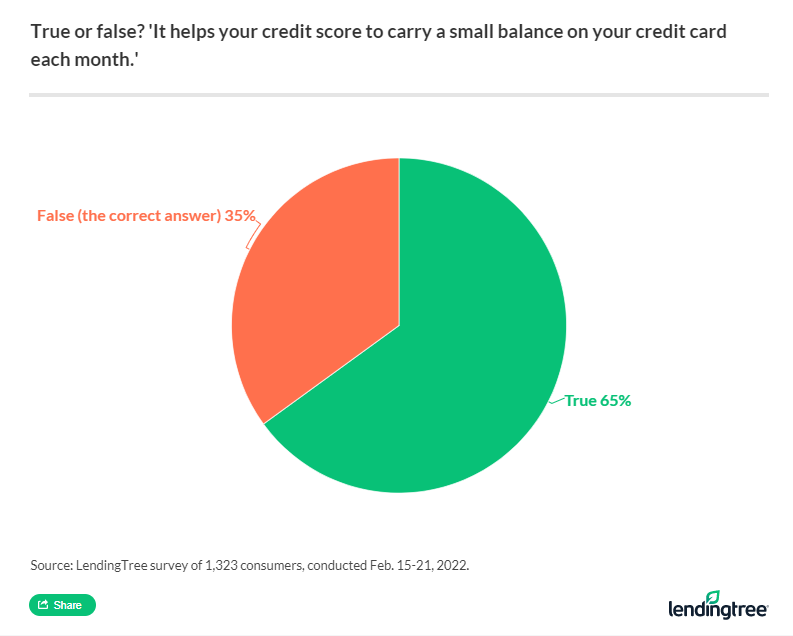 Worse than paying interest on small balances, however, are the two major things that many Americans have done that actually hurts their credit score: paying a credit card bill late and maxing out their credit cards.
Just about half (49%) of consumers say they have paid a credit card bill late at least once.
"A single payment that is 30 days or more late can devastate your credit, making your score fall 50 to 100 points, depending on your individual circumstances," says Schulz. That's because nothing matters more to your credit than your track record of paying on time. "Once that is disrupted, the consequences are massive," he adds.
The other major credit blunder consumers make involves maxing out their cards, with 48% of those surveyed doing so.
"Maxing out a card sends your credit utilization rate — or how much debt you have compared to your available credit — soaring," says Schulz. Utilization also happens to be the second most important factor in FICO scoring formulas. Maxing out your credit cards gives the appearance to card issuers that you're struggling financially, he explains. "And when you're struggling to pay down your current debts, issuers may become less likely to want to lend you more money."
Does your credit card's interest rate matter?
The survey also found that 35% of cardholders don't know their credit card's APR, but that may or may not matter, says Schulz. "Not everyone needs to know their credit card's APR, simply because not everyone carries a balance on their cards," he adds. If you pay your balances off in full each month as Schulz does, you'll never pay interest, so APR becomes a moot point.
However, if you regularly carry a balance, you should pay more attention to your card's interest rate. That way, you can better estimate what your monthly credit card bill will be, and know where you stand should you decide to negotiate a lower one with your credit card issuer.
Americans should check their credit score every month, but more than half aren't doing so
Despite how easy it is to check your credit score these days for free through services like the one offered by LendingTree or through their bank or credit card issuers, 55% of consumers don't make it part of their monthly routine.
Schulz says it's awesome that a good amount of people are taking advantage of free credit score availability, and encouraged more to get on board.
"One surprising reason why it is good to check your credit score is that it can be an early indicator that you've been a victim of identity theft," he says.
For example, if you notice a significant credit score drop, and you haven't done anything to cause it, it could be a red flag that someone has opened up an account or two in your name and hasn't paid them off. "If this happens to you, be sure to check your credit report immediately and flag any unusual activity to the credit bureaus," advises Schulz.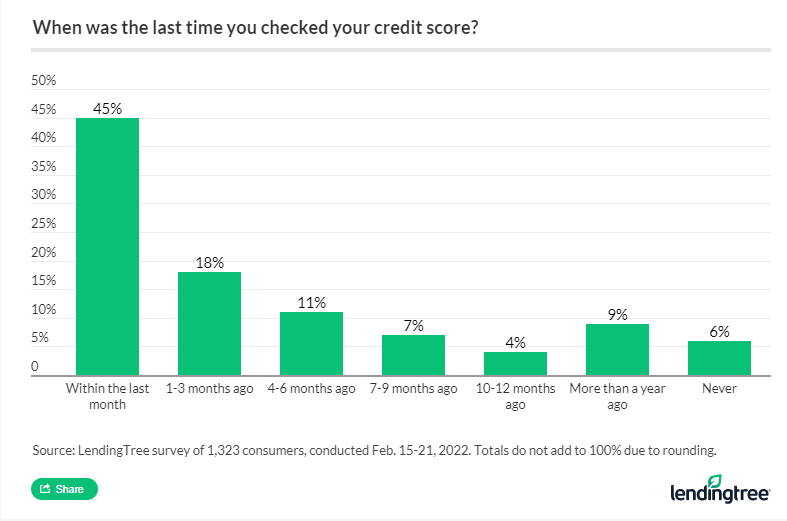 Pulling your credit report is a bit more time intensive, but the in-depth look at where you stand is worth putting on your calendar. However, 27% of respondents haven't looked at their credit report in over six months, while 16% of Gen Zers have never checked their credit report.
​​Schulz recommends that consumers check their reports at least once a year, at the bare minimum, but twice or more per year is better. "That's especially true now that free reports are available weekly from all three credit bureaus at AnnualCreditReport.com," he says. Though Schulz admits checking them each week would be overkill, the fact that free reports are available more often now than ever before is a good thing.
Another item that consumers shouldn't neglect is looking over their monthly credit card statements, but about a quarter of cardholders (and 4 in 10 Gen Zers) do just that. Skipping this task could mean that you don't catch mistakes or fraudulent transactions, or that you keep paying recurring subscriptions you no longer use or want.
Credit card gender gap: Women struggle to pay their bills in full and on time
When asked if they pay their credit card balances in full each month, 57% of men said they do versus 45% of women. The least likely to pay their bills down to zero were millennials at just 39%.
"Women often have so many more financial headwinds facing them than men do," says Schulz. "There's the earnings gap, the pink tax, the fact that they're far more likely to be head of a single-parent household, and plenty more, so I'm not surprised at all that women are less likely to pay their bills in full each month."
Women were also more likely to pay their credit card bills late: 54% versus 44% of men who said the same. On top of carrying a balance (and not always paying on time), 38% of women didn't know their credit card's interest rate (versus 32% of men), potentially making it more challenging for them to budget.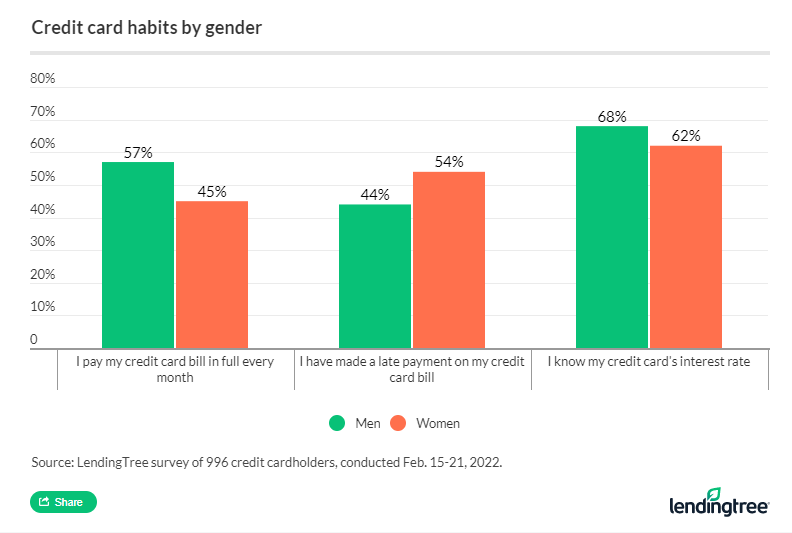 There is some good news for women: They tend to check their credit scores and credit reports more often than men. In the last month, 47% of women said they checked their credit score, and 42% checked their credit reports, compared to 43% and 39% of men, respectively.
"We've seen repeatedly over the years, in studies and reports we've done here at LendingTree, that women tend to be a bit more cautious and careful when it comes to their money," says Schulz. "It totally makes sense, especially considering just how small many women's financial margin for error is these days."
Rewards cards are common, but many aren't taking full advantage
Although 85% of cardholders have at least one card that allows them to earn rewards, more than half (55%) of cardholders say they don't always pay with a rewards credit card.
Schulz says that's basically leaving money on the table. "That's the last thing you should be doing if you're on a tight budget and living paycheck to paycheck."
Ideally, your rewards card should match your spending style. "For example, if groceries are what you spend the most on each month, you should consider looking at cards that give extra rewards for grocery shopping," says Schulz.
Most important, he adds, is to make sure you don't spend yourself into trouble. "Just don't overspend just to earn rewards. The math doesn't work out in your favor."
Consumers overwhelmingly find cash back cards to be more valuable than travel rewards, 85% versus 15%. Millennials are the group with the highest percentage saying they prefer travel rewards, at 20%.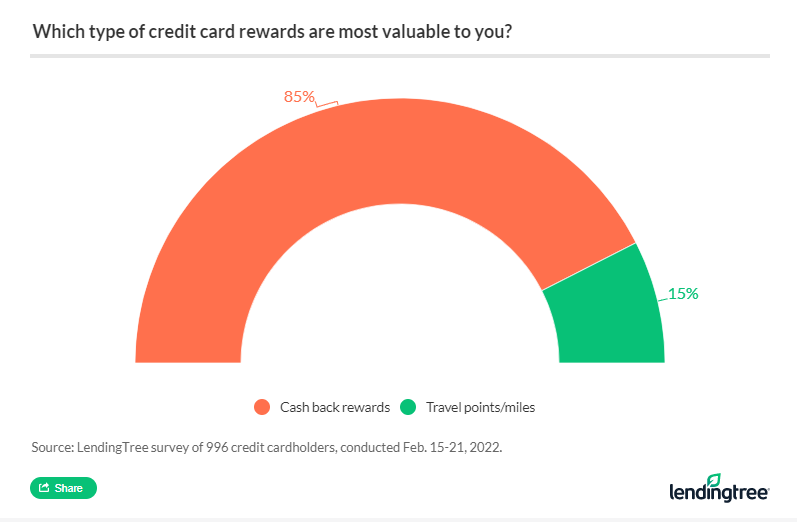 6 credit card mistakes to avoid
By dispelling credit myths and limiting behaviors that have a negative impact on your credit health, you can increase your score and improve your overall finances. Start by skipping these credit slip-ups:
Not doing credit checkups. "It's so easy now to track your credit that there's really no excuse for not keeping regular tabs on it," says Schulz. Look over your monthly statements and credit score, and take a closer look at your credit report a couple of times per year.
Ignoring the big three. "Credit is about paying your bills on time every time, keeping your balances low, and not applying for too much credit too often," says Schulz. Do those three things, and your credit score will improve.
Missing payments. It can be painful to witness the impact a single late payment can have on your credit score, so don't let it happen. Schulz recommends setting up autopay to make sure that you're at least paying the minimum payment every single month without fail.
Not maximizing the cards you have. "When you're on a budget, a few extra dollars a month can make a difference," says Schulz. The right rewards card can help you get some cash back or benefits for your regular spending.
Getting stuck in a debt spiral. Large balances can crush dreams and keep people stuck in place, but there are actions you can take to change it, says Schulz. "Look for a 0% balance transfer credit card or a low-interest personal loan to help you consolidate your debts and lower your interest payments. You can even call your card issuer and ask them to lower your primary card's APR."
The biggest mistake? Doing nothing, says Schulz. "Even a few baby steps, taken consistently over time, can make a real difference."
Methodology
LendingTree commissioned Qualtrics to conduct an online survey of 1,323 U.S. consumers from Feb. 15-21, 2022. The survey was administered using a nonprobability-based sample, and quotas were used to ensure the sample base represented the overall population. All responses were reviewed by researchers for quality control.
We defined generations as the following ages in 2022:
Generation Z: 18 to 25
Millennial: 26 to 41
Generation X: 42 to 56
Baby boomer: 57 to 76
While the survey also included consumers from the silent generation (those 77 and older), the sample size was too small to include findings related to that group in the generational breakdowns.