How Does LendingTree Get Paid?
LendingTree is compensated by companies on this site and this compensation may impact how and where offers appear on this site (such as the order). LendingTree does not include all lenders, savings products, or loan options available in the marketplace.
How Consumers Spend on Food Is Similar Across State Lines, but Some Can More Easily Afford It
Updated on: August 24th, 2021
Why use LendingTree?
We are committed to providing accurate content that helps you make informed money decisions. The content on this page has not been reviewed, approved or otherwise endorsed by any credit card issuer. We do maintain partnerships with some issuers, and our site may be compensated through those partnerships. Read our .
Everybody needs to eat, which means virtually everybody needs to buy food — one way or another. Across the U.S., food spending looks different in the cuisines favored and how people purchase meals. U.S. households spend an average of $323 a week on food, with $221 going toward meals prepared and eaten at home and $102 spent on food prepared elsewhere.
While income and food costs vary widely by state and household, consumers tend to share similar habits when allocating spending between food they prepare at home and meals prepared elsewhere, including delivery and dining out.
LendingTree researchers examined the latest U.S. Census Bureau Household Pulse Survey data to find how consumers break down their food spending in each state. Researchers then ranked states based on the percentage of income spent on food.
TABLE OF CONTENTS
Key findings
At 27.3%, Mississippi residents dedicate the highest percentage of their mean household income to food spending. Across states, consumers spend an average of 18.7% of their income on food, with folks in the District of Columbia spending the lowest percentage at 14.1%.
Consumers across states distribute food spending similarly between meals prepared inside or outside of their homes. Residents in D.C. spend the highest percentage — 36.2% of their weekly food spend — on restaurants, takeout or other prepared meals. Folks in Montana spend the lowest rate on outside food at 25.4% of their budget.
Households in Hawaii spend the most dollars on food — an average of $381 a week. A high mean household income in the Aloha State means this comes out to 18.6% of Hawaiians' total income. Residents in Wisconsin spend the least at $265 a week.
Higher income often means higher food spending, but not an endless buffet. Households with incomes of less than $25,000 a year spend an average of $281 a week on food, compared with households with incomes between $50,000 and $75,000 that spend $285 a week. Those making $200,000 or more up the ante, spending an average of $441 a week — just a $156 difference from the lowest income bracket.
Food spending by state
U.S. households spend $323 a week on average on food both prepared at home or prepared elsewhere, whether that be meals eaten at restaurants, delivered or picked up. While consumers in different states may disagree on where to spend their food money — Jack in the Box or In-N-Out? Kroger or Wegmans? — they do spend in similar amounts.
Despite a significant range in mean household incomes across states, the range between the state that spends the most on food and the least is relatively small.
Households in the District of Columbia, earn the most at $135,369 — more than double the $65,081 mean income in Mississippi, the lowest-earning state. It follows logically that Mississippi residents spend the highest portion of their income on food at 27.3%, while D.C. consumers spend the lowest at 14.1%. D.C. residents even spend more on food than Mississippians — $367 versus $342 on average in a week — but higher incomes in the nation's capital mean more money for other spending areas.
Consumers across the states distribute their food budgets similarly between food prepared at home and food prepared at restaurants or elsewhere. Across states, consumers spend an average of 30.7% of their food budget on meals outside of their homes.
The portions that each state's residents spend on food prepared outside the home only range nearly 11 percentage points, with D.C. consumers spending the most — 36.2% of their food spending — on outside food, compared with Montana consumers who spend the least — 25.4%.
Which states spend the most?
Dollar for dollar, states with higher mean household incomes tend to spend more on food. In fact, six of the states that spend the most money on food — regardless of where it's prepared — fall among the top 10 states with the highest mean household incomes.
Hawaii tops the list, spending the most on food each week at an average of $381. Though Hawaii ranks eighth in the nation for the highest mean household income, groceries on the islands tend to be the most expensive in the country, according to the Missouri Economic Research and Information Center.
California and D.C. follow the pattern, ranking No. 2 and No. 3, respectively, for dollars spent on food. D.C. residents have the highest average income in the country, while Californians rank sixth.
States that spend the most money on food
State
Weekly food spend
Mean household income
% of income spent on food
Hawaii
$381
$106,247
18.6%
California
$378
$113,563
17.3%
District of Columbia
$367
$135,369
14.1%
Nevada
$347
$86,946
20.8%
South Carolina
$345
$78,188
23.0%
Massachusetts
$343
$117,482
15.2%
Maryland
$343
$114,089
15.6%
Mississippi
$342
$65,081
27.3%
Washington
$339
$105,775
16.6%
Colorado
$339
$ 103,518
17.0%
High incomes allow folks in these states to spend less of their income on food, with seven of the 10 states that spend the most dollars on food spending less than 20% of their income here.
Conversely, Nevada, South Carolina and Mississippi find themselves among the top 10 states that spend the most. In doing so, they spend more than 20% of their incomes on food. While Nevada has the fifth-most expensive groceries in the country, high incomes help folks spend a smaller percentage of that income on food than in Mississippi, which has the eighth-cheapest groceries but the lowest mean household income.
Higher incomes might mean higher food spending, but to a limit
One might expect spending to vary widely between income brackets, but the disparity isn't huge. Those making less than $25,000 annually spend $281 a week. Households earning $50,000 to $74,999 spend $285 weekly, while those making $200,000 and up spend $441, a difference of just $156.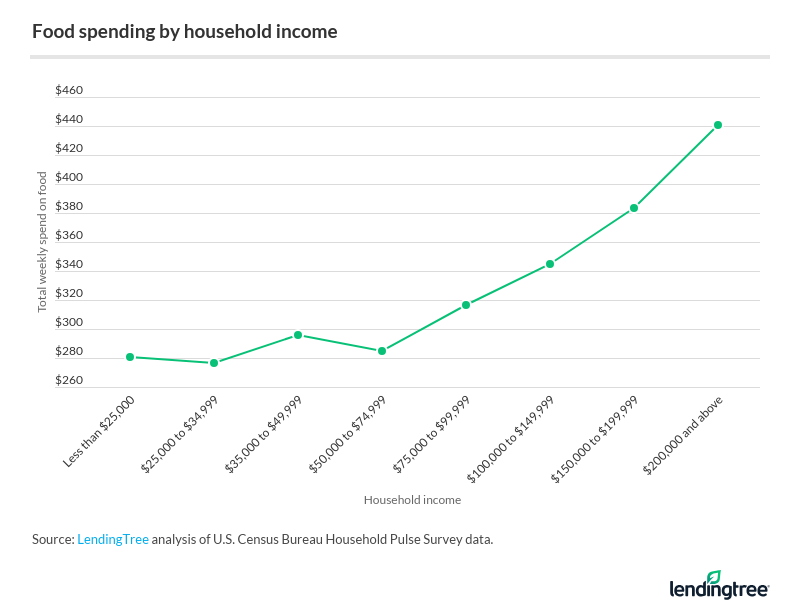 Further, consumers across income brackets share similar food-buying habits when comparing food purchased to prepare at home versus food made elsewhere. No income bracket reported spending more on food outside of their home than food to make at home.
While the proportion of food spending that goes to restaurants, takeout or other prepared options generally increases with household income — again — the disparity isn't huge. Those making less than $25,000 spend 27.6% of their weekly food budget on outside meals. Consumers in households making $50,000 to $74,999 annually allocate 29.8% to food outside of their homes, and those making $200,000 or more spend 37.8% of their food money this way.
In general, eating at restaurants or ordering in tends to be more expensive than cooking at home, leading some to assume those who make less money would be more inclined to dedicate more of their food spending to groceries. But LendingTree chief credit analyst Matt Schulz reminds us to consider the factor of time.
"The truth is that cooking at home can often take far longer than simply visiting the drive-thru or ordering takeout, and that extra time is simply a luxury that many lower-income folks just might not have," Schulz says. "They may not want to spend the extra money at the restaurant, but their schedule just might not give them much choice."
Everybody eats, but not everybody saves
Food insecurity and hunger continue to plague the U.S., with an average of 9.7% of consumers sometimes or often not having enough food to eat in a given week. While methods like couponing or researching prices to find the best places to shop can help folks save on food, credit cards can also help savvy shoppers.
"Food spending and credit card rewards go together like peanut butter and jelly," Schulz says. "Many, many cards offer extra rewards for everything from
dining out
to ordering in to
buying groceries
. That means that if you spend a big portion of your monthly budget on food and don't have a card that rewards you for that, you're likely leaving money on the table."
Of course, Schulz is not suggesting shoppers rack up credit card debt to pay for necessities like food. However, if used diligently and strategically, the right credit card can help consumers get rewarded and, in turn, save on groceries and dining out.
Using these tips can help you bring down your food bill or at least get more out of your food spending:
Plan ahead. Before you even set a budget for food, it's a good idea to make a plan for what you'll need. Whether you have the time to make meals in advance or not, going to the grocery store with a set list can help keep you from overspending on impulse buys.
Use credit card rewards to your advantage. As mentioned, there are numerous ways to use a credit card to help consumers save money. "Whether it is a cash sign-up bonus from a new card or just cash back or points earned for dining out or going to the grocery store, every little bit helps," Schulz says.
Explore your options. These days, there are so many ways to get food, from grocery delivery apps to meal kits to "ugly" produce sellers. Find the options available to you and compare prices to see where you might be able to save.
Methodology
To rank the states that spend the most on food relative to income, LendingTree researchers used the latest data from the U.S. Census Bureau Household Pulse Survey. Researchers used Week 34 data, fielded from July 21 to Aug. 2.
Specifically, analysts looked at the weekly amount spent on food at home and food away from home and compared it to the mean household income in each state. States are ranked based on where people spend the most on food as a percentage of income.