How Does LendingTree Get Paid?
LendingTree is compensated by companies on this site and this compensation may impact how and where offers appear on this site (such as the order). LendingTree does not include all lenders, savings products, or loan options available in the marketplace.
Gamers Spend More Than $400 on Entertainment During Coronavirus, Leading To Relationship Stress
Published on:
Content was accurate at the time of publication.
Why use LendingTree?
We are committed to providing accurate content that helps you make informed money decisions. The content on this page has not been reviewed, approved or otherwise endorsed by any credit card issuer. We do maintain partnerships with some issuers, and our site may be compensated through those partnerships. Read our .
Those looking to fill some of their newly found time at home while social distancing may be turning to video games for entertainment. Just over two-thirds of consumers have played some type of video game in 2020 — with millennials (81%) being the largest age group to do so, followed by an equal split between Gen Z and Gen X (both 77%).
With gamers spending more than $400 on average on video games in the past three months, some (38%) have even gone into debt. To look at how video game spending has changed this year and how it's affecting the spending habits, financial health and relationships of gamers, LendingTree surveyed over 1,000 Americans during early June 2020.
Key findings
Nearly 1 in 4 consumers — and 37% of millennials — are spending more on gaming now than they were prior to March 2020, when the coronavirus pandemic led to varied levels of stay-at-home orders across the country. On average, gamers have spent more than $400 on this type of entertainment in the past three months.
37% of those who play video games said their spending on gaming has caused a problem with a loved one, primarily with a current romantic relationship.
Gamers facing income loss due to the coronavirus pandemic are actually spending more than gamers who are not. The average gamer whose income was impacted spent about $424 on gaming since the pandemic started, while gamers whose income wasn't impacted spent just under $360.
38% of gamers say they have been in credit card debt due to their spending on gaming. A whopping 46% of Gen X gamers have racked up debt, as have 40% of millennial gamers.
Half of Americans made at least one gaming-related purchase within the past year, with video games (28%), in-app purchases (25%) and consoles (17%) taking the top spots.
43% of Gen Z and millennials consider themselves avid gamers, as do the same percentage of men. Across the larger population, 29% of consumers identify as a member of the gaming community, while an additional 33% said even though they sometimes play video games, they don't think of themselves as a member of the gaming community.
1 in 2 consumers have made a gaming-related purchase within the past year
While video games are a beloved pastime for many gamers, consumers who don't typically play games have begun to see the appeal while social distancing, as half of all consumers made at least one gaming-related purchase within the past year. Men in particular, as well as millennials and members of Gen Z, are more likely than others to have spent money on gaming.
And the spending doesn't stop with the game itself: More than half (54%) of gamers have spent money on downloadable content (DLC) to expand a game they already owned. Thirty-six percent did so to enhance their enjoyment of the original game, while 18% mainly wanted to become more competitive against other players.
While video games led the pack in gaming-related purchases made by all consumers in the past year (28%), other purchases included: in-app purchases (25%), video game consoles (17%), gaming subscriptions (16%), gaming controllers (13%), gaming headsets (10%), gaming computers (9%) and gaming chairs (5%).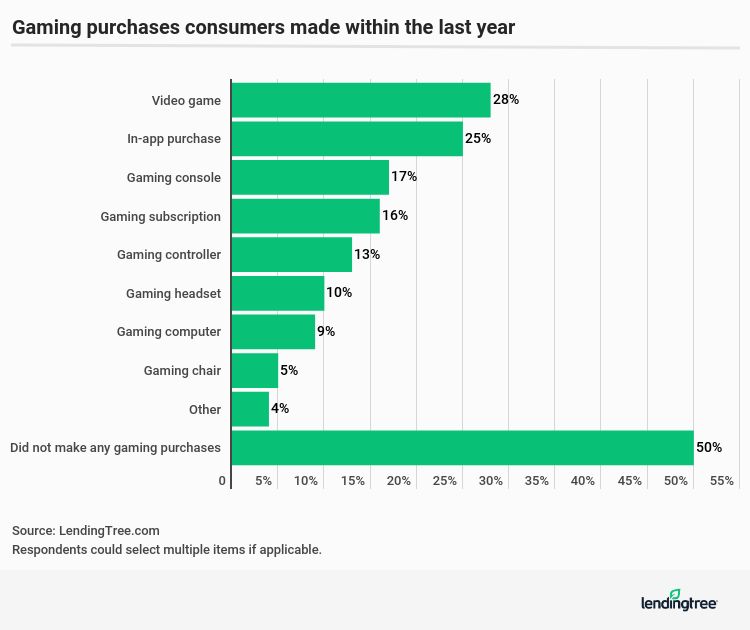 Average gamer spent more than $400 in the past three months
Nearly 1 in 4 consumers are spending more on gaming now than they were prior to March 2020, when varied levels of stay-at-home orders were implemented across the country. More men than women (37% vs. 10%) and millennials were most likely to up their gaming spending. Boomers seem to be the least interested in video games, with only 2% increasing their video game spending.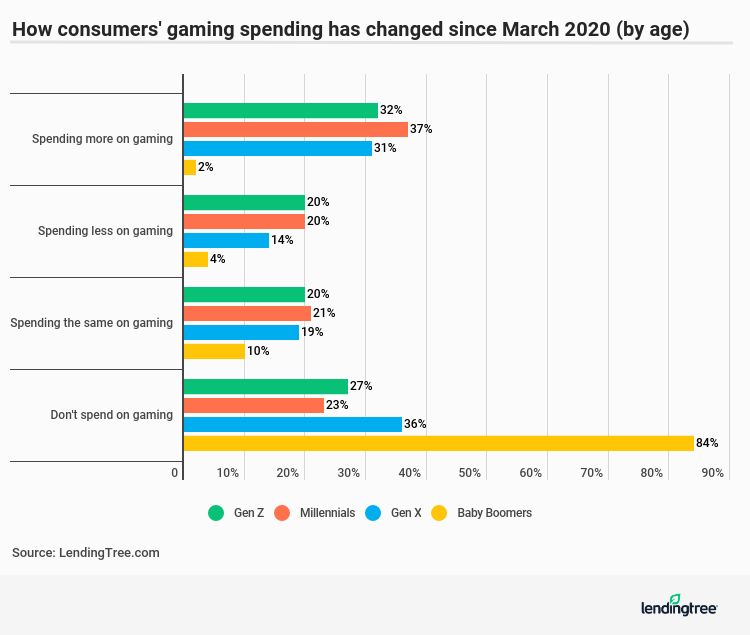 Throughout the past three months of the coronavirus pandemic, those who have spent money on gaming spent an average of $401.34. Gamers who are facing a loss of income spent even more — the average gamer who lost income or had their income decreased spent around $424 on gaming since the beginning of the pandemic, whereas gamers without impacted income spent just under $360.
"When you add in the fact that some unemployed folks may even have a little more money in their pockets than normal because of the extra unemployment benefits, that makes even more sense," said Matt Schulz, chief industry analyst at LendingTree. He noted that as long as you're budgeting properly during unemployment, video game spending doesn't have to be damaging.
"The danger comes when people go about spending without any planning or forethought," said Schulz. "The last thing anybody needs in these weird economic times is to do more damage to your finances."
Video game spending leads to debt and relationship conflict for some
While video game spending may seem harmless, some consumers are finding themselves in hot water due to their gaming habits. Video game spending has led 38% of people who play video games to go into credit card debt, particularly men (44%) and members of Gen X (46%) and millennials (40%). Some consumers may be making these potentially damaging financial choices while intoxicated, as 27% of Americans reported making a gaming-related purchase while they were drunk.
Overspending on video games, and debt, can cause more than just financial issues. Video game players are finding their overspending is contributing to relationship problems, as 37% admitted their spending on gaming has caused a problem with a loved one, 16% of which experienced issues with a current romantic relationship.
Male video game players in particular say they have experienced conflict with a romantic partner over video game spending, as 21% said their spending is affecting their current romantic relationship. Gen X is experiencing more struggles with their current romantic relationships (29%) than those of other generations due to this type of spending. Gen Z on the other hand, has mainly experienced conflict with family members (16%).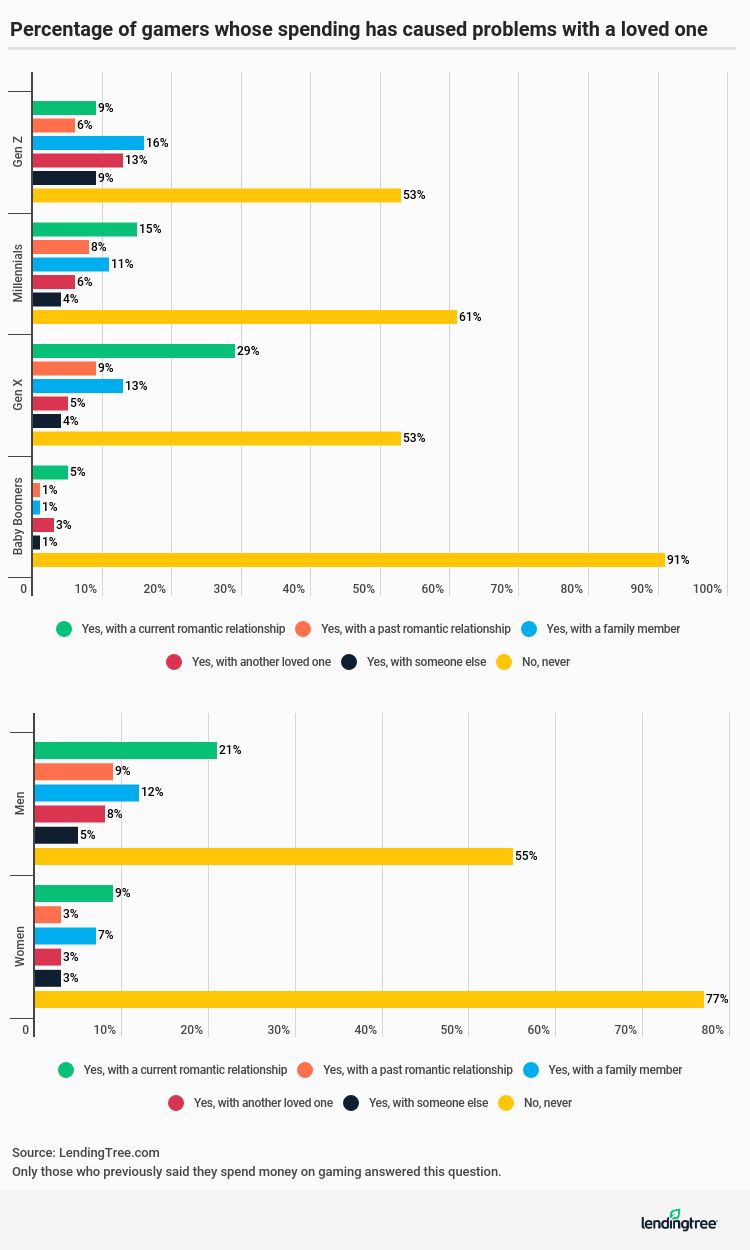 During what already may be a tense time at home, Schulz recommends avoiding creating additional conflict by overspending on video games: "All the quarantining and sheltering in place is trying enough on relationships, so the last thing you need to do is something that is going to make that worse."
Credit card tips for gamers
While racking up credit card debt in order to pay for video games and related expenses is not advisable, there are ways to use a credit card responsibly to help cover these entertainment costs. For example, 48% of those who play video games pay for related purchases with credit card rewards, such as cash back, at least some of the time.
Under more normal circumstances, it's typical for credit card users to save points for special purchases such as travel, but Schulz explained that right now many consumers may be turning to credit card points to cover basic expenses, and some credit card issuers are making this more of an option.
"We've seen credit card issuers who are now allowing people to use rewards points for groceries on cards where you couldn't before. The truth is, a lot of the conventional wisdom of what to do with rewards points has gone out the window, at least temporarily, and that's a good thing," Schulz said.
For some consumers who aren't falling behind on necessary expenses, using their credit card points to pay for fun purchases such as video games may be a smart choice.
"As much as you'd like to hold onto those points for some dream vacation or some bigger goal, sometimes the truth is you just need to be practical," said Schulz.
For gamers who have already racked up credit card debt, a balance transfer card may help make paying down high-interest credit card debt more affordable. If you can apply for a balance transfer card with an introductory 0% APR (generally ranging from 6 to 21 months), you won't accrue interest while paying down the debt during that time frame. Not having to pay interest can make the debt easier to manage, but if you don't pay off the debt before the introductory period is over, whatever balance is left over will be subject to the ongoing interest rate.
Schulz also noted that this balance transfer offers may be less available at the moment, as some banks are tightening lending and aren't opening as many new credit accounts, but he says it's still an avenue worth pursuing to save on interest if you have good to excellent credit.
For those in debt, Schulz also recommends cutting down unnecessary expenses and looking for other avenues to bring in extra income. But more importantly, he urges consumers in debt to create a budget.
"Not everyone has a budget, but it's really almost impossible to make a meaningful plan to attack debt if you don't have one, because it's important to know how much money is coming in and how much money is going out of your household each month."
Methodology
LendingTree commissioned Qualtrics to conduct an online survey of 1,041 Americans, with the sample base proportioned to represent the overall population. The survey was fielded June 2-3, 2020.
We defined generations as the following ages in 2020:
Gen Z are 18-23
Millennials are 24-39
Gen X are 40-54
Baby boomers are 55-74
Silent generation are 75 and older