How Does LendingTree Get Paid?
LendingTree is compensated by companies on this site and this compensation may impact how and where offers appear on this site (such as the order). LendingTree does not include all lenders, savings products, or loan options available in the marketplace.
Millennials Will Shell Out Nearly $1,000 Hosting December Holiday Parties
Published on:
Content was accurate at the time of publication.
Why use LendingTree?
We are committed to providing accurate content that helps you make informed money decisions. The content on this page has not been reviewed, approved or otherwise endorsed by any credit card issuer. We do maintain partnerships with some issuers, and our site may be compensated through those partnerships. Read our .
While the reason behind the season may have very little to do with spending money, in reality, celebrating the holidays can cost a pretty penny. All that travel, gift giving and merriment can really add up and wreak havoc on our budgets. And if you have your heart set on hosting guests this holiday season, you may want to start budgeting and saving now.
LendingTree surveyed more than 2,000 Americans and found that almost 30% of Americans plan to host December holiday gatherings and anticipate spending about $760 to provide their guests with drinks, food and gifts.
They also plan to deck the halls for their events, which adds to their expected spending.
Millennials, in particular, plan to spend big time on gatherings this December — $981 — more than any other generation reported. To help cover these expenses, 55% of millennials say they may have to take on debt to do so.
For more insight into Americans' holiday plans, what their spending is going towards this December and how much debt they plan to take on, let's take a look.
Key findings
Nearly 30% of Americans have firm plans to host December holiday gatherings at their home, expecting to spend about $760 on the occasion. Their most common expenses include food and drink, gifts for guests and home decor.
Millennial party hosts will spend $981 this December — more than any other generation — and 55% say they might incur debt as a result. Across holiday hosts of all ages, 44% say it's at least somewhat likely they'll incur related debt.
Americans who attend these December holiday parties (about 40% have plans to do so) will spend $213 on gifts for their hosts. 65% of Americans say they bring gifts for the host when attending a holiday party, but only 10% of hosts say they are offended when guests don't bring them a gift.
The perfect gift for a host is a nice bottle of wine or other alcoholic beverage, according to Americans (selected by 39%). That's followed by baked goods (18%) and plants or flowers (8%).
Costs involved in hosting a holiday party
Many enjoy a good party, but some of us are more likely to open our doors to guests than others — party planning is a lot of work after all. Who's the most eager to host this year? Nearly 30% of Americans have firm plans to have December holiday gatherings at their home, led by Gen Zers (40%) and millennials (35%). An additional 34% of respondents might join in the festivities, but don't have set party plans just yet.
Overall, party hosts expect to spend $760 to cover the costs of entertaining. Millennials plan to shell out more than any other generation as a part of their hosting duties and anticipate spending almost a grand on their holiday events ($981) in December. That's a whole lot of money on what is likely only one night of fun.

The most common reported expenses hosts expect to take on this holiday season include:
Decor for outside of the home (41%)
Decor for inside of the home (60%)
Food and drinks (89%)
Gifts for their guests (60%)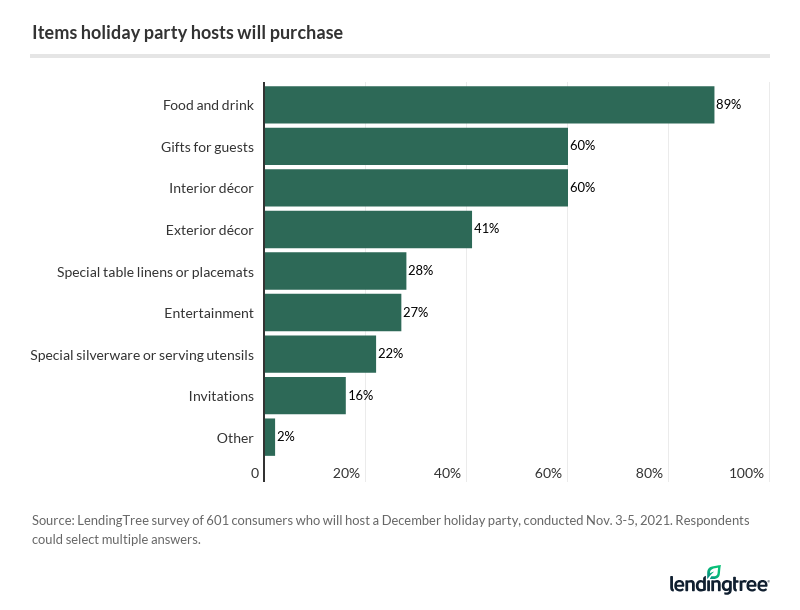 Some holiday party hosts will spend more than they can afford
Taking on big holiday party expenses is not something that everyone has room in their budget for.
Unfortunately, 44% of survey respondents believe it's at least somewhat likely they'll incur party-throwing debt. Millennials in particular are the most likely to take on debt, with 55% saying they might incur debt due to their holiday festivities. Baby boomers are the least likely to let their holiday party plans lead to debt, with only 2% believing they expect to incur debt and only an additional 11% feeling like they might go into debt because of hosting.
Matt Schulz, chief credit analyst at LendingTree, provides some insight into why so many consumers are willing to take on debt in order to finance their holiday parties. "Americans love few things more than a good party, and after the last two years with all we've been through, it makes all the sense in the world that people would be eager to throw a big one, even if it means a little bit of debt," Schulz explains. "The trouble comes when people overdo it too much and that little bit of debt ends up being a big problem."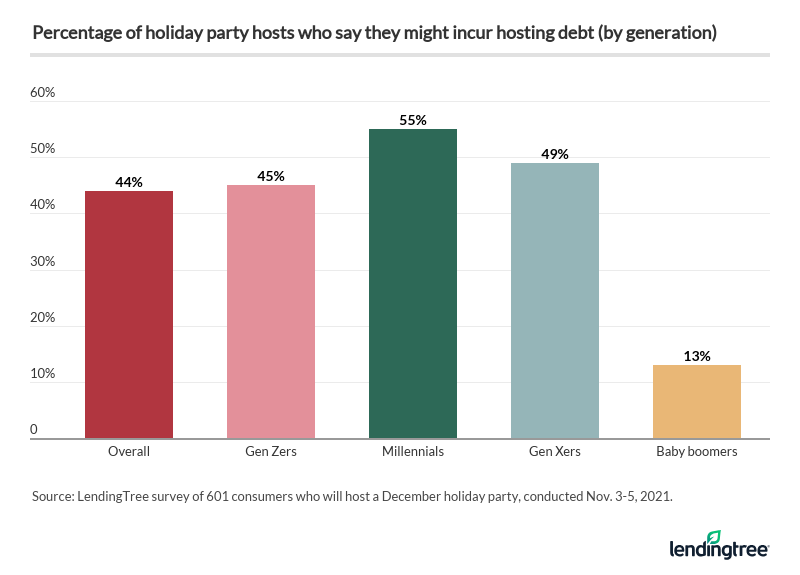 Millennial holiday hosts spend more than any other generation
Even though millennials aren't the most likely generation to throw a party this holiday season (that honor goes to Gen Z at 40%), millennials are the most likely to report they may take on debt in order to host guests at their home for holiday gatherings this December (55%). Millennial party hosts will spend nearly $1,000 ($981) this holiday season on hosting alone.
Let's take a closer look at what items millennials will be spending the most on.
Special table linens/placemats (35%)
Special silverware/serving utensils/serving bowls (28%)
Invitations (21%)
Decor for outside their home (47%)
Decor for inside their home (63%)
Food and drinks (86%)
Gifts for guests (62%)
Entertainment (35%)
Host gifts — how much to spend and are they necessary?
There's no better time than the holidays to show your friends and family how much you appreciate them. Nearly 40% of Americans plan to attend holiday parties this December, so it looks like a lot of partygoers will be enjoying the efforts of their hosts. To show their gratitude, 65% of Americans will bring gifts for the host when they attend a holiday party, with guests expecting to spend $213 on gifts for all of the different parties they will attend in December. Once again, millennials are the big spenders here and expect to spend $291 on gifts for their party planners this holiday season.
If buying a gift for a party host isn't in your budget, don't stress about it too much — your true friends won't give it a second thought if you show up empty-handed. Only 10% of hosts feel offended when guests don't bring along a gift, although that number jumps when your host is a millennial (16%). This higher level of offense may be caused by the fact that millennials are spending so much money of their own for these gatherings.
If you're still searching for the perfect host gift, survey respondents favor the following — a nice bottle of wine or other alcoholic beverage (39%), baked goods (18%) and plants or flowers (8%). Many of these popular gifts are quite affordable, so even if you're on a tight budget you can bring a small token of your gratitude to your next party. It's the thought that counts, not how much you spent. You can always skip the gift and send a thoughtful thank you card in the mail the next day — it's a real treat these days to get anything personal in the mail.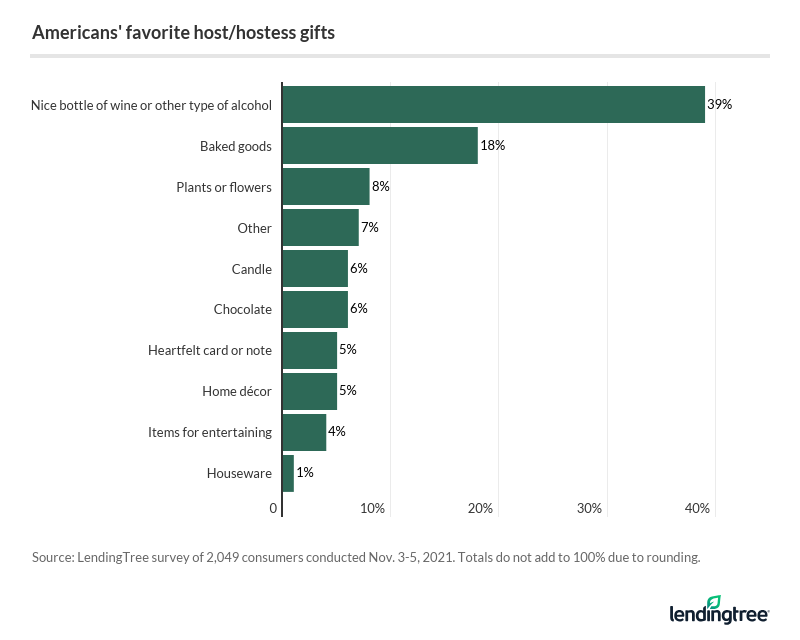 'Tis the season of spending: How to avoid holiday party debt
No matter how merry and bright your intentions are, going into debt to host guests this holiday season is not an advantageous financial choice to end the year on, especially since parties aren't the only big holiday expense you're likely to take on this time of year. Between gifts, decor and travel, holiday spending can mount quickly and so can debt.
To help consumers avoid taking on holiday hosting debt, Schulz is sharing a few helpful tips.
Open a 0% APR balance transfer credit card. According to Schulz, "A balance transfer card can be a godsend for folks with debt." Balance transfer cards can allow you to move high-interest debt to a new card that allows you to avoid interest charges for as long as 21 months, and that can dramatically reduce the total amount you pay on the debt and how long it takes to pay it off. "It's a big, big deal," Schulz says. You may even be able to get some credit card rewards for your spending.
Share the costs. Ask your friends and loved ones to pitch in to make the party better. Maybe it's about bringing food to a potluck or having the kids get creative with making decorations. There are plenty of ways to get others involved and keep party costs down.
If money is tight, tell people. "You don't have to open your books to them, but just being honest and saying that you might have to dial the party back a bit this year is important," Schulz explains. "It might make for some awkward conversation, but more than likely, your friends and loved ones will understand, and they might even offer to pitch in and help."
Shop around. "The oldest, simplest advice is still the best," Schulz notes. "Take the time to compare prices, and chances are that you'll end up saving more than a few bucks." He urges consumers not to overlook the bargain bins or clearance racks at their local brick-and-mortar stores.
You probably don't need entirely new decorations and such this year. The tablecloths, napkins, candles and other things that have been sitting in your closet for the past year or two will likely do just fine for this year's party. "And trust me, no one remembers how you decorated in previous years anyway, so no one will judge you if it all looks the same," Schulz advises. Don't forget to make use of the decorations you picked up for your Thanksgiving festivities and save what you can for any upcoming New Year's Eve celebrations!
Methodology
LendingTree commissioned Qualtrics to conduct an online survey of 2,049 U.S. consumers from Nov. 3-5, 2021. The survey was administered using a nonprobability-based sample, and quotas were used to ensure the sample base represented the overall population. All responses were reviewed by researchers for quality control.
We defined generations as the following ages in 2021:
Generation Z: 18 to 24
Millennial: 25 to 40
Generation X: 41 to 55
Baby boomer: 56 to 75
While the survey also included consumers from the silent generation (those 76 and older), the sample size was too small to include findings related to that group in the generational breakdowns.