How Does LendingTree Get Paid?
LendingTree is compensated by companies on this site and this compensation may impact how and where offers appear on this site (such as the order). LendingTree does not include all lenders, savings products, or loan options available in the marketplace.
Record Percentage of Americans Hosting Thanksgiving Dinner, Spending $392 on Average
Updated on:
Content was accurate at the time of publication.
Why use LendingTree?
We are committed to providing accurate content that helps you make informed money decisions. The content on this page has not been reviewed, approved or otherwise endorsed by any credit card issuer. We do maintain partnerships with some issuers, and our site may be compensated through those partnerships. Read our .
Thanksgiving 2020 is a blur for many families who decided to scale things back or cancel the holiday altogether because of the coronavirus pandemic. But this year, Turkey Day is poised to make a comeback — a record percentage of Americans plan to host the holiday, according to LendingTree's latest survey of more than 2,000 Americans.
Despite the widely reported price increases of Thanksgiving staples due to inflation, hosts are still planning to spend an average of just under $400 — though that's 18% less, on average, than last year.
The likely reason? Millions of Americans are still struggling financially because of the pandemic, says Matt Schulz, LendingTree chief credit analyst.
"As much as they'd love to blow out the holidays with a big celebration, they just can't afford to," he says. "They still want to get together, but they just need to do it a little more on the cheap than in other years."
Find out what else Thanksgiving has in store for Americans this year.
Key findings
A record percentage of Americans plan to host Thanksgiving dinner this year. Nearly half — 47% — expect guests, up from 41% in 2020 and 33% in 2019.
Consumers expect to spend an average of $391.60 to host Thanksgiving, down 18% from 2020. Millennial hosts expect to pay the most — $461.20, on average — while baby boomers expect to spend the least — $232.40, on average.
Consumers are increasingly taking on debt to host Thanksgiving. 44% of hosts plan to take on debt this year, compared with 38% in 2020, 27% in 2019 and 28% in 2018.
Hosts are less likely to stick to a budget this year, possibly due to uncertainties around supply chain shortages. Only 27% have a "very firm" budget, down from 39% in 2020, while 21% don't have a budget at all (up from 16%).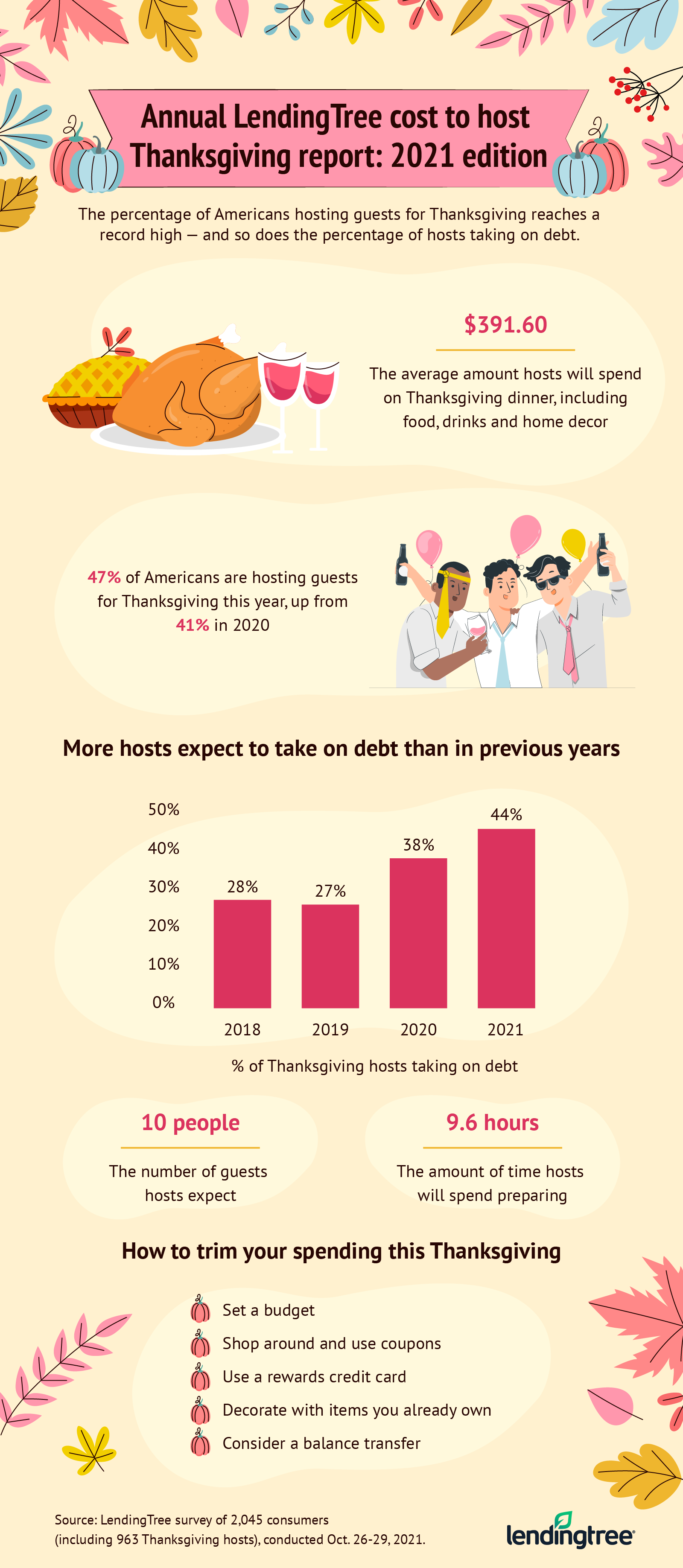 47% of Americans plan to host Thanksgiving — the highest percentage in three years
There's a huge, undeniable desire to return to some semblance of normalcy — including a traditional holiday gathering with family and friends. This year's percentage of people expecting to host Thanksgiving — 47% — is up from 2020, when it was 41%, and even more so from 2019, when it was just 1 in 3 respondents.
"Many people are definitely making up for lost time this holiday season," Schulz says. "More people are vaccinated, and some even have gotten booster shots, so people are feeling more comfortable with getting together."
Younger Americans — millennials (ages 25 to 40) and Gen Zers (ages 18 to 24) — are the most likely to play Thanksgiving hosts this year, possibly as "Friendsgiving" celebrations and reunions have gotten more popular. More baby boomers (ages 56 to 75) are hosting this year than in 2020 (36% versus 22%), too, likely because they feel less vulnerable to COVID-19 since the vaccination rollout.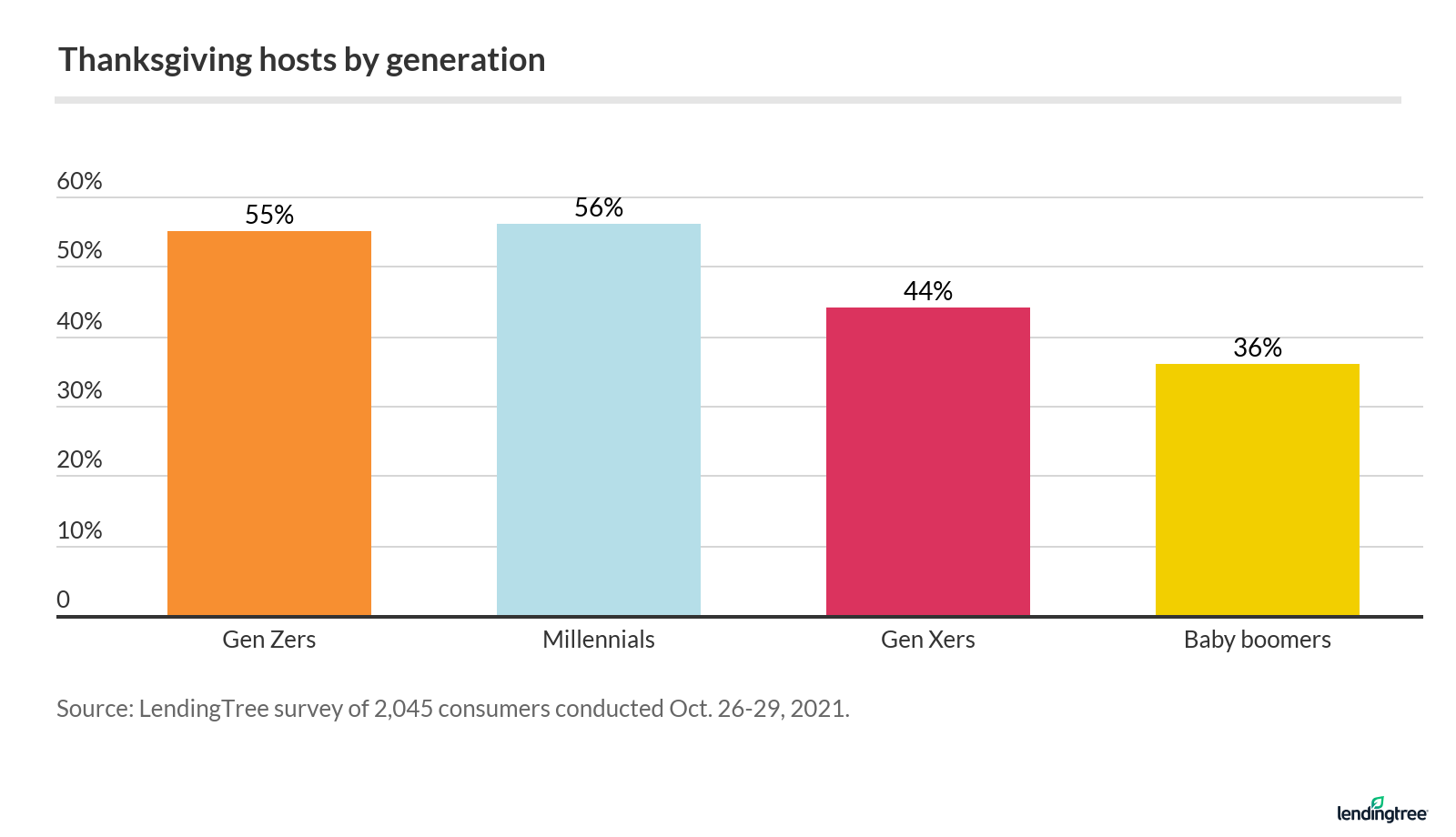 Another rise this year is in the expected number of dinner guests — an average of 10 — which has returned to pre-pandemic 2019 levels. Last year, the average was nine guests, so this does away with potential speculation that the increased number of people hosting is because there will be more, smaller gatherings.
And even after pie's been served, the hosting duties aren't over, with respondents saying they expect an average of three guests to spend the night.
What it takes to get ready for Thanksgiving
Thanksgiving prep work is no joke, with hosts expecting to spend an average of 9.6 hours preparing for the feast — up from 8.6 hours last year — perhaps to make this year extra special.
What's more, 47% say they or someone in their household will take time off work to shop, cook and/or prepare the house. Among Gen Z hosts, 68% will miss some work hours, the most of the age groups.
Average expected spend is $391.60, down 18% from 2020
Thanksgiving hosts estimate that food and drink will cost $298.10, with another $93.50 for items like paper goods, linens and decorations. All total, the expected budget comes in at $391.60, a big drop from last year's splurge anomaly of $475. Like last year, millennials expect to spend a bit more than other age groups at $461.20, but that's still much less than 2020's $556.46.
Given that expected spending in pre-pandemic times was in the low $300s, 2021 is poised to level off last year's bigger-than-expected increase.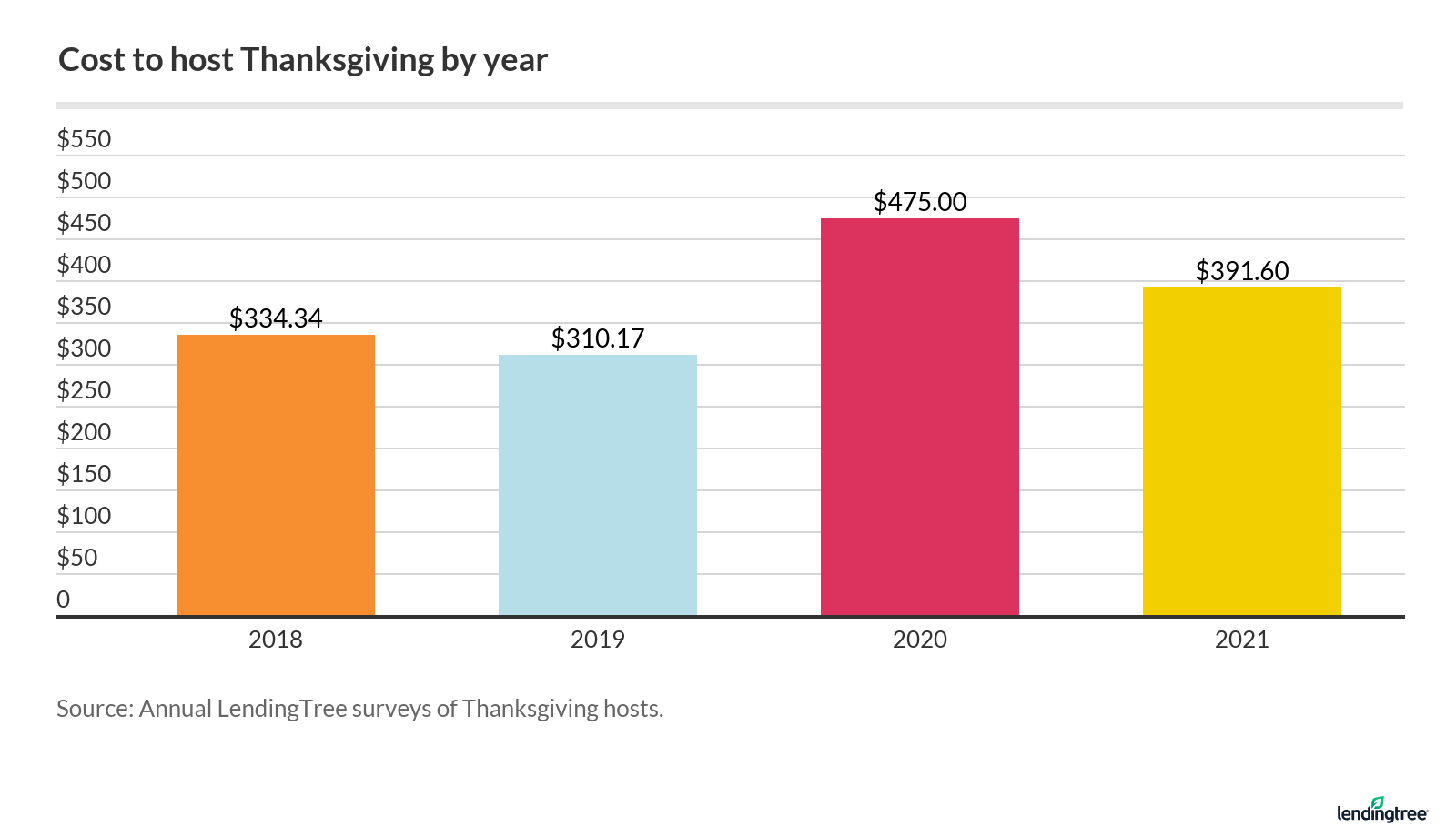 Even with spending expectations lower, Thanksgiving will cause financial strain for 3 in 10 hosts. That jumps to 40% among millennials, which makes sense since they're spending the most.
Nearly half of hosts expect to take on debt to host Thanksgiving
In this year's survey, the percentage of Americans who expect to go into debt to fund their Thanksgiving duties is the highest it's been in the past four years: 44% in 2021, compared with 38% in 2020, 27% in 2019 and 28% in 2018.
When coupled with another recent LendingTree survey, which found that 13% of consumers are still paying off last year's holiday bills, this Thanksgiving could be stretching wallets in addition to waistlines.
Using a credit card
The most common tool people will be relying on is credit cards, with 39% planning to pay with plastic — but that doesn't necessarily have to be a bad thing. Credit card rewards can help you extend your holiday budget if used wisely, Schulz says.
"For example, many cards are now offering $100 or more as a sign-up bonus for spending $500 to $1,000 with the card," he says. "That extra $100 can really make a difference."
And if you have a card that earns bonus points on grocery spending, your turkey dinner will reap future rewards, too.
Using 'buy now, payer later'
A smaller percentage (5%) plans to use a "buy now, pay later" service.
"For folks with thin or poor credit,
buy now, pay later
loans can be a good, low-cost option to extend their budget without the long-term commitment of a credit card," says Schulz.
They're relatively easy to get, and typically come without the sky-high rates associated with a card. Just be mindful of when payments are due: "They often require payments every two weeks rather than every month, so it can be easy to miss a payment, which can damage your credit," Schulz notes.
Using other options — and some good news
While only 2% say they'll borrow money in another way, it's wise to weigh such options carefully.
"Personal loans are typically best used for things like debt consolidation and home remodeling rather than holiday shopping, so a credit card or a buy now, pay later loan might be a better choice," Schulz says.
As for some good news, nearly two-thirds of those using credit cards expect to pay it off in one billing cycle.
"Job No. 1 for anyone with a credit card is to pay it off as soon as you possibly can, so the fact that so many people say they expect to do just that is amazing," he says.
The key is for those respondents to stick to that plan, especially with holiday shopping right around the corner.
Thanksgiving and budgeting: What's on the menu for 2021?
Overall, around 8 in 10 Thanksgiving hosts will be working with a budget, with 53% saying they are keeping it flexible (up from 46% who said the same in 2020).
"I do think that a lot of the uncertainty that is out there thanks to inflation, supply chain issues and other factors is likely affecting how people are handling their budgets, and that's a good thing," Schulz says. "Budgets should be living, breathing, malleable documents, and that's especially true in weird economic times like those we currently face."
Still, 27% plan to stick to a very firm budget, down from 39% who said so last year.
And more hosts may be gravitating toward a potluck-style Thanksgiving, or at least one with shared expenses. In 2019, 64% said they didn't expect any offers from guests to help cover costs, while just 57% said the same in 2020. This year, the percentage is down again to 47%, meaning more than half are getting some financial help.
To help defray costs even more, one-third of consumers say they will both shop around and use coupons this year (up 3 percentage points from 2020). Baby boomers and Gen Xers (ages 41 to 55) are the more savvy shoppers when it comes to combining comparison shopping with couponing, however, with 39% and 37%, respectively, claiming they will do both.
4 ways to trim your Thanksgiving host spending this year
All this turkey talk has 54% of respondents at least somewhat stressed over hosting duties.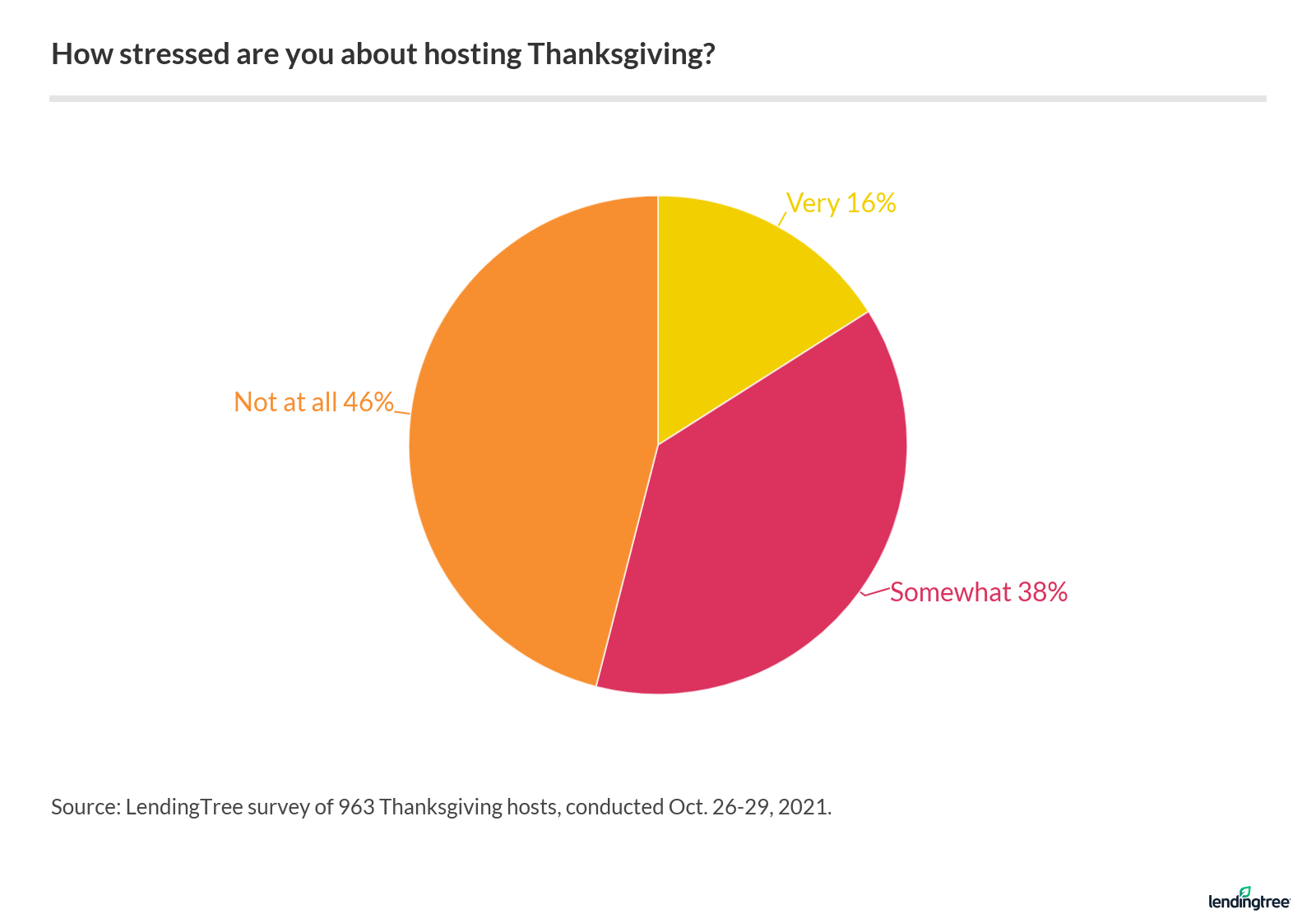 One way to ease some anxiety is to cut costs. Try these strategies to keep your Thanksgiving spending in check:
Cook up some credit card budget assistance. Lots of cards are offering 0% interest on purchases for a year or more. Or, if you're carrying debt, you might consider a balance transfer credit card "That can be a great way to buy a little bit of extra time to pay for those holiday purchases," Schulz says. Just make sure that you're comfortable with managing another credit card; otherwise, it can be a recipe for trouble.
Look for a second helping of savings. Hosts could trim their spending by shopping around and using coupons, but almost half do one but not the other (48%) — and some aren't bargain-hunting or clipping at all (19%). "It might be easy and time-efficient to just do all of your shopping in one spot, but the truth is that shopping around can save you real money this holiday season and is usually well worth the effort," Schulz says. Bonus tip: See if your supermarket offers a free turkey promotion.
Invite everyone to contribute to your feast. According to Schulz, tapping your friends' and family's creativity can really help keep your Thanksgiving budget in check. Ask guests to bring a side, dessert or wine. Then, have the kids make decorations for your celebration rather than buying a bunch of stuff you'll only use once a year. If there aren't any crafty types in your family, look for low-cost decor and paper goods at dollar stores or in the bargain bins of your favorite stores.
To grandmother's recipes you'll go. Baking and cooking — rather than purchasing overpriced bakery items and catering — will save you big time.
Methodology
LendingTree commissioned Qualtrics to conduct an online survey of 2,045 U.S. consumers (including 963 Thanksgiving hosts) from Oct. 26 to Oct. 29, 2021. The survey was administered using a nonprobability-based sample, and quotas were used to ensure the sample base represented the overall population. All responses were reviewed by researchers for quality control.
We defined generations as the following ages in 2021:
Generation Z: 18 to 24
Millennial: 25 to 40
Generation X: 41 to 55
Baby boomer: 56 to 75
While the survey also included consumers from the silent generation (those 76 and older), the sample size was too small to include findings related to that group in the generational breakdowns.