How Does LendingTree Get Paid?
LendingTree is compensated by companies on this site and this compensation may impact how and where offers appear on this site (such as the order). LendingTree does not include all lenders, savings products, or loan options available in the marketplace.
Thanksgiving Spending Up 53% in 2020, Despite Smaller Gatherings During Coronavirus Pandemic
Published on:
Content was accurate at the time of publication.
Thanksgiving is a time for gathering over a meal with friends and family, but the holiday will look a lot different this year as a result of the coronavirus pandemic. Compared with years past, more people are hosting and spending more money to celebrate but with slightly smaller Thanksgiving get-togethers in 2020, a LendingTree survey of 2,042 Americans found.
See what we learned from our annual Thanksgiving spending survey.
Key findings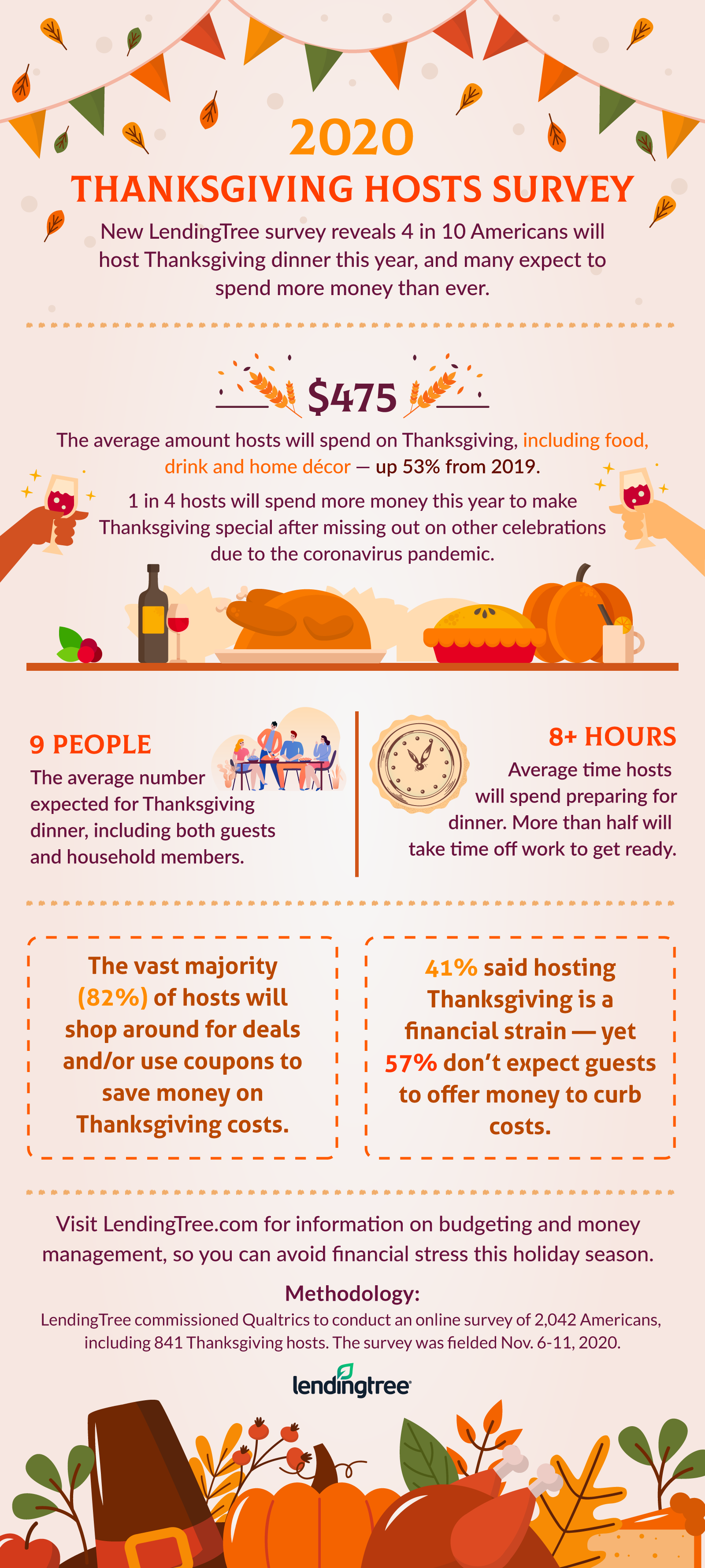 Thanksgiving hosts will spend $475, up 53% from 2019
The cost of putting an extravagant meal on the table for Thanksgiving isn't small potatoes. This year, Thanksgiving hosts expect to spend $475 on the holiday, up from $310.17 in 2019. They're expecting to shell out $343.26 on food and drink, plus $131.74 on new housewares, like dishes, furniture, linens and décor. Hosts will spend an average of $52.78 per guest.
About a quarter (24%) of hosts expect to spend more this year to make Thanksgiving really special, since they've had to miss out on other celebrations due to the coronavirus pandemic. Some hosts (16%) expect to spend less this year due to the economic impact of the coronavirus pandemic, while 10% expect to spend less this year because they'll have fewer guests.
It's fun to get in the holiday spirit, especially for those who missed out on other celebrations due to COVID-19. However, hosts should be wary of getting carried away with their spending, according to Matt Schulz, LendingTree's chief credit analyst.
"This has been such a trying, exhausting year for virtually everyone, so I'm not surprised at all to see people going a little overboard this Thanksgiving to make up for it," Schulz said. "It's totally understandable to want to do so, but it's really important that you don't make a bad year worse by spending yourself into debt."
Many hosts don't have a firm budget
Setting a budget can help you keep your Thanksgiving-related costs in check, but our survey found that most hosts don't have a set budget. Two in five hosts (39%) have a "very firm" budget, while 46% have a flexible budget. One in six (16%) don't have a budget at all.
Most hosts plan to use coupons and/or shop around for the best price on their Thanksgiving purchases. About a third (32%) of consumers plan to use coupons, and one in five will shop around for the best price, but won't cut coupons. A select few price-conscious hosts (30%) expect to both shop around for deals and use coupons when shopping for Thanksgiving — an even smaller minority (18%) won't do either.
More people are hosting Thanksgiving — with less guests
Thanksgiving celebrations are slightly smaller this year, perhaps due to the coronavirus pandemic. The average number of guests (including household members) per host dropped from 10 to nine between 2019 and 2020. The percentage of Americans who are hosting Thanksgiving also increased from 33% last year to 41% this year. These findings go hand-in-hand: More people are hosts, and less people are guests, which makes for smaller gatherings.
"Big holiday gatherings are always fun, but not when COVID-19 is one of the potential guests, so keep that Thanksgiving dinner small and intimate this year," Schulz said. "There will still be plenty of fun to be had."
It makes sense to host a smaller Thanksgiving dinner as a result of the coronavirus pandemic. With less loved ones occupying a shared space, there's a lower chance of transmitting the virus that causes COVID-19. In fact, some states even set limitations on indoor gatherings ahead of the holiday: In North Carolina, where LendingTree is based, indoor gatherings are limited to 10 people or less.
Younger generations twice as likely to host as the oldest generations
Our survey found that Americans over 55, who are more likely to get severely ill from COVID-19, are much less likely to host Thanksgiving than their younger counterparts. Americans under 40, including Gen Z and millennials, were more than twice as likely to respond that they were hosting Thanksgiving when compared with baby boomers and the Silent Generation, who are 55 and older: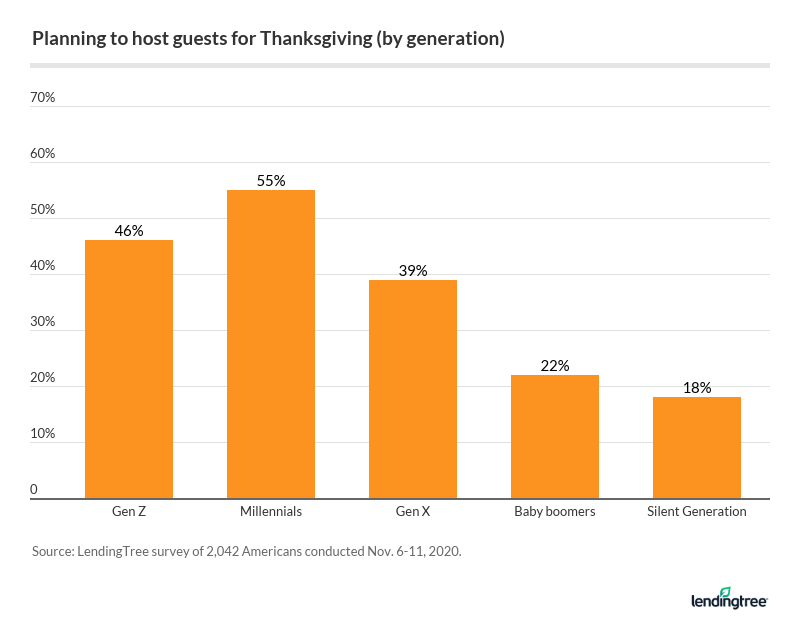 "It's no secret that younger generations have been more likely than their elders to feel invincible in the face of COVID-19. I suspect that is at play here," Schulz said. "Still, even if their health hasn't been impacted, many Gen Zers and millennials have been devastated financially by the outbreak, so hosting a Thanksgiving dinner could put a strain on their budgets."
Schulz recommends that younger Americans still keep gatherings intimate, making a budget and being thoughtful in party planning: "Your guests will thank you."
41% say hosting Thanksgiving puts a strain on their finances
However Americans choose to celebrate the holiday this year, one thing remains true: Thanksgiving costs can add up. For about two in five hosts, Thanksgiving is a financial strain. This feeling is most prevalent among Americans under 40, including Gen Z and millennials.
Furthermore, 38% of hosts are planning to borrow money to cover Thanksgiving costs, including charging a credit card or taking out a holiday loan. Of the people who will borrow money, 43% won't pay it off within one billing cycle, potentially accruing interest charges to pay for holiday-related costs.
Still, most don't expect guests to pitch in
Hosting a gathering comes with many responsibilities, from meal prep to cleanup — and if you're lucky, your guests will help with the latter. Hosting also comes at a cost, and for most people, the burden isn't shared.
While a little over a third (36%) of hosts expect that guests will offer money or other gifts to help defray Thanksgiving-related expenses, most (57%) do not. Another 8% of hosts are unsure if guests will offer money, so it's not advisable to count on guests to pitch in if you're working through your Thanksgiving budget.
Thanksgiving prep is a full day's work, taking 8+ hours
Anyone who's hosted a Thanksgiving dinner knows the amount of work that comes along with putting together the perfect meal. It takes a lot of planning to ensure that all the dishes come out hot at the same time, and this year's hosts don't underestimate the power of prep work. Thanksgiving hosts will spend about 8.6 hours getting ready for the holiday, including cooking, shopping and preparing the house.
Many hosts will take time off work to do so, potentially losing out on income. According to the survey, more than half (52%) of hosts said that they or someone in their household will take time off work to prepare for Thanksgiving dinner. Americans under 40 are doing so at the highest rate: 68% of Gen Z hosts and 60% of millennial hosts said they'll take time off for the holiday.
42% of hosts are worried about heated conversations over dinner
One underrated quality of a good dinner host is the ability to diffuse tense conversations, but even the most seasoned hosts may not be able to guide the conversation in a positive direction during an election year.
More than one in five hosts (22%) are nervous their guests will get into a political debate at the dinner table, while 15% are concerned their guests will argue about the coronavirus pandemic. Another 10% are worried their guests will bring up family drama. In all, 42% of hosts are worried about the conversations that will take place over Thanksgiving dinner.
3 in 5 hosts are at least somewhat stressed about hosting Thanksgiving
From cooking to cleaning, Thanksgiving can be stressful for even the most level-headed hosts. When you throw in financial strain and the potential for divisive conversations among guests, it's no surprise that 60% of hosts are at least somewhat stressed leading up to the holiday.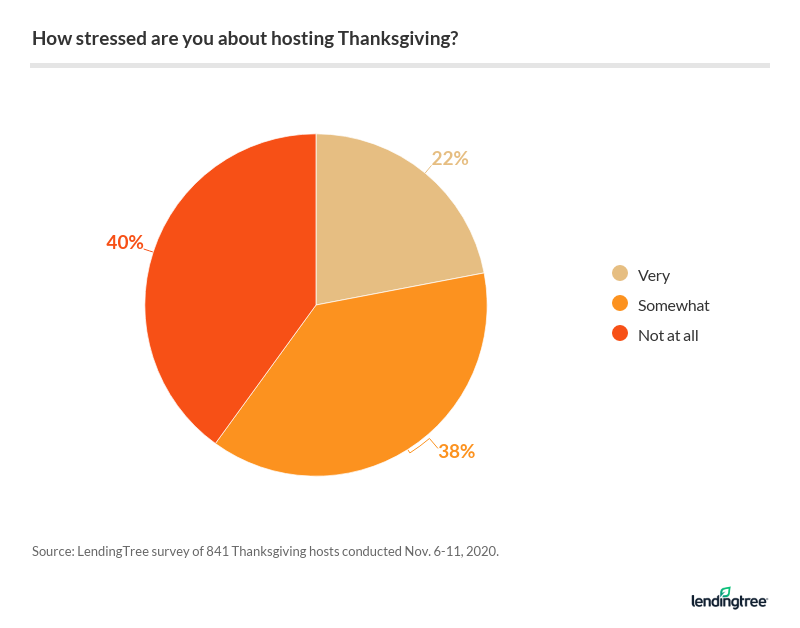 Notably, older Americans said they find the stress much more manageable than their younger counterparts. Here's the age breakdown for hosts who replied that they weren't stressed at all:
Gen Z: 25%
Millennials: 34%
Gen X: 42%
Baby boomers: 65%
Silent Generation: 78%
It's worthwhile to consider that older Americans have had years to master the skills of mitigating political arguments and multitasking in the kitchen. With decades of Thanksgiving feasts under their belts, it's no wonder why they're more equipped to manage the stress of the holiday.
Methodology
LendingTree commissioned Qualtrics to conduct an online survey of 2,042 Americans, including 841 Thanksgiving hosts. The survey was fielded Nov. 6-11, 2020.
We defined generations as the following ages in 2020:
Generation Z: 18 to 23
Millennial: 24 to 39
Generation X: 40 to 54
Baby boomer: 55 to 74
Silent generation: 75 and older