How Does LendingTree Get Paid?
LendingTree is compensated by companies on this site and this compensation may impact how and where offers appear on this site (such as the order). LendingTree does not include all lenders, savings products, or loan options available in the marketplace.
69% of Cardholders Have Paid a Credit Card Processing Fee, but 57% Think It Should Be Illegal
Updated on: September 11th, 2023
Editorial Note: The content of this article is based on the author's opinions and recommendations alone. It may not have been reviewed, commissioned or otherwise endorsed by any of our network partners. This site may be compensated through a credit card partnership.
Nearly 6 in 10 credit cardholders say it should be illegal for merchants to charge a customer extra because they chose to pay with a credit card, according to a new LendingTree survey.
It's common for merchants to tack on this extra charge, with 69% of cardholders saying they've faced one. Merchants do so to recoup what they pay to credit card networks, banks and credit unions for the privilege of accepting plastic in their stores — so-called swipe fees that typically total 1.5% to 3.5% of each transaction. It's legal in most states to charge people extra for buying with a credit card; however, most cardholders think that needs to change.
Key findings
More than two-thirds of cardholders say they've been charged extra for buying with a credit card, but they say transparency can be lacking. Nearly 7 in 10 cardholders (69%) know they've had a merchant charge them extra for paying with a credit card, but 32% of them say the merchant didn't warn about the fee before the transaction. Most cardholders (92%) agree businesses should be transparent about credit card surcharges before the payment processes.
Most cardholders think it should be illegal for merchants to tack on fees for paying with a credit card. 57% of cardholders think charging consumers processing fees should be illegal — that includes 63% of women and 62% of Gen Xers.
Plastic may be popular among Americans, but processing fees and their downstream implications are widely misunderstood. About 4 in 10 cardholders (39%) don't know that credit card companies make money on interchange or swipe fees — the transaction fees that merchants must pay to accept credit cards. Cardholders are far more likely to know that card companies make money off fees charged to cardholders (just 27% didn't know) and interest paid on outstanding balances (only 14%). About half of cardholders (52%) know that credit card companies can make money from all three of these things.
More surcharges equals less credit card use, cardholders say. 73% of cardholders say they wouldn't continue using their credit cards as much if they had to pay a surcharge to merchants each time — that includes 84% of women and 80% of Gen Xers. If given the choice, half of cardholders would prefer that businesses include processing fees for products in the price instead of applying a surcharge.
Few know that the government has stepped in to try to curb some of these fees, but support is high among those who do. About a quarter of cardholders (23%) are aware of the proposed Credit Card Competition Act that would require credit card issuers with assets of more than $100 billion to include at least two possible network processors on each card. Of those who are aware, 72% think it should be passed.
Credit card surcharges are common but aren't always done transparently
More than 2 in 3 credit cardholders (69%) say they've been charged extra for using a credit card when buying something. Compare that to the 21% who say they haven't and 10% who aren't sure.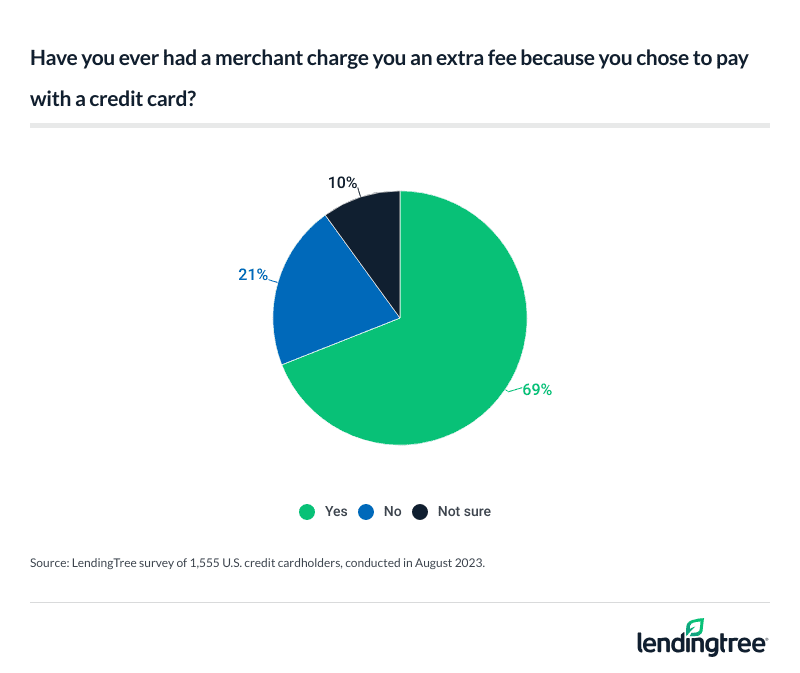 The higher your income, the likelier you are to have faced one of these charges: 79% of those making $100,000 or more a year have, while just 59% of those making less than $35,000 a year have. Millennials (ages 27 to 42) (74%) and men (72%) are also highly likely to have been charged these fees.
Unfortunately, respondents say merchants haven't always been upfront about the fees. Nearly one-third (32%) of those charged the extra fee say they weren't told about it before the transaction. That's a problem because, generally speaking, merchants are required to provide notice about the surcharge at the entrance to their store and the point of sale. For online sales, notice has to be included on the checkout page. Our data seems to indicate that those disclosures aren't happening or that customers simply aren't seeing them before they buy, meaning the disclosures may not be sufficient.
Most cardholders think these extra fees shouldn't be legal
It should be no surprise to anyone that cardholders don't like getting charged extra just to buy something with a credit card. However, our survey shows that credit cardholders' feelings about surcharges run far deeper than that. In fact, most cardholders don't think these fees should even be legal.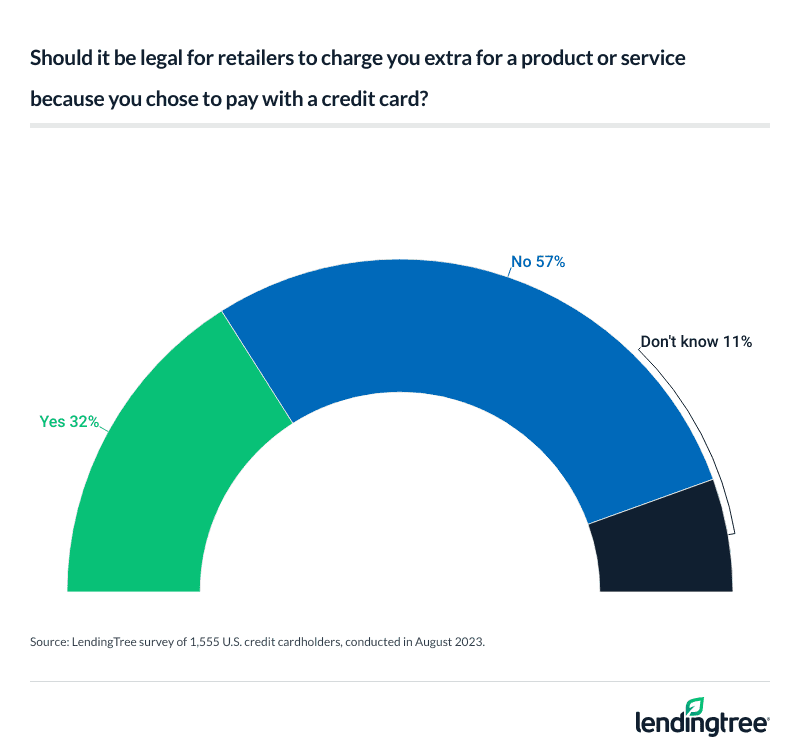 That'd be a big change, as it's perfectly legal to do so in most of the country. According to the National Merchants Association business advocacy organization, "10 states still have laws on the books that say convenience and surcharge fees aren't permissible, but recent court rulings have invalidated some of these laws."
Those rulings leave just Connecticut, Massachusetts and Puerto Rico as U.S. locations where surcharges are illegal. As mentioned earlier, some rules have to be followed to charge these fees — such as how much you can charge, how you disclose and so on. But assuming you play by the rules, it's perfectly OK to charge these fees in most of the U.S., whether your customers like them or not.
The older you are, the more likely you are to think these fees shouldn't be legal. Nearly 2 in 3 baby boomers (ages 59 to 77) (65%) agree, while just 45% of Gen Zers (ages 18 to 26) do. Further, women are significantly more likely than men (63% versus 52%) to think the fees should be illegal, and those making less than $75,000 a year are more likely to agree than those making more.
Cardholders aren't 100% clear on credit card processing fees
Credit card surcharges aren't going anywhere anytime soon. If anything, they're likely to become more common — especially considering that, as the National Merchants Association says, recent court rulings have leaned more toward allowing these fees than stopping them. But why do retailers want to charge them when consumers don't like them? It's all about the bottom line.
Credit card companies — ranging from card networks like Visa and Mastercard to issuers such as Chase, Bank of America and Capital One — make most of their money from three things: interest on outstanding balances, fees charged to cardholders and fees charged to companies that accept credit cards.
Our survey shows that while the vast majority of cardholders are aware of the first two — 86% of cardholders know card companies make money from interest, while 73% know they make money from cardholder fees — a significantly smaller portion know about the fees merchants pay. Just 61% of cardholders know that card companies make money from merchant fees. (In all, 52% of cardholders know that card companies make money from all three of these things.)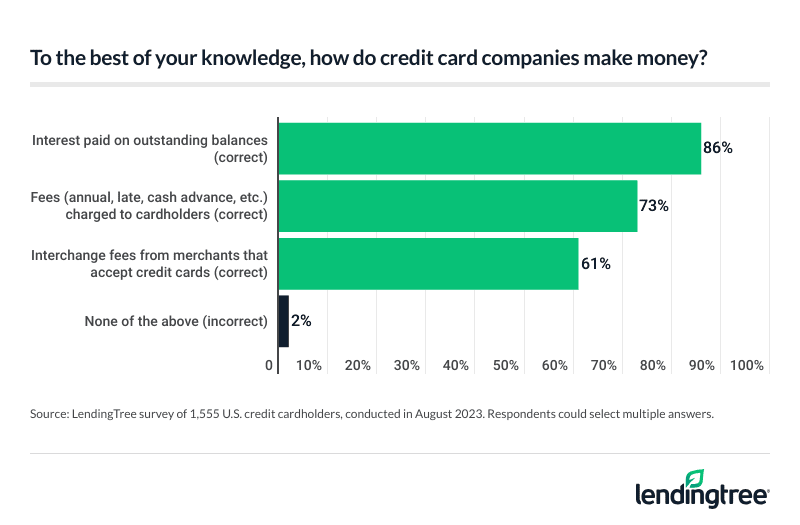 But while cardholders may not know much about them, swipe fees are essential to the credit card business. The rates are generally set by the card networks — the companies that facilitate the transactions between the card issuers and merchants (primarily Visa, Mastercard, American Express and Discover) — though the card issuer collects the lion's share of the fees. Without those fees, for example, the credit card rewards industry would likely cease to be, or at least be dramatically scaled back.
The National Retail Federation, attributing payments industry publication The Nilson Report, notes that swipe fee revenue has grown significantly, from about $20 billion in 2001 to $161 billion in 2022. That growth is a big reason many retailers choose to tack on extra fees when you pay with a credit card — they want to pass along those swipe fee costs to the consumer instead.
And those numbers could go far higher in the near future — Visa and Mastercard are reportedly planning to increase swipe fees in the coming months. It's a move that's likely to only exacerbate the animosity between the credit card companies and the merchants, who feel they're already paying far too much in fees.
More surcharges equal less credit card use, cardholders say
Of course, not all retailers force people to pay extra when they buy with credit cards. There's likely a simple reason why many don't: They fear scaring paying customers. And our survey indicates that they're right to worry about that — nearly 3 in 4 cardholders (73%) say they'd use their card less if they had to pay a surcharge every time.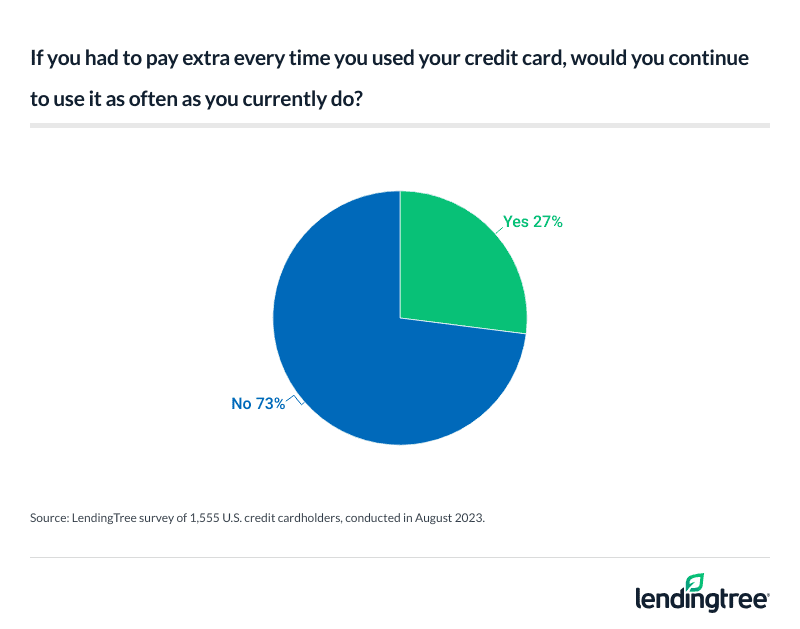 That number jumps to 84% among women and 80% among Gen Xers (ages 43 to 58), while at least 80% of cardholders making less than $75,000 say the same. Those are huge numbers, high enough to justify the concern that many merchants might have about tacking on surcharges for those paying with credit cards. However, the massive cost of these swipe fees and their seismic impact on the profit margin and bottom lines of businesses around the country is such that many retailers decide that the ability to recoup those fees is worth the risk of alienating some customers.
Surcharges aren't the only option, however. Retailers can also adjust the prices of their products and services to include these credit card processing costs, and no doubt many, many do. Our survey shows that customers would prefer that to a surcharge: 50% want swipe fees included in pricing, 24% favor a separate surcharge and 26% are indifferent.
Of course, many retailers likely do both of these things simultaneously.
Few know of government proposal to rein in swipe fees, but those who do approve of it
As the battle rages between merchants and card companies, a bill has been proposed in Congress that could significantly impact credit card swipe fees. The Credit Card Competition Act would attempt to drive down swipe fees by, as the name hints, injecting what some see as much-needed competition among credit card networks. The four biggest network processors are Visa, Mastercard, American Express and Discover.
Here's what you need to know:
It would require credit card issuers with $100 billion or more in assets (estimated at around 30 issuers) to include at least two possible network processors on each card. Today, U.S. credit cards only include one network. For example, you would likely never see a credit card today that includes both Visa and Mastercard or American Express and Discover.
At least one of the two would have to be a network other than Visa and Mastercard. For example, you could have a single card with both a Visa and Discover logo and one with both a Mastercard and American Express logo. However, you could not have a card with both the Visa and Mastercard logo.
The merchant could then choose which network it wanted to use to process the transaction.
The idea behind the bill is that the merchant would most likely choose the less-expensive option and that choice would ultimately lead to an overall reduction of swipe fee rates.
It's unclear if or when the proposal will come up for a vote, but it has ignited a firestorm of debate in the credit card space. Proponents call it a much-needed step; those opposed say it could lead to restricted access to credit or even the end of credit card rewards as we know it. Those folks cite as an example what happened when swipe fees on debit cards were capped more than a decade ago. When that cap was implemented, debit card rewards disappeared almost overnight. Though significant differences between the debit-card-cap law and this current proposal make the ultimate impact of the Competition Act anything but clear, opponents of the bill are sounding the alarm.
Our survey shows that most people don't know much about this proposal.
Men are almost three times more likely (34%, versus 12% of women) to say they're aware of it. In addition, the younger you are and the higher your income, the more likely you are to know about this proposal: More than 40% of Gen Zers are aware, versus 5% of boomers. About 4 in 10 (39%) of those making $100,000 or more are aware, versus just 15% of those making less than $35,000. Still, just 23% of all cardholders say they know of the bill.
Among those who know about it, support is high. Almost 3 in 4 cardholders (72%) aware of the bill say they think it should pass, while 12% say it shouldn't and 16% aren't sure.
What should consumers do now?
Again, it's important to understand that credit card surcharges aren't going anywhere, and it's a safe bet they'll become more common. Merchants are desperate to recoup their credit card processing costs, with many choosing to pass those costs on to consumers as a separate fee, even at the risk of alienating potential paying customers. And in all but a few states, it's perfectly legal for them to do so, assuming that they follow the rules — which include disclosing the fees and only charging people the cost of the processing rather than seeing the fees as a way to generate profit.
That leaves cardholders with a potentially difficult choice: To pay or not to pay? That is the question. Here are a few things to think about when making your decision:
Is it really worth the extra 1.5% to 3.5% cost to use your credit card at that particular retailer? Sure, you love those cash-back rewards, but you don't have to be an accountant to know that paying a 3% fee to earn 2% in rewards probably isn't a good deal. However, the consumer protections that come with buying with a credit card have real value, too, and you won't get to take advantage of those if you pay cash.
Could you buy the same item from a retailer that wouldn't tack on the surcharge? That might be possible, but the sticker price may be higher at that other place, negating the savings from not paying a surcharge. Plus, if you're in a hurry, you may not want to mess with shopping around over a couple of percentage points.
Would the merchant consider waiving the surcharge? Maybe. There's certainly no guarantee, but it probably couldn't hurt to ask, especially if you have been a longtime customer. They won't likely want to lose you over a couple of percentage points.
Methodology
LendingTree commissioned QuestionPro to conduct an online survey of 2,050 U.S. consumers ages 18 to 77 from Aug. 1-4, 2023. The survey was administered using a nonprobability-based sample, and quotas were used to ensure the sample base represented the overall population. Researchers reviewed all responses for quality control.
We defined generations as the following ages in 2023:
Generation Z: 18 to 26
Millennial: 27 to 42
Generation X: 43 to 58
Baby boomer: 59 to 77