How Does LendingTree Get Paid?
LendingTree is compensated by companies on this site and this compensation may impact how and where offers appear on this site (such as the order). LendingTree does not include all lenders, savings products, or loan options available in the marketplace.
35% of Americans Likely to Apply for a Store Card This Holiday Season, a Big Jump from 2021
Updated on: November 8th, 2022
Why use LendingTree?
We are committed to providing accurate content that helps you make informed money decisions. The content on this page has not been reviewed, approved or otherwise endorsed by any credit card issuer. We do maintain partnerships with some issuers, and our site may be compensated through those partnerships. Read our .
Store credit cards are back! A year after interest in store cards plunged, more Americans say they're considering applying for one this holiday season, according to a new survey from LendingTree.
That's despite the fact that store card APRs have spiked in the past year, thanks to the Federal Reserve, and more than 1 in 3 people who've had one of these cards in the past ended up regretting it.
Key findings
Interest in store credit cards has rebounded sharply. 35% of Americans say they're at least somewhat likely to apply for a store credit card this holiday season. That's up from 29% a year ago and the second-highest percentage in the five years we've been tracking.
More than 1 in 3 who've had a store credit card regret signing up. 37% of Americans say they've regretted getting a store card, including 14% who say it's happened to them several times.
The average new store card APR is 26.60%, up from 24.27% a year ago. The LendingTree review of more than 100 store credit cards shows that the average new store card rate in 2022 is the highest since we began tracking in 2018. It's also significantly higher than the rates for all new credit card offers, which is 22.21%.
More store card rates are hitting a ceiling that issuers aren't comfortable pushing past. Very, very few credit cards in America have APRs of 30% or higher. It's long been thought that the credit card industry has set 30% as an unofficial ceiling for rates that most issuers won't touch. We've seen proof of that, as the number of cards we reviewed with 29.99% interest rates rose from eight last year to 29 this year. Meanwhile, the number of store cards at 30% or higher went from zero to one.
More Americans say they're likely to apply for a store card this holiday season
A year ago, consumer interest in store credit cards tanked. Just 29% of consumers said they were at least somewhat likely to apply for one of these cards, down a stunning 15 percentage points from 2020. It was the second-lowest percentage since we started tracking in 2018 (just 24% said so that year).
There wasn't much reason to expect a bounce back either — especially considering the ongoing meteoric growth of buy now, pay later loans, which often compete directly with store credit cards for consumers' spending dollars. Add in the fact that the Fed's continuous rate increases were making the already-sky-high interest rates on these cards even higher, and the future didn't look bright for store credit cards.
Fast forward from a year ago, and it looks as if reports of the store credit card's demise might have been greatly exaggerated — at least for now.
More than 1 in 3 Americans (35%) say they're at least somewhat likely to apply for a store credit card this holiday season. That's the second-highest percentage since LendingTree began tracking in 2018, up 6 percentage points from last year.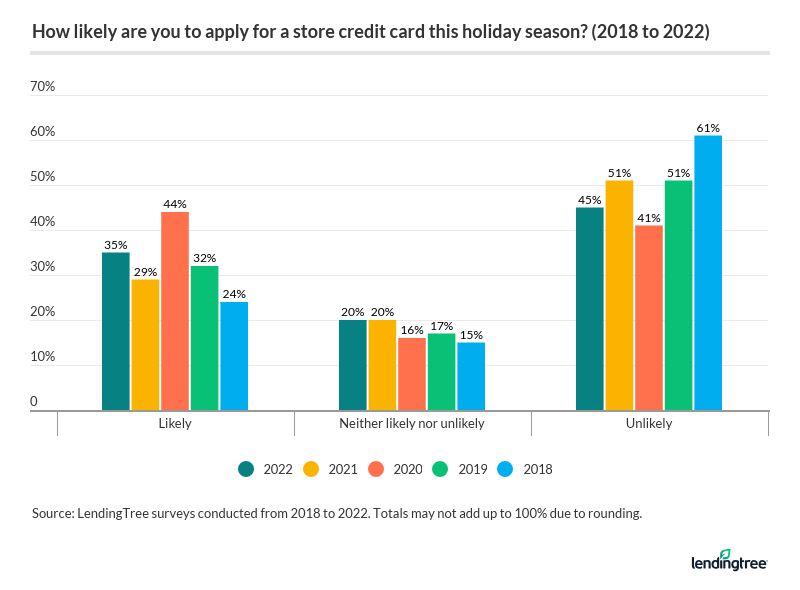 That includes 11% who say they're highly likely to apply and 24% who say they're at least somewhat likely. Last year, 10% were highly likely and 19% were somewhat likely.
Meanwhile, 45% are unlikely to apply, including 15% who are somewhat unlikely and 30% who are highly unlikely. Last year, those percentages were 51%, 14% and 37%, respectively.
Perhaps surprisingly, higher income Americans are the most likely to say they're considering applying for a store credit card this holiday season. That cuts against the conventional view of store credit cards being used primarily by lower-income folks with imperfect credit who had few other choices. In fact, nearly half (49%) of respondents earning $100,000 or more a year say they're likely to apply, including 22% who say they're highly likely to do so. Meanwhile, just 33% of those making $35,000 or less say they're likely to apply.
Many have regretted getting a store card in the past
Consumers tend to have a love-hate relationship with store cards. We love the sign-up discounts and rewards that are often specially tailored to the wants and needs of that retailer's customer base. However, we absolutely hate how expensive these cards can be — that hate is understandable, especially given how high their interest rates can be.
Nearly 4 in 10 (37%) people who have a store card or have had one previously say they regretted getting at least one of them. That includes 14% who say they've regretted several store cards.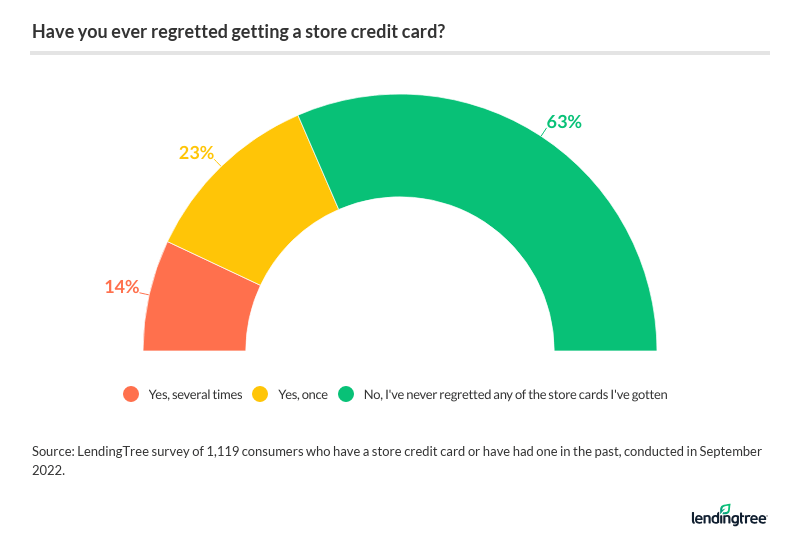 Millennials (ages 26 to 41) (46%), Gen Zers (ages 18 to 25) (43%), those who earn $75,000 to $99,999 annually (43%) and women (41%) are most likely to have expressed regret. Meanwhile, just 22% of baby boomers (ages 57 to 76) say the same.
Store card interest rates climb even higher
It shouldn't be news to anyone who uses a credit card that card interest rates have soared in 2022. The Federal Reserve has already raised rates six times this year and is almost certain to do so once more before 2023 arrives.
Those moves have sent store credit card APRs — which are traditionally high, even in the best of economic times — further into the stratosphere.
The average interest on a new store credit card offer is 26.60%, up from 24.27% just a year ago.

Unlike other credit cards, most store cards come with just one possible APR, meaning everyone gets the same rate whether their credit score is 540 or 840. Seventy-three of the 102 cards we reviewed were single-rate cards. The average APR on those cards was 28.09%. For the 29 cards that featured a range of possible rates, the average was 22.85%, with a range of 18.36% to 27.34%.
Rates hitting a possible ceiling
The biggest knock on store credit cards has been that their interest rates are sky-high, even by credit card standards. Traditionally, the typical APR on a new store card offer could be 5 percentage points or more higher than that of a typical general-purpose card.
While that's still generally true, the average credit store credit card APR has grown a little less quickly than that of most credit cards in the past year:
Average new credit card APR: 19.47% in October 2021, versus 22.21% in October 2022 — a jump of 2.74 percentage points.
Average new store credit card APR: 24.27% in October 2021, versus 26.60% in October 2022 — a jump of 2.33 percentage points.
That difference (more than four-tenths of a percentage point) is noteworthy. For someone who owes $1,000 on a store card and pays $100 a month, it likely only equates to a few extra dollars in interest over the life of that balance — but the truth is that every dollar counts.
Inflation has whittled down consumers' financial margin of error to near zero, so even a few extra bucks saved each month can mean some welcome breathing room when bills come due.
Why are store credit card rates increasing more slowly? There are several things at play, including:
Issuers have different time frames for raising rates. When the Fed raises or lowers rates, most cardholders will see the change on their card within a month or two. However, some issuers may take longer to make a move, so it's possible that some store credit card APRs haven't yet changed to include the most recent increases.
Store cards are less likely to be tied to the Fed's rate moves. The vast majority of credit cards in this country are so-called variable-rate cards. That typically means that when the Federal Reserve raises or lowers its rates, APRs on those credit cards move in the same direction by the same amount. (That's why millions of Americans have seen their cards' rates increase multiple times in 2022.) However, while most store cards have variable rates, some are fixed-rate credit cards whose rates don't change in lockstep with the Fed's rates. That means many store credit card rates haven't moved at all in 2022.
Variable-rate cards may not be as variable as you think. The Fed isn't the only factor at play when it comes to rates. On new credit card offers, banks are free to put their thumb on the scale in many ways, meaning that if they don't want an APR on a new card offer to go above a certain percentage, they don't have to let it.
That last point is one to watch going forward. While there's no limit to the rates banks can charge on credit cards, it's long been thought that the industry has viewed 29.99% as a sort of unofficial ceiling, a rate above which few banks dare to push. Some do, but only very few, and not the megabanks that thoroughly dominate the credit card space. In fact, most cards never even get near that number, though that is changing.
Just one card we reviewed came with an APR of 30% or higher, which is up from zero last year. However, we found 29 cards offering a possible APR of 29.99%, up from just eight a year ago. Of those 29, 21 are variable-rate cards, meaning the most recent Fed rate hike — which just happened on Nov. 2, though most issuers had yet to incorporate into their new credit card offers at the time this was written — should send those APRs well over 30%. Still, given the industry's seeming reluctance to push past that 30% barrier, it's likely that at least a few of those cards' APRs will stay unchanged, no matter what the Fed does.
That's not something banks or credit unions would want to do. Choosing not to pass higher lending costs along to the customer means the financial institution makes less profit on each loan. However, if banks believe that pushing rates above 30% will mean that significantly fewer people will apply for that card, the issuer may choose to leave rates just below that number and look to make up any lost revenue in other ways, such as by increasing fees.
With store cards, proceed with caution: Again, used wisely, a store credit card can be a really useful tool, despite its less-than-stellar reputation. However, that doesn't mean that reputation wasn't deserved. The truth is that if you carry a balance regularly, a store credit card probably isn't for you — the interest rates are just too darn high. You'd likely be better off with a general-purpose credit card that would have lower rates, possibly offer more lucrative rewards and be usable anywhere credit cards are accepted. If you choose to get a store credit card, ensure you understand some key details about the card before applying, especially the interest rate. What you don't know can cost you, so tread lightly.
Methodology
LendingTree commissioned Qualtrics to conduct an online survey of 1,545 U.S. consumers from Sept. 20-23. The survey was administered using a nonprobability-based sample, and quotas were used to ensure the sample base represented the overall population. All responses were reviewed by researchers for quality control.
We defined generations as the following ages in 2022:
Generation Z: 18 to 25
Millennial: 26 to 41
Generation X: 42 to 56
Baby boomer: 57 to 76
LendingTree also reviewed credit card offers from 73 of the nation's biggest retailers, including brick-and-mortar and online-only stores. In all, 102 cards were reviewed, including ones that were both co-branded and not co-branded.
We reviewed basic terms and conditions, including APRs, online through issuers' publicly available websites. Credit card offer data is accurate as of Nov. 3, 2022.