How Does LendingTree Get Paid?
LendingTree is compensated by companies on this site and this compensation may impact how and where offers appear on this site (such as the order). LendingTree does not include all lenders, savings products, or loan options available in the marketplace.
|
Advertising Disclosure
LendingTree is an advertising-supported comparison service. The site features products from our partners as well as institutions which are not advertising partners. While we make an effort to include the best deals available to the general public, we make no warranty that such information represents all available products. We are compensated by companies on this site and this compensation may impact how and where offers appear on this site (such as the order).
Less Than 30% of Consumers Will Apply for a Store Credit Card This Holiday Season — the Lowest Number in 3 Years
Published on: October 4th, 2021
Why use LendingTree?
We are committed to providing accurate content that helps you make informed money decisions. The content on this page has not been reviewed, approved or otherwise endorsed by any credit card issuer. We do maintain partnerships with some issuers, and our site may be compensated through those partnerships. Read our .
Interest in store credit cards plunged in 2021, according to a new report from LendingTree. However, consumers are still slightly more likely to use store cards to shop during the holidays than trendy buy now, pay later loans.
For the fourth straight year, LendingTree examined the state of retail credit cards heading into the holiday shopping season. As in previous years, we surveyed Americans about these popular cards but also reviewed terms and conditions on nearly 100 cards from the nation's biggest retailers to see what people can expect when they hit the stores and websites.
However, we're also expanding our report this year to include a look at "buy now, pay later" (BNPL) loans. These installment loans are now commonly available alongside traditional store credit cards on retailers' online checkout pages and consumers are embracing them in a big way, so we looked at more than 125 major retailers to see what, if any, "buy now, pay later" services they offered.
Key findings
Interest in applying for store cards drops to its lowest level since 2018. Just 29% of consumers say they're likely to apply for a store credit card this holiday shopping season, compared to 44% in 2020, 32% in 2019 and 24% in 2018.
Debt falls, too: Just 1 in 3 with a store card said they currently have debt associated with that card. This is a big decrease from 49% in 2020.
42% of consumers have closed a store credit card. An additional 13% have had a store card closed by the issuer. The main reasons for voluntary closures were no longer shopping at the store (46%) and high interest rates (35%).
Average store credit card interest rates remain high, though largely unchanged. The average APR on a new retail credit card offer was 24.27%, up only slightly from 2020's 24.24%.
Consumers still prefer store cards over buy now, pay later, but it is close. 29% of consumers would be more likely to pay with a store card this holiday season, while 21% would turn to buy now, pay later financing.
More retailers offer store credit cards than buy now, pay later loans, though many offer both. 67 of the 126 retailers' websites we reviewed offered a store credit card, while 56 offered a BNPL loan. However, 42 retailers made both options available.
Buy now, pay later options pop up in unexpected places. Paying in installments at department stores and big-box retailers, sure — but doing so at Dollar Tree or Panera Bread? Yep, it's possible there, too.
Interest in applying for store credit cards plunges
From 2018 to 2020, we saw significant growth in people's interest in retail cards. That interest peaked in 2020, as 44% of respondents said they were at least somewhat likely to apply for a store credit card during the holiday shopping season. That was up from 32% in 2019 and from 24% in 2018.
That trend seems to have shifted in a big way in 2021.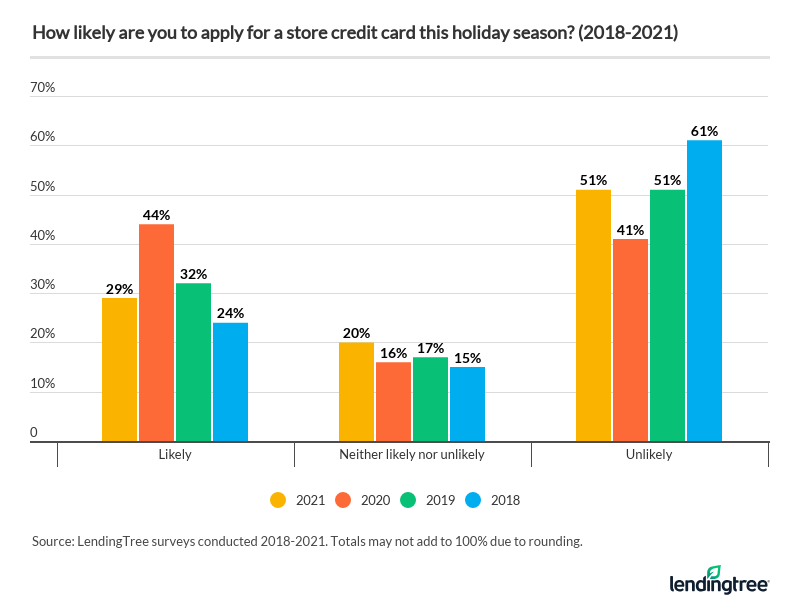 Just 29% of consumers say they're likely to apply for a store credit card this holiday season — that's a huge drop from last year's peak and is the second-lowest total since 2018.
Not all consumers are shying away, though. More than 40% of parents with kids under 18 (44%) and millennials (43%) said they're likely to apply, as did 33% of women. However, the data is clear that the past year has brought a major shift in consumers' approach to these cards.
Fewer people carrying debt on store cards
The pandemic saw millions of Americans paying down their credit card debt. Reduced spending during lockdowns teamed with government economic stimulus and other factors to leave many consumers flush with cash, which was often used to pay down high-interest debt such as credit cards.
Our data shows that just 33% of store cardholders had debt on those cards. That's a significant drop from 49% in 2020.
That doesn't mean that the cards aren't being used, however.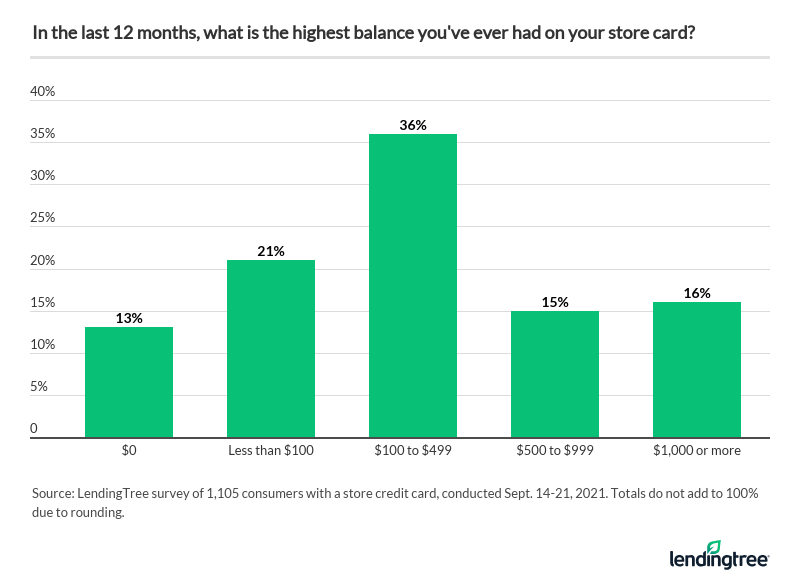 Nearly 1 in 3 store cardholders had a balance of $500 or more, and of that group, 57% are still paying down that debt.
Card closures are common, but they aren't always voluntary
Consumers have long had a love-hate relationship with store cards. Nearly 4 in 10 people (37%) with a store card today have regretted opening one in the past, and that regret can often lead to action.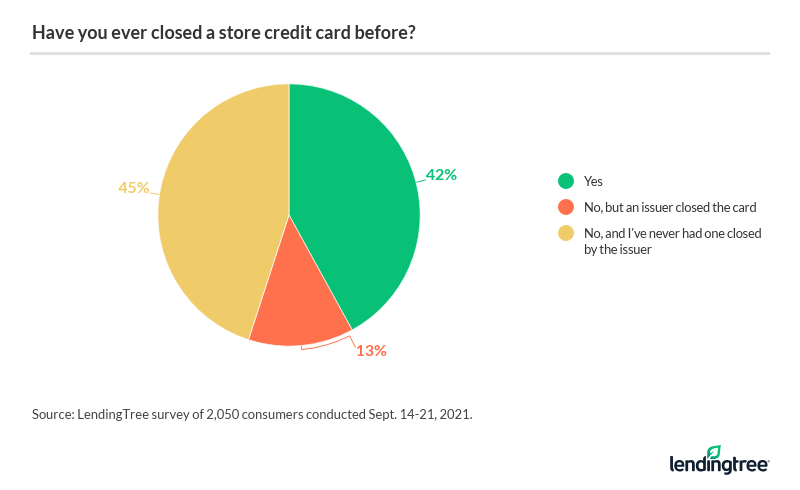 More than 4 in 10 Americans (42%) have closed a store credit card in the past, and another 13% have had one closed involuntarily. (Millions of Americans had cards closed or credit limits slashed since the pandemic began, and it's clear that store cards weren't exempt from this purge.)
The most common reason given was that the cardholder doesn't shop at the store anymore. The second-most common reason? Sky-high interest rates.
Store card interest rates remain high but mostly unchanged
High interest rates are a fact of life with store credit cards. While people love the discounts and targeted rewards these cards can offer, the fact that they also typically come with interest rates that are higher than those of other credit cards has long scared many people away — and rightfully so.
The good news is that those rates stabilized during the past year, staying well below rates seen in 2018 and 2019.
The bad news is that they're still really high.

The average store credit card APR is still several points higher than the average for all credit cards. For example, we found eight cards from six retailers with APRs of 29.99%. (A bit of good news: For the second straight year, no store card that we reviewed had an APR of 30% or higher.)
Stores want these cards to be available to nearly everyone, including those with thin or damaged credit, so card issuers ramp up the interest rates on these cards to minimize the risk that comes with lending to folks who might be less likely to pay them back.
But there are alternatives to these cards, and consumers seem to be embracing them.
Consumers still prefer store cards over BNPL, but not by much
One of those alternatives is the so-called buy now, pay later loan. These loans, which have become more available in the past two to three years, offer the ability to pay off a purchase in installments.
In many cases, the purchase is required to be paid off in four equal installments, paid every two weeks with no interest. However, the buy now, pay later name is also often used to describe longer-term financing that includes monthly payments made for anywhere from 3 to 24 months, depending on the size of the purchase, with interest rates that can run as high as 30%.
Whatever form they take, they have clearly caught the attention of American consumers.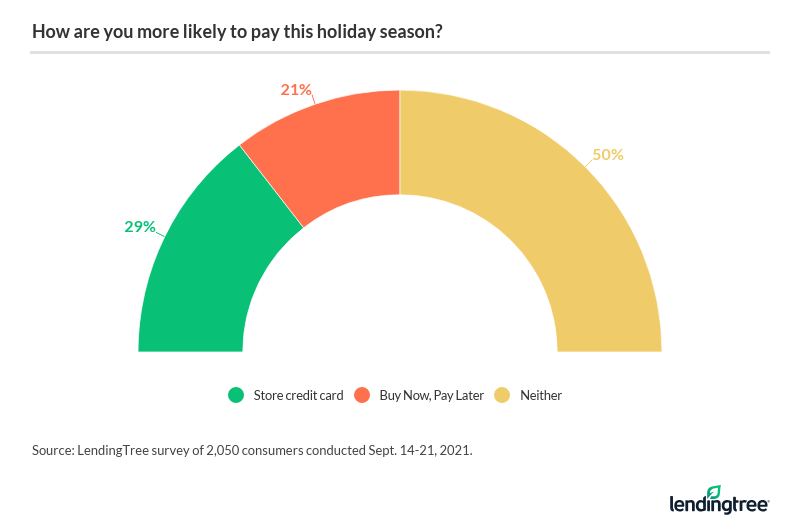 Consumers were only 8 percentage points more likely to opt for paying with a store credit card over buy now, pay later financing. This is the first year LendingTree asked that question, so we don't have historical data for comparison — however, given the relative newness of the BNPL option, this revelation is eye-opening.
The differences among age groups are stark. Among Gen Z, 32% said they'd be more likely to use buy now, pay later — the same percentage that would use a store credit card. Meanwhile, just 9% of baby boomers said they'd be more likely to use BNPL versus 19% who said store credit cards.
More retailers offer store cards than BNPL loans, but many offer both
Not long ago, "buy now, pay later" loans were somewhat of a novelty: They'd pop up as an option on a few retailers' online checkout pages, but they certainly weren't commonly available.
That's changed dramatically in just the past few years. Today, the biggest names in the BNPL space — companies like Klarna, Affirm and Afterpay — have mobile apps that allow you to use "buy now, pay later" loans with countless retailers, even in brick-and-mortar stores. Klarna even advertises that it allows you to "pay in 4 anywhere." Also, some credit card companies offer installment plan options to their cardholder. American Express has had Pay It Plan It for several years, for example. Now, MasterCard is the latest to jump on board, announcing the creation of MasterCard Installments in late September.
However, when it comes to offerings on retailers' own websites, you're still more likely to find offers for store credit cards than for BNPL loans.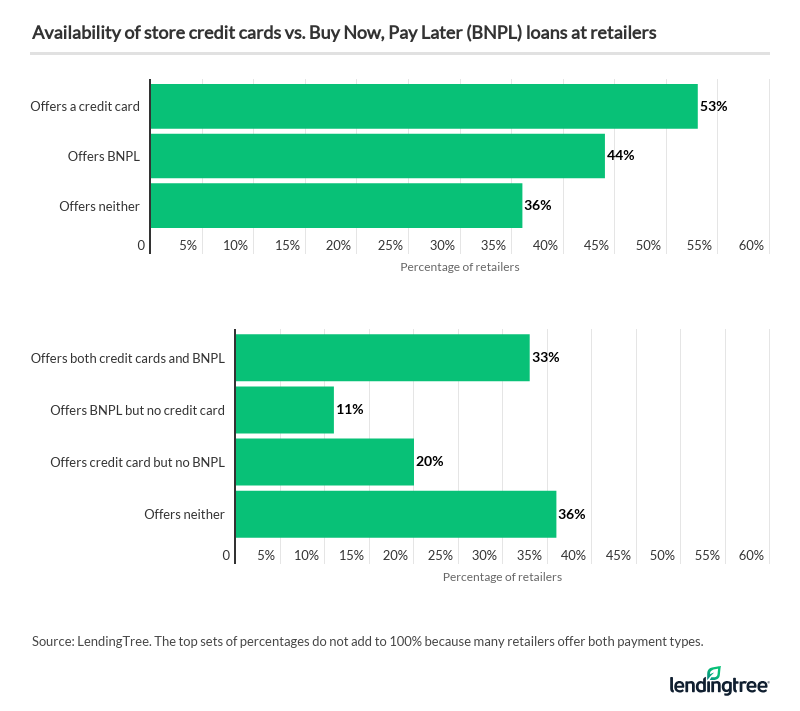 Still, more than a third of the retailers' websites we reviewed offered neither a credit card nor a buy now, pay later loan.
The options aren't always obvious, however. While many retailers will feature their BNPL lender partner prominently on their online checkout page, many others don't make it as clear.
For example, PayPal's "Pay In 4" loan is a "buy now, pay later" option. However, in many cases, you wouldn't know it was an option unless you clicked through to PayPal. Many retailers have a prominent button on their checkout page that indicates that you can pay with PayPal, but that button doesn't necessarily tell you that Pay In 4 is a possibility.
BNPL loan options appear in unexpected places
It shouldn't be surprising in 2021 to see "buy now, pay later" as an option at places like department stores, big-box retailers, clothing stores and electronics stores — but our research shows its reach goes well beyond that.
Here are a few examples of BNPL loan purchases that could be made through a retailers website using PayPal Pay In 4 on a desktop browser:
Spend $36 on three cases of Top Ramen at Dollar Tree and you can pay it off in four installments of $9 every two weeks.
Spend $33 plus tax on a Family Feast with cookies at Panera Bread and you can pay it off in four installments of $8.93 every two weeks.
Spend $32.41 on three footlong meatball marinara subs, three drinks and three bags of chips from Subway and you can pay it off in four installments of $8.11 every two weeks.
This is just a tiny sample of what may be possible. If your favorite retailer doesn't showcase your favorite BNPL lender on their store's checkout page, you still might be able to use the lender's mobile app to pay, even in store.
The bottom line
Store credit cards and "buy now, pay later" loans can both be useful tools if used wisely. They can offer some much-needed short-term flexibility for families that might need a little bit of help stretching their budget — that's a big deal.
However, like many financial tools, they're also dangerous when used carelessly or recklessly. For example, a recent LendingTree survey showed 2 in 3 shoppers who've used buy now, pay later financing said it's led them to spend more than they otherwise would have.
With that in mind, here are a few things you need to know about handling store credit cards and buy now, pay later loans.
For store credit cards:
Understand the card's rates and fees: Store credit cards tend to have higher-than-average interest rates, so it's crucial to know them before you apply, especially if you expect to carry a balance. Most store cards don't have annual fees, though, which helps keep their costs down. Still, late payment fees are common, so make sure you understand what you're getting into before you apply.
Know where you can use the card: Not all credit cards can be used everywhere. Many store cards, for example, can only be used with that retailer or their family of brands. That can be an unpleasant surprise to credit card newbies who want to use the card elsewhere. Pro tip: If the card has a Visa, MasterCard, American Express or Discover logo, it can generally be used anywhere. If none of those logos are present, you can only use the card with that retailer.
Look elsewhere for your primary card: About 1 in 3 people with a store card (32%) say the card they use more than any other is a store card. That's OK if you're just getting started with credit or rebuilding crummy credit and your options are limited: They can be a useful short-term steppingstone. However, their sky-high APRs mean that you should look to other options as your credit improves. That's especially true if the card can only be used with a single retailer or if it doesn't offer competitive rewards. Don't be afraid to move on from that card once it no longer meets your needs.
Beware of "special financing": If you've done any shopping online in recent years, you've likely seen the term "special financing." Typically, it means a loan where you will pay no interest on a purchase if you pay it off in full during the 0% introductory period. That can be a great deal if you play by the rules. What isn't always clear, however, is this: Fail to pay the balance in full during that period and you'll be hit with a bill for all the interest that you would've accrued back to the original purchase date. So, feel free to take advantage of special financing — 57% of those with a store card have, according to our survey — but be sure that you follow the rules.
Don't let yourself be pressured: People make bad decisions when they're rushed into them — and that's especially true with money. When offered a new store credit card, take your time before you apply. Sure, the person behind the counter may be pushing you to apply, but don't let them. Take the time to read the fine print and understand the rates, fees and deadlines with the card. Then, if the card is still interesting to you, go ahead and apply. Chances are that all those things that appealed to you about the card will still apply next time you go, and you'll be making a much more informed, thoughtful decision.
For buy now, pay later loans:
Know your limits: For some buy now, pay later lenders, there aren't limits on how many loans you can have open at the same time. That's especially true if you've used their services before and have done so responsibly. However, just because someone will lend you money, that doesn't mean that you should take it or that you can afford it. Be cautious and thoughtful when you apply for these or any loans. Otherwise, it is a recipe for overspending and debt.
Understand payment schedules: BNPL loans often require you to pay every two weeks, an unusual schedule for most types of loans. (Store cards typically require monthly payments, like other credit cards.) If you're unaware, you can end up paying late, and that can have major consequences.
Learn what the loan's rates are: The pay-in-4 style BNPL loans are typically interest-free if you pay them on time. That's often not the case with longer-term BNPL loans, however. Those rates can go as high as 30%, so make sure you know that before you apply.
Know how your credit will be impacted: With buy now, pay later loans, policies can vary widely. For example, when you apply, some lenders require only a soft credit check, which doesn't affect your credit score, while others do no credit check at all. Once you've gotten the loan, there can be variations in how (or even if) your payment history is reported to the credit bureaus. That means that if you're looking at BNPL to build credit, do your homework before applying or you risk being disappointed.
Research what happens if you pay late: If you pay on time every time, many BNPL loans can be interest-free and largely painless. Miss a payment, though, and things can get messy — although exactly what that mess will look like can vary from lender to lender. You may be charged a late fee and have your late payment reported to credit bureaus. You might have your account suspended and the lender might refuse to lend to you again until your payments are up to date or even longer. It's in your best interest to know what your lender's policy is before you apply, just in case.
Remember that BNPL loans are finite: Generally, once a buy now, pay later loan is paid off, you're done with it. They are for a finite amount set to be paid off in a specific amount of time. That can be great because it eliminates the temptation of running up more debt after the initial loan is paid off, but it also means that you have less flexibility in how long you take to pay off that loan. They also don't provide you that always-accessible safety net in tough times that credit cards can.
Don't rush into it: Retailers have made it so easy to spend, and BNPL loans are yet another example. However, before you click to apply, take your time to know what you're getting into. You don't have to take hours and become an expert on the subject. You just need a basic understanding of what you're getting into — fees, payment schedules and other key details. It is common to find a "learn more" or "more info" link on checkout pages next to the BNPL offer, so don't be afraid to click on it and read up on the loan before you apply.
Methodology
LendingTree commissioned Qualtrics to conduct an online survey of 2,050 U.S. consumers from Sept. 14 to Sept. 21, 2021. The survey was administered using a nonprobability-based sample, and quotas were used to ensure the sample base represented the overall population. All responses were reviewed by researchers for quality control.
We defined generations as the following ages in 2021:
Generation Z: 18 to 24
Millennial: 25 to 40
Generation X: 41 to 55
Baby boomer: 56 to 75
While the survey also included consumers from the silent generation (defined as those 76 and older), the sample size was too small to include findings related to that group in the generational breakdowns.
LendingTree also reviewed credit card offers from 67 of the nation's biggest retailers, including both brick-and-mortar and online-only stores. In all, 95 cards were reviewed, including ones that were both co-branded and not co-branded. We reviewed basic terms and conditions, including APRs and annual fees, as well as evaluating the cards' rewards programs. We reviewed offers online through issuers' publicly available websites. Credit card offer data is accurate as of Sept. 23, 2021.
We also reviewed "buy now, pay later" loan offers from 126 of the nation's biggest retailers. We examined retailers' publicly available online checkout pages to see which types of BNPL loans, if any, were being offered. We also downloaded and examined mobile apps from PayPal, Klarna, Affirm and AfterPay. BNPL offer data is accurate as of Sept. 23, 2021.