How Does LendingTree Get Paid?
LendingTree is compensated by companies on this site and this compensation may impact how and where offers appear on this site (such as the order). LendingTree does not include all lenders, savings products, or loan options available in the marketplace.
Half of Americans Will Bet on Super Bowl, Led by Millennials & Gen Z
Published on: February 1st, 2021
Why use LendingTree?
We are committed to providing accurate content that helps you make informed money decisions. The content on this page has not been reviewed, approved or otherwise endorsed by any credit card issuer. We do maintain partnerships with some issuers, and our site may be compensated through those partnerships. Read our .
More than half of Americans say they'll bet on some aspect of this month's Super Bowl, and some of those hardest hit by the pandemic are the most likely to do so.
That's according to a new report from LendingTree that asked people about their spending surrounding the big game.
Even as the nation wrestles with a once-in-a-century pandemic, historic levels of unemployment and widespread economic upheaval, few things unite Americans like our love of football. This report makes it clear that our passion for the game leads us to spend big on the biggest game of them all, dropping cash on everything from bets to beverages and everything in between.
Millennials and Generation Z were far more likely than older Americans to say they'd bet on the game —that's despite generally having been hit harder by the COVID-19 economy than older generations.
That willingness to spend could be seen as a sign of confidence, an indication that pandemic-weary consumers see a light at the end of the tunnel and feel financially secure enough to gamble a little bit of their cash.
The data also showed danger signs, though, including the fact that Americans of all ages who had been laid off, furloughed or had reduced incomes because of the pandemic were more likely to place a bet on the Super Bowl than those whose incomes hadn't been impacted.
Key findings
51% of Americans will make some type of Super Bowl-related bet this year.
67% of millennials plan to make a bet, as does 62% of Generation Z, while just 26% of baby boomers will do so.
43% of bettors will wager at least $100 on the game. Millennials and Generation X are the most likely to bet big.
People who were laid off, furloughed or had their hours or salary cut in the pandemic were more likely to make a Super Bowl bet than those whose jobs or salaries hadn't been impacted.
When factoring in all types of spending, 34% of Americans said they'd spent less on the Super Bowl this year than last, while 21% said they'd spend more. The average amount they plan to spend is $108.
Gambling on the game
Americans simply can't get enough football, and there's no question that gambling of all kinds has been both a cause and a result of our passion for the game. From the casinos of Las Vegas to homes in all corners of the country, we love the games that are played alongside the real game.
We even love them in the middle of a pandemic.
By far, the most popular type of bet is on the winner of the game, but that's hardly the only kind.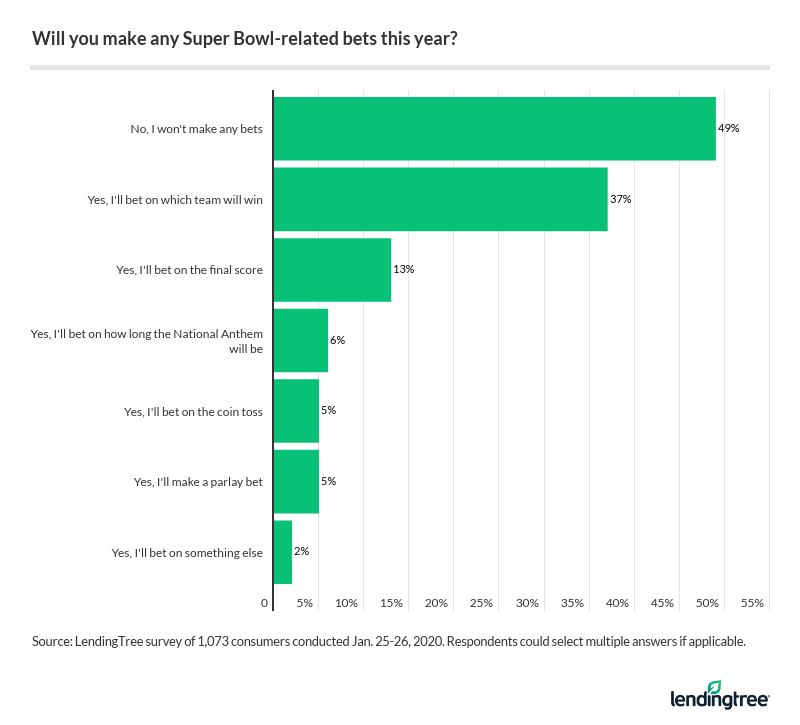 Especially for the Super Bowl, there seem to be as many types of bets as there are people watching the game on TV. The second most popular type of bet is on the final score, but a significant number of people said they'll bet on things like the length of the national anthem or who wins the coin toss. And that's just a small sample of the types of wagers that are available.
Who is betting?
Football is far and away our nation's most popular sport, and Super Bowl Sunday is practically an American holiday. The Super Bowl, for many people, is as much about the trappings around the game — the TV commercials, the parties, etc. — as it is about what happens on the field. Its appeal reaches across boundaries in ways that few other things in American society can.
Given all that, it's no surprise that people of all ages, income levels, beliefs and types also choose to put up some money on the big game.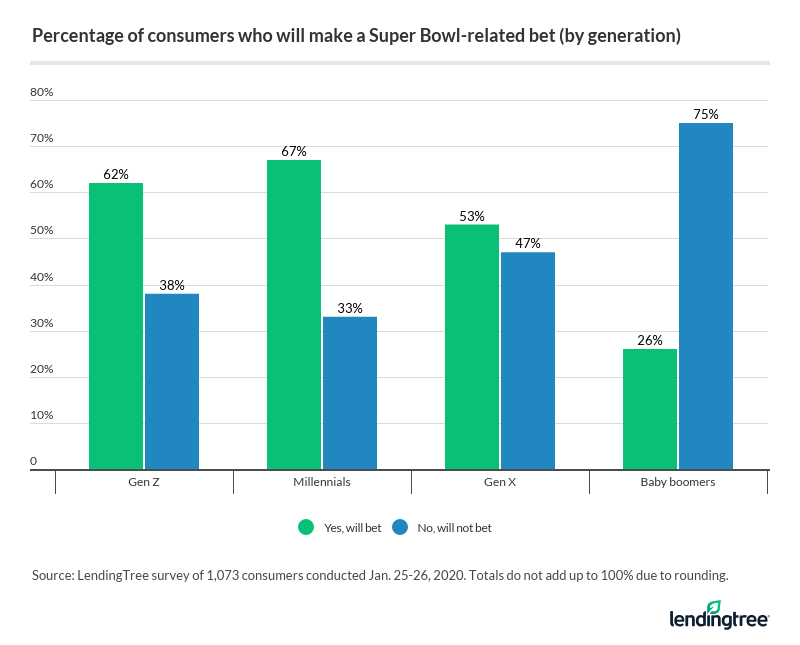 Millennials are not only the most likely to say they'll place a bet, but they're also the most likely to make several different kinds of individual bets. Nearly half of millennials (47%) will wager on the game's winner, 19% on the final score, 10% on the national anthem and 9% on the coin toss. Each of those percentages are the highest among any age group.
Gen Z isn't far behind though, with 44% saying they'll put their money on the winner and 13% saying they'll bet on the final score.
It may not be surprising to see that the youngest consumers are also the most likely to bet. It's never been easier to place bets of all kinds, thanks to online gaming, gambling apps and other technological advancements.
However, these two generations have been the hardest hit economically in the pandemic. The fact that they're willing to gamble in the face of the economic difficulties they're facing is troubling.
Even more concerning is the fact that, regardless of age group, those who have faced the biggest financial hardships in the COVID economy are also the ones most likely to place a bet.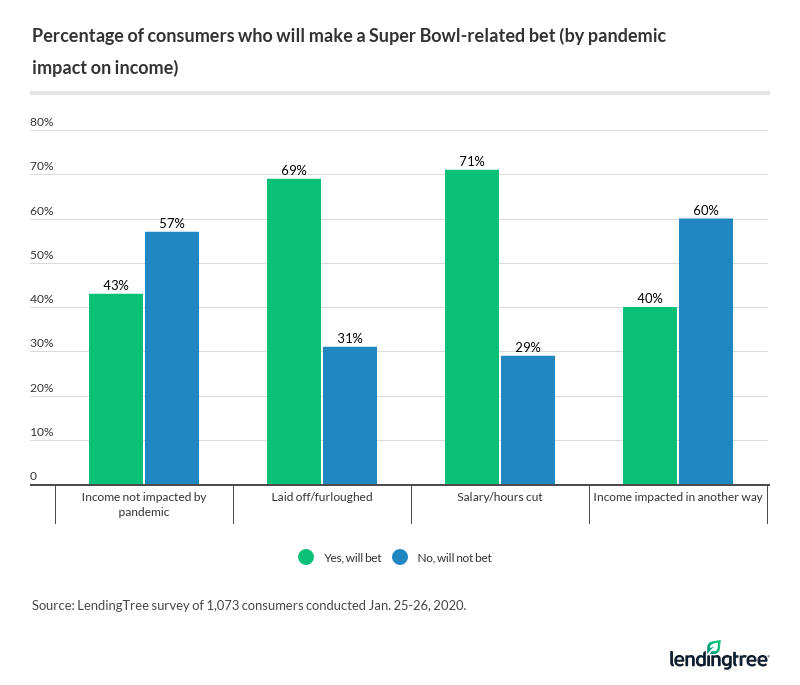 Of course, some of these people may have gotten new jobs, had their pay cuts reversed or seen their hours return to normal, but millions have not. That means an awful lot of people are simply gambling with money they have no business that may be inadvisable to putting at risk.
Overall spending likely down from last year
More than half (57%) of those who plan to bet on the game say they'll spend less than $100 doing so. However, 8% plan to gamble at least $250 on the game. Of course, betting is hardly the only expense around the game.
When asked to compare this year's expected Super Bowl expenses — everything from gambling to food and drinks to team gear — to those of last year's, about one-third of consumers said they'd spend less in 2021.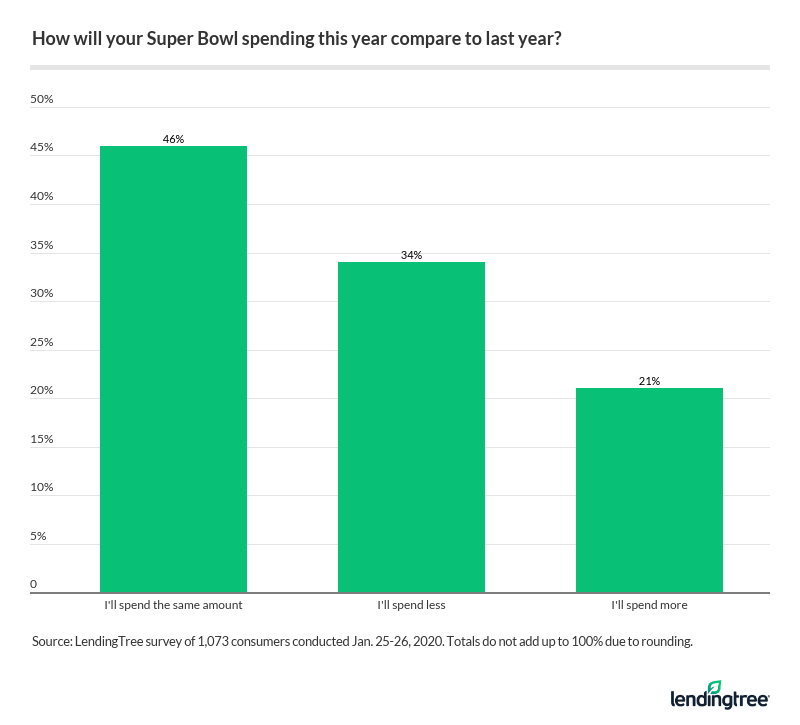 That shouldn't be too surprising, given that Super Bowl parties will likely be scarcer than they've been in decades, due to the pandemic.
What might be eye-opening, however, is that 21% expect to spend more this year than last. This could be another example of what we saw during Halloween and through the holiday season — a phenomenon in which pandemic-weary Americans flush with economic impact payments from the government, combined with reduced spending, choose to go all-out in celebrating their favorite occasions or events as a way to make up for how crummy the rest of 2020 was.
The things they're spending on aren't too different from what you expect to see for Super Bowl celebrations in any other year.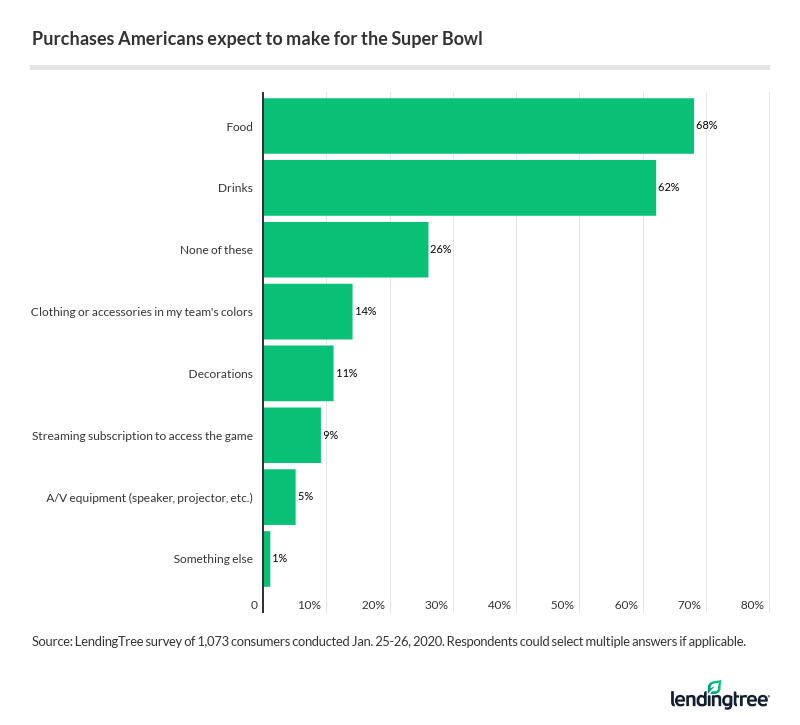 The bottom line
Gambling on football is big business. It packs sportsbooks, sells tickets and drives TV ratings, app downloads and website page views. It can also wreak havoc on your finances, relationships and life in general if it gets out of control.
So how do you keep it from going too far? Here are a few tips…
Seek help if you feel you have an addiction
Gambling can be a very real addiction that can ruin lives, in no uncertain terms. If you need help controlling your gambling or know someone who does, get help.
Check out this directory of resources by state from the National Council On Problem Gambling, as well as the organization's helpful FAQ. You can also call or text the National Problem Gambling Helpline at 800-522-4700.
Make room for some fun money in your budget
Budgets are tight everywhere today, but if you can carve out a few dollars in your budget to pay for some fun activities, you should. It may seem strange to include gambling spending in your budget, but doing so allows you to treat it as any other entertainment expense, like your cable bill or streaming subscription. This type of expense can be managed on a regular basis, and increased or decreased based on your current financial situation.
Be open and honest
As with anything in relationships, communication is key. Hiding gambling from loved ones can make many things worse. Sure, you may not need to tell your loved ones about every $5 bet you make, but when in doubt, err on the side of over-communicating. It might help you avoid making some decisions you'll regret.
Think bragging rights instead of bucks
Remember, gambling doesn't have to be done for money. Oftentimes, a bet for bragging rights or some other unique prize can get your adrenaline going as much as one for money.
Don't be afraid to get creative, too. If you do it right, your wallet may not be any bigger, but you might end up with a story you can laugh about for years to come.
Get help with your debts
Your approach in tackling debt will vary based on just how much you've accrued, but regardless of the amount, ignoring your debt is a terrible idea.
If you feel like you're in over your head, consider reaching out to a nonprofit credit counseling agency, like the National Foundation For Credit Counseling (NFCC). They can connect you with a credit counselor who can walk you through your options.
For others, a 0% APR balance transfer credit card offer or a low-rate personal loan could be useful.
A call to your credit card issuer to ask for a lower interest rate could work as well. That works more often than you'd imagine, especially if you still have good credit.
Methodology
LendingTree commissioned Qualtrics to conduct an online survey of 1,073 Americans, conducted Jan. 25-26, 2021. The survey was administered using a non-probability-based sample, and quotas were used to ensure the sample base represented the overall population. All responses were reviewed by researchers for quality control.
We defined generations as the following ages in 2021:
Generation Z: 18 to 24
Millennial: 25 to 40
Generation X: 41 to 55
Baby boomer: 56 to 75
While the survey also included consumers from the silent generation (defined as those 76 and older), the sample size was too small to include findings related to that group in the generational breakdowns.