How Does LendingTree Get Paid?
LendingTree is compensated by companies on this site and this compensation may impact how and where offers appear on this site (such as the order). LendingTree does not include all lenders, savings products, or loan options available in the marketplace.
What Your Credit Score Is Really Saying
Published on: February 11th, 2019
Editorial Note: The content of this article is based on the author's opinions and recommendations alone. It may not have been previewed, commissioned or otherwise endorsed by any of our network partners.
A good credit score is key to obtaining loans and credit cards and qualifying for your best possible terms. Your credit score is a tool creditors use to measure your financial health and assess your monetary habits, like whether you pay bills on time or take on more debt than you can handle. A high credit score indicates you have a long track record of timely payments and keep your credit usage low.
But a low score can reveal you're a high risk to lenders because you tend to miss payments, pay late, have outstanding balances or max out your credit cards. So what is your credit score really saying?
What factors into your credit score?
The most commonly used credit scores are generated by Fair Isaac Corp., or FICO®. FICO Scores range from 300 to 850, with 670 generally considered a healthy score. Where you fall in this range affects your ability to get loans, credit cards and favorable interest rates.
Your FICO credit score is based on five components: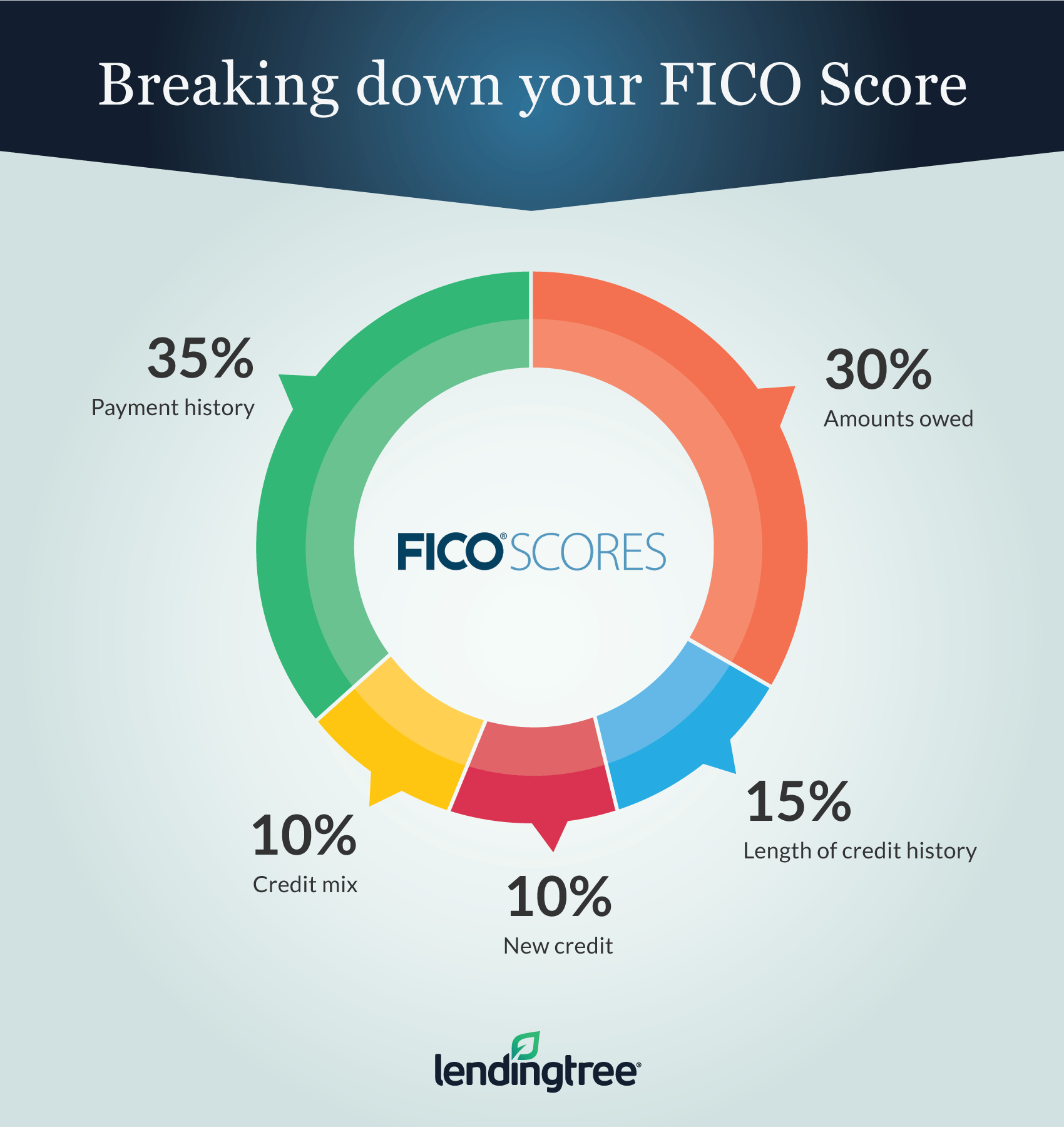 35%: Your bill payment history
30%: How much you owe on credit cards and loans
15%: The length of your credit history
10%: The mix of loans you have, including credit cards, installment loans and home loans
10%: Recent credit activity, including opening new accounts
As an alternative to FICO, the three credit reporting agencies — TransUnion, Experian and Equifax — banded together to create VantageScore. VantageScores range from 300 to 850, with 700 considered good.
With both FICO and VantageScore, your payment history is the most important factor in your score. After that, the considerations vary slightly. FICO gives greater weight to your total outstanding debts and balances, whereas your VantageScore more heavily depends on the age and type of your credit.
What lenders look for in a credit score
Different lenders will look for different things when evaluating you as a potential customer, and credit scores probably aren't the only thing they will consider. But FICO offers some guidance:
Excellent: 800-850
Demonstrates to lenders that you are an exceptional borrower
Likely to get the best rates and terms from lenders
Very good: 740-799
Indicates you are a responsible borrower
Likely to qualify for above-average rates
Good:
670-739
Regarded as a good score by many lenders
Only 8% of borrowers in this range will likely become delinquent
Fair:
580-669
Below the average score for American consumers, but many lenders consider it fair and will extend credit
Considered subprime borrowers
Poor:
300-579
Indicates that you are a borrowing risk and may not be approved
Credit applicants may be required to pay a fee or deposit
Why a good credit score doesn't exactly mean you're wealthy
A good credit score is a strong indicator that you have solid financial habits, including managing your debt. However, it doesn't necessarily mean that you have a lot of extra cash. "Credit really doesn't have anything to do with wealth," said Jory McEachern, director of operations for credit repair company ScoreShuttle in San Diego "Rather, it's an indication of your relationship with money, which means it doesn't matter if you make $1,000 or $10,000 a month."
Even if you have a good credit score, you could still be stretched financially or recovering from past missteps. Here are some scenarios where you could be maintaining a good credit score yet find yourself struggling financially.
You pay the minimum. If you pay your bills on time, your credit score will reflect that positive activity. But if you're only paying the minimum each month, you will still be left with balances, and those balances will be accruing interest. On-time payments help maintain a good credit score, but when you carry a balance, those interest charges and fees can add up quickly, and you can soon find yourself struggling to pay them off.
You have too much credit. While the credit scoring models give weight to your credit mix, having too many accounts can be a strain on your finances. Your high credit score may qualify you for a variety of credit cards and loans, but that doesn't mean you should use too many cards and carry a lot of debt. Remember: Just because you have access to credit doesn't mean you should use it all. Most credit experts suggest consumers keep their credit utilization ratio below 30% to stay eligible for the most favorable terms.
You're just establishing yourself. If you're a young adult or college graduate, you may just be starting to build credit, either as an authorized user on a parent's card or by responsibly using a new card of your own. This is a common scenario in which someone with a solid credit score might still lack the funds to pay for many of the things their credit score may make available to them, like loans or a higher credit limit.
You have other financial obligations. A credit score reflects your credit history, but does not factor in financial commitments such as alimony or child support, which can reduce your spendable income and your ability to save.
The bottom line
Your credit score provides potential lenders with a window into your financial life. With a higher score, you may be rewarded with favorable terms on loans and credit cards. Credit experts encourage consumers to check their credit report at least once a year and before you make major purchases or apply for loans. Under federal law, Americans can receive a free credit report from each of the three credit bureaus annually, and many banks provide free credit score checks. For more detailed reporting, consumers can sign up with TransUnion, Equifax or Experian for credit reporting and monitoring services. If you want your credit to tell a good story, credit experts agree you should pay your bills on time, keep your debt usage low and build a track record of responsible behavior.
Learn more about your credit score!