How Does LendingTree Get Paid?
LendingTree is compensated by companies on this site and this compensation may impact how and where offers appear on this site (such as the order). LendingTree does not include all lenders, savings products, or loan options available in the marketplace.
States Where You're Most Likely to Be Hounded for a Debt You Don't Owe
Updated on: October 11th, 2021
Why use LendingTree?
We are committed to providing accurate content that helps you make informed money decisions. Our partners have not commissioned or endorsed this content. Read our .
There probably aren't many people who gleefully pick up the phone or excitedly open a letter when a debt collector contacts them. The dread that often follows can certainly be exacerbated if the debt in question has already been paid or, worse, wasn't owed in the first place.
Yet, plenty of people still receive these pesky notifications, and some collectors don't quit calling, leading some consumers to complain to the Consumer Financial Protection Bureau (CFPB). In fact, from September 2018 to September 2021, the CFPB received 31.8 complaints per 100,000 adult consumers regarding debt collectors incorrectly pursuing them, according to a LendingTree analysis. That number triples in Georgia, the state where consumers are bothered the most by persistent and erroneous debt collectors.
Some states offer better protections to consumers facing these kinds of collectors, but not necessarily the states where consumers have the most problems.
Key findings
Consumers in Georgia are three times more likely than other Americans to be pursued for collection of a debt they don't owe. Georgia residents filed 95.6 complaints per 100,000 adults in the state, compared with 31.8 per 100,000 adults in the 50 states and the District of Columbia.
No. 2 Texas and No. 3 Nevada, have complaint rates per 100,000 adults of 60.3 and 57.6, respectively. Contrary to Georgia, they are two of only eight states to receive a B grade for their consumer protection laws from the National Consumer Law Center (NCLC). Georgia has an F grade, while no state received an A.
Nearly 80% of these complaints involve fraudulent or mistaken debt. 49.3% of complaints say the debt was not theirs and another 30.4% say it resulted from identity theft. The rest of the complaints are regarding debt already paid off (17.1%) or discharged in bankruptcy (3.2%).
Credit card debt is the most commonly named debt for which consumers are being incorrectly pursued. 26% of complaints specifically cite credit card debt, while 27.8% are related to some debt outside of credit cards, medical, auto, payday loans, mortgages and student loans.
Debt collection mishaps prevalent in the South
When a debt collection agency comes calling for a debt that may not actually be owed, there's a good chance they're calling a Southern area code. Eight of the 10 states with the most complaints about collections for debts not owed are in the South.
Georgia leads all states with the most complaints for debts they don't owe, with 95.6 complaints filed per 100,000 adults over three years. In the 50 states and District of Columbia, the CFPB received 31.8 of these complaints per 100,000 adults over the same period.
What's worse for Georgia residents, the state has an F grade for consumer protection laws from the National Consumer Law Center (NCLC). Though no state earns an A from the organization, most states sit in the C and D grade range.
The NCLC grades states based on local laws protecting consumer property and assets from creditors and debt collectors. A worse grade indicates collections firms have more authority to seize property.
Texas and Nevada are two of just eight states that earn a B grade from the NCLC, but that doesn't mean the collectors don't call. Ranking No. 2 and No. 3 for complaint rates, Texas tallies 60.3 complaints and Nevada 57.6 per 100,000 adults.
Since consumer protection laws vary by state, LendingTree chief credit analyst Matt Schulz advises consumers to get a solid understanding of how things work where they live.
"There are federal laws that limit what collectors can do," Schulz says. "Generally speaking, debt collectors can't claim to be from the government, threaten to have you arrested for not paying your debt, force you to pay debt that you don't owe or harass you verbally or physically. If that starts happening, don't stand for it. Complain to the CFPB and make sure that you're heard."
Complaints rare in District of Columbia
On the other side of the rankings, the District of Columbia records the fewest CFPB complaints regarding irrelevant debts. Just 3.8 of every 100,000 residents have filed complaints in D.C., a fraction of the complaints in Georgia and nationwide.
Vermont follows closely with 4.7 complaints per 100,000 adult consumers.
States with fewest CFPB complaints about debts not owed
Rank
State
CFPB complaints per 100,000 adults
NCLC grade
 1
District of Columbia
3.8
B
2
Vermont
4.7
D
3
South Dakota
6.2
C
4
North Dakota
7.6
C
5
West Virginia
7.7
C
6
Iowa
8.3
C
7
Maine
8.7
C
8
New Hampshire
10.2
C
9
Nebraska
11.0
D
10
Montana
11.1
D
Though complaints are few in the nation's capital, those who struggle with debt collectors may have better protections than folks in other states. D.C. earns a B grade from the NCLC for their consumer property protection. Vermont is one of three states in the 10 with the fewest complaints to earn a D grade. Every other state in the 10 with the fewest complaints has a C grade.
Where debts are paid off but collectors keep calling
When broken out by type of complaint, the states where consumers complain the most about debt collections regarding fraudulent or otherwise nonexistent debt closely mirror the states with the most complaints overall.
However, the states with the most complaints about debts that have been addressed with payment or discharge reorder the rankings more significantly. Delaware takes the top slot for most complaints about debt that has been paid off or discharged in bankruptcy, with 13.3 complaints per 100,000 consumers.
Georgia and Nevada consumers still deal with more of these collections than much of the country, coming in at No. 2 and No. 3, respectively, for complaints about debt not owed.
States where people are hounded most for debts they've already paid or discharged
Rank
State
CFPB complaints per 100,000 adults
Debt was paid
Debt was already discharged in bankruptcy and is no longer owed
1
Delaware
13.3
11.7
1.6
2
Georgia
12.9
10.9
2.0
3
Nevada
11.0
9.6
1.4
4
Maryland
10.1
8.0
2.1
5
Florida
9.9
8.5
1.4
6
Wyoming
9.9
3.8
6.1
7
Texas
8.3
7.1
1.2
8
Virginia
8.0
6.8
1.2
9
Tennessee
7.9
6.6
1.3
10
Arizona
7.4
6.4
1.0
What's the deal with this mystery debt?
While the issue for these complaints is that consumers don't believe they owe the debt about which collectors are asking, the reasons for those beliefs vary. The largest share of complaints nationwide (49.3%) comes from consumers saying the debt is not theirs. Another 30.4% say the debt is the result of identity theft.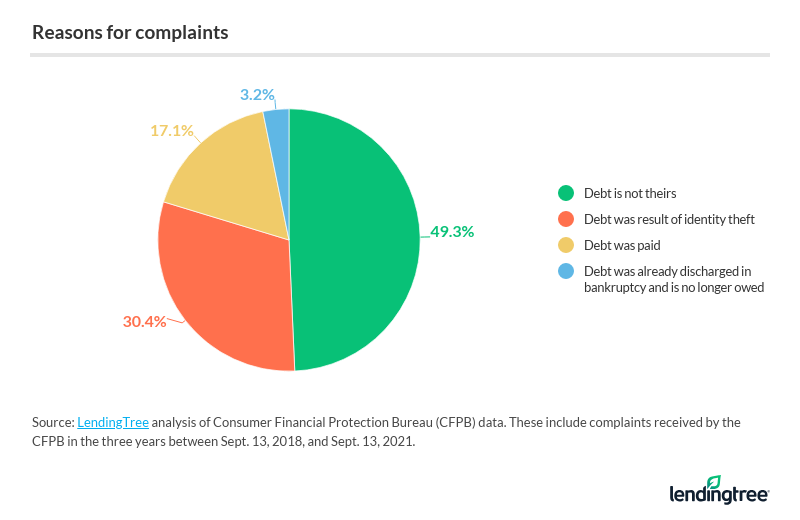 Around 1 in 5 consumers admit the debt may have existed in their name but is no longer owed, with 17.1% of folks saying they paid off the debt and 3.2% saying their debt was discharged through bankruptcy.
As for the debt that collectors are trying to solicit, 27.8% of consumers report being hounded over something other than the named categories, which include credit card, medical, auto, payday loan, mortgage and private or federal student loans.
Fraudulent or nonexistent credit card debt garners the second-most complaints, with 26% of attempted collections. A notable 23.5% of folks complaining about a debt collection are unable to identify the type of debt:
Other debt: 27.8%
Credit card debt: 26.0%
I don't know: 23.5%
Medical debt: 14.7%
Auto debt: 3.2%
Payday loan debt: 1.8%
Mortgage debt: 1.4%
Federal student loan debt: 0.9%
Private student loan debt: 0.8%
Older Americans and service members make up a notable share of victims of debt collection mishaps. Nearly 10% of folks who complained about incorrect or fraudulent debt collections are service members. Military members — especially retirees and veterans — are frequently targeted by scammers and often report greater amounts of financial loss than civilians, according to the Federal Trade Commission (FTC). Older Americans make up almost 3% of CFPB complaints about unsound debt collectors.
Protecting yourself from collectors
Managing debt can be difficult at any stage and for any reason, but staying on top of payments and in communication with your lender may help consumers avoid run-ins with debt collectors.
If you're in a situation where your debt is headed to collections or you're afraid of falling behind on payments, it's important to talk to your lender and be honest about your situation.
"The lender might be willing to work with you by waiving fees, temporarily lowering interest rates or raising credit limits or even pushing back payment deadlines," Schulz says. "There's no guarantee they'll work with you, but it is important to ask."
In the direst of situations, debt consolidation or settlement may be an option, but make sure you understand the ramifications, like how they can impact your credit score.
Unfortunately in identity theft or fraud, there aren't always foolproof ways to protect yourself from scammers. If you know the debt a collector is trying to get from you has already been paid or is fraudulent, Schulz advises consumers to make a complaint right away and keep an eye out for more vulnerable family members.
"The older folks, in particular, are often targeted by unscrupulous collectors hoping to squeeze some money out of innocent people," Schulz says. "If that's happening to someone you love, it is time to
take action
."
Methodology
Analysts reviewed collections complaints, specifically for attempts to collect debts not owed, made to the Consumer Financial Protection Bureau (CFPB) between Sept. 13, 2018, and Sept. 13, 2021, to determine the rates of complaint per 100,000 residents 18 and older in the 50 states and the District of Columbia. Researchers also gathered related statistics from these complaints.
Adult population counts are from the U.S. Census Bureau American Community Survey, 2019 five-year estimates. State consumer protection grades are from No Fresh Start 2020 from the National Consumer Law Center (NCLC).