How Does LendingTree Get Paid?
LendingTree is compensated by companies on this site and this compensation may impact how and where offers appear on this site (such as the order). LendingTree does not include all lenders, savings products, or loan options available in the marketplace.
Americans Are Burdened With Thousands of Dollars in Medical Debt, but Nearly All Who Negotiate Their Bills Are Successful
Updated on: June 12th, 2023
Why use LendingTree?
We are committed to providing accurate content that helps you make informed money decisions. Our partners have not commissioned or endorsed this content. Read our .
One in 4 Americans are currently wrestling with medical debt, and those with it owe more than $7,700 on average, according to the newest survey from LendingTree. But many who've negotiated these bills have found some success in getting them reduced.
That's good news for a group of Americans desperately needing it. Our survey shows the enormous toll that the health care system takes on people across the U.S. It's pushing people into debt and keeping them there, and those debt struggles are causing people to play the dangerous game of delaying care or forgoing it, putting their health at risk.
However, as we saw with credit card debt, those with medical debt may have more power over their situation than they realize — if they're willing to wield it.
On this page
Key findings
The health care system is pushing Americans to their financial limits. 52% of Americans have had medical debt — 25% of which are still paying it off. Those with medical debt owe an average of $7,747, with most who've had medical debt incurring it via emergency department care (38%), hospital stays (28%) and diagnostic tests (23%).
As health care costs rise, the financial burden of medical care is unhealthy for patients' wallets and wellness. 55% of Americans who've had medical debt say its burden has forced them to forgo care, and 32% of those who pushed it off say their condition worsened.
The bill might be in the mail, but the cost isn't always final. 60% of those who've had medical debt say they've negotiated their bills, with a whopping 90% seeing some success. Younger generations are more likely to negotiate their medical bills, with 81% of Gen Zers and 66% of millennials doing so, compared with 53% of Gen Xers and 43% of baby boomers.
Regardless of a cure, ailments are financially following patients for years. Half of Americans who've had medical debt report at least one related bill was sent to collections. Almost 70% of those who currently have medical debt say it's preventing them from reaching their financial goals. But as the debt is addressed, 59% with medical debt (now or in the past) say they've successfully removed it from their credit report, and more than half who did so (54%) say their credit score increased.
Nearly a quarter who've had medical debt say they've increased their debt to decrease their waist size. 51% of Gen Zers, 30% of millennials and 23% of Americans who've had medical debt incurred some of it from weight-loss drugs, surgery or treatments like Ozempic.
Medical debt is pushing Americans to their financial limits…
Most Americans' financial margin for error is tiny. That's generally true in the best of economic times. In today's mix of lingering inflation, rising interest rates and record credit card debt, it's even more likely to be true. However, when you add medical issues, a difficult situation can quickly become dire.
Our survey finds that more than half of Americans (52%) have had medical debt, and that 25% have it now. (These numbers are up from 45% and 23%, respectively, in last year's survey.)
Parents with children younger than 18 (62%), millennials ages 27 to 42 (60%), those who make less than $35,000 annually (56%) and those who are widowed (56%) are most likely to have carried medical debt at some point. However, the above graphic shows this isn't just an issue affecting those with kids, young people, low-income Americans and those who've lost their spouse. This touches all of us.
When considering those who currently carry medical debt, parents with children younger than 18 (36%) and millennials (33%) are the most likely to be affected. However, those making $50,000 to $74,999, $100,000 or more or less than $35,000 (26%) are equally likely to struggle with medical debt.
The debt is being driven by many different types of services and procedures, most commonly emergency department care (38%), hospital stays (28%) and diagnostic tests (23%). However, respondents also reported varied causes such as:
Dental care (19%)
Prescriptions (17%)
Mental health care (14%)
Outpatient surgery (14%)
Uninsured medical care (12%)
Pregnancy and childbirth (12%)
Long-term care or major illnesses (10%)
Eight percent of those with debt said cosmetic surgery or procedures were to blame.
…And leading people to make potentially unhealthy decisions about care
Paying down any type of debt often requires sacrifice. That can be difficult when you're trying to save a few bucks by ending a gym membership or canceling your Disney+ subscription. When your health is involved, however, the issues become far more serious and the choices become far more significant.
Our survey finds that's the situation facing millions of Americans today because of medical debt. More than half of Americans (55%) who've had medical debt say they've chosen to forgo care because of it. Nearly two-thirds of millennials (64%) who've had medical debt say the same, as do 62% of parents with children younger than 18 who've had medical debt.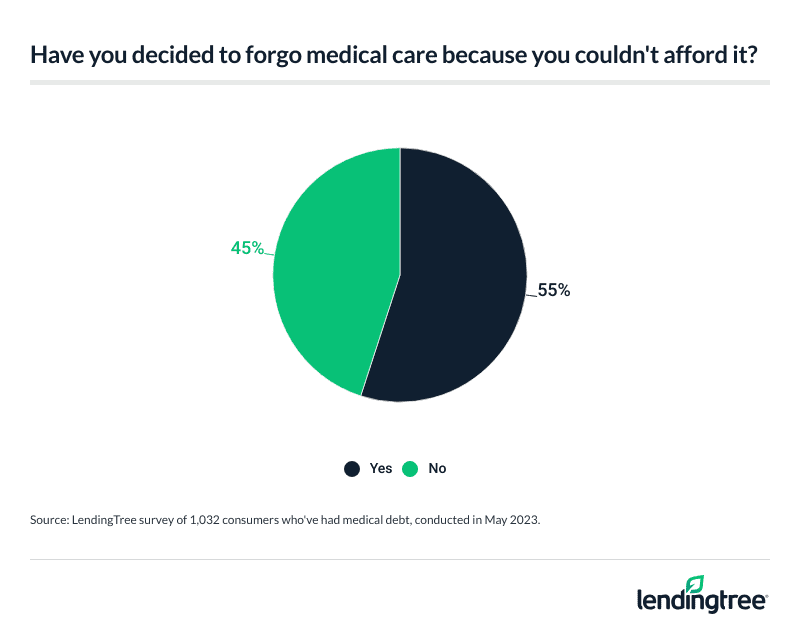 For many, that choice has had a significant impact. About a third (32%) say their condition worsened after choosing to forgo care because of medical debt. That's a troubling stat. Obviously, the primary concern is the additional risk to your health. However, as your health worsens, the cost of treatment may rise as well, meaning that you could spend more than you would have if you had addressed the issue earlier.
That medical bill may not be final
There's a major silver lining in the dark clouds of this survey: Millions of Americans have negotiated their medical bill and were at least partly successful.
Our survey finds that 60% of those who've had medical debt have negotiated their bills in some way, such as asking for items taken off their bill, requesting a lower overall balance or discussing entering a payment plan. The younger you are and the higher your income, the more likely you are to have negotiated. For example, 81% of Gen Zers ages 18 to 26 with medical debt said they've negotiated, versus just 43% of baby boomers ages 59 to 77. Meanwhile, 71% of people earning $100,000 or more a year say the same, compared with 55% of those earning less than $50,000. Men are also more likely than women to have done so (65% versus 55%).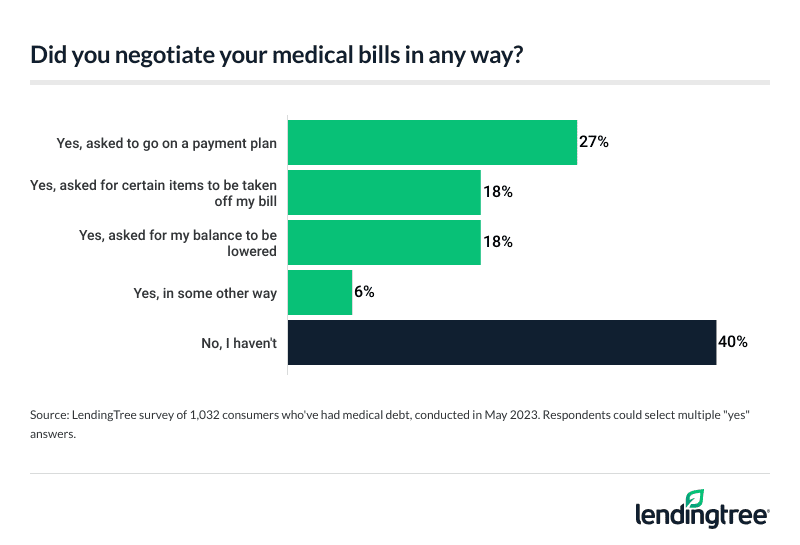 Most importantly, 90% of those who asked were at least partially successful. That includes 54% who said they received exactly what they asked for. This is a big deal for anyone facing medical bills, especially given how enormous these bills can often be.
It's also further proof that we as consumers have more power than we realize over our money. We found similar results in an earlier survey in which we asked Americans if they had ever asked their credit card issuers for breaks such as a lower interest rate, a higher credit limit or a waived late or annual fee. The success rates were so high that it was clear that it wasn't just people with high incomes and 800 credit scores who were getting helped. That is likely the case here as well.
The financial impacts can linger for a long time
We've already seen that Americans are forgoing care because of their medical debts, potentially leaving their short-term physical and financial health worse. However, the long-term financial impact of medical debt can be enormous as well.
Nearly 7 in 10 (69%) who currently have medical debt say it's preventing them from reaching other financial goals. This is especially true among parents with children younger than 18 (79%), those making between $50,000 and $74,999 (78%), those who are married (74%), Gen Xers ages 43 to 58 (73%), millennials (72%) and men (72%). That's a huge number of Americans who are unable to build an emergency fund, pay for their kid's college tuition, save for a mortgage or auto down payment or maybe even retire because of the toll medical debt has taken on their lives.
Also, half of those who've had medical debt (now or in the past) say they've had at least one bill go into collections. That can be devastating for your credit, sending your score significantly lower and potentially costing you thousands of dollars over the years in the form of higher interest rates and fees on loans, higher insurance premiums and more.
Typically, collection accounts stay on your credit report for seven years. However, the rules of the road have changed very positively for consumers when it comes to medical debt and credit. For example, the following medical debts should no longer appear on credit reports:
All paid medical debt
All debt less than a year old
All medical debt totaling less than $500
The last of these changes were implemented earlier this year. The Consumer Financial Protection Bureau (CFPB) estimates that roughly half of people with medical debt on their credit report will have that removed based on the final change alone. Our survey finds that nearly 6 in 10 who've had medical debt have had some of it removed from their credit report.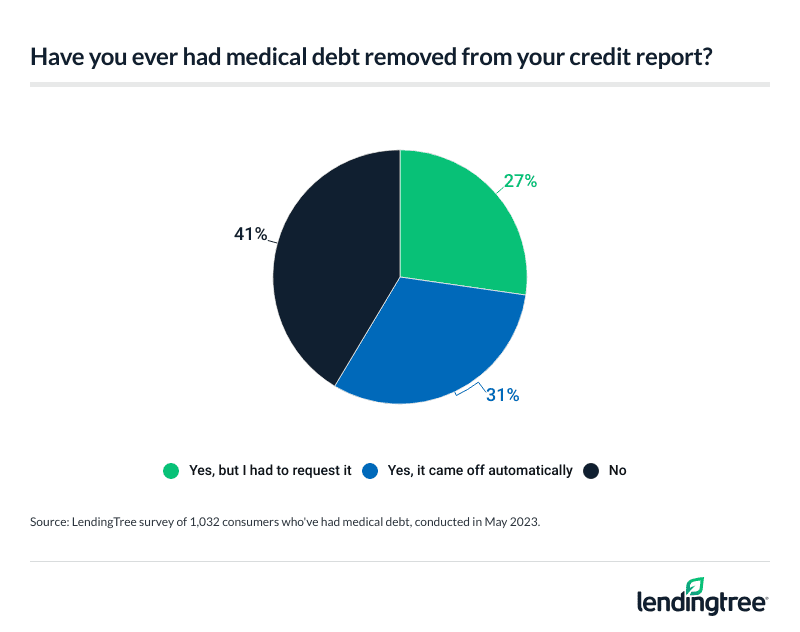 That's a big deal because 54% of those who said they'd had medical debt removed from their report said that their credit score had gone up as a result. (Another 34% say their score was unchanged.) Higher credit scores make you more likely to get the next loan you apply for and make it more likely that the loan will come with lower interest rates, fewer fees and overall better terms.
Many taking on extra debt to help them shed extra pounds
Not all debt is created equal. Some we take on because we have no choice, some we take on because we choose to, and others fall somewhere in between. Some can even be viewed as good debt. That is debt that gives you a strong return on investment, perhaps financially (such as investing in a business or remodeling a home) or emotionally (such as a family dream trip to Paris or Disney World).
Our survey shows that nearly 1 in 4 (23%) who've had medical debt say weight-loss drugs, surgeries or treatments such as Ozempic have contributed to it.
Men are more likely than women (30% versus 17%) to say they'd gone into debt for these things. Also, younger folks are more likely than older ones to say so, as are those with higher incomes.
The bottom line: Don't be afraid to question your medical bills
Mistakes on medical bills are disturbingly common. The Medical Billing Advocates of America estimate that up to 80% of all medical bills are inaccurate. Given how big medical bills can be, you must take the time to review them, make sure they're accurate and dispute them if they're not.
Where do you start? Ask for an itemized bill for your visit, and make sure it includes Current Procedural Terminology codes, better known as CPT codes. Health care professionals in the U.S. use these codes to indicate what services and procedures were provided during a visit. Once you have the codes, Google them to see if they match with what was done. If they don't, tell your medical provider immediately. Having the wrong code can lead to unnecessarily large bills. For example, you could be charged for a complex, pricey procedure instead of the simple, inexpensive one that you had — a potential difference of thousands of dollars — and you may not know it if you didn't ask for the itemized bill.
Still, even if the bill is accurate but higher than you'd like it to be, it can be worth calling your medical provider and asking them to reduce what you owe. While your success is far from guaranteed, our survey shows your chance for success is likely higher than you think. Tell them you're on a tight budget and can only pay a certain percentage of the bill. Ask if they'd reduce the overall bill if you paid more upfront. See if a payment plan might be available. These are just a few possibilities. However, none of them matter if you're not willing to reach out and negotiate.
Methodology
LendingTree commissioned Qualtrics to conduct an online survey of 1,984 consumers from May 3-4, 2023. The survey was administered using a nonprobability-based sample, and quotas were used to ensure the sample base represented the overall population. Researchers reviewed all responses for quality control.
We defined generations as the following ages in 2023:
Generation Z: 18 to 26
Millennial: 27 to 42
Generation X: 43 to 58
Baby boomer: 59 to 77