How Does LendingTree Get Paid?
LendingTree is compensated by companies on this site and this compensation may impact how and where offers appear on this site (such as the order). LendingTree does not include all lenders, savings products, or loan options available in the marketplace.
As Credit Reporting Agencies Remove Most Medical Debt From Credit Reports, Up to 45% of Americans Could Benefit
Updated on: June 27th, 2022
Editorial Note: The content of this article is based on the author's opinions and recommendations alone. It may not have been reviewed, commissioned or otherwise endorsed by any of our network partners.
The choice to seek medical care isn't often a choice — anyone who's ever experienced a medical emergency or dealt with a chronic, long-term illness knows this to be true. But even with the foresight to plan out medical treatment well in advance (such as with an elective surgery or health screening), many patients are still left with hospital bills they can't pay.
These patients could get some help on July 1, 2022, when the three nationwide credit reporting agencies say they'll remove nearly 70% of medical debt from credit reports. This could be great news for the 23% of Americans with medical-related debt and the 22% who have previously had it, according to an updated LendingTree survey of more than 1,100 Americans.
2022 key findings
2021 key findings
Most medical debt to be removed from credit reports
Medical debt can weigh as heavily on a household's budget as any other debt, such as credit card debt, auto loans or even student loans.
But this type of debt will soon have a more limited impact on Americans' credit reports, according to a March 2022 announcement from the three nationwide credit reporting bureaus — Equifax, Experian and TransUnion.
Effective July 1, 2022, paid medical debt won't appear on consumer credit reports. Similarly, unpaid medical debt won't appear on credit reports for a year, up from six months. And in the first half of 2023, the three agencies won't include medical debt of less than $500 on credit reports.
This announcement is important for the 23% of Americans with medical debt and the 22% who've previously had it, according to an updated LendingTree survey. Americans with medical debt will benefit from the reporting delay, while those who previously had it will benefit from paid debt being removed from reports.
Millennials (ages 26 to 41) and parents with kids younger than 18 (30%) are most likely to be burdened with medical debt. It makes sense that parents with kids younger than 18 are in medical debt at a higher rate — between wellness checkups and broken bones, health care costs for families can add up. And the more family members, the more potential medical bills.
Millennials and parents of minor children are followed by:
Those who earn less than $35,000 a year (28%)
Gen Xers ages 42 to 56 (24%)
Those who earn $50,000 to $74,999 (24%)
Women (23%)
Men (23%)
Those who earn $35,000 to $49,999 (25%), those who earn $50,000 to $74,999 (24%), baby boomers ages 57 to 76 (24%) and parents with kids younger than 18 (24%) are most likely to previously have had medical debt.
The 23% with medical debt is a substantial drop from the 37% in last year's survey (see the full 2021 survey below). It'll be interesting to see which way this trend goes next year, with Americans having a collective $88 billion in medical debt on their credit reports (as of June 2021).
Medical debt is a costly burden on Americans' finances
Whether you're scheduling a mammogram or calling an ambulance in an emergency, it should be a no-brainer to seek medical treatment when you need it. But Americans who can't afford medical care might think twice before visiting a doctor to avoid getting stuck with debt over it.
On average, Americans with medical debt owe between $5,000 to $9,999. Most (83%) owe more than $1,000, and 13% owe more than $20,000.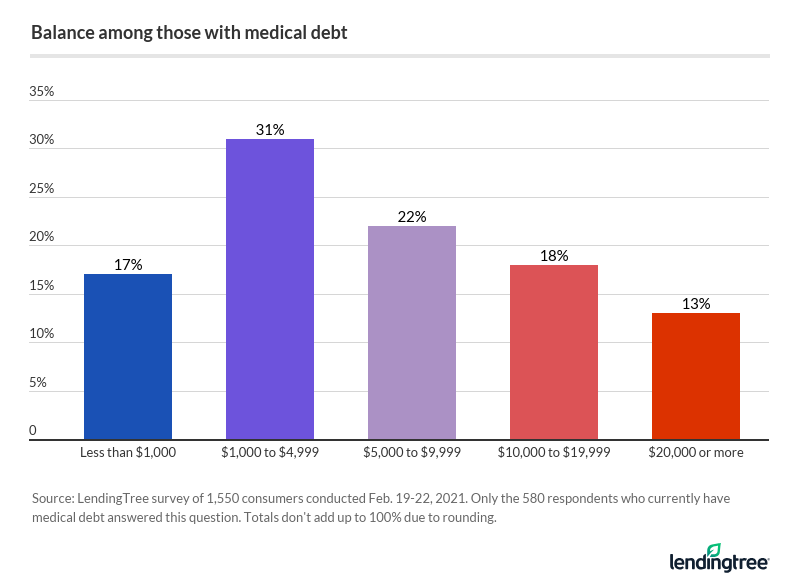 Medical debt affects virtually everyone, but it can be most burdensome for the people who need chronic treatment, such as patients with cancer, heart disease or diabetes. Long-term illnesses can keep patients in and out of the hospital, and the only thing they know for certain is that they're getting a bill at the end of their visit. Of those with medical debt, 82% said they or a member of their household have an underlying health condition.
Medical debt holds Americans back from buying homes, having kids
The cost of medical care may prevent people from seeking the services they need in the present, but it can also prevent them from planning for the future. In particular, 72% of those who have had medical debt said it prevented them from achieving key milestones, including:
Medical debt is also a source of anxiety and stress for those who carry it — the majority of those in medical debt (68%) have lost sleep worrying about it.
Emergency room visits, childbirth leave consumers indebted
If you're seeking emergency medical care, you may not have time to ask how much the ambulance ride will cost or if the health care provider is in your network. Emergency room visits are the leading cause of medical debt, leaving many patients with a hospital bill after getting life-saving care.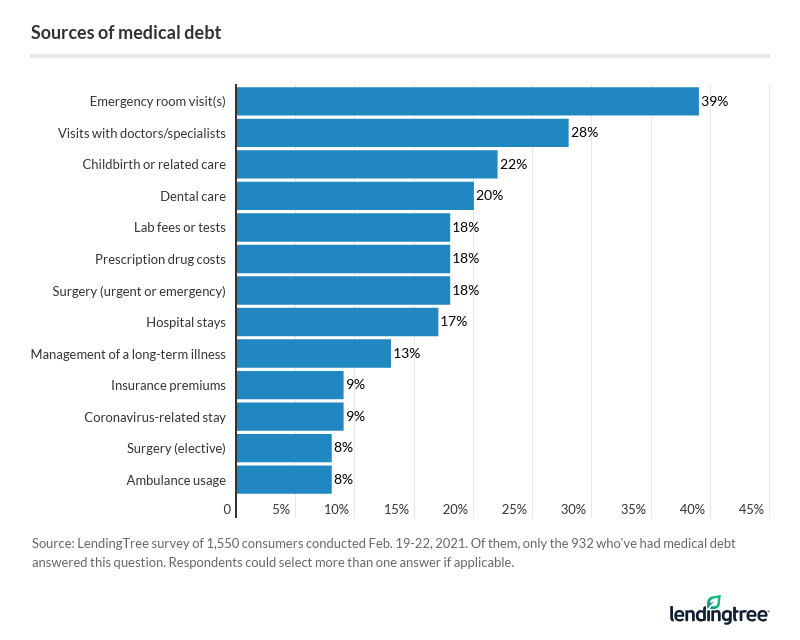 Visits with a doctor or specialist also contribute to a good portion of medical debt in America. Specialists can come with higher copays, and some services like tests and lab fees may not be fully covered by insurance. For example, a dermatologist visit may be considered elective, leaving the patient responsible for out-of-pocket expenses even if they're testing a suspicious mole for cancer.
Childbirth costs round out the top three causes of medical debt. The cost of childbirth in America can range from $10,000 to $30,000 or more.
Notably, the coronavirus pandemic is responsible for about 1 in 10 patients with medical debt.
How Americans paid off their medical bills
Unexpected hospital bills can derail a household's carefully crafted budget, and many people have to borrow money and take out more debt to pay off their medical debt. Some Americans even have to take on a side gig or borrow money from friends or family to pay off their medical bills.
Among those who've already paid off their medical bills, here's how they did it:
33% used money from their savings
23% worked with their health care provider on a payment plan
23% took on credit card debt
16% cut other expenses from their budgets
13% took on another job
10% took out a personal loan
9% borrowed from a loved one
8% declared bankruptcy
5% tapped into their retirement savings
About half of consumers think the best way to face medical debt is by working with the hospital on a payment plan. Only 16% of people think using a credit card is the best way to pay off medical debt, even though 23% of people who had medical debt said they paid it off using a credit card.
When tax season comes around, you may be able to deduct money used to pay for medical or dental care, up to 7.5% of your adjusted gross income. This is an effective way for families to save money on the cost of health care — however, 44% of those with medical debt didn't know they could deduct it from their taxes.
Most try to negotiate their medical bill, with a high success rate
Most of those with medical debt (75%) tried to negotiate their medical debt, though older consumers were least likely to negotiate. Of those who have negotiated a medical bill, 66% did so themselves, while 26% used a service to help them and 9% had another family member negotiate on their behalf.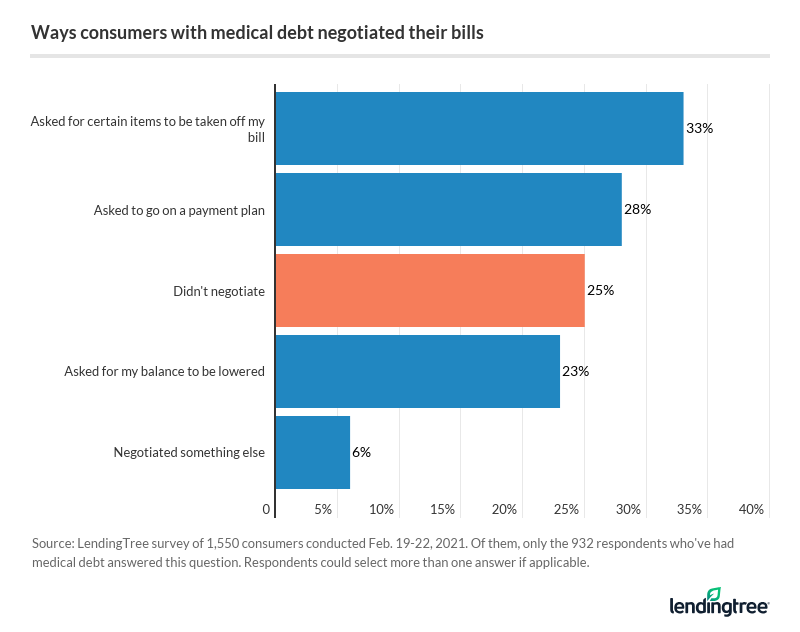 When you attempt to negotiate your medical bills, there's really nothing to lose — the vast majority of those who tried to negotiate were at least partially successful.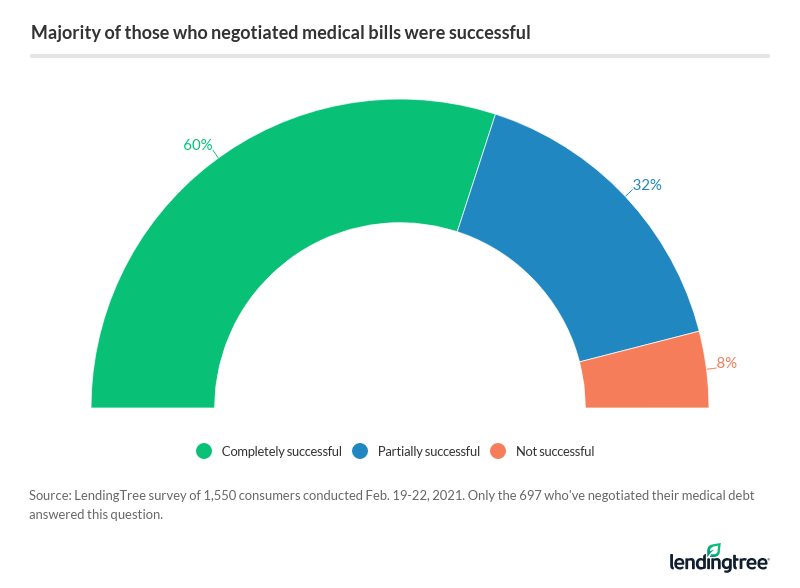 Here are a few tips for negotiating medical debt:
Understand what should be covered by your insurance. Request a Summary of Benefits and Coverage to find out the costs you're responsible for in terms of copay, coinsurance and a deductible.
Get an itemized copy of your hospital bill. Search for errors like charges for preventive care, double billing and incorrect coding. You can ask your insurer for help, and a third-party medical bill reviewing service can also help you with this step.
See if you qualify for payment assistance programs. Nonprofit hospitals are required to offer payment assistance for patients who meet certain income requirements, but the specific details will depend on the state in which you live.
Offer to pay upfront for a discount. If you have the funds to pay most of your medical bill upfront, you may be able to save up to 20% off your bill. Speak directly with a representative from the billing department, and take notes of your communication.
Enroll in a payment plan through the health care provider. Many hospitals offer interest-free payment plans, which may pose a better alternative to medical credit cards or loans.
Methodology
LendingTree commissioned Qualtrics to conduct an online survey of 1,162 U.S. consumers, fielded May 16-23, 2022, for updated data regarding the percentage of Americans with medical-related debt. The rest of the data comes from a survey of 1,550 U.S. consumers, conducted Feb. 19- 22, 2021. Both surveys were administered using a nonprobability-based sample, and quotas were used to ensure the sample base represented the overall population. All responses were reviewed by researchers for quality control.
We defined generations as the following ages in 2022:
Generation Z: 18 to 25
Millennial: 26 to 41
Generation X: 42 to 56
Baby boomer: 57 to 76
For the portion of the survey from last year, we defined generations as the following ages in 2021:
Generation Z: 18 to 24
Millennial: 25 to 40
Generation X: 41 to 55
Baby boomer: 56 to 75