How Does LendingTree Get Paid?
LendingTree is compensated by companies on this site and this compensation may impact how and where offers appear on this site (such as the order). LendingTree does not include all lenders, savings products, or loan options available in the marketplace.
51% of Insured Americans Who Took a COVID-19 Test Received a Bill
Updated on: March 8th, 2021
Why use LendingTree?
We are committed to providing accurate content that helps you make informed money decisions. Our partners have not commissioned or endorsed this content. Read our .
It's widely believed that coronavirus testing is always supposed to be free if you have health insurance, but that's simply not true. Over half of insured patients who were tested for COVID-19 were charged for the test despite having health insurance, according to a February 2021 LendingTree survey of 1,550 Americans.
The average cost of a coronavirus test was $77 — here's what else we found: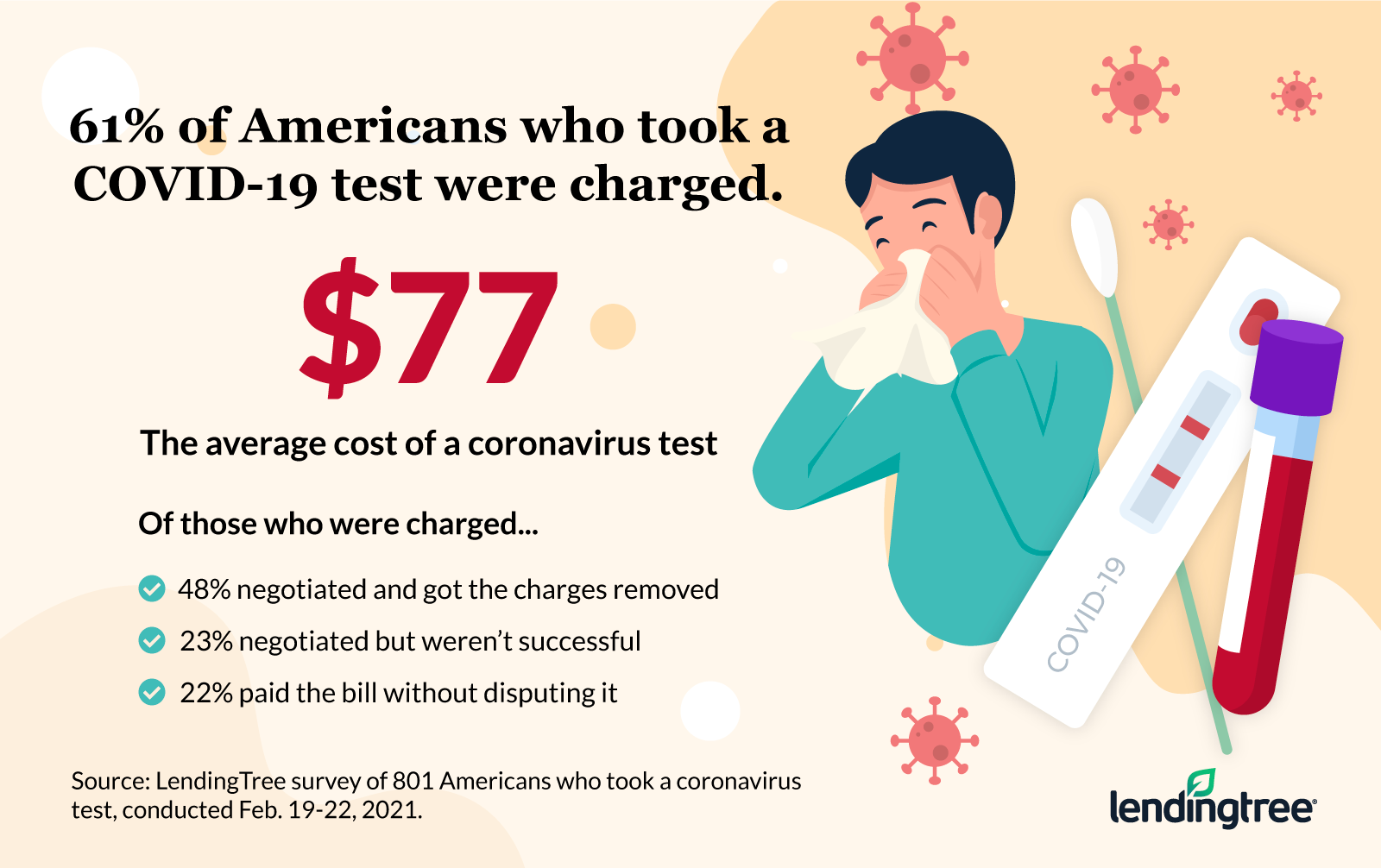 61% of Americans who got a COVID-19 test were charged
Social distancing and mask-wearing are crucial to controlling the coronavirus pandemic, but we shouldn't underestimate the importance of testing the population to monitor the spread of COVID-19. Unfortunately, the fear of getting stuck with a pricey medical bill could give people pause about getting tested.
Nearly two thirds (61%) of Americans who took a COVID-19 test received a bill, at $77 on average. More specifically, 51% said they were charged even with insurance, and 10% said they were charged without having insurance.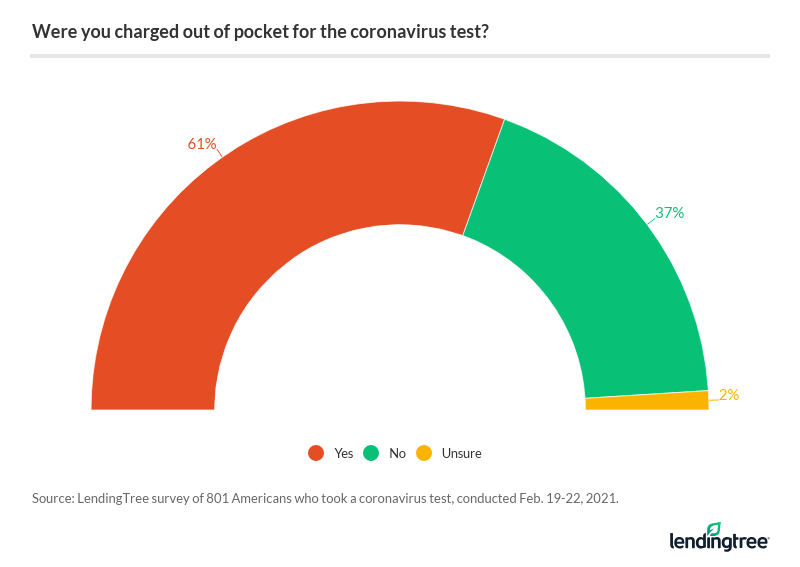 You may be wondering how it's possible that so many patients, regardless of whether or not they're insured, are being charged for COVID-19 tests when they're "supposed" to be covered by health insurance. But the protections for insured patients only extend to coronavirus testing that's deemed medically necessary, according to the Families First Coronavirus Response Act (FFCRA). It's up to the provider as to whether the test was medically appropriate, leaving the law up to interpretation.
Plus, the legislation only says that insurance providers must cover the cost of FDA-approved coronavirus tests, but that leaves out protections for uninsured patients. Although this legislation was enacted on March 18, 2020, the details around the cost of COVID-19 testing are still unclear.
Most patients disputed the charges, but not all succeeded
The vast majority (71%) of those who were charged for a coronavirus test attempted to negotiate their medical bill. And their work seems to have paid off: Nearly half (48%) of those who received a bill were able to successfully negotiate removal of that charge.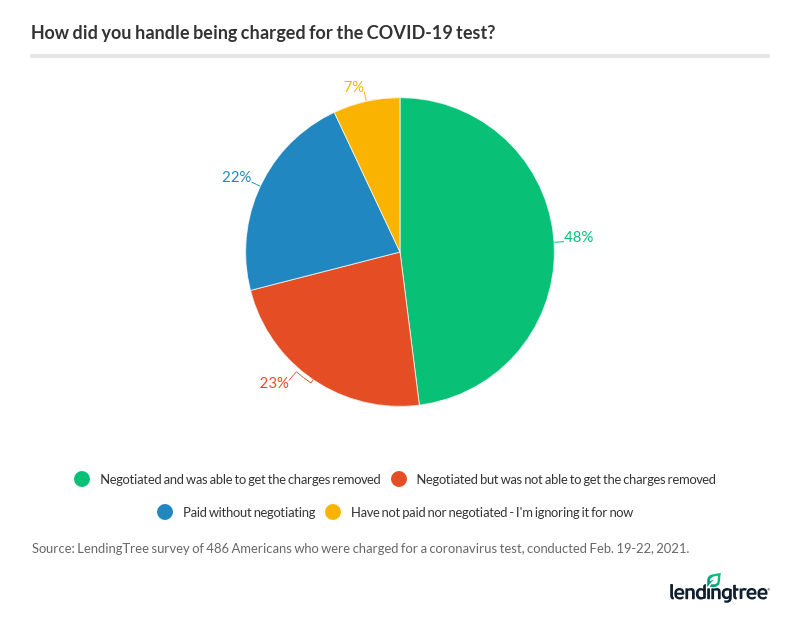 Not everyone was so fortunate, though. Some patients (23%) tried to negotiate without any success. Here's why they may have been charged:
The patient didn't have health insurance. Patients can find no-cost coronavirus testing through the Department of Health and Human Services website, regardless of whether or not they have insurance.
The provider wasn't in-network. For out-of-network providers, health insurers are only required to cover the posted price on the testing center's website. However, the testing center may just bill the patient directly if insurance doesn't pony up.
The test wasn't deemed medically necessary. Your insurance provider may not be required to cover the cost of coronavirus testing for surveillance or screening purposes, like for traveling or office re-entry.
About 1 in 5 paid for the COVID-19 test without negotiating
When you get a bill in the mail, your first instinct might just be to pay it, out of fear of the consequences. After all, being delinquent on a medical bill could cause your credit score to drop, or your bill could be sent to a debt collector.
More than a fifth (22%) of people who were charged for a coronavirus test didn't attempt to negotiate their bill. For some people, it's simply not worth trying to fight the charges — medical billing is complex, and going up against your insurance company or medical provider can be intimidating. Here's a breakdown of why people didn't dispute their COVID-19 testing bills: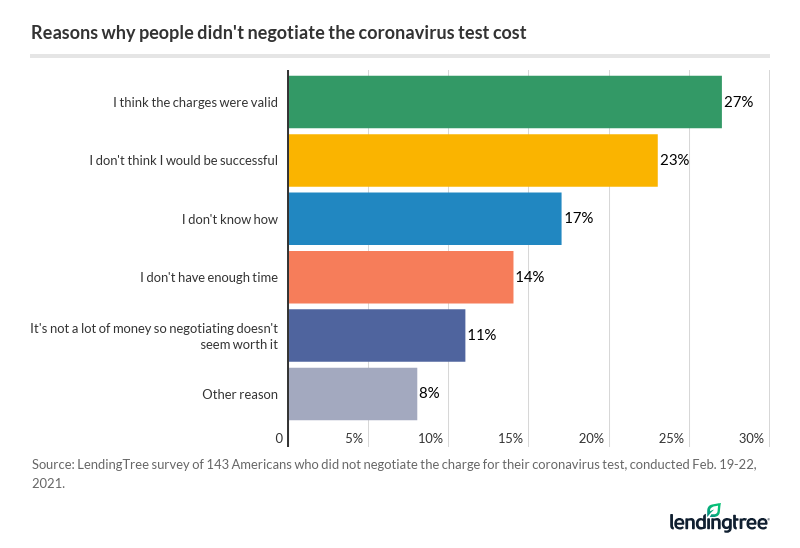 More than a quarter (27%) of those who didn't attempt to negotiate said they believe the charge was valid; 23% said it's because they didn't think they'd be successful.
If you're hesitant to negotiate the cost of a coronavirus test, know that there's nothing to fear. As long as you go into negotiations determined, you could get your COVID-19 testing costs reduced or even eliminated.
Read
the author's story
on how she was charged more than $150 for a coronavirus test and got her bill dropped.
Tips for negotiating the cost of your coronavirus test
  Determine if you were charged in error. Request an itemized bill from the testing center, and ask your insurer to review it. You have the right to file an appeal through your insurance company if you believe you've been billed erroneously. If the provider won't drop the charges, contact a third-party medical bill negotiation service or your state's insurance commissioner.
  Call the billing office of the test provider directly. If the charges are legitimate, your insurance provider isn't likely to help you cover the cost of testing. Call the billing office associated with the testing center and ask to have your bill reduced or dropped. The billing staff may be willing to negotiate if you're facing financial hardship due to job loss or severe medical illness.
  Take detailed notes of your communication. Write down the name and title of the person you spoke with, the date and time of your call and any big takeaways from the call. If the testing center agreed to reduce or drop your charges, make sure you get it in writing and keep a copy for your records.
  Ask to enroll in an interest-free payment plan. If you can't get the charges dropped, you may be able to break your medical bill into smaller installments without interest. Make sure you don't agree to a payment plan if you can't afford to make the payments, or else you could get stuck in a vicious cycle of medical debt.
Methodology
LendingTree commissioned Qualtrics to field an online survey of 1,550 Americans, of which 801 said they took a coronavirus test. The survey was conducted Feb. 19 to Feb. 22, 2021 using a non-probability-based sample, and quotas were used to ensure the sample base represented the overall population. All responses were reviewed by researchers for quality control.