How Does LendingTree Get Paid?
LendingTree is compensated by companies on this site and this compensation may impact how and where offers appear on this site (such as the order). LendingTree does not include all lenders, savings products, or loan options available in the marketplace.
First-Time Homebuyers are Surprisingly Savvy Mortgage Borrowers
Published on: April 24th, 2019
Editorial Note: The content of this article is based on the author's opinions and recommendations alone. It may not have been reviewed, commissioned or otherwise endorsed by any of our network partners.
If you were to tell someone that you were going to buy some money, you may get a strange look. Most people don't think of borrowing in this way, but that is really what you're doing when you take out a loan. You buy money, and the price you pay is represented by the interest rate.
It's unfortunate that we don't consider this analogy because people tend to shop around when they are buying stuff. From cell phones to gasoline, people can get obsessive about finding the best deal.
Of course, understanding homebuying and mortgages can be a little more daunting, so getting educated about the process can greatly improve a borrower's experience — and save them substantial sums of money.
That's why the Consumer Financial Protection Bureau has been conducting surveys to gauge how well-prepared borrowers are as they look for a mortgage and how effectively they comparison shop.
We took a look at their data to gauge the results.
The CFPB found that just 30% of borrowers look at more than one lender. This could be a missed opportunity for homeowners, since LendingTree data shows that borrowers can save tens of thousands of dollars over the life of a 30-year mortgage loan by shopping around. But some segments are better at shopping than others.
In this study, we compare first-time buyers to repeat mortgage borrowers.
Key findings
52% of first-time buyers consider more than one lender when choosing a mortgage. That is slightly higher than the 48% of repeat borrowers who do the same.
Ultimately, 29% of first-time buyers apply for a mortgage with more than one lender, compared to just 20% of repeat borrowers.
Just 24% of first-time homebuyers said they were very familiar with the different types of mortgages available, which may influence their shopping activity. For repeat borrowers, 52% were very familiar with the different types of mortgages available.
First-time buyers were less familiar with all aspects of the mortgage process. This is understandable, as they had not been through the process before.
First-timers were most knowledgeable about their credit score, with 65% reporting their familiarity with it. However, 79% of repeat borrowers said they were well-acquainted with their credit score.
First-time buyers also may be more likely to shop around because they are concerned about qualifying for a loan. Because of this concern, 11% of first-time borrowers said they shopped around, compared to 6% for repeat borrowers. Another 7% of first-time borrowers said they shopped around because they had been previously turned down for a loan, compared with 4% of repeat borrowers.
However, first-time buyers were more likely to say they shopped to search for better loan terms at 22%, compared to just 16% for repeat buyers.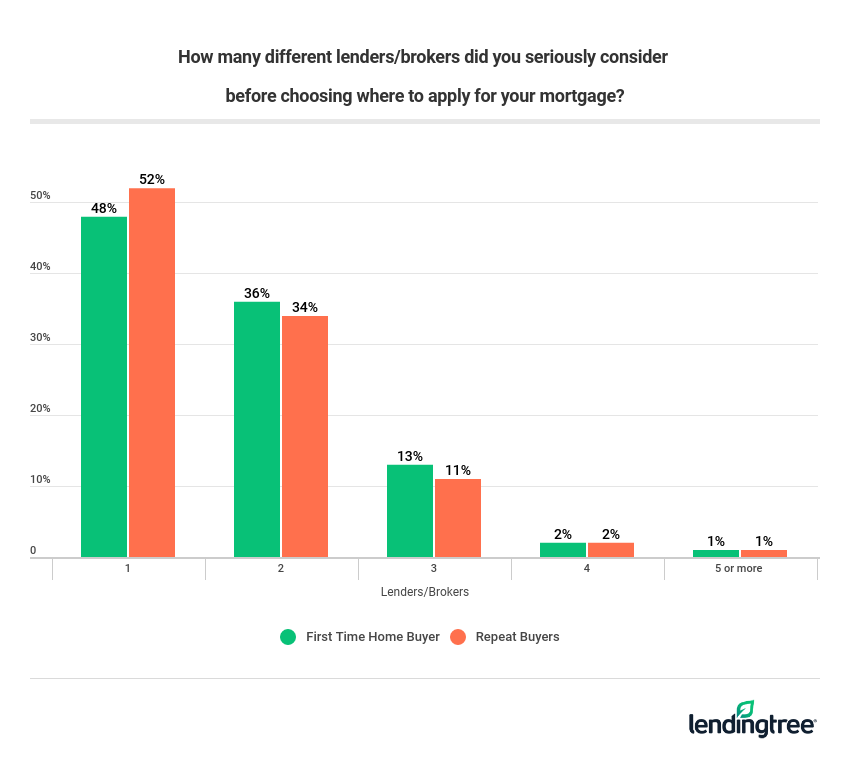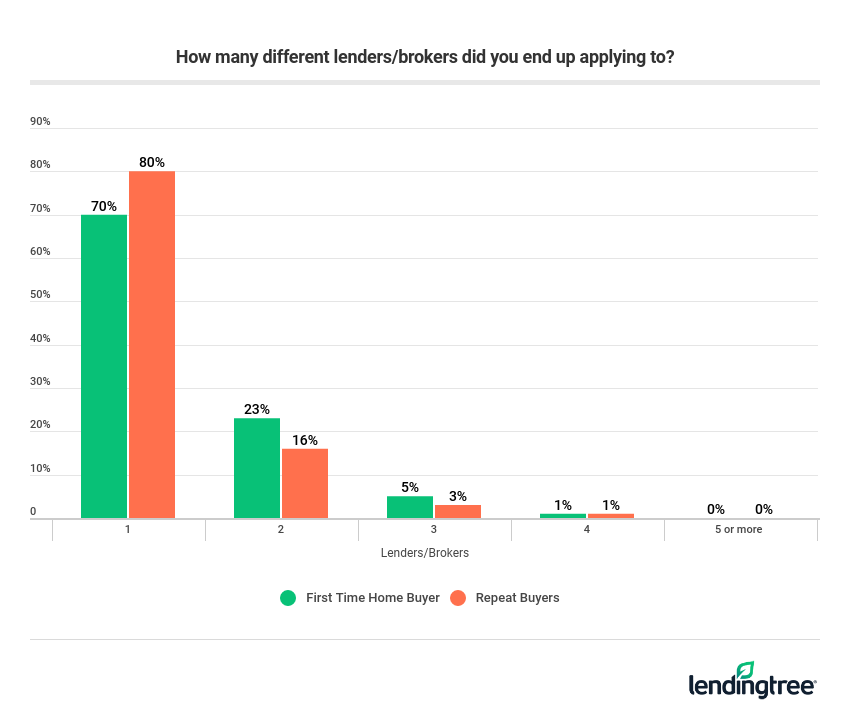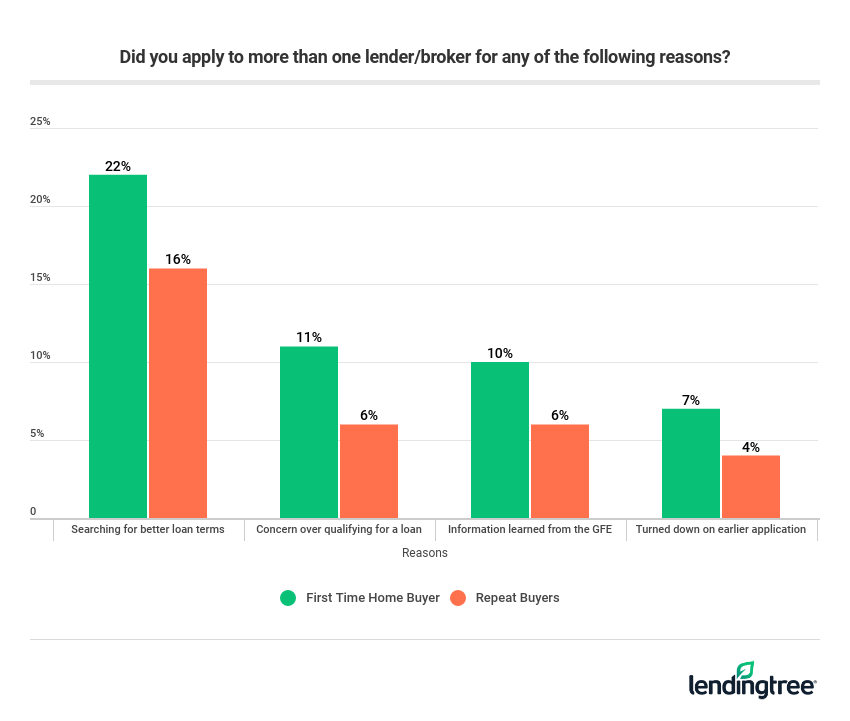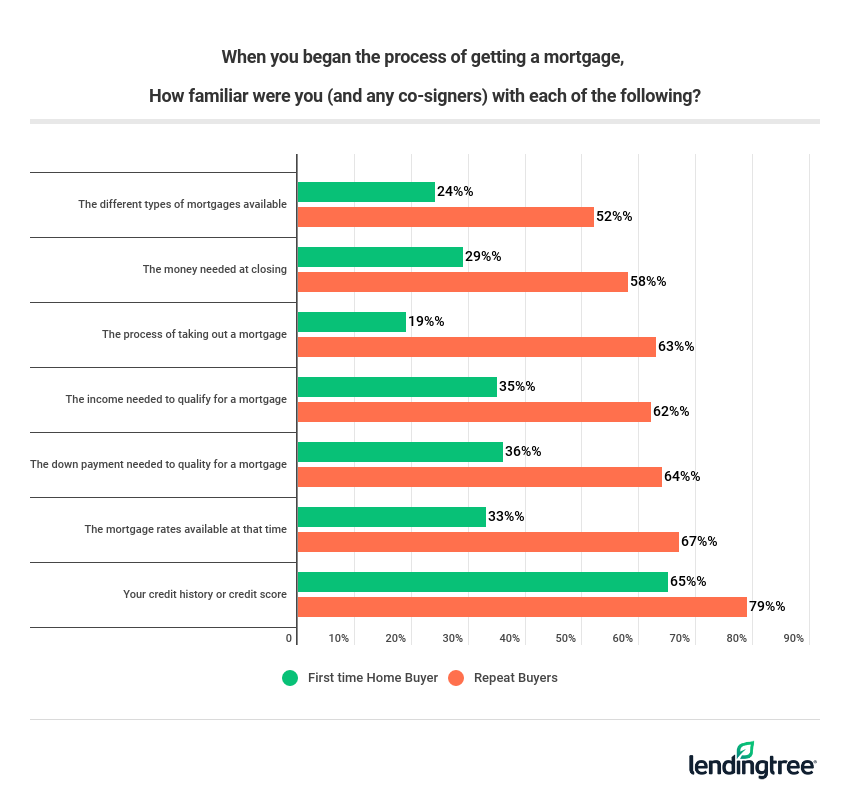 Methodology
Data on mortgage shopping activity was taken from the Consumer Financial Protection Bureau's National Survey of Mortgage Originations (NSMO), which provides insights into borrowers' experiences in getting a residential mortgage. In each quarter since 2014, the CFPB has sent surveys to borrowers who recently obtained mortgages to gather feedback on their experiences during the process of getting a mortgage, their perception of the mortgage market and their future expectations.
---
Featured Articles