How Does LendingTree Get Paid?
LendingTree is compensated by companies on this site and this compensation may impact how and where offers appear on this site (such as the order). LendingTree does not include all lenders, savings products, or loan options available in the marketplace.
16 First-Time Homebuyer Tips You Should Know
Updated on:
Content was accurate at the time of publication.
Think you're ready to buy your first home? Before you start house hunting, learn some first-time homebuyer tips to help you navigate the process. A little extra knowledge may help you save money and avoid mistakes that could derail your homebuying plans.
On this page
'Before you buy' tips
1. Make sure you're ready for homeownership
First-time homebuyers often understand the financial investment it takes to own a home, but might not consider the unexpected. Ask yourself these questions:
Are you ready to take on home repairs? That rainy-day roof leak or summertime air conditioning breakdown is your responsibility as a homeowner.
Do you have a buffer for home maintenance expenses? Experts recommend setting aside 1% of your home's value to cover unexpected repairs and ongoing maintenance.
Have you set a maximum housing expense budget? Set a mortgage payment limit ahead of time that leaves some wiggle room in your budget.
2. Check your credit early
Your credit score has the biggest impact on the mortgage interest rate lenders offer. Check yours at least two to three months before you apply for a mortgage to see if there's anything you can do to boost it to 780 or higher to get the lowest interest rates and easiest path to approval.
Three quick tips that may help:
PAY YOUR BILLS ON TIME. Late payments pull your scores down quickly.
PAY OFF YOUR CARD BALANCES. Keep in mind it may take 60 to 90 days to update your credit report after you've paid, so plan to pay off or reduce your credit card debt ahead of house hunting.
DON'T OPEN NEW CREDIT ACCOUNTS. New credit cards, retail store cards and car loans may ding your score, so avoid any new credit applications while you're in the homebuying zone.
Let your loan officer know if you've had a
bankruptcy
or
foreclosure
within the last 10 years. You'll have to wait longer to get a conventional loan if you have any major derogatory credit in your history. Government-backed loans, however, allow more flexibility for these types of issues than conventional loans.
3. Pay off debt if you can
Besides your credit score, your debt-to-income (DTI) ratio is a factor that can make or break your loan approval odds. Lenders calculate your DTI ratio by dividing your total debt, including your new house payment, car loans, credit cards, student loans and other accounts that show up on your credit report by your before-tax income. The preferred standard is 43% or lower.
A high DTI ratio also limits your home affordability — the more debt you have, the less house you can buy. If you're down to a few payments on a car loan, pay it off. Remove yourself as an authorized user on credit cards you don't use. These little steps could make a big difference.

Lenders can approve you with a DTI ratio up to 50% of your before-tax income. However, that might leave you with very little extra money to accomplish other financial goals like saving for retirement or building an education fund for your children.

4. Save for a down payment and costs
First-time homebuyers are often surprised to learn there are a number of programs that only require a 3% down payment. However, a larger down payment gives you a lower mortgage payment and allows you to buy a more expensive home.
Don't forget to budget for closing costs, which typically equal between 2% and 6% of your loan amount, depending on the loan's size. There are also some money management do's and don'ts worth knowing when you're getting a first-time homebuyer mortgage.
| | |
| --- | --- |
| Do's | Why |
| Keep your money in the bank | Lenders prefer to see funds in a bank account and will want proof that the funds have been there for 60 days |
| Ask for gifts | You can ask family and close friends for a gift for all or a portion of your down payment and closing costs |
| Check your 401(k) | You may be able to take out a low-interest loan against your 401(k) to use toward your down payment, or your employer may even allow you to withdraw money to buy a home without penalty |
| Don'ts | Why |
| Avoid large cash deposits | Lenders will require you document where the money came from |
| Don't use credit cards or personal loans | This is considered "unsecured debt" and lenders won't allow this type of borrowed money for a down payment |
Some loan programs require
mortgage reserves
, which is "rainy-day" cash set aside to cover your mortgage payments for a set number of months. Lenders may require reserves if your credit score is low or you have a lot of debt compared to your income.
5. Research first-time homebuyer down payment assistance
You may be eligible for down payment assistance (DPA) depending on your income and the location of the home you're buying. Some state and local government housing programs cover both your down payment and closing costs. Most of these programs set strict income limits that vary based on where you live. If, however, you don't plan to live in your home long, you may want to skip DPA programs — they often require you to live in the home for a set amount of time to avoid repaying the assistance.

You need a 20% down payment to buy a home.


There are plenty of programs that require much less than 20%, while some don't require any down payment. If you do need a down payment, you can ask for a gift from a relative, take out a 401k loan or see if your employer offers any down payment assistance.

6. Know your first-time homebuyer mortgage options
Picking the right mortgage option could make the difference between a quick preapproval or a frustrating loan denial. Several government agencies offer loan programs that cater to borrowers with low credit scores, military borrowers or low-income buyers looking for homes in rural parts of the country. Conventional loans are the most popular loan type, but they also come with the strictest qualifying requirements.
CONVENTIONAL LOANS.Lenders follow rules set by Fannie Mae and Freddie Mac to approve conventional loans. The Fannie Mae HomeReady® and Freddie Mac Home Possible® loans are designed for first-time homebuyers, and borrowers may qualify with down payments as low as 3% and credit scores as low as 620. Income limits will apply.
FHA LOANS.Backed by the Federal Housing Administration, FHA loans only require a 3.5% down payment with credit scores as low as 580, and even allows for scores as low as 500 with a 10% down payment. At the same time, FHA mortgage insurance premiums are usually more expensive than conventional private mortgage insurance (PMI) and can't be avoided regardless of your down payment amount. Still, there are no income limits on FHA loans.
VA LOANS.Current and retired military service members and eligible surviving spouses may be eligible for no-down-payment loans guaranteed by the U.S. Department of Veterans Affairs (VA). VA loan guidelines don't require mortgage insurance or a minimum credit score, although many lenders set their minimum credit score at 620.
USDA LOANS.The U.S. Department of Agriculture (USDA) backs loans that don't require down payments for consumers looking to buy in rural neighborhoods. Income limits apply, and the home must be located in a USDA-designated rural area.
Mortgage preapproval tips
Once you've done the legwork to get your finances ready for homeownership, it's time to start the mortgage preapproval process. Most sellers won't even accept an offer without a preapproval letter, so don't skip these steps or you may end up with a string of rejected offers.
7. Have your paperwork ready
Although many lenders offer digital loan applications, your preapproval is only as solid as the information you provide. To get the most accurate preapproval, have these documents handy:
Most recent month's worth of pay stubs
Last two years of W-2s
Two months of recent bank statements
8. Shop for a mortgage lender
LendingTree data has found that borrowers who shop for a mortgage could save more than $63,000 on average over the life of their loans. Contact mortgage brokers, mortgage banks and even your local bank or credit union to see what they offer. A few additional tips before you make your final decision:
GATHER QUOTES ON THE SAME DAY. Rates change daily, so complete all of your loan applications on the same day. That way, you make an apples-to-apples comparison while reviewing your loan estimates.
ASK ABOUT RATE LOCK OPTIONS. Most lenders won't let you get a mortgage rate lock until you've found a home, while others offer "lock-and-shop" programs that allow a lock-in while you're house hunting.
ASK ABOUT DPA PROGRAMS. Not all lenders are approved to offer down payment assistance. You may need to shop with a few extra lenders if you're applying for a specific DPA program in your area.
9. Get your preapproval letter
Once you've selected a lender, it's time to get your preapproval letter. The letter should provide details about the type of loan you're qualified for, including the loan amount, interest rate and maximum PITI (principal, interest, taxes and insurance) payment.
Remember: If you don't tell the lender ahead of time what your payment budget is, the preapproval letter will reflect the maximum you qualify for based on your loan application. Ask the lender to adjust the amount down if the max doesn't fit with your spending plans.
Attn formatting: Please add the mortgage "myth" to a purple call out box with an encircled exclaim, and the truth in a green call out box with the lightbulb icon. We are not using the icon

Once I'm pre-approved I don't have to worry about the lender re-checking the information on my application again.


Mortgage lenders verify and re-verify your income, employment, credit and even your asset statements multiple times until your closing date. Avoid job changes, new credit cards or large cash deposits before your closing or you might end up with a loan denial.

House hunting tips
With your preapproval in hand, you're ready to get serious about your home search.
10. Make a homebuying wish list
This step is where you start turning your homebuying vision into reality. As a first-time homebuyer, it's best to focus on your needs versus your wants. You might want a gazebo or swimming pool, but you'll likely need more practicalities, such as enough rooms for your family size, a neighborhood close to schools you want your children to attend and a reasonable daily work commute.
Answer the questions below to figure what's most important on your house-hunting list: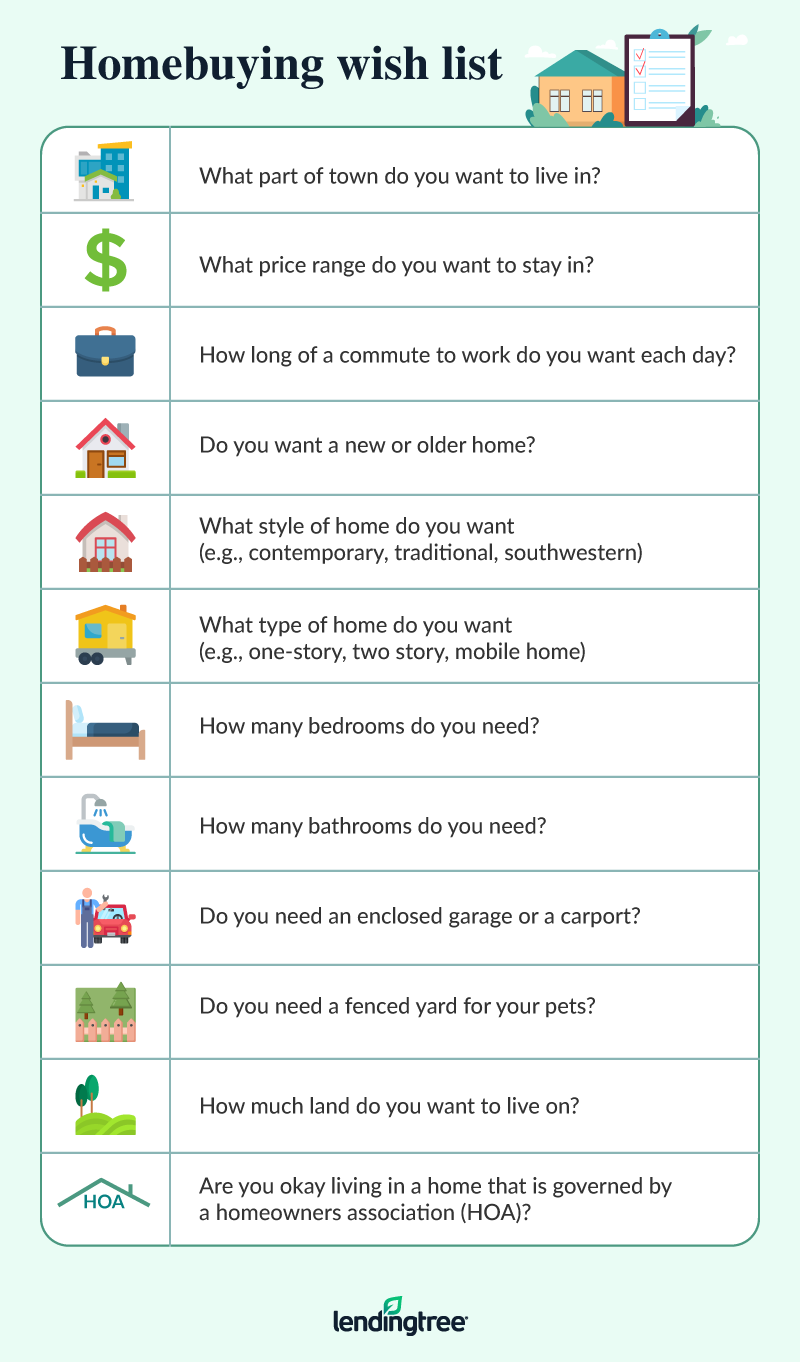 11. Choose the right real estate agent for you
Working with a real estate agent means you'll get help finding a home that fits your needs at the best price possible. An experienced agent has the expertise, communication skills and personal touch to set realistic expectations based on your local housing market.
Ask family members, co-workers or friends for recommendations and interview at least two or three agents to see if your personalities are a good match. Make sure you understand how the agent will stay in touch with you, whether it's by text, phone call or email.
Be careful if you're buying a for sale by owner (FSBO) home. Even if you're related to the person you're buying the home from, you should have an attorney review the sales price, closing timeline and details about who is paying which costs to avoid legal problems down the road. It's best to pay for a
title insurance policy
to protect yourself against any potential claims against the owner of the home you're buying.
Homebuying tips
12. Lock in your interest rate
Once your home is under contract, you should lock in your rate (if you haven't already) — this is especially important if mortgage rates are on the rise. Make sure you understand the terms of the rate lock including:
How many days your rate will be locked
What your lock expiration date is
What the cost is to lock the loan
13. Get a home inspection
Even if you're buying a fixer-upper or have agreed to purchase the home "as-is" — meaning you're willing to go through with the transaction even if the home isn't move-in ready — you should always get a home inspection for a top-to-bottom deep dive on the condition of the home.
If the home is in need of major renovations, you may want to consider a Fannie Mae HomeStyle® Renovation or FHA 203(k) loan. These fixer-upper loan programs allow you to roll the cost of repairs and renovations into the same loan you borrow to buy the home. An added bonus: The loan is based on the fixed-up value of your home, which gives you extra borrowing power.
14. Don't be afraid to negotiate with the seller
There are a number of ways to haggle with a seller to get the best terms for your home purchase. Talk to your real estate agent about any of these options:
ASK FOR CLOSING COST CREDITS. Depending on the type of loan you borrow, you may be able to get the seller to pay up to 6% of your sales price toward closing costs. Unless there are major problems with the home inspection, it may be worth it to ask the seller to pay a portion of your costs instead of adding home repairs to your contract.
NEGOTIATE FOR A LOWER PRICE. If the seller won't pay closing costs, you can request a reduction in the sales price.
BE PREPARED TO WALK AWAY. An unreasonable seller may not be worth the headache. If the seller won't budge on closing costs or repairs, it may be time to restart your home search.
15. Shop for homeowners insurance
Homeowners insurance is generally required if you have a mortgage, and the lower your premium is, the lower your total monthly mortgage payment will be. You can compare homeowners insurance quotes from several companies and consider bundling your auto and home insurance together for a potential discount.
16. Review your closing disclosure and walk through your home
Once you've satisfied all the conditions of your loan, you'll receive a closing disclosure at least three business days before closing. Check it to make sure the rates and costs look correct and that you're being credited for any costs the seller agreed to pay for.
Your real estate agent will usually schedule a walk-through to make sure your home is move-in ready, and then you'll sign your closing papers. Once the lender funds your mortgage, the title is transferred into your name and you become an official homeowner.