Buying A Fixer-Upper: What Loans Are Available?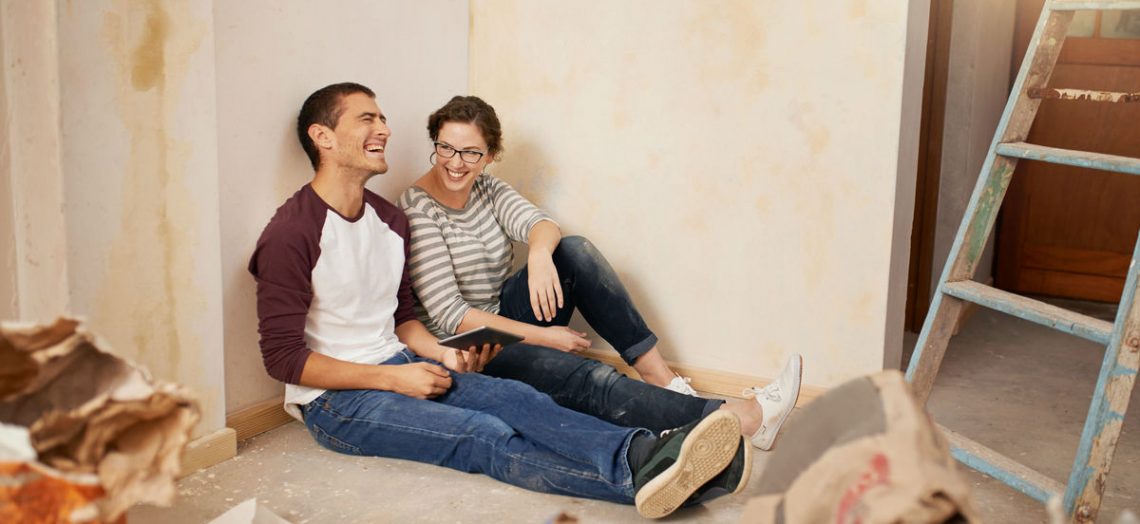 Is it your dream to find a great deal on an old house and fix it up just like your favorite HGTV stars? If you're handy with some tools (or willing to pay someone who is) buying a fixer-upper can be an excellent investment. However, there's one aspect to buying a fixer-upper that you may not be aware of: Most traditional mortgages won't allow you to finance the cost of significant repairs and renovations to the property. That could mean you need to come up with not only a down payment and closing costs, but also enough money in the bank to cover renovations.
Fortunately, you have options. This guide will take a look at the loans available for buying a fixer-upper and what you should consider before you strap on a tool belt.
Table of contents
Reasons to buy a fixer-upper
Before we jump into financing options, let's take a look at why people buy fixer-uppers in the first place. Denise Supplee, a Realtor with Long & Foster Real Estate in Doylestown, Penn., says that, in her experience, the main reason buyers are interested in purchasing a fixer-upper is the lower price.
"Fixer-uppers are more affordable than a new home and the buyer can still make it their own," Supplee says. "In addition, if you are stringently budgeting with your upgrades and cognizant of the values of neighboring properties, buying a fixer upper can make a good investment as well."
In a hot real estate market, buying a fixer upper could also mean less competition. Houses that need a lot of work tend not to sell as quickly because some buyers aren't interested in putting a lot of time and money into renovations, according to Supplee.
Fixer-uppers also come with the potential for quicker equity building. Real estate tends to appreciate (gain value) over time. But depending on the overall real estate market and your location, it can take years for a property to appreciate in value if its worth increases at all. With a fixer-upper, renovations may increase the value of the home at a faster rate.
What loans are available
If buying a home in need of repair sounds like the right move for you, there are a couple of loan programs specifically for purchasing fixer-upper homes. These loans will cover the cost of buying the property, as well as the cost of renovating the home. Keep in mind, though, that these loans may come with additional fees compared to traditional mortgages, since the lender may need to make additional inspections and disbursements during the construction process.
FHA 203(k)
The FHA 203(k) loan allows homeowners and homebuyers to finance both the purchase (or refinance) of a home and the cost of its renovations with a single mortgage.
Whereas some construction loans come with higher fees, carry more substantial down payment requirements and require you to refinance the construction loan into a new loan once construction is complete, FHA 203(k) loans provide a single, long-term, fixed- or adjustable-rate loan that covers both the acquisition and rehabilitation of the property.
Because the mortgages are insured by the Department of Housing and Urban Development (HUD), lenders may be more willing to provide loans, even when the initial condition and value of the property may not provide adequate collateral for the loan.
To qualify for an FHA rehab loan, the home must be at least one year old, and the cost of the rehabilitation must be at least $5,000. The maximum loan amount is the lesser of:
The purchase price of the rehabilitation costs, or
The "as-is" value plus rehabilitation costs, or
110 percent of the "after improved" value multiplied by the loan-to-value factor.
In addition, the total loan amount must still fall within the FHA mortgage limit for the area. (You can search the limit for your area via HUD's website.)
Beyond that, most of the rules and restrictions that apply to regular FHA loans apply to 203(k) loans, including:
Down payments as low as 3.5 percent
The property must be used as the borrower's principal residence (no investment properties allowed)
Credit scores as low as 580.
HUD also provides a list of rehabilitation activities that qualify for an FHA 203(k) rehab loan including:
Structural alterations and reconstruction
Modernization and improvements to the home's function
Elimination of health and safety hazards
Changes that improve appearance and eliminate obsolescence
Reconditioning or replacing plumbing; installing a well and/or septic system
Adding or replacing roofing, gutters, and downspouts
Adding or replacing floors and/or floor treatments
Major landscape work and site improvements
Enhancing accessibility for a disabled person
Making energy conservation improvements
Is your fixer-upper in really bad shape? Supplee says a 203(k) loan may still be a possibility. "The non-streamlined version has the same requirements, except the projected costs are placed in an escrow account," Supplee says. "Once the work is done, it must be inspected before the funds are released."
Applying for a 203(k) loan is similar to the application process for a regular FHA loan, but there are some additional hoops to jump through due to the construction. Supplee says buyers must work with a licensed contractor to provide a detailed listing of the costs associated with the repair or renovation. In some cases, DIY may be possible, but the buyer will need to provide a full list of materials, complete details of the project, local permits, and all of the supporting documentation that a contractor would provide.
FHA 203(k) loans are not offered directly from the FHA but from HUD-approved lenders. You can search for a HUD-approved lender in your area using the search tool on HUD's website.
Fannie Mae HomeStyle
Fannie Mae's HomeStyle Renovation Mortgage allows homeowners or homebuyers to finance home repairs and renovations with a single-close first mortgage rather than taking out a home equity line of credit, second mortgage or seeking other more costly financing methods.
The loans are available in 15- and 30-year fixed- or adjustable-rate terms. For a single-family home, you may be able to put down as little as 5 percent. However, if you combine a HomeStyle loan with a Community Seconds mortgage, you can finance up to 105 percent of the purchase price of the home. Community Seconds funds come from federal agencies, states, local governments and nonprofit organizations to help buyers finance down payments and closing costs. They're designed to help families who would otherwise have a difficult time saving enough money for a down payment and closing costs get into a home.
For two-unit properties, a down payment of 15 percent is required. Three- or four-unit properties require a down payment of 25 percent.
The minimum credit score for a Fannie Mae HomeStyle loan depends on the number of units, your debt-to-income ratio (DTI) and your down payment. With a DTI of 36 percent or less, you may be able to qualify for a fixed-rate HomeStyle loan with a credit score as low as 620, but you would need a down payment of at least 25 percent. With a down payment of less than 25 percent, you'll need a credit score of at least 680 and a DTI of 36 percent or less.
To qualify for a HomeStyle Renovation loan:
Total renovations, repairs, and improvements cannot exceed 50 percent of the after-repair estimated value.
The property can be one to four units if one of the units will be the borrower's primary residence. If the property will be a second home or solely an investment property, only single-unit properties are eligible.
Renovations must be completed within a 12-month period from the date of closing.
In most cases, the work must be completed by a licensed contractor. However, Fannie Mae does offer a "Do It Yourself" repair option for one-unit properties only. DIY repairs may not represent more than 10% of the "as completed" value of the property and the lender will inspect the completion of any repair items that cost more than $5,000.
Any type of repair or renovation is eligible for the HomeStyle program, as long as the work will be permanently affixed to the property and add value.
Conventional loans vs. fixer-upper loans
Conventional loans are also known as conforming loans because they conform to standards set by Fannie Mae and Freddie Mac (a HomeStyle loan is a conventional loan). Besides the HomeStyle and FHA 2013(k) loans, some lenders offer conventional loans for home repairs, but they may be harder to come by. Many lenders will only close on a loan if the condition and value of the property provide adequate security for the loan. Thus, some lenders will only offer conventional loans for smaller cosmetic repairs rather than structural renovations.
At a glance: Rehab loan options
Fannie Mae HomeStyle
FHA 203(k)
Other conventional loans
Borrower requirements
Credit score: 620

DTI: ≤ 36%

Credit score: 580

DTI: ≤ 43%

Credit score: 620

DTI: ≤ 36%

Borrowing limit
$453,100 for single unit properties

(Up to $1,019,475 for designated high-cost areas)

$636,150

Renovation cost limited to $35,000 for streamline 203(k)

$453,100 for single unit properties

(Up to $1,019,475 for designated high-cost areas)

Down payment requirement
5%

20% without PMI

3.5%

All FHA loans require MIP

3% with PMI

20% without PMI

Loan Terms
15- and 30-year fixed rate or adjustable rate
15- and 30- year fixed rate
15-, 20-, 25- and 30-year fixed or adjustable rate
DIY repairs
Yes
No
Yes
Other things to consider before purchasing a fixer-upper
Of course, financing isn't the only consideration when purchasing a fixer-upper property. Home repair and renovation projects have a tendency to take longer and cost more than anticipated, whether you do the work yourself or hire a pro.
Should you DIY or find a contractor?
Are you an HGTV addict and handy with a hammer? You may be considering handing renovations on your own, but be sure to weigh the benefits and disadvantages of DIY versus hiring a professional contractor.
Supplee says experience is often the deciding factor.
"Often, people believe if they do it themselves, there are no costs," she says. "However, if you are not completely comfortable with repairs and rehabbing, leave it to a professional. I've seen others take on a project that ends up costing more because the homeowner didn't know what they were doing — thus, wasting time and money."
Do your homework when choosing a contractor. You'll want to find someone who is qualified to perform the type of renovations you want completed, licensed and bonded. Your lender will need to approve your contractor, so this is a crucial step.
If you've got your heart set on buying a fixer-upper but don't have the budget to afford both a down payment and the cost of renovations, there are loans that can help make your dreams a reality. Work with a lender who understands these products and has experience guiding borrowers through the process. They can help you navigate the often complicated approval process.