How Does LendingTree Get Paid?
LendingTree is compensated by companies on this site and this compensation may impact how and where offers appear on this site (such as the order). LendingTree does not include all lenders, savings products, or loan options available in the marketplace.
Your Guide to the Ins and Outs of Home Construction Loans
Updated on:
Content was accurate at the time of publication.

If your perfect home doesn't exist, why not build it? A home construction loan can finance a way to either add to an existing property to make it suit you and your family — or build the perfect place from the ground up.
What is a home construction loan?
A home construction loan for an individual finances the costs of building a personal residential property. It can be used to pay for the land, labor, materials and services, and there are several types that you can choose from.
Construction-only loan
A construction-only loan covers just the cost of building the home for the time it takes to build. Once the home is constructed, the whole loan amount is typically due. Borrowers could cover the amount by paying cash or taking out a separate mortgage.
Construction-to-permanent loan
A construction-to-permanent loan changes from a construction-only loan to a traditional mortgage once the home is built. The loan allows the buyer to only deal with one round of application and paperwork, and have the benefit of easily transitioning to a mortgage upon the end of the home's construction.
Renovation or rehabilitation loan
A renovation loan is a type of construction loan that finances the costs of large improvements to an existing home, such as adding several rooms, a garage or an in-ground swimming pool. A rehabilitation loan also finances major changes to a home, but these changes are focused on making a dilapidated home fit to live in.
Owner-builder construction loan
If you're a general contractor or professional builder and want to build your home, an owner-builder construction loan could finance your project.
Loans related to home construction
End loan: An end loan is a type of long-term financing used to pay a builder. In this case, the end loan would be a mortgage that comes after a construction loan.
Land loan: A land loan only covers the cost of purchasing land that doesn't have inhabitable structures on it. There may be older structures that don't have access to all necessary utilities on the land, and you'd need to find another way to pay for any construction you want to do. If you're interested, here's how to get a land loan.
How do construction loans work?
New home construction loans work very differently from regular mortgage loans. Commonly, you'll make interest-only payments during the construction period while the loan is paying the contractors and subcontractors in regular installments based on how much work has been done. These installments are called "draws" because you're drawing on the loan to pay costs.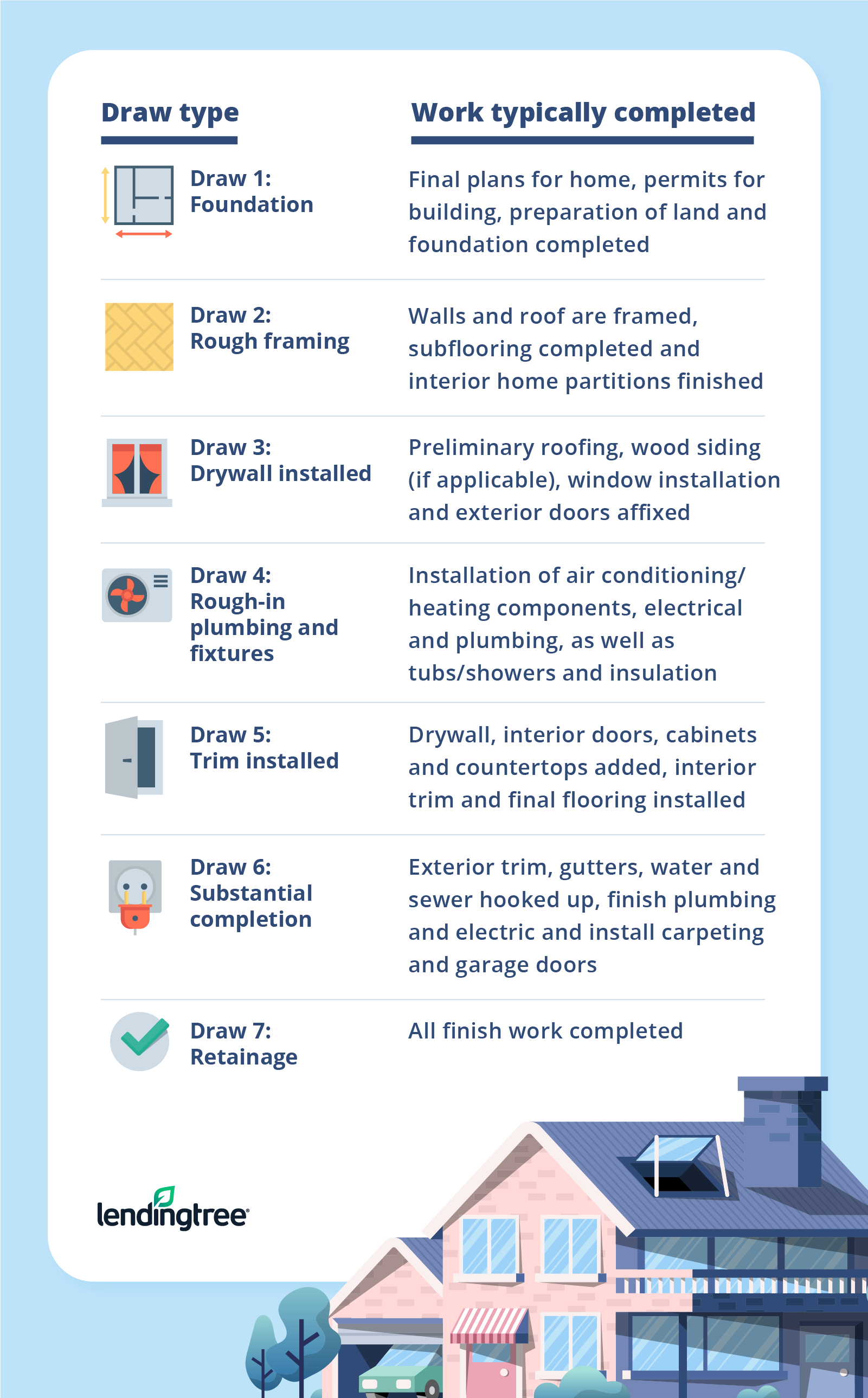 The draws can be paid as each significant part of the homebuilding process is completed or more frequently, when a line item or particular percentage is completed.
How to get a construction loan?
Here are the basic steps to get a construction loan:
Confirm your eligibility for any special program. If you're interested in an FHA construction loan or a VA construction loan, check out the requirements and processes for those as they differ.
Get preapproved. Before you put a lot of work into the process, get preapproved so that you definitely know what your budget will be.
Find your land and your builder. Make sure your builder meets any requirements set by your preapproved lender. Pay close attention to licensing and insurance.
Complete paperwork. Finalize the plans with the builder and submit all paperwork to the lender. The lender will likely order an appraisal and inspection that will be completed as part of the next step.
Close on the loan. The mortgage closing process finally ends with your signature on the dotted line. After everything is signed and the funds are released, your builder can begin.
How much does it cost to build a house?
How much it costs to build a house greatly depends on where you're planning to live. The costs you commonly need to cover include:
Land
Contractor labor
Building materials
Permits and inspections
Appliances
Landscaping materials and labor
Construction loan rates
Interest rates on construction loans tend to be higher than those for traditional mortgages, as the lender is issuing the funds before there is an asset to secure the loan. If you default on a construction loan, repossessing the construction site, versus a completed home, is not ideal for the lender. It's riskier and thus construction loan interest rates tend to be higher than ones for traditional mortgages.
What are the requirements for a home construction loan?
Unless you get a home construction loan through a government agency, like the FHA or the VA, you'll typically need to meet conventional mortgage requirements, including having a credit score of 620 or higher and a debt-to-income ratio below 45%. Depending on the lender, you may be required to make a substantial down payment, possibly up to 20%.
In addition to all the requirements for a traditional mortgage loan, you'll also need to show the construction plans, schedule and contract that you have with a licensed builder or contractor.
Questions to ask construction loan lenders
Can I use my land equity toward my down payment?
If you've owned the land you'll be building on for at least 12 months, you may be able to apply any increase in your equity toward the down payment requirement. An appraisal will need to be done to verify the land's value.
How Does the first draw Work?
In the early stages of construction, building materials, such as concrete for the home's foundation and lumber for framing often make up the biggest expenses. However, lenders don't like to make large disbursements unless they're designated for a specific expense.
This deters unscrupulous contractors from demanding large sums of money without specifically designating them for precise expenses related to your project. Make sure that there are enough funds available for the builder to break ground, and that you and your contractor have a clear understanding of how all construction funds will be paid.
What's the interest rate during construction?
Some construction lenders will use a variable-rate index (like the prime rate) during construction. Others charge interest-only on the rate that you've locked in for your end loan, then convert the balance to a full principal and interest payment when the home is finished.
In some cases, the payments during construction can be financed into the construction cost of your loan — be sure to check with your construction loan officer to confirm this.
who offers construction loans?
Not all lenders offer each type of construction loan, and nonbank lenders may not offer construction loans for new homebuilding at all.
What are the fees for your construction loans?
You'll need to know more than just the lender fees. The title company will often handle the disbursements, and you'll have additional inspection fees and recording fees along the way as the house is being built.
Each draw requires inspection and recording fees, and those can quickly add up to thousands of dollars, so make sure you have a clear understanding of what's included in the costs.
How do draws work?
Make sure your contractor or builder understands how they will be paid during the construction phase to prevent any delays in the process. If a subcontractor flat out refuses to do any work until they receive an upfront payment, come up with the cash to cover the front money the contractor asks for, or find a different subcontractor.