What Is a Construction Loan and How Does It Work?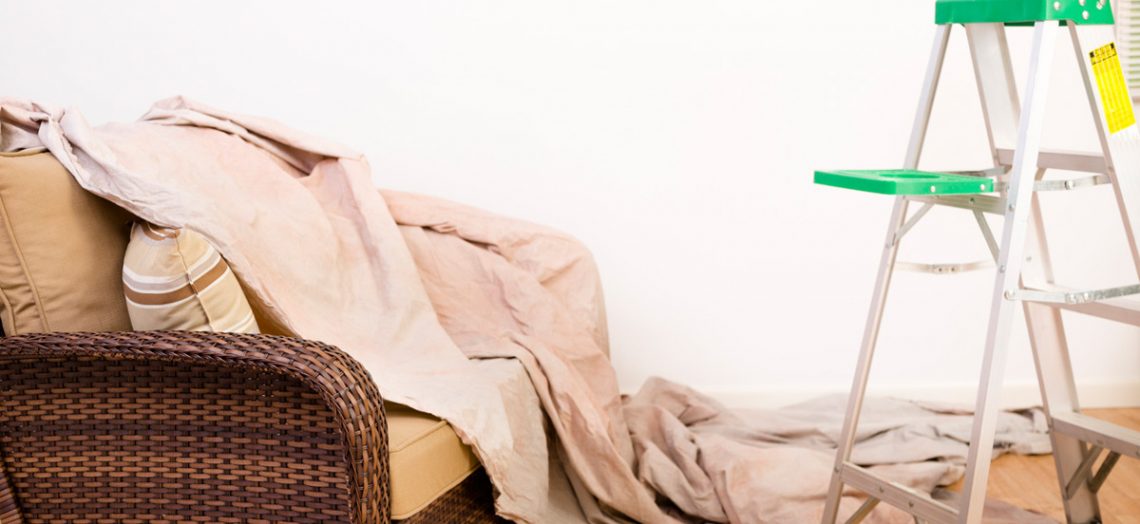 Maybe you've found the perfect plot of land, nestled in the mountains with a creek that rolls around the outer edges of the property. After months of research, you have figured out the layout for the perfect house to build on it — and you're ready to start construction.
Or maybe you just don't want to build a home in a subdivision where all the houses look the same.
In either case, you might feel tempted to build a home rather than buy an existing home. If you don't have a pile of cash to pay for it all, you're going to need a construction loan. Construction loans work differently from traditional loans, and we'll go over those differences as we explain what a construction loan is and how it works.
We'll cover:
What is a construction loan?
A construction loan usually refers to a short-term loan intended to cover the cost of building or renovating a home. It has several key differences from traditional mortgage loans. One key difference: Rather than lending the entire balance of the loan at one time, a construction loan pays a series of advances, more commonly called "draws" as the home is built.
Construction loans for renovations or remodels of a current home are more commonly called renovation or home improvement loans, and involve major changes to an existing structure. Construction loans for the building of a completely new home work very differently from renovation loans, and we will focus on new home construction financing for the purposes of this article.
A construction loan can be used to purchase land and build a home, or construct a home on land you already own. You can also place a manufactured home on land with construction financing.
During construction, you commonly make interest-only payments on the balance of the money you've drawn. The loan is designed to pay the contractors and subcontractors who build your home in regular installments, usually based on how much of the work has been completed at each stage of construction.
Once the work is done, the loan is paid off or converted into a "permanent" loan, which works like a traditional mortgage with payment of principal and interest until it is paid off or you sell the home.

How does a construction loan work?
A construction loan works very differently from a regular mortgage loan. Here are some important mechanics you should understand.
The loan is paid in small lump sums called draws
Normally when you take out a home loan, your lender makes a lump-sum payment upfront. Your monthly payments are based on repaying the entire balance of the loan. The reason you receive the entire balance of the loan at once is because you are purchasing a home that is completely built.
When you are building a home, the construction is completed in phases. Because your home's value is contingent on it being completely finished, the lender is only willing to lend on portions of the home as they are built.
In order to keep your construction process moving along, the lender disburses smaller lump sums called "draws" to you and your general contractor to pay all of the parties working to complete your home. One of the most important things to understand with a construction loan is how the general contractor and subcontractors will be paid out.
If you don't know the draw schedule set up for your loan, you may have a very unpleasant home-building experience when you find out your draw schedule doesn't allow the flexibility to disburse funds at the stages the contractors are demanding payments for. Most construction loans are designed with a five- to seven-draw schedule, although there can be many more for complex projects.
There should be clear communication between you, your lender and your general contractor so everyone knows who gets paid how much and when.
How the draws are paid
There are two methods used to pay the draws. One is to pay more money each time a new phase of the work is substantially completed, such as when the foundation or rough framing is completed. The other is based on a percentage of completion of a particular line item.
Substantial completion phase of work
This is the most common type of draw schedule. Money is paid when significant parts of the homebuilding process are completed. The table below provides an example of the most common work usually completed for a seven-draw construction loan schedule.
Standard Milestones for Construction Loan Draw Periods
Draw Type
Work Usually Completed
Draw 1: Foundation
Final plans for home, permits for building, preparation of land, completing foundation
Draw 2: Rough framing
Walls and roof are framed, subflooring completed, and interior home partitions finished
Draw 3: Dry In
Preliminary roofing, wood siding if applicable, window installation and exterior doors affixed
Draw 4: Rough In
Initial air conditioning components, electrical, plumbing. Tubs and showers are set, and insulation is added to walls
Draw 5: Trim Out
Drywall, interior doors, cabinets, countertops added, interior trim and final flooring installed
Draw 6: Substantial Completion
Exterior trim, gutters, water and sewer hooked up, finish plumbing and electric, carpeting, garage doors
Draw 7: Retainage
All finish work completed
Percentage of completion
The other method of draw disbursement is based on how much of any particular phase or line item is completed. This may be more common with a very custom home, where certain parts of the construction process are much more costly than others.
For example, the framing of the home is often one of the biggest expenses since it involves paying for the bulk of the lumber and labor involved in the construction. Your contractor might ask for a draw once the framing is 50% to make sure he has the money to pay workers to finish the framing on a home with a much higher square footage, or if you are using more expensive specialized materials like steel framing instead of wood.
But what about on your end? There are a number of different types of construction loans, and we'll cover how they work and the pros and cons of each.

Types of construction loans
Construction lenders provide different types of loans to meet the financing needs of a variety of homebuilding scenarios. Here are some of the features of the different types of construction loans, as well as advantages and disadvantages of each.
One-time-close construction loan
One-time close construction loans are more commonly referred to as construction-to-permanent loans, because the construction loan is converted to a regular or permanent mortgage once your home is complete. There is only one approval process, and the terms of the final loan are known at the initial closing, before construction begins.
Borrowers make interest-only payments during construction, and then make traditional principal and interest payments once the home is complete.
The advantage to a one-time-close construction loan is you only pay fees and closing costs on one loan, and you know exactly what your payment will be when you ultimately transition to the final loan. If anything changes with your credit or income, you don't risk having to get approved again for an entirely new loan.
The disadvantage is because the loan is often locked on a long-term basis, the rate may be higher. The longer period you lock for, the higher the rate and associated costs tend to be.
The other disadvantage is a lack of flexibility if your project runs over budget. Some construction loan programs will add in a "contingency reserve" of 10-15% of the construction costs to protect against this — so be sure to discuss this with your loan officer. That way, you don't end up having to scrounge up a bunch of cash to finish building your home.
Two-time-close construction loan
This type of construction loan requires you close on two different loans. The first loan is taken out for the construction of the home and any applicable payments will be based on the balance you have used. Some lenders may offer you an interest-only option for payments during the construction.
Once construction is completed, you pay off the construction loan with a new loan, often called an "end" loan. The end loan is made based on terms you usually lock in about 90 days before the home is scheduled for completion.
One advantage of the two-time close is being able to lock in a new rate as you get closer to the finish date of the home. The shorter the time period for locking, the lower your rate tends to be. Many homeowners wait to lock their rate until they are within 30-60 days of completion to get the best pricing possible.
Another advantage is the ability to adjust for cost overrides. Because you are taking out a completely new loan when construction is complete, your end loan lender may allow you to take out some extra cash to cover the higher cost it took to build.
The drawback is you incur the costs of two loans. The end loan may be at a much better rate than the permanent loan on a one-time-close mortgage, but you are still paying more in fees than you would with a one-time-close construction loan.
Owner-builder construction loan
One of the biggest expenses when you are building a home is hiring a general contractor to supervise the homebuilding process. If you already have some specialized knowledge or expertise in construction, you may consider an owner-builder loan.
The biggest advantage of an owner-builder loan is the potentially lower cost to build your home. As an owner-builder, you can avoid the full cost of a general contractor, or reduce their role to supervising the final stages of each phase of construction.
The disadvantage is that you'll need to prove you have the experience to get the job done efficiently. The project approval process may take a bit longer because the lender needs extra time to verify your qualifications and check your references for the role and responsibilities of a general contractor.
Also, the lender may mark up the rate on an owner-builder loan to compensate for the risk that the home might not be built to the same standards as the construction of a full-time licensed contractor supervised home.

Why should I get a construction loan?
You don't necessarily have to get a construction loan to build a new house. In most cases, you can avoid the extra hoops by buying a home in a subdivision built by a particular homebuilder.
In these cases, the builder carries the cost of construction and you don't make any payments while it's being built. Normally, you just have to be preapproved for the end loan.
As easy as this may seem, there are a number of reasons why you may not want to buy a home in one of these neighborhoods, and get a construction loan instead.
You don't like homes built in subdivision neighborhoods
Very often when builders construct homes in neighborhoods, there are restrictions on how they want the neighborhoods to look, with very little variation offered as far as layout, colors and landscaping. The neighborhoods are often governed by homeowners associations requiring an approval process before making even minor changes to your home.
You want custom features or a unique layout
The reason most people choose a construction loan to build their home is to build something tailor-made to their needs. This may include everything from adding a guest house for aging parents to architecture with odd exterior shapes or unusual colors — all things that neighbors in a subdivision are not likely to be OK with.
You want more land than home
Buying a large parcel of land off the beaten path can be appealing if you enjoy the serenity of a natural setting, or if you don't want any homeowners association restrictions on your property. If you own a recreational vehicle, it probably wouldn't be allowed on a lot in a subdivision neighborhood.
A construction loan will give you extra flexibility to purchase the land and build a home with all the privacy and independence you want.

How do I get approved for a construction loan?
When you get preapproved for a home mortgage on an existing home, lenders are mostly concerned with whether you can afford to repay the loan based on your credit, income and assets. An appraiser is hired to inspect the home and verify the value supports the sales price you agreed to with the seller of the property.
With a construction loan, the house hasn't even been built, so the lender needs to perform an extra analysis; this would confirm that the estimated cost to build is not excessive, and that the parties building the property are qualified and legally licensed to do so.
We'll explore the three steps you'll need to go through to get approved for a construction loan.
Credit approval
Just like a standard loan, the lender will need paperwork from you proving you have the ability to repay the loan. Many people mistakenly assume that you need a down payment of at least 10-25% to do a construction loan.
Government loan programs offered through the FHA, VA and USDA all offer construction loan options with as little as a 0% down payment. You may have to do more shopping to find a local lender offering the construction loan option for government loans, but it may be worth it if you want to keep your down payment and expenses low. It helps if you are building a home with a basic layout and standard features.  Below is a brief overview of the credit-qualifying requirements for each.
Construction Loan Requirements
Construction loan program
Minimum down payment
Debt-to-income maximums
Minimum credit score
Loan amount restrictions
FHA
3.5%
43% recommended
580
County limits based on ZIP code
VA
0%
41% recommended
No minimum score but 620 recommended
VA limits for area
USDA
0%
41% recommended
620
Must be USDA-eligible property
Conventional
5%
45%
620
Fannie Mae and Freddie Mac only fund permanent loans
Project approval
The lender needs to confirm that the home being constructed is worth what it costs for you to build. This can be challenging if you are building a very custom home.
Construction lenders have guidelines for how much they will lend on your home, also known as your loan to value or LTV.  The LTV maximum is based on the home's value or the cost to build, whichever is less, and you have to pay the difference out of pocket if your cost to build exceeds the LTV guidelines.
Lenders also want to make sure that the house is not so unusual that they wouldn't be able to sell it in the event you default on the loan. If you are building something unique, the lender may require a much higher down payment.
You will need to have a blueprint of the house completed so the lender can review all of the details of your homebuilding, from the foundation to the plumbing fixtures. The appraiser will need a copy of the plans and specs to review when formulating an opinion of value.
Builder approval
The final stage of approval will involve your contractor, or in some cases, the approval of more than one contractor if they are all involved in various stages of construction. The contractor must not only document his building experience to complete your home, but document proper insurance coverage and active licenses.
In most cases, lenders require completion of a builder approval package with a list of financial documents that may include tax returns, current licenses and proof of different types of liability insurance. Lenders want to prove that the builder has sufficient insurance in the event a worker gets hurt to protect you from any on-site worker injury claims.

Where do I find construction loan lenders?
You may need to shop around for a good construction loan lender. The best place to start may be at your local bank.
While the low down payment government construction loan options above may be great for saving money, you may find they don't allow for many "luxury" features, such as hot tubs or swimming pools. Government construction lending programs are designed for borrowers who don't have the resources to build a custom home, so if you've got aspirations for something that will end up on the cover of a local homebuilder magazine, you'll want to avoid FHA, VA or USDA construction loan programs.
You might also want to ask for a recommendation from the builder or contractor you are working with. Take extra time to research what each construction loan program can and can't do, what the timeline is for completing a project, how long you can lock your rate in and whether you can "float the rate down" when you get closer to your home's completion.
Here's a list of questions you should ask any construction loan lender you talk to.
Can I use my land equity toward my down payment?
If you have owned the land you will be building on for at least 12 months, you may be able to apply any increase in your equity toward the down payment requirement. An appraisal will need to be done to verify the site value.
Does the first draw allow for payment for materials to start construction?
In the early stages of construction, building materials often make up the biggest expenses incurred by a contractor or homebuilder. However, lenders don't like to make large disbursements unless they are designated toward a specific expense.
This deters unscrupulous contractors from demanding large sums of money without specifically designating them for some specific expenses related to your home's construction.
What's the rate during construction and how is it paid?
Some construction lenders will use a variable-rate index like the prime rate during construction.  Others will just charge interest-only on the rate that you have locked for your end loan, and then convert the balance to a full principal and interest payment.
In some cases, the payments during construction can be financed into the construction cost of your loan — be sure to check with your construction loan officer to confirm that.
Do you offer a one-time or two-time close construction loan?
Not all lenders offer each type of construction loan, and many nonbank lenders don't offer construction loans for new homebuilding at all.
What are the fees associated with your construction loans?
You need to know more than just the lender fees. The title company will often handle the disbursements, and you'll have additional inspection fees and recording fees along the way as the house is being built.
Each draw requires and inspection and recording fees, and can quickly add up to thousands of dollars, so make sure you have a clear understanding of what is included in the costs.
Do you pay construction draws based on a set schedule or a percentage of completion?
As mentioned above, you need to make sure your contractor or builder understands how they will be paid during the construction phase to prevent any delays in the process. If a subcontractor flat out refuses to any work until they receive upfront payment, you'll either need to negotiate a reasonable upfront fee or find a different subcontractor.
Are the checks disbursed in my name and the contractor's name, or just the contractor?
To be sure you are informed of the money flowing from your lender to the contractor, you'll often be listed as an authorized signer on any checks that are paid. You'll want to visit the job site periodically to make sure the work progress is consistent with the money that's being paid out to the builder.

Over budget? Backup plans for when a construction loan isn't enough
If your project runs over budget, you'll need reserves on hand. That might mean tapping a 401(k) to get the money needed to complete the home, or hitting your savings account for a cost overrun that the lender won't disburse.
Credit cards and personal loans are less attractive options, but may do the job in a crunch as long as you don't have to pay exorbitant interest rates or cash-advance fees. If you decide at the last minute to swap the standard tub for a deluxe massage high-pressure jet jacuzzi tub, be prepared to write a check out for the difference in cost before the tub is installed.
Final thoughts
Getting a construction loan requires a great deal more patience than a standard loan. You'll be dealing with a moving target for costs, and a sudden spike in the cost of raw materials (such as the lumber price fluctuation last year), could drive up the costs of any phase of construction.
Make sure you have a clear idea of the market value versus the cost to build upfront.  You will have to write a check out of your pocket if the cost exceeds your value.
The information in this article is accurate as of the date of publishing.